帝都 The Empire | NEONSIGNS.HK 探索霓虹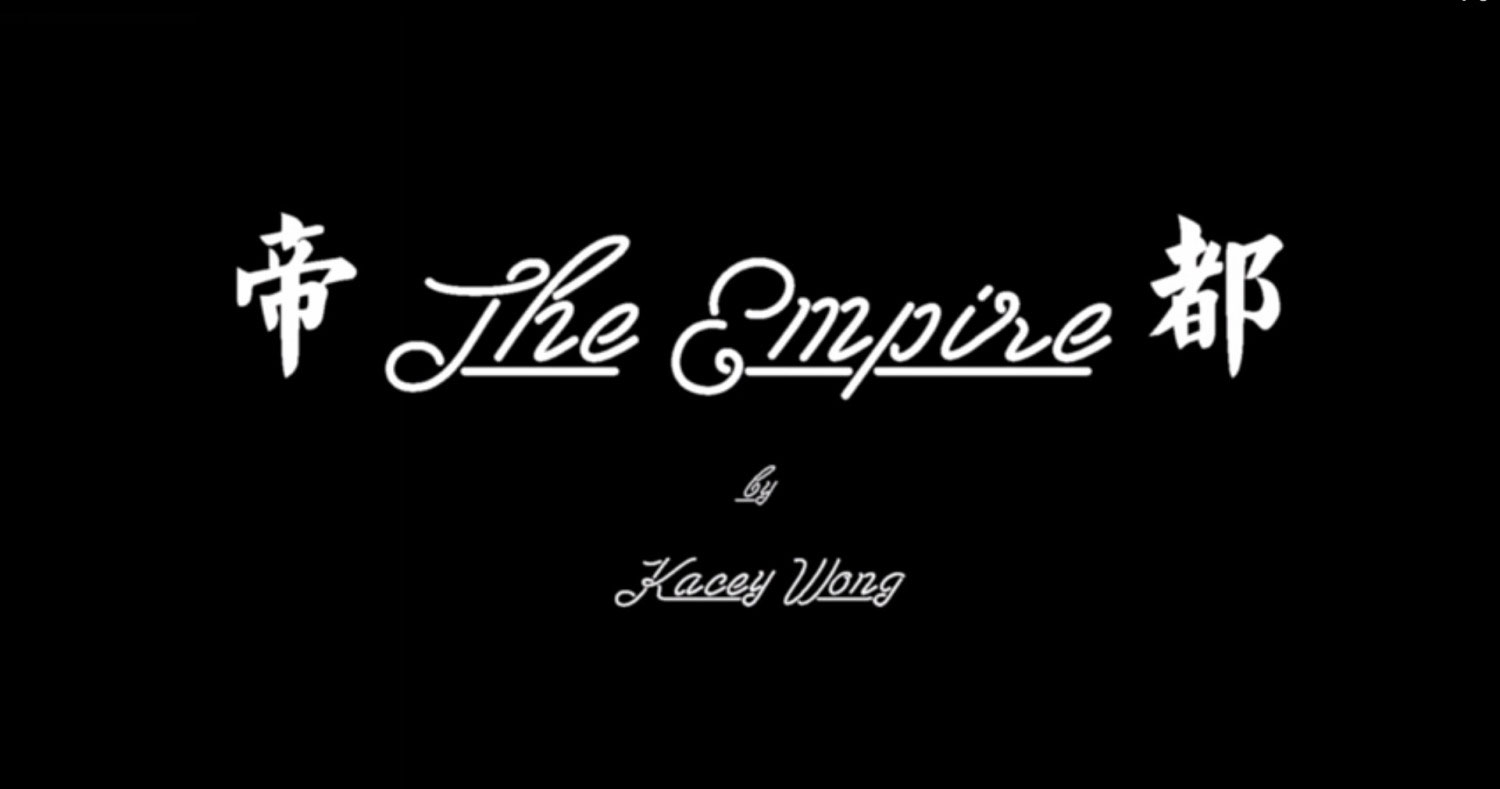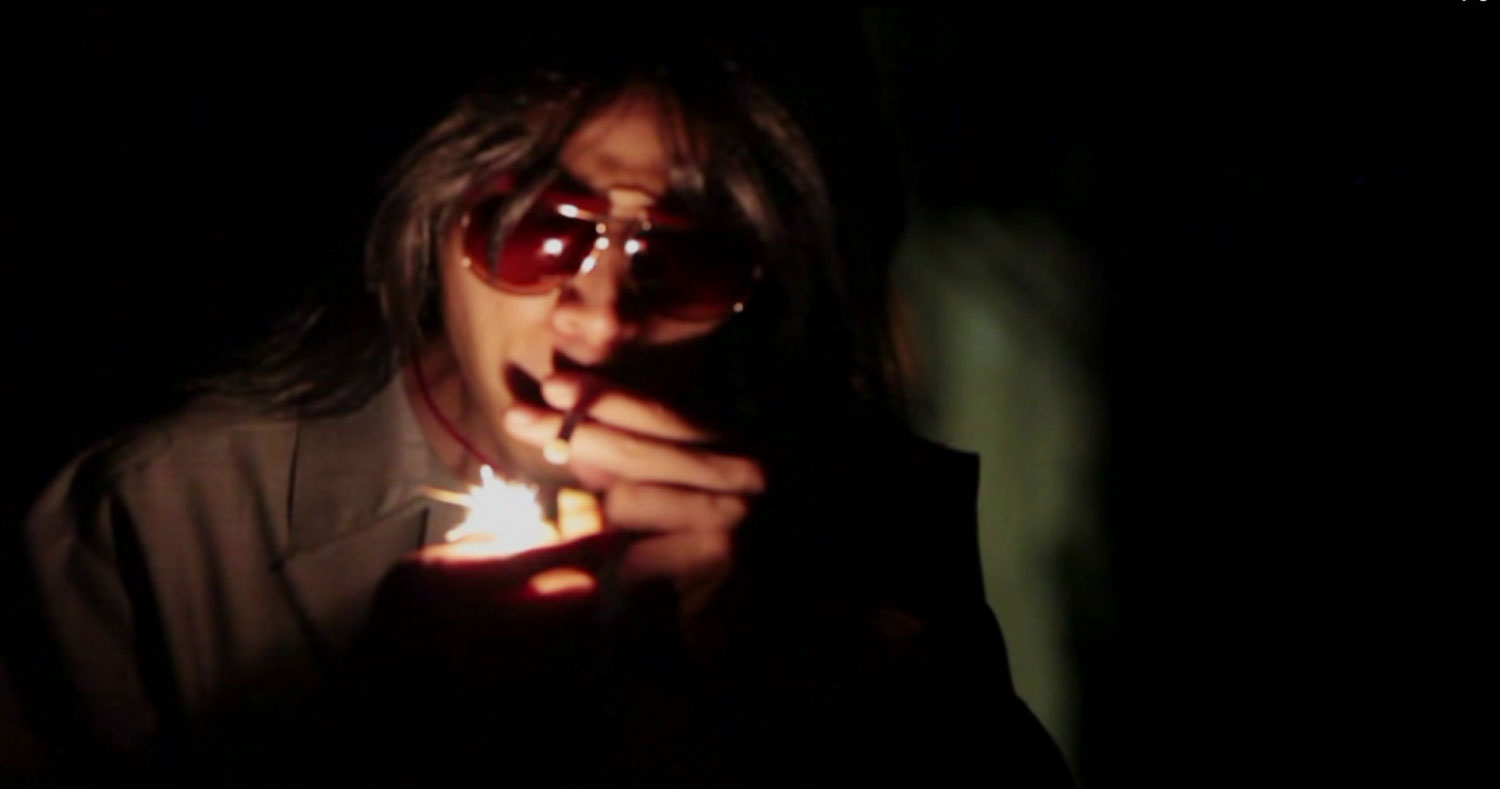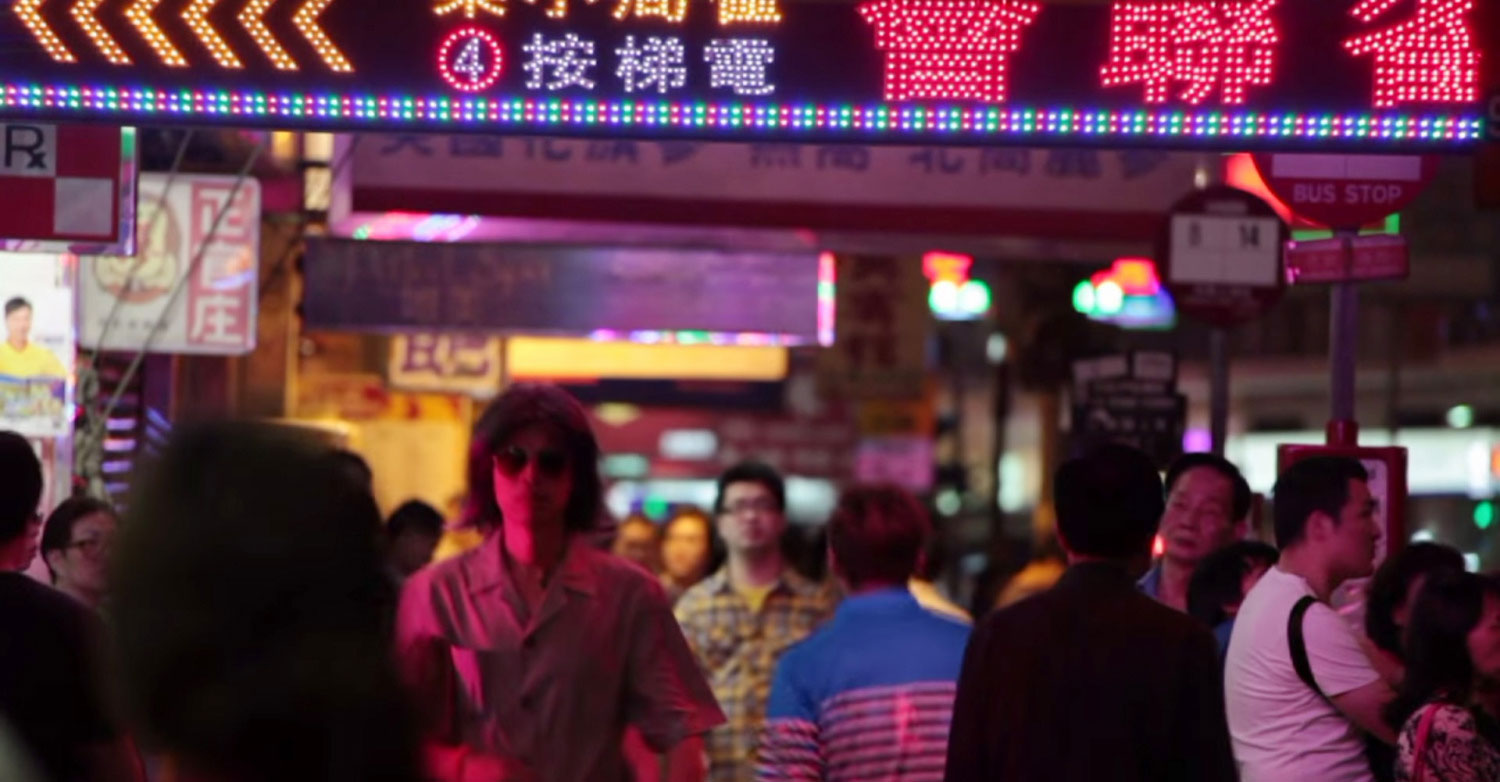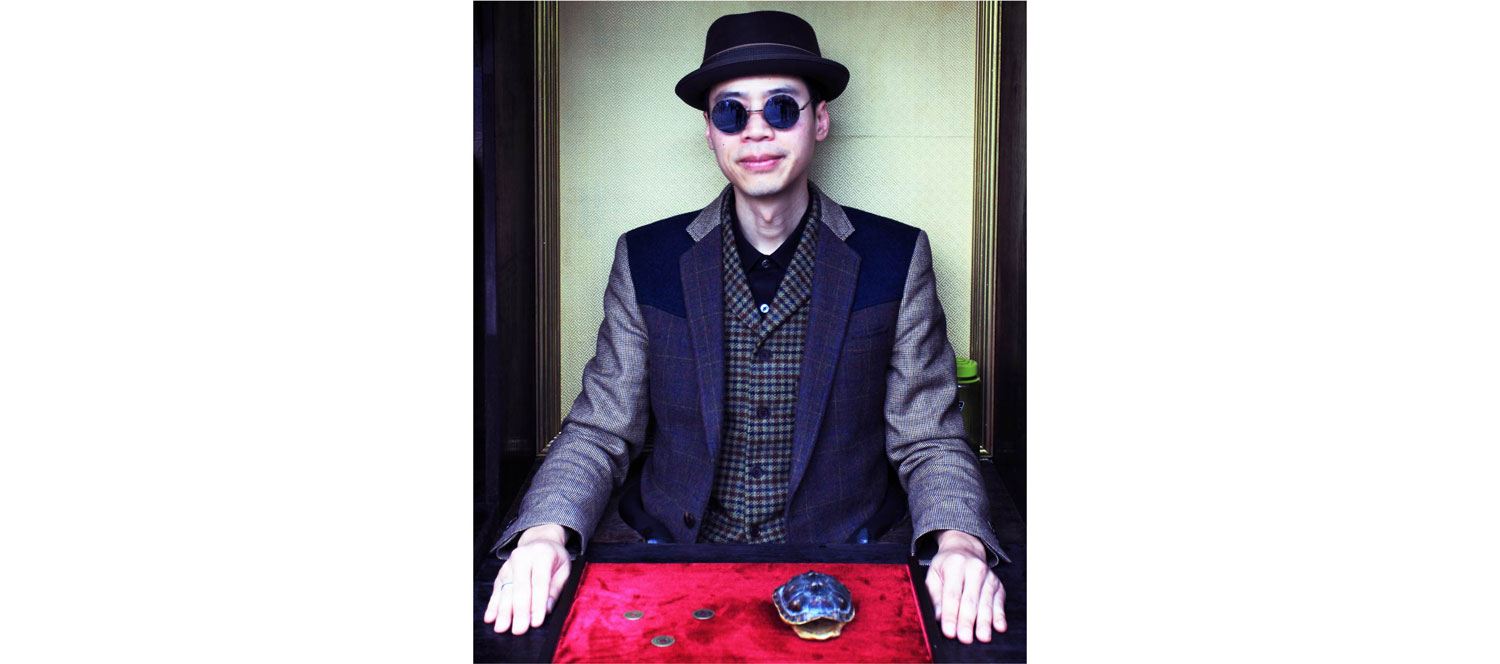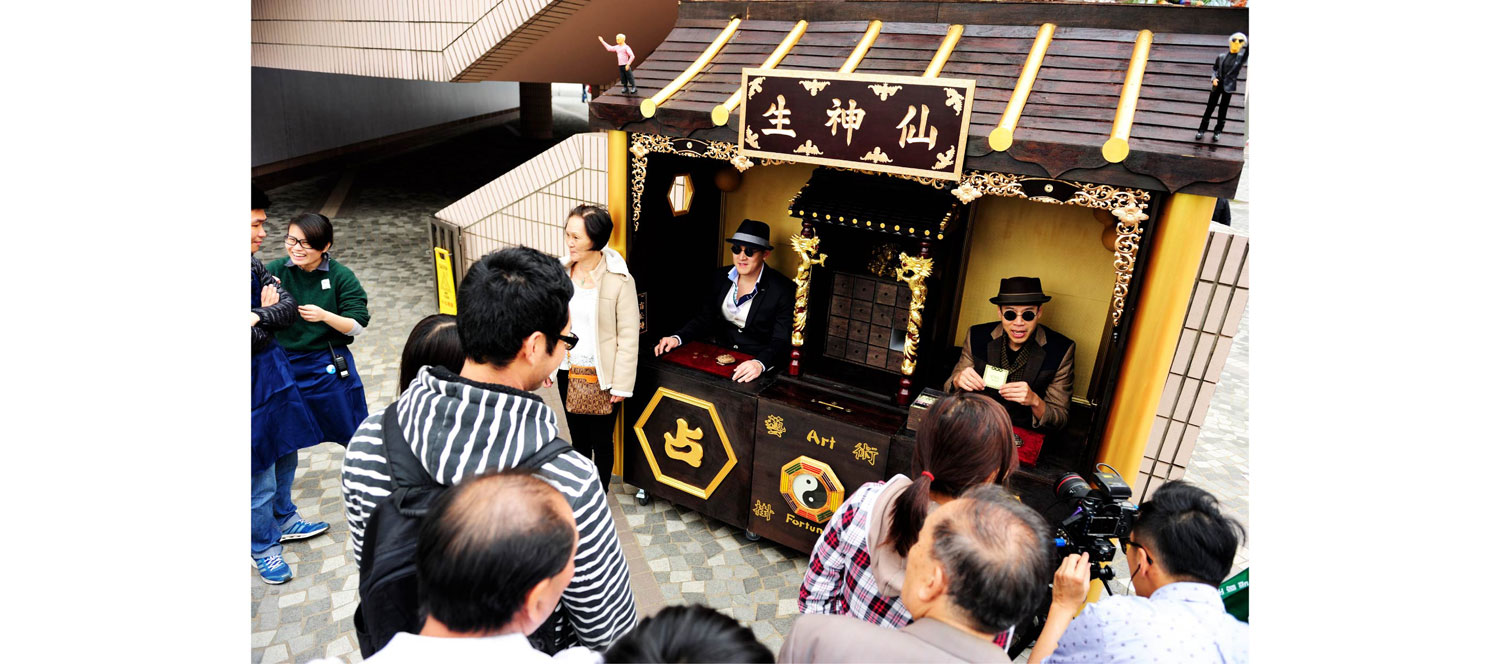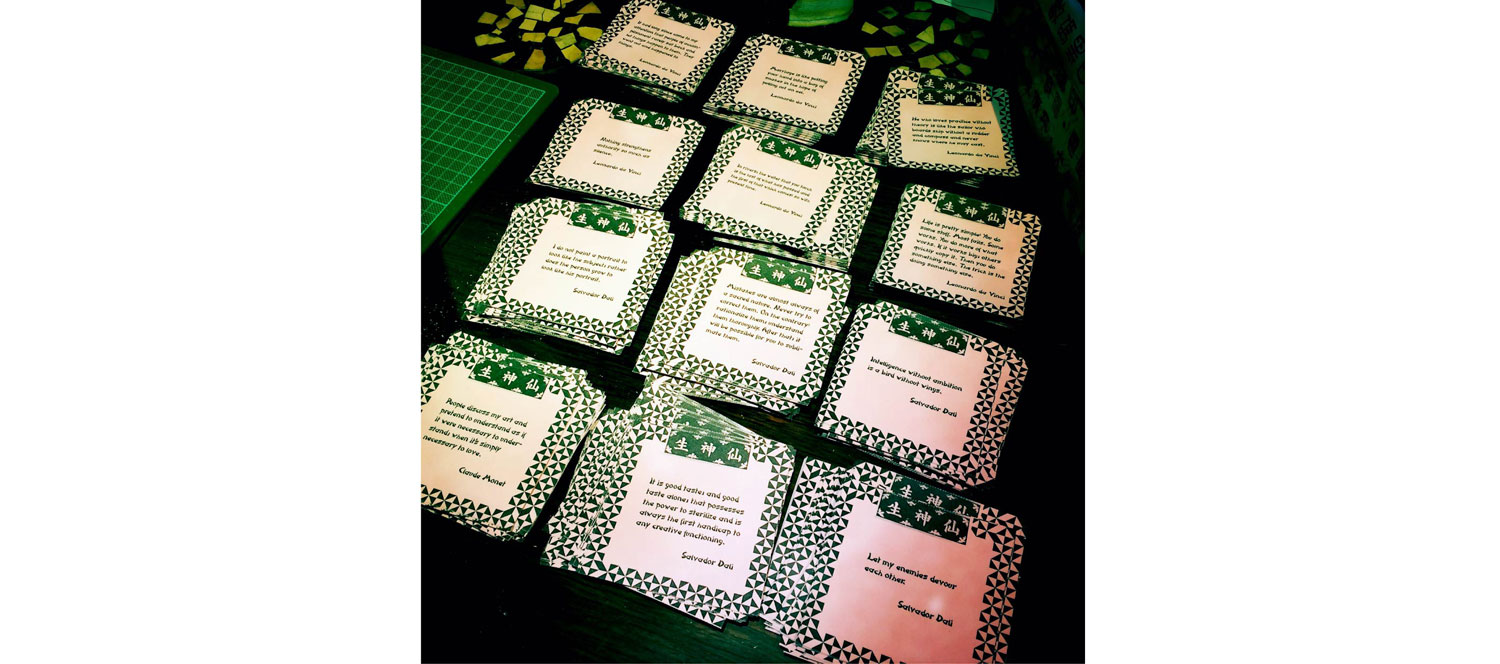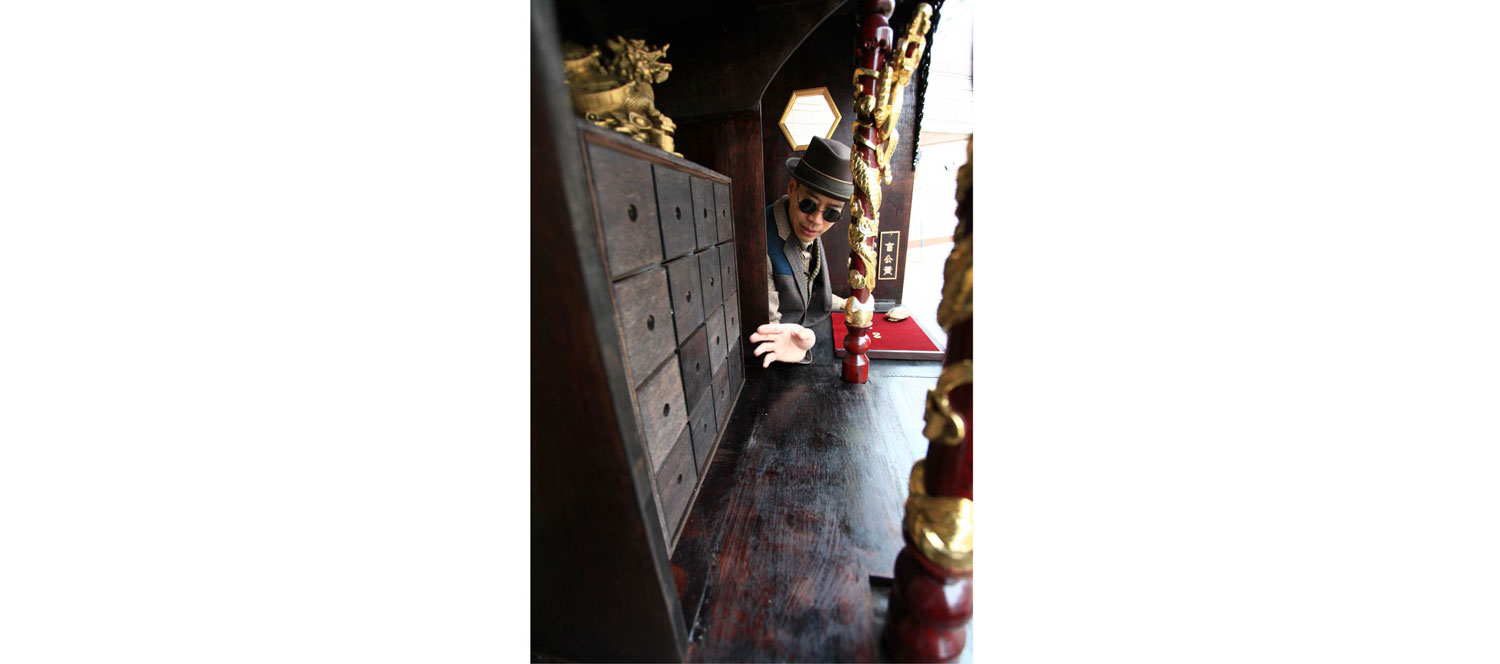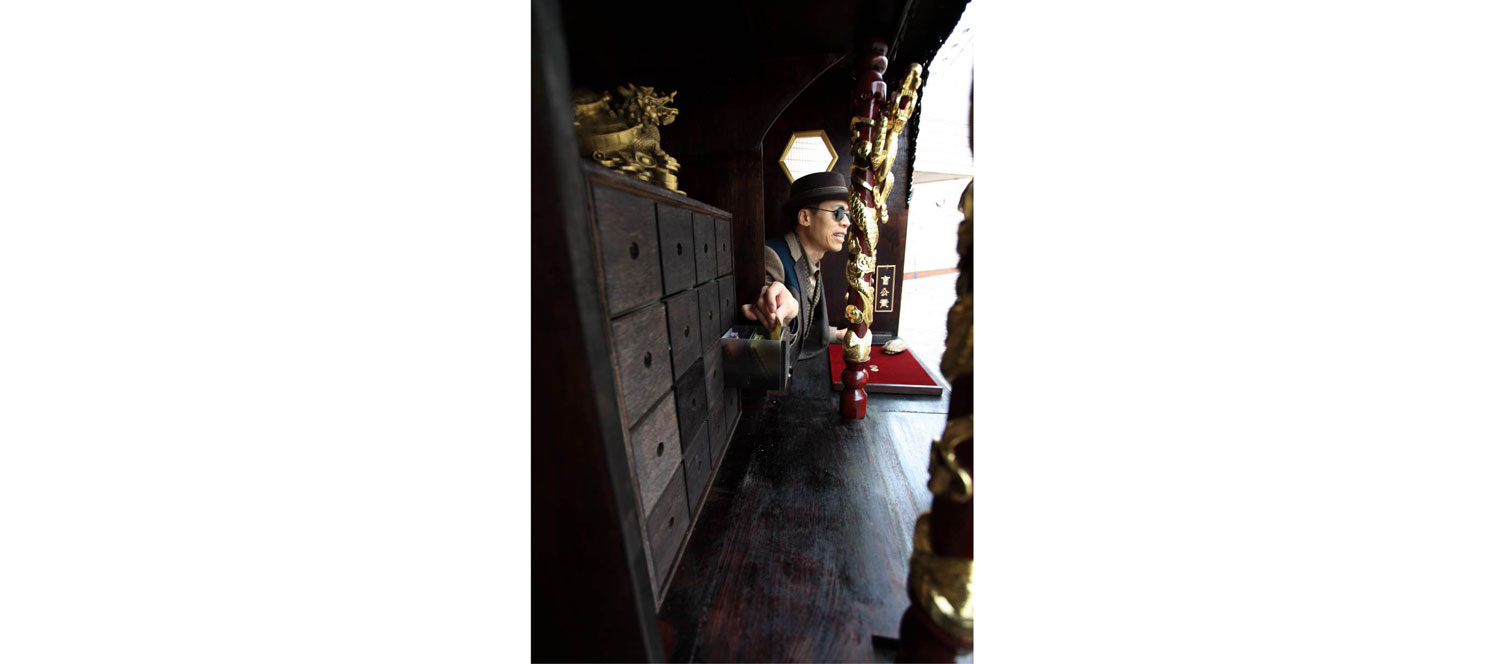 生神仙 Celestial Fortune Telling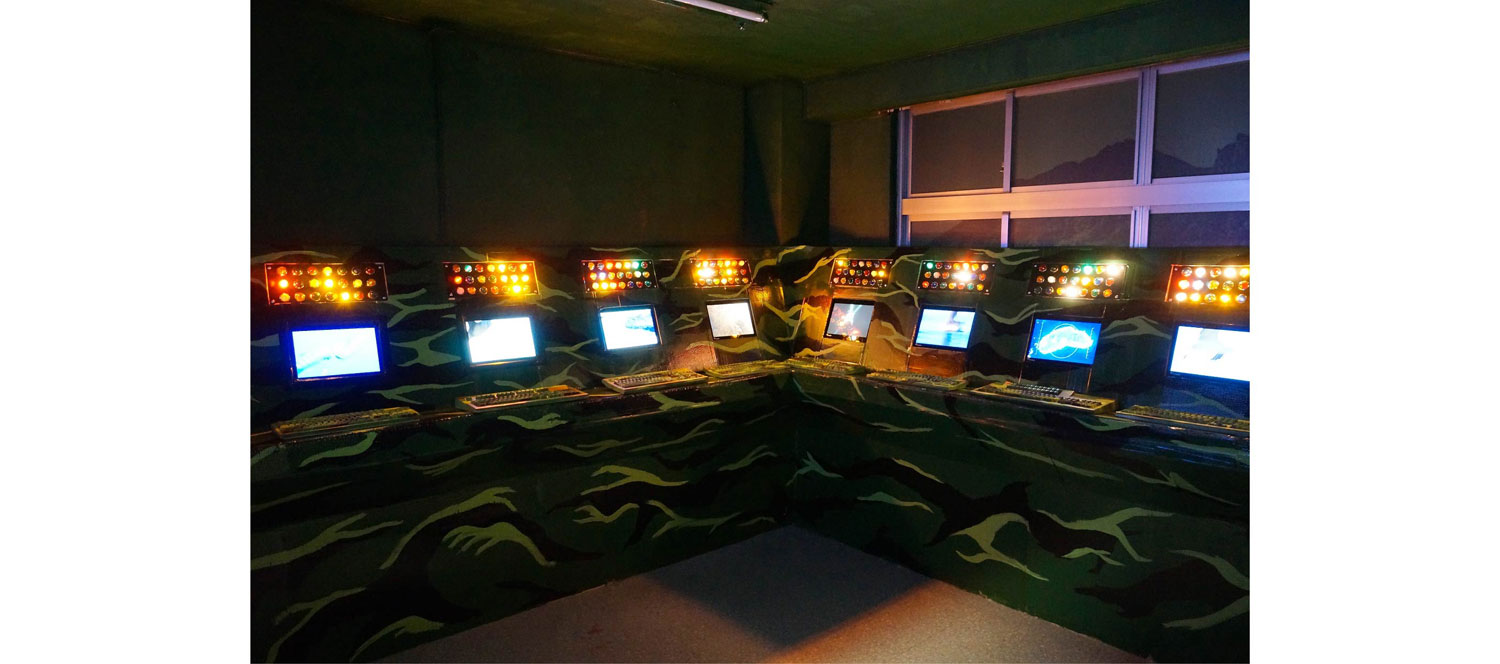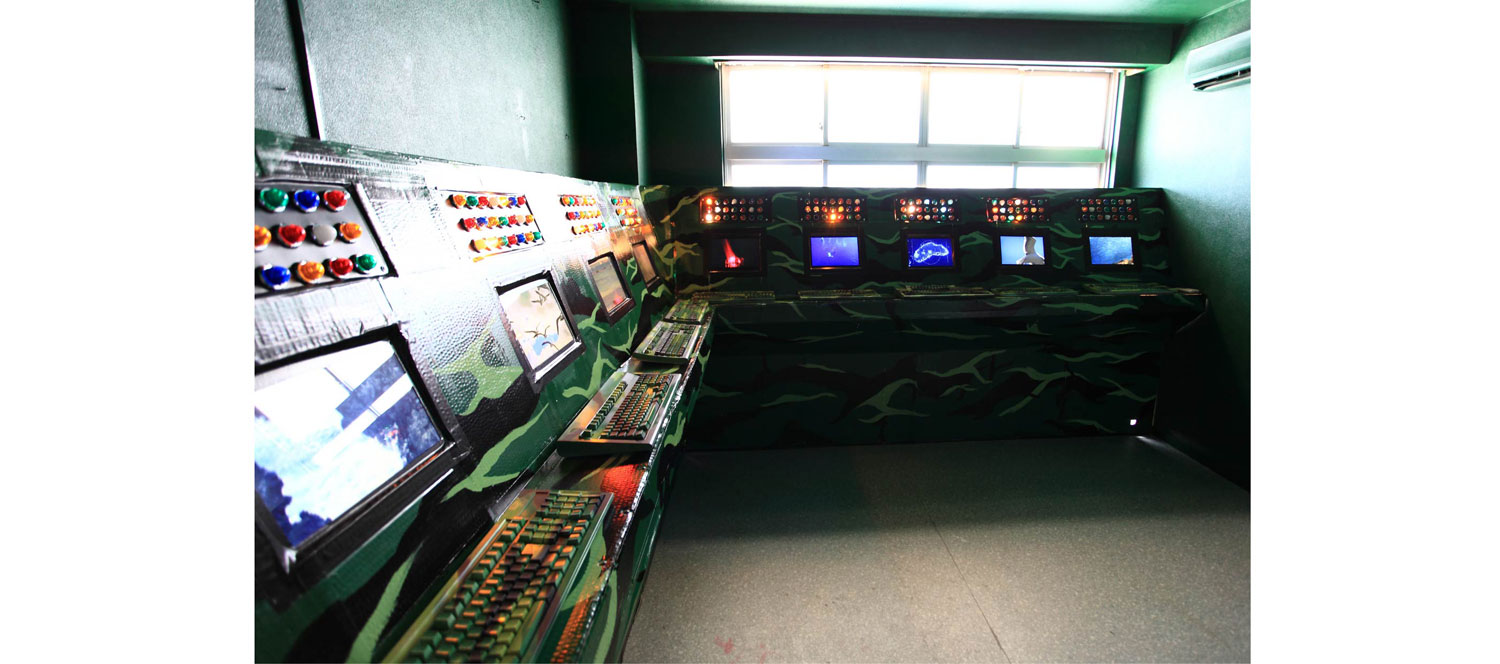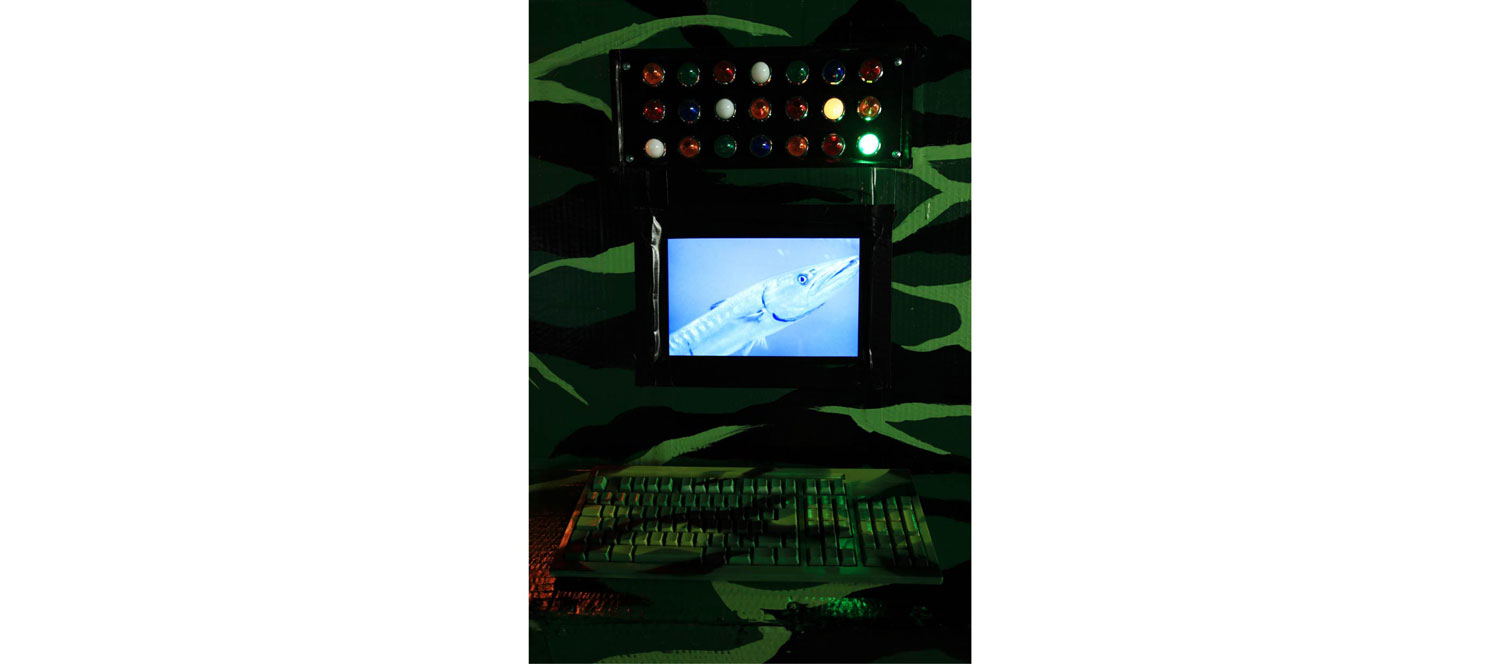 Diaoyu Islands / Senkaku Islands Belong to Birds & Fishes 釣魚臺/尖閣列島是屬於鳥和魚的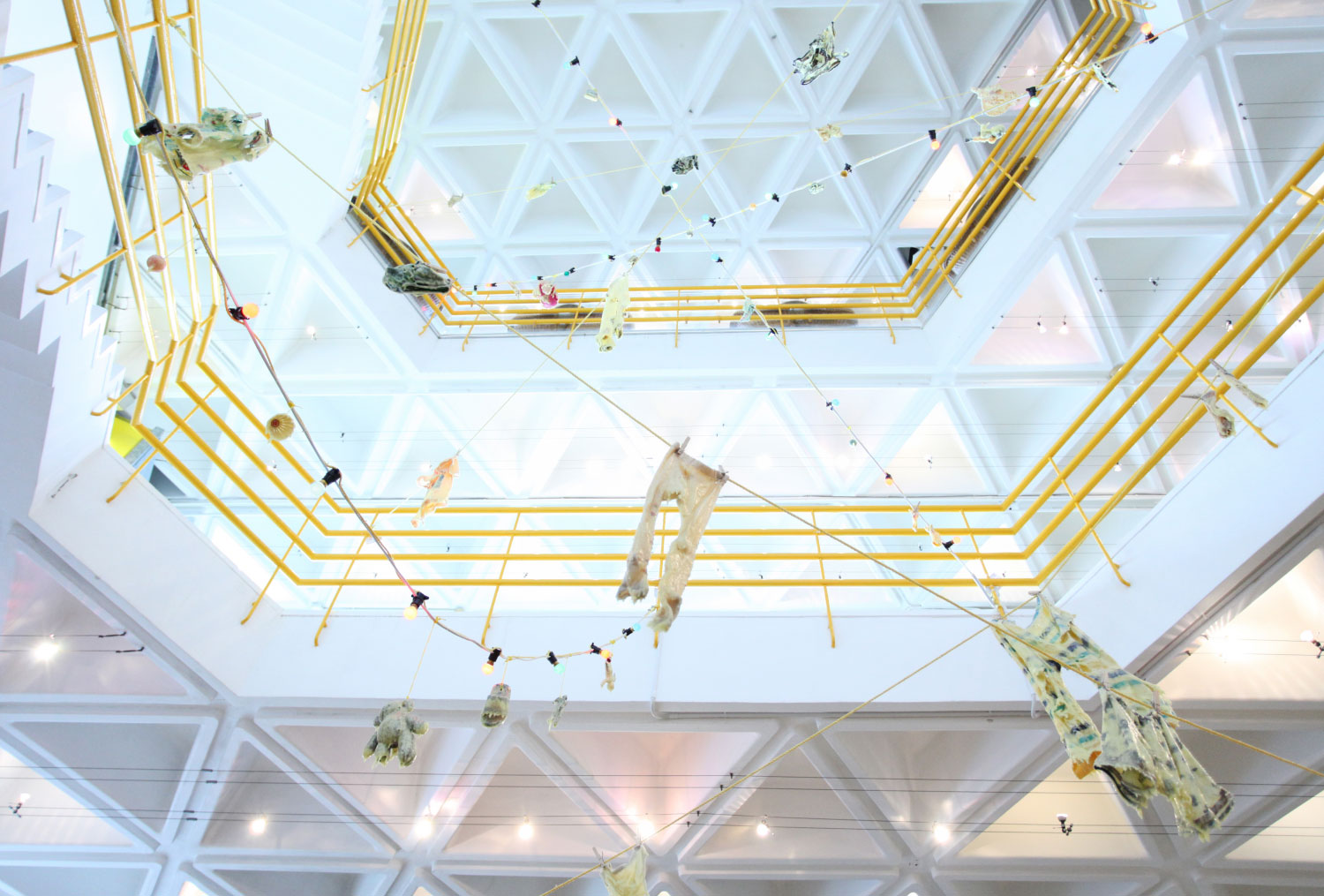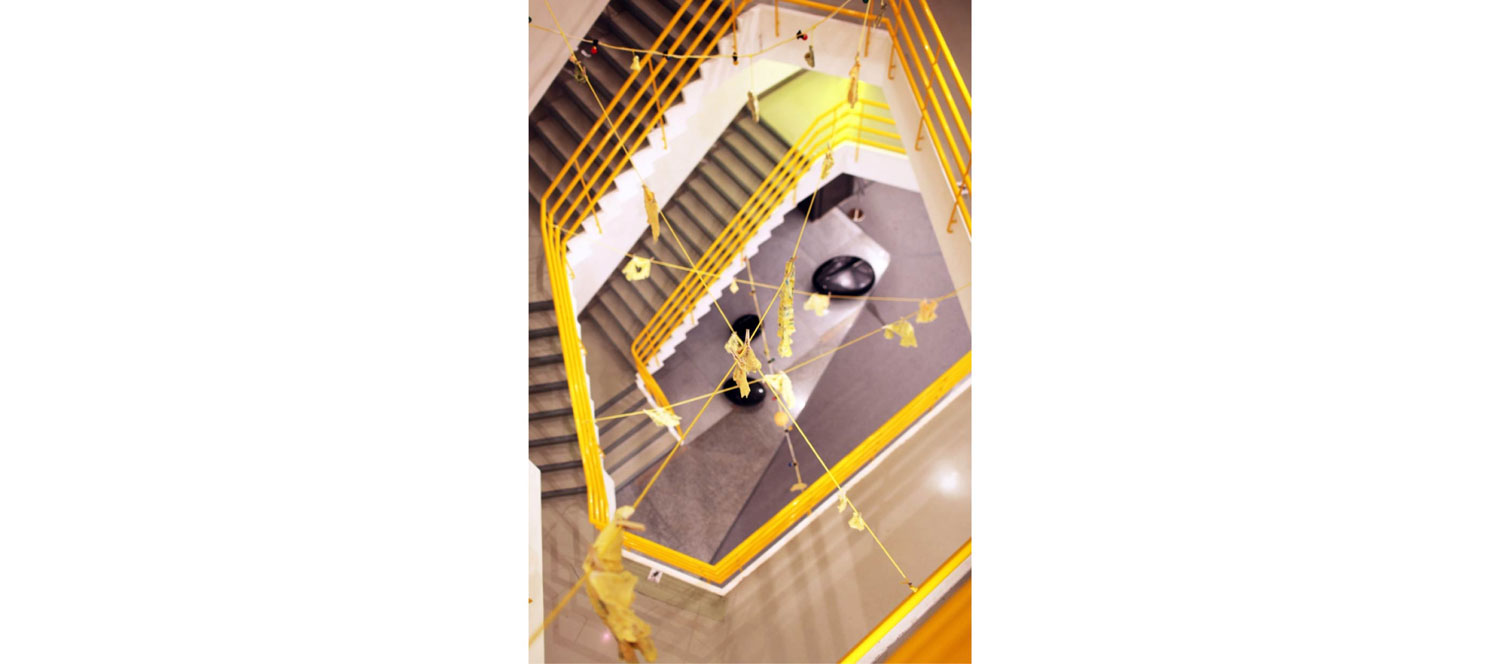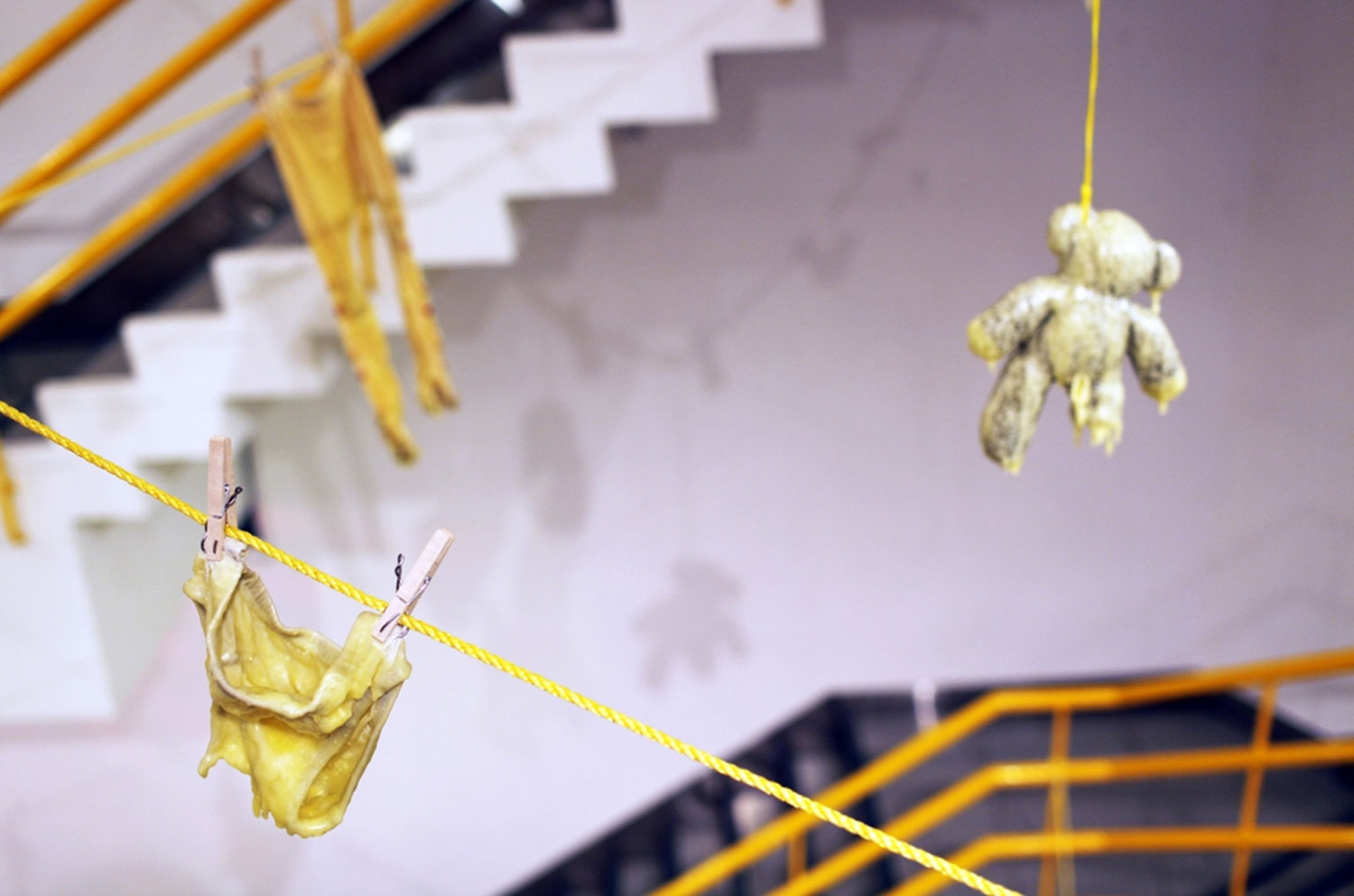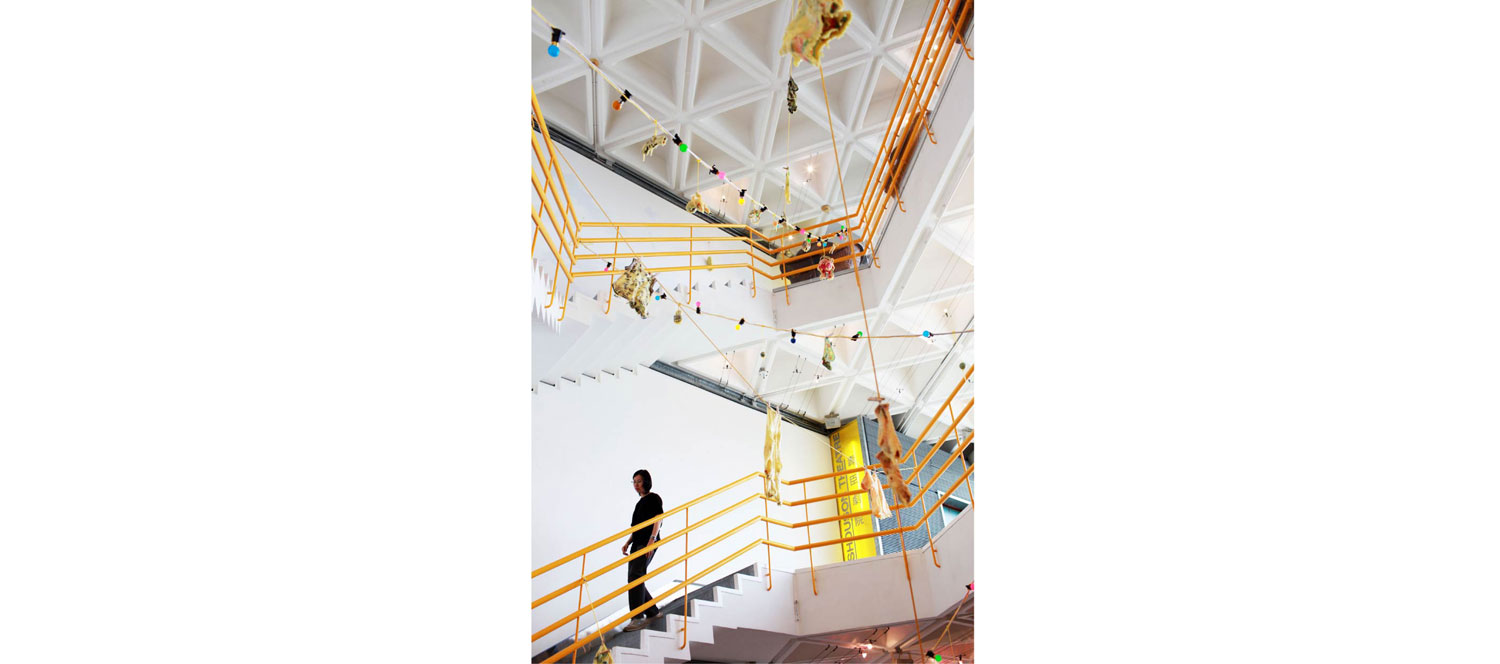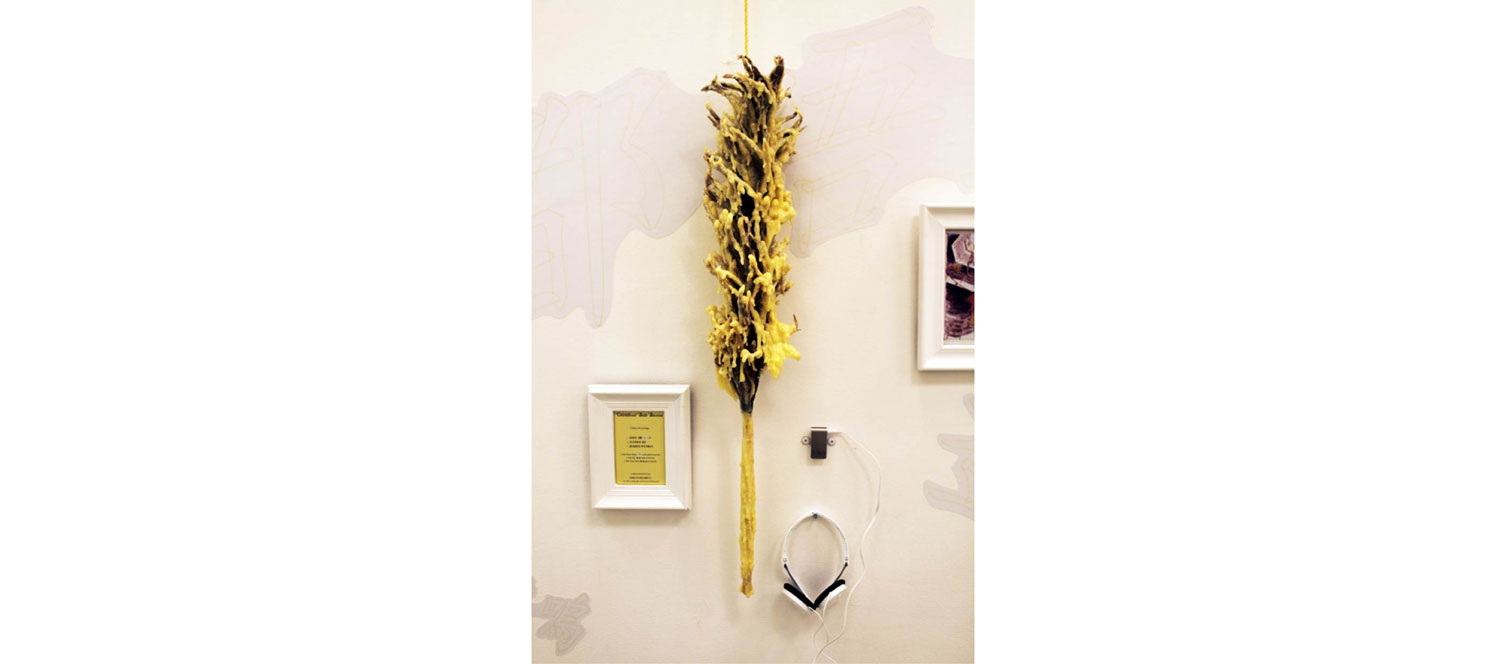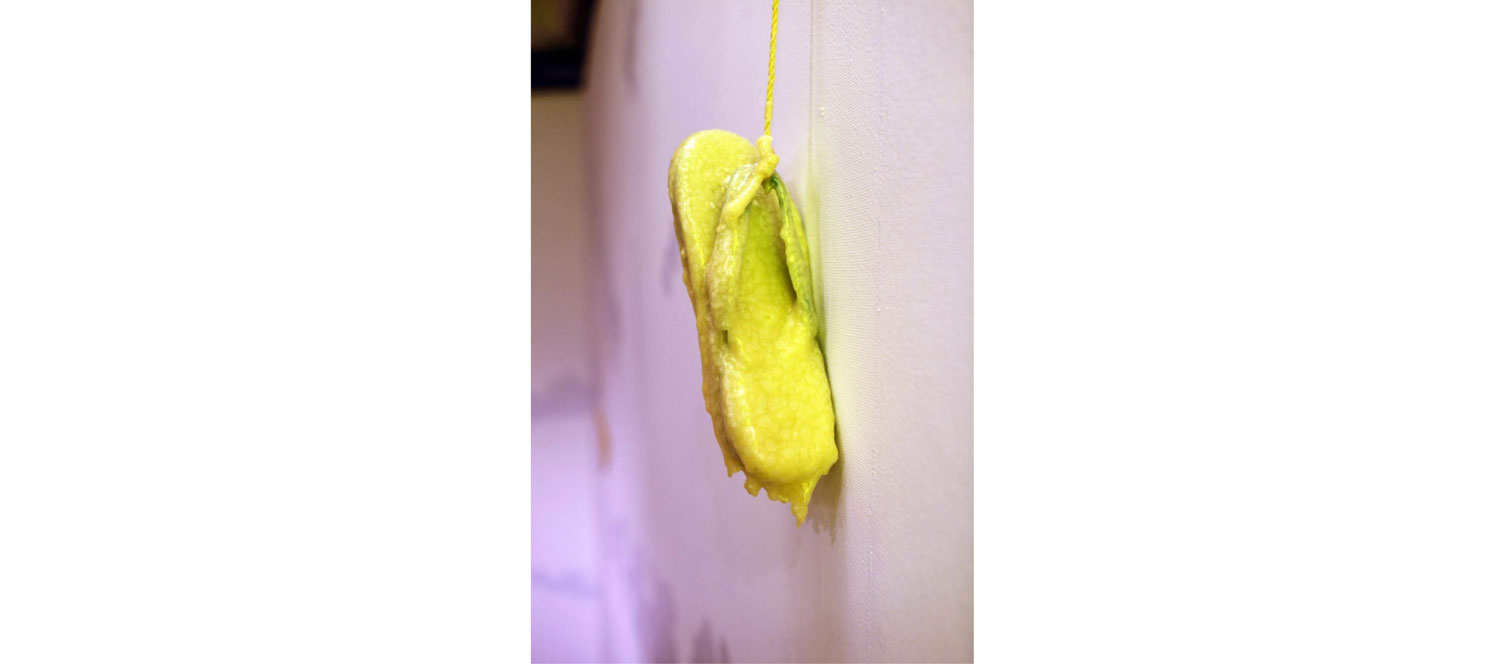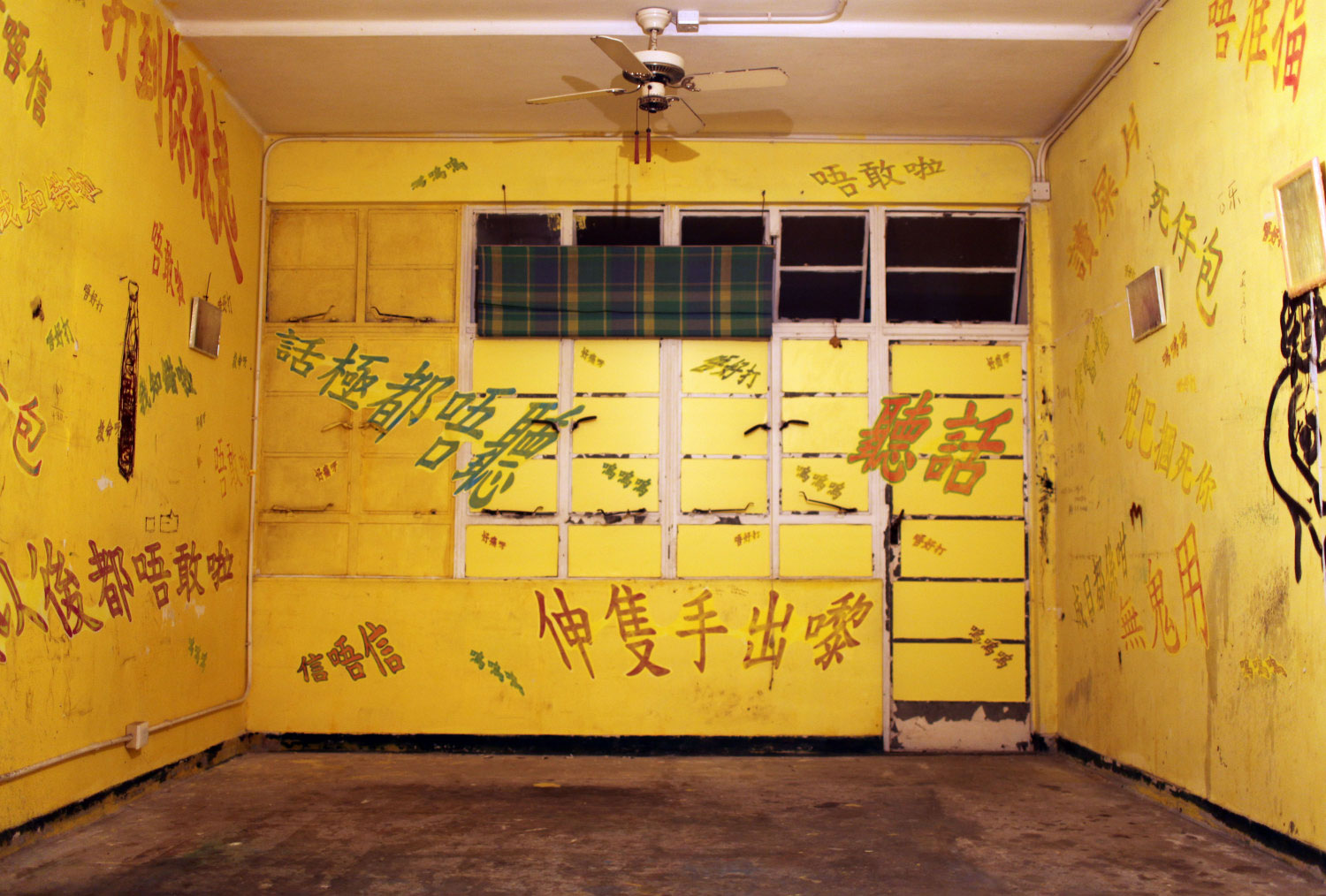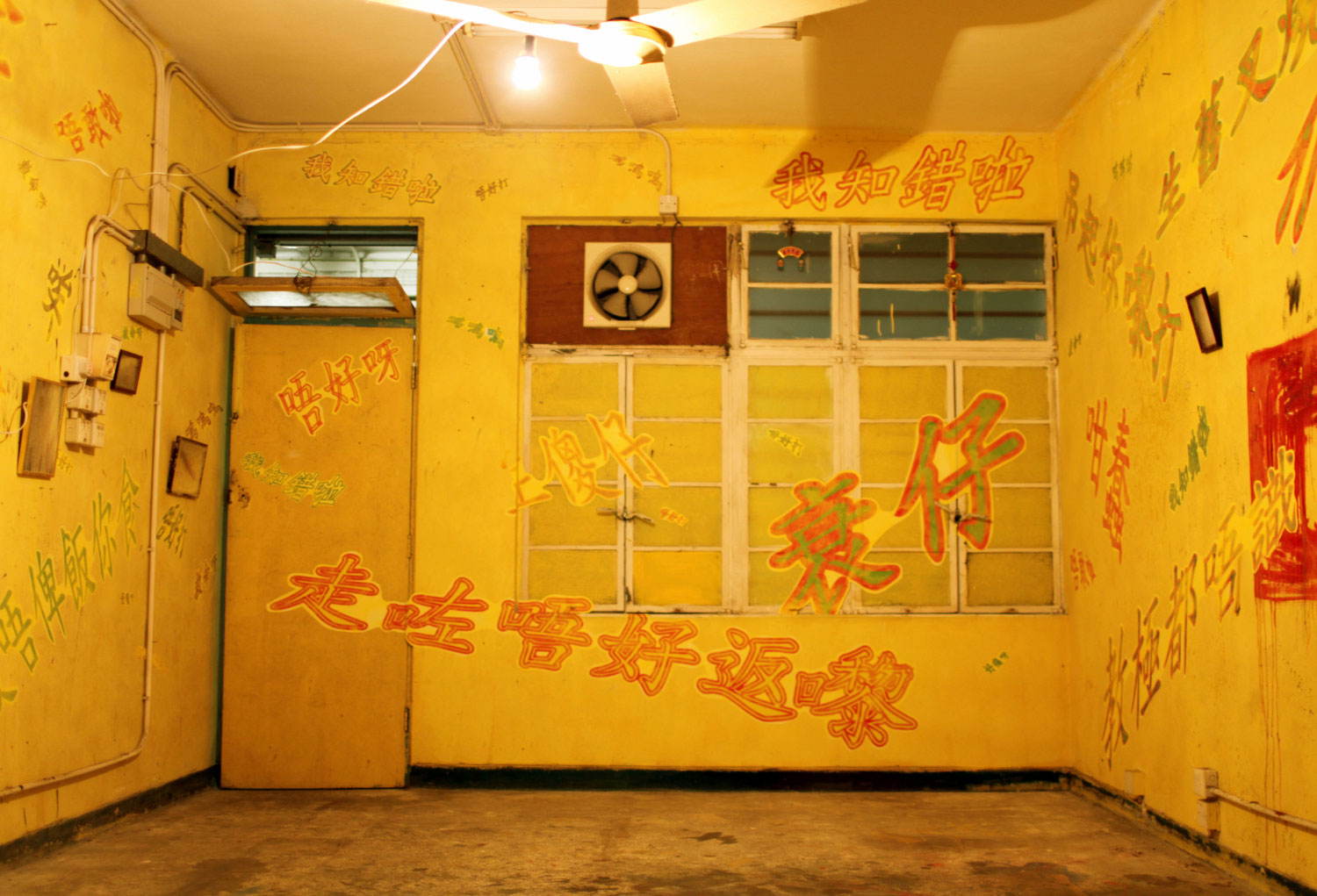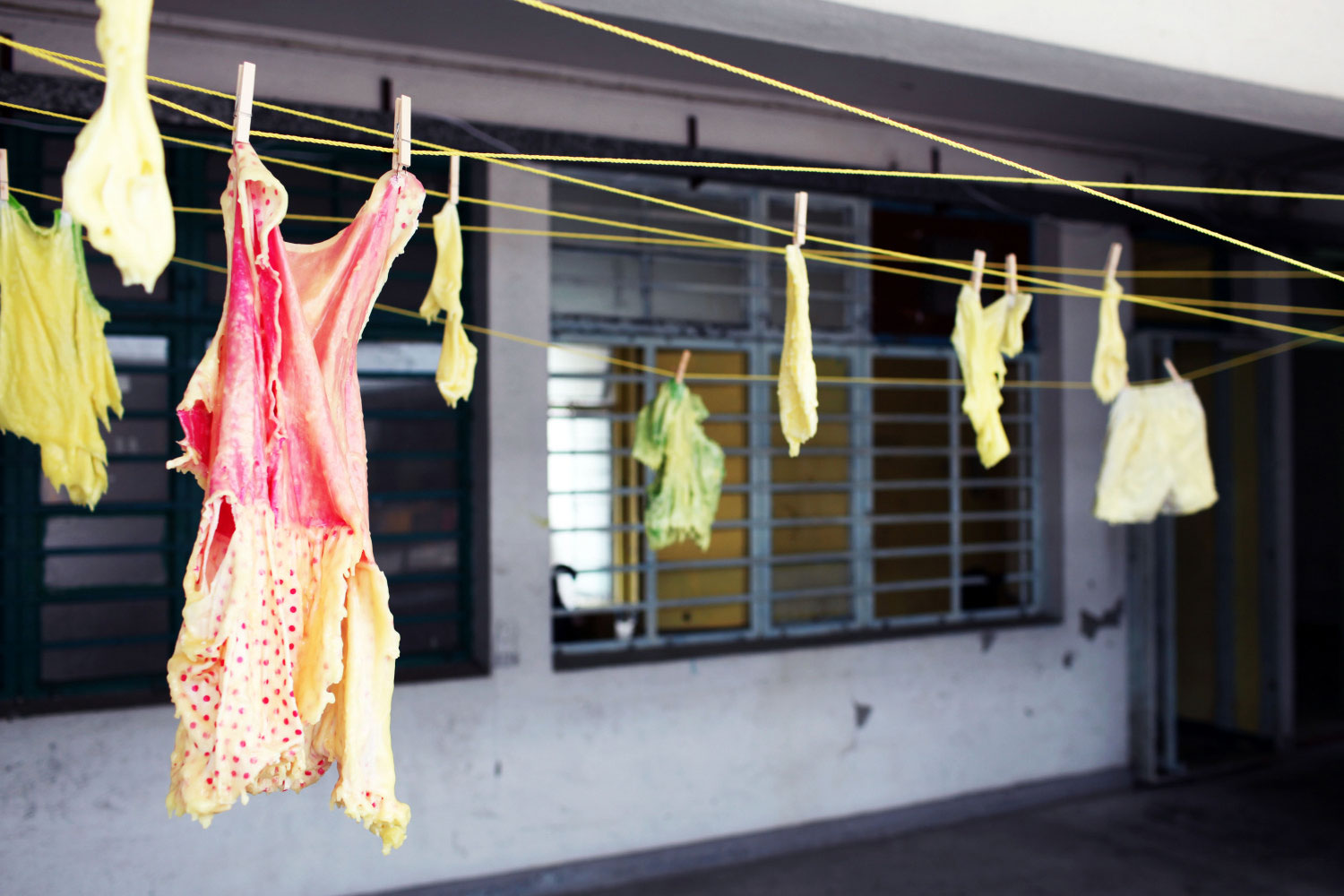 Towards a Brighter Future Through the Valley of Darkness in HK Art Centre
Towards a Brighter Future Through the Valley of Darkness (Cattle Depot)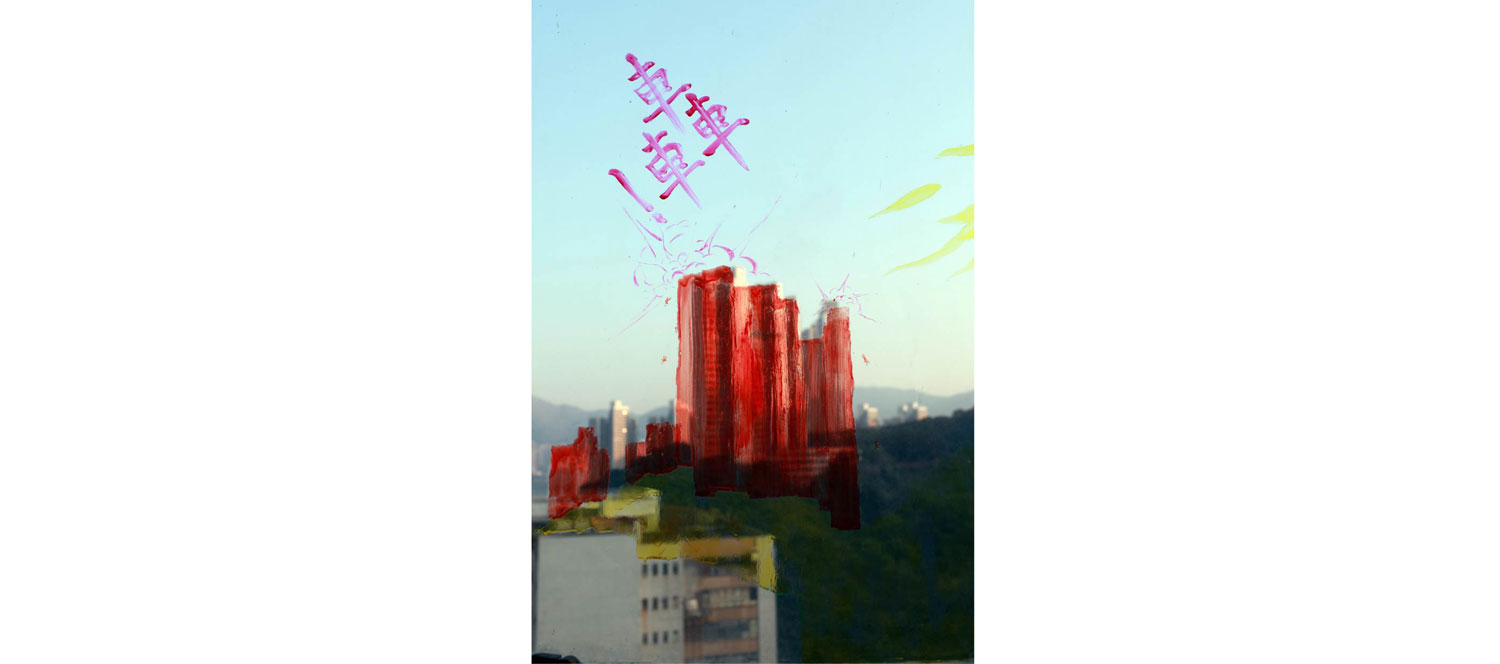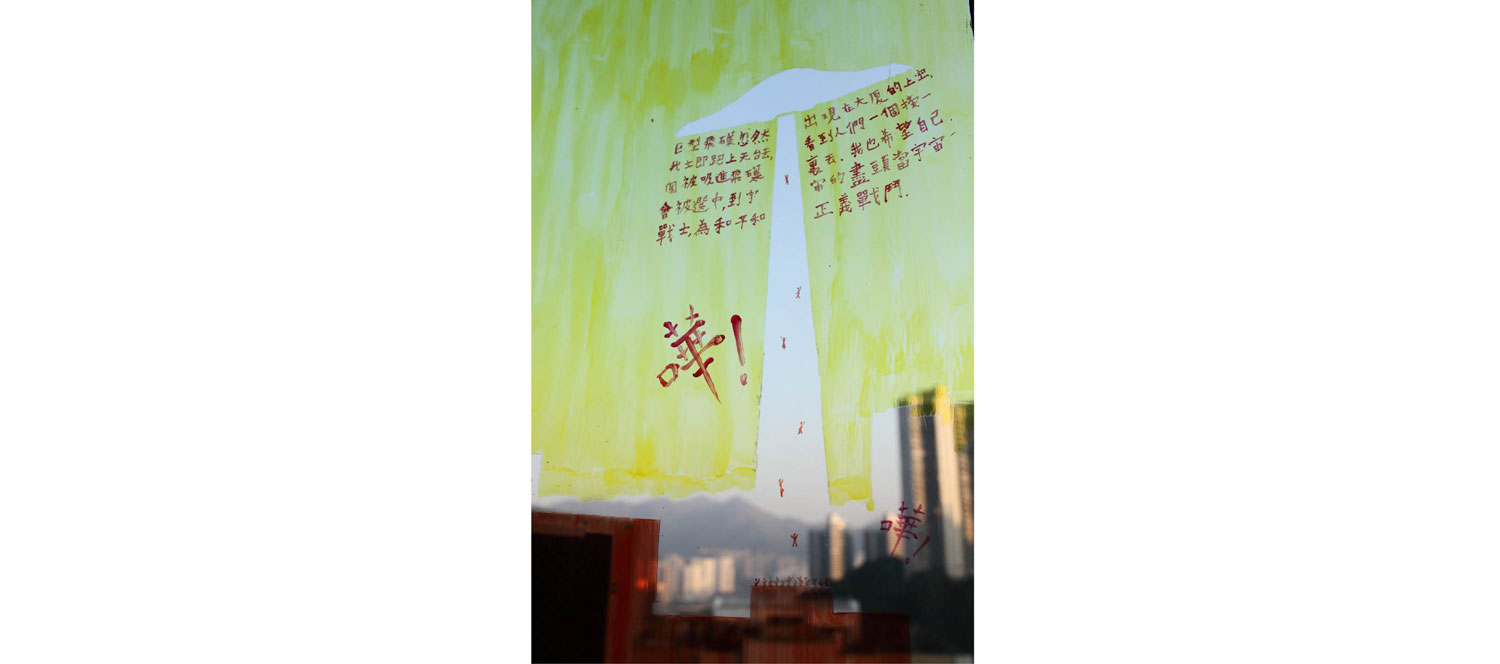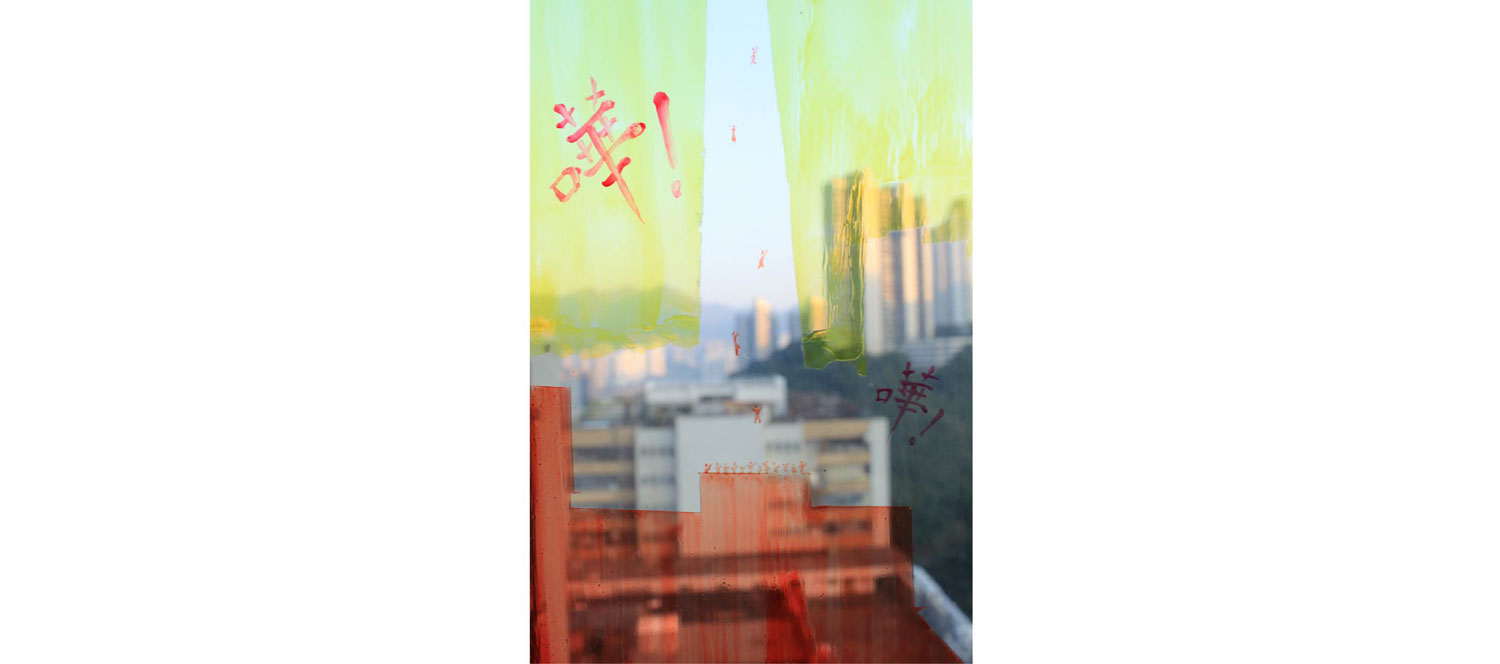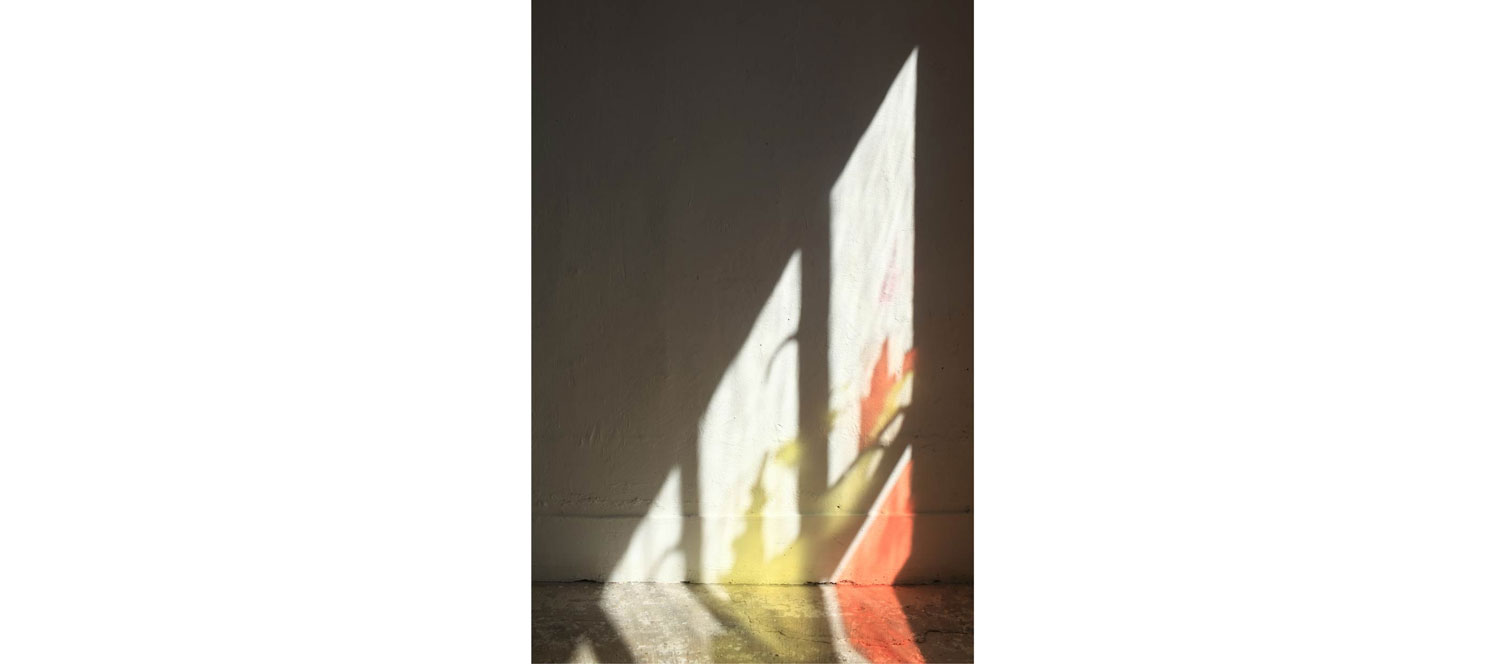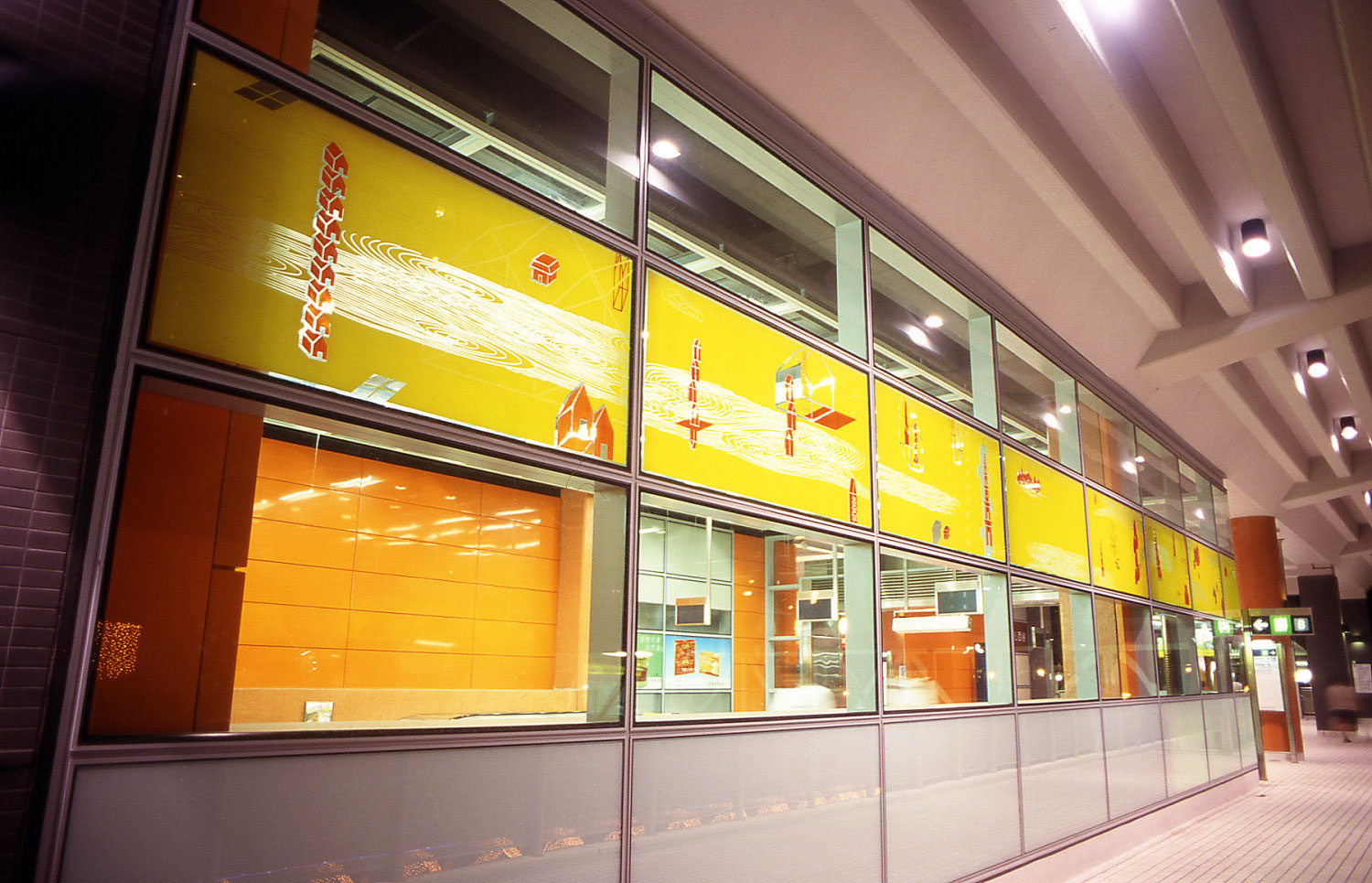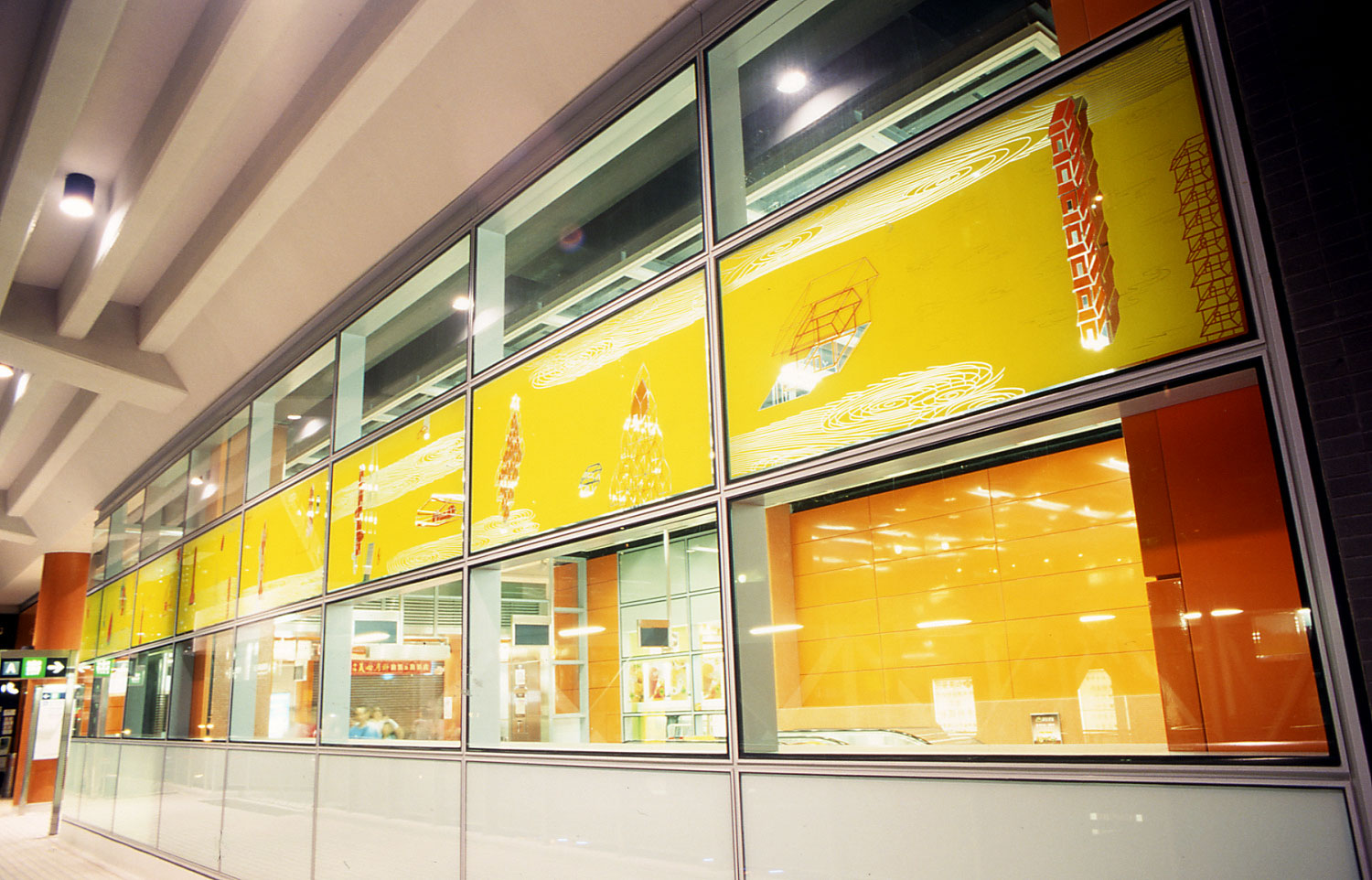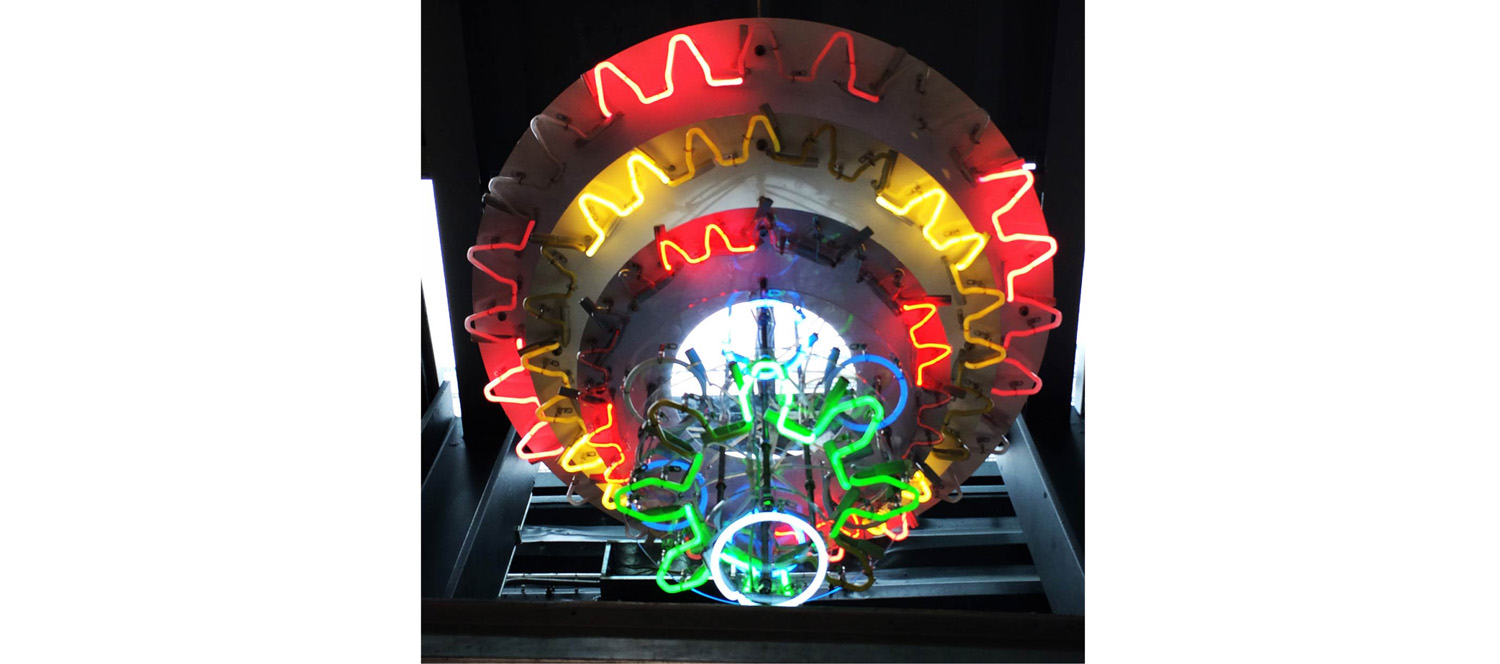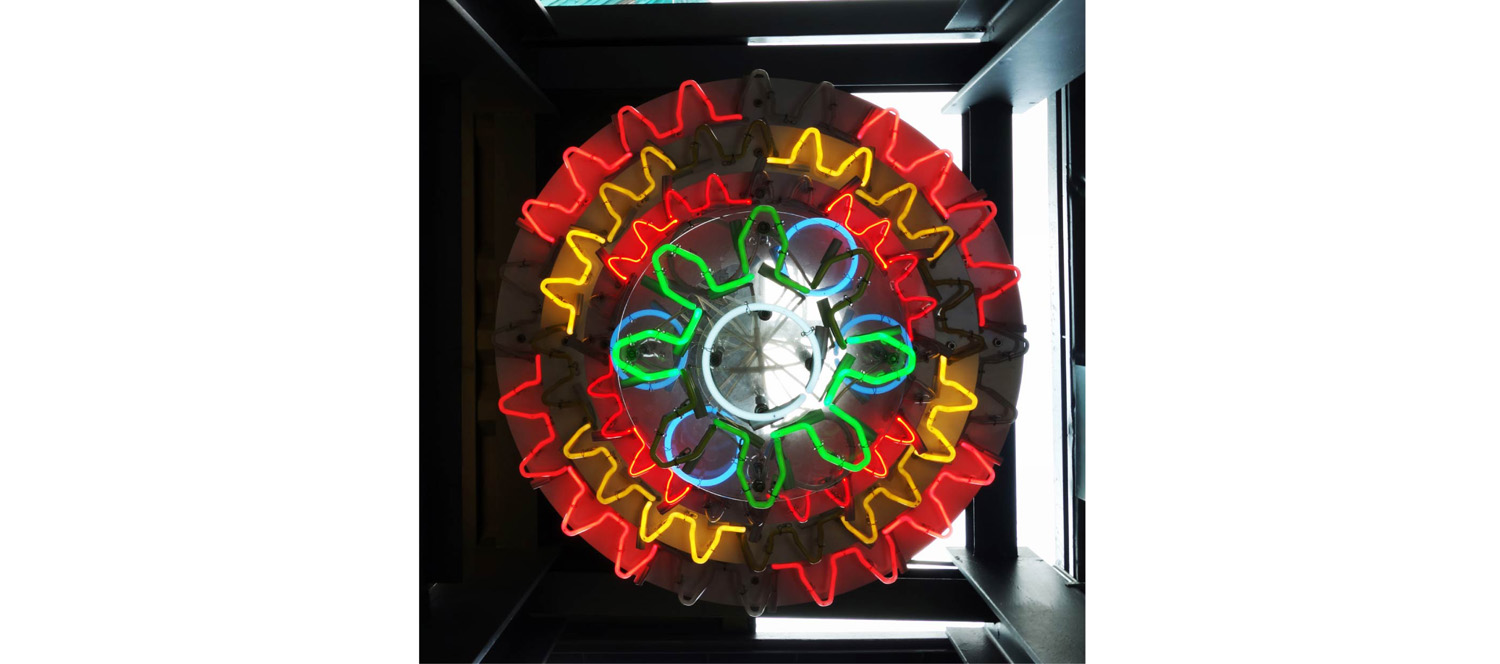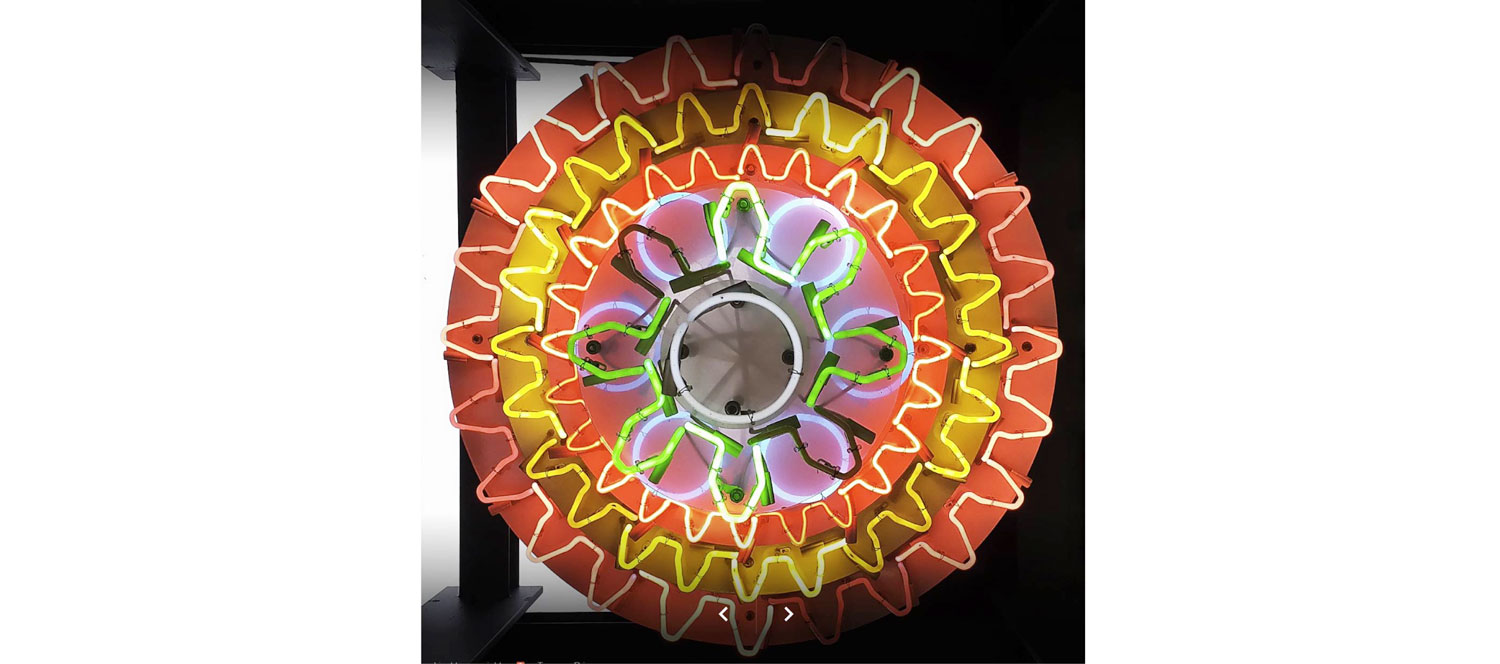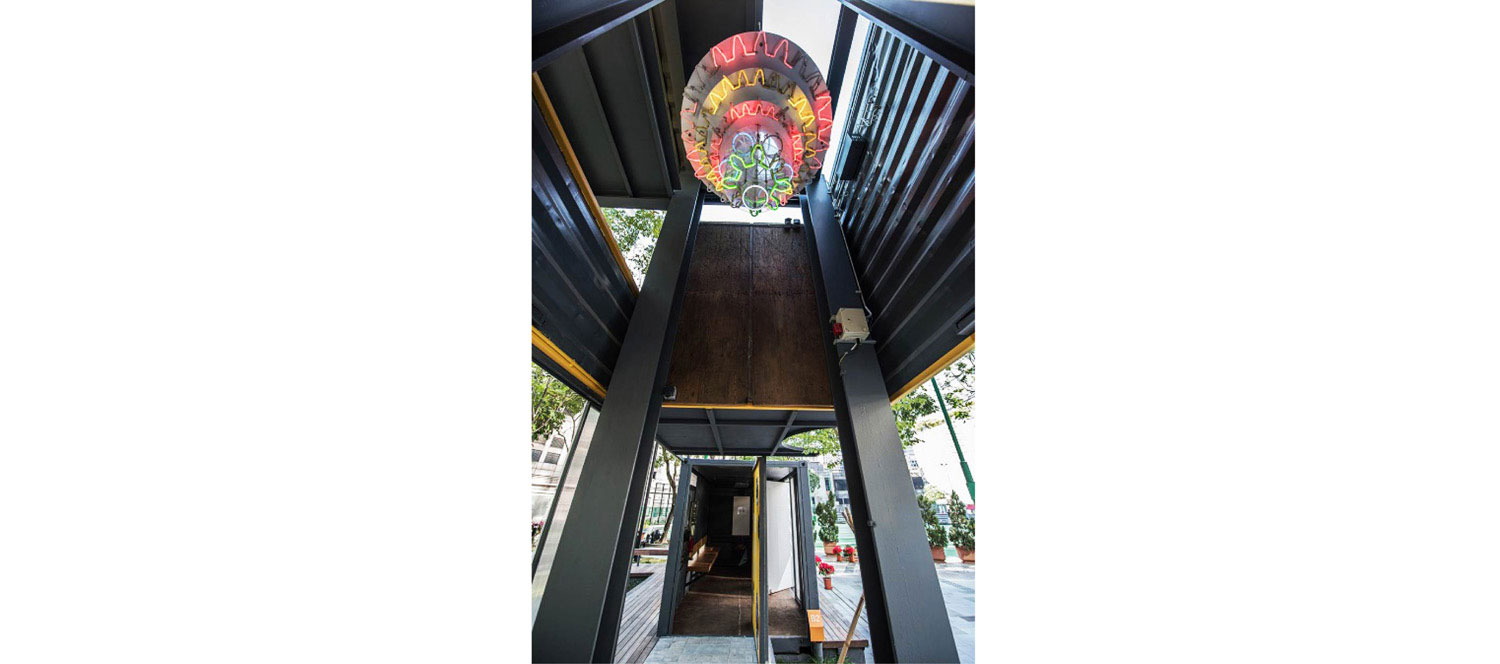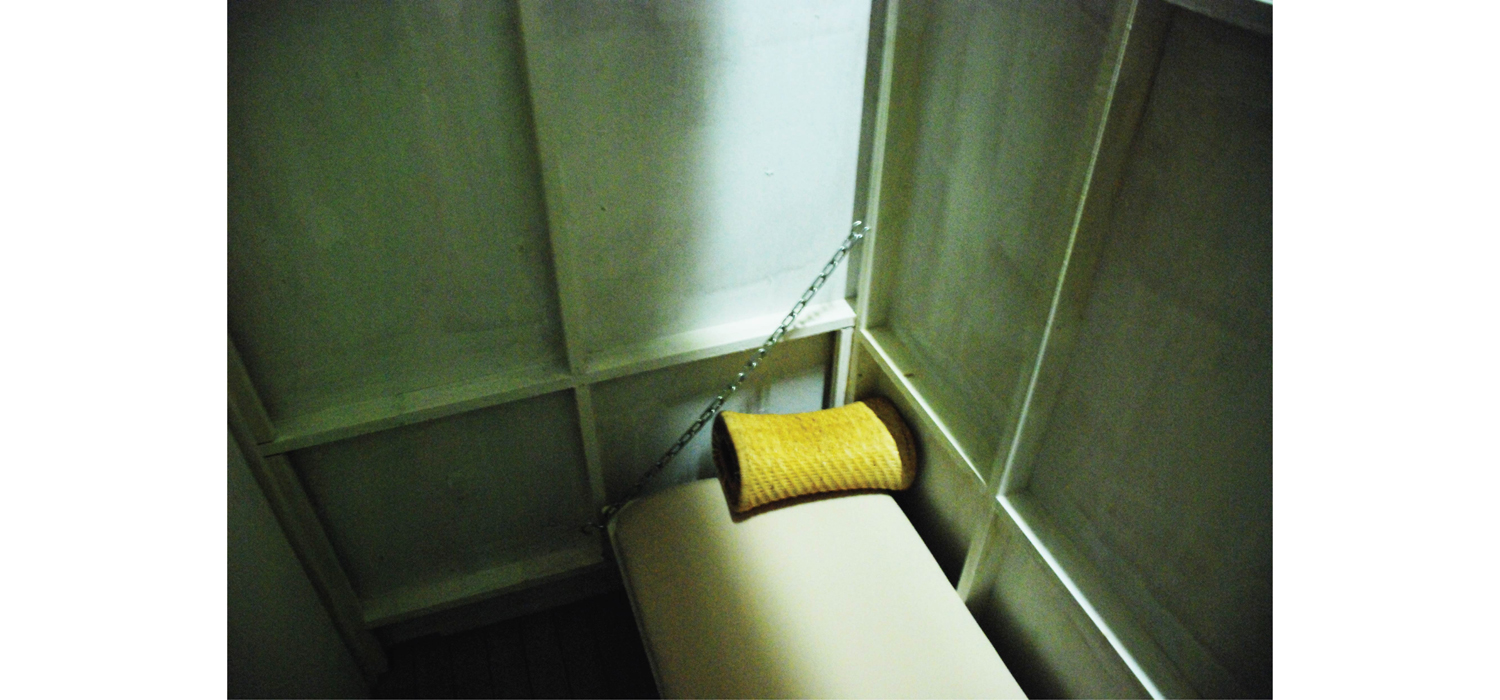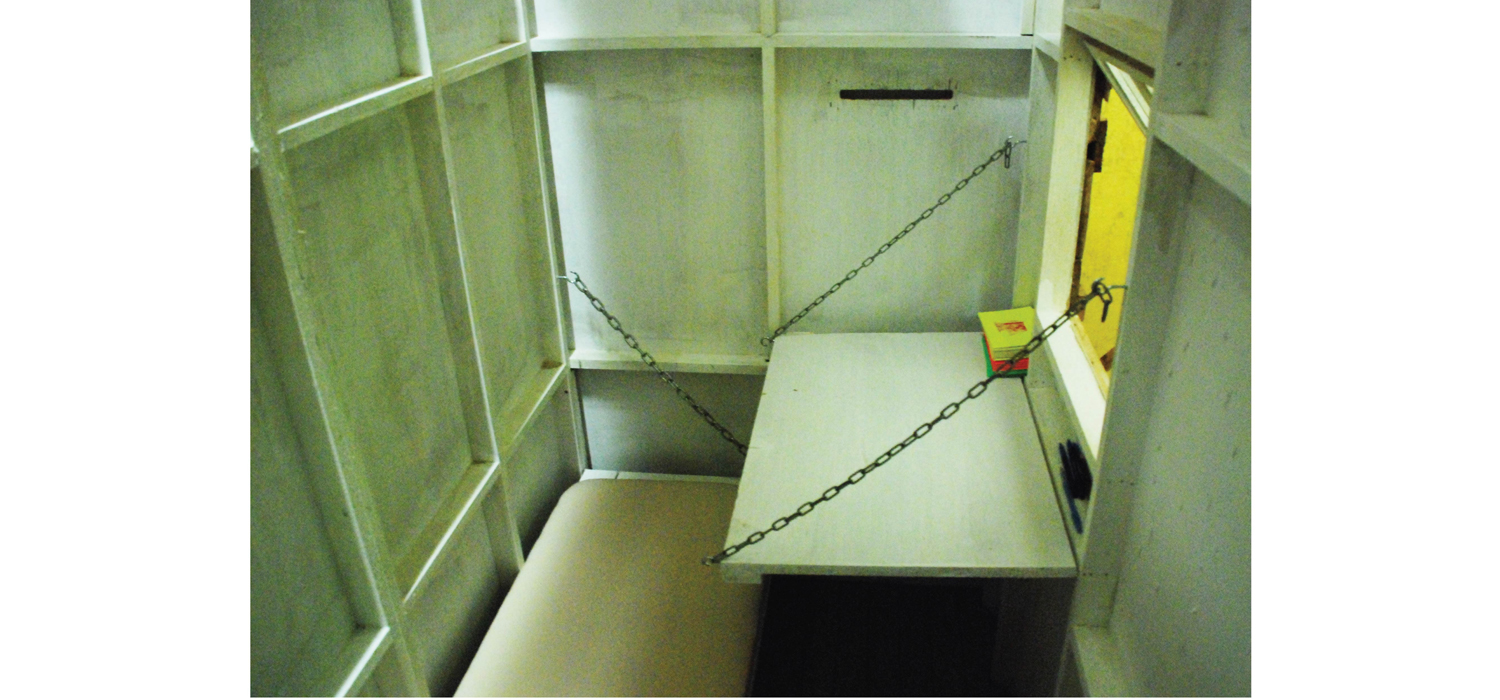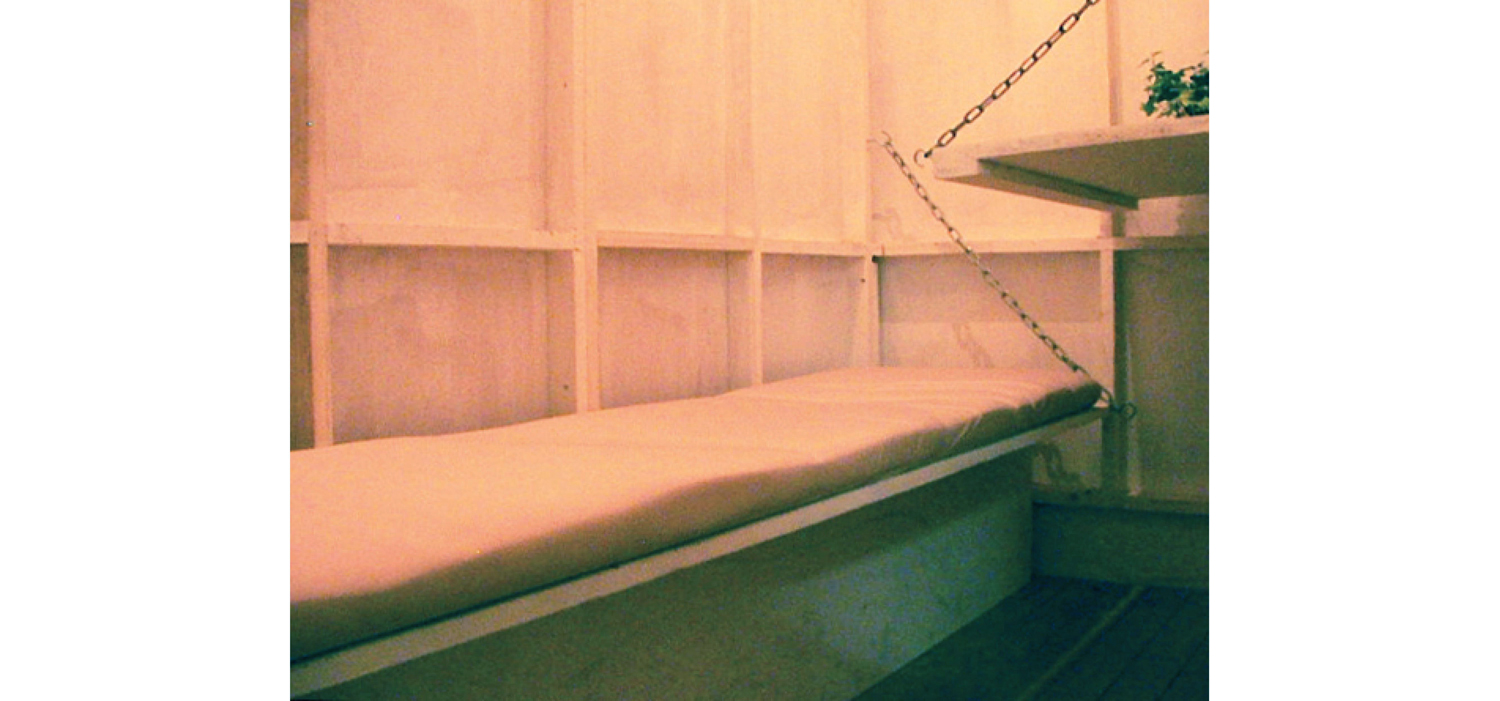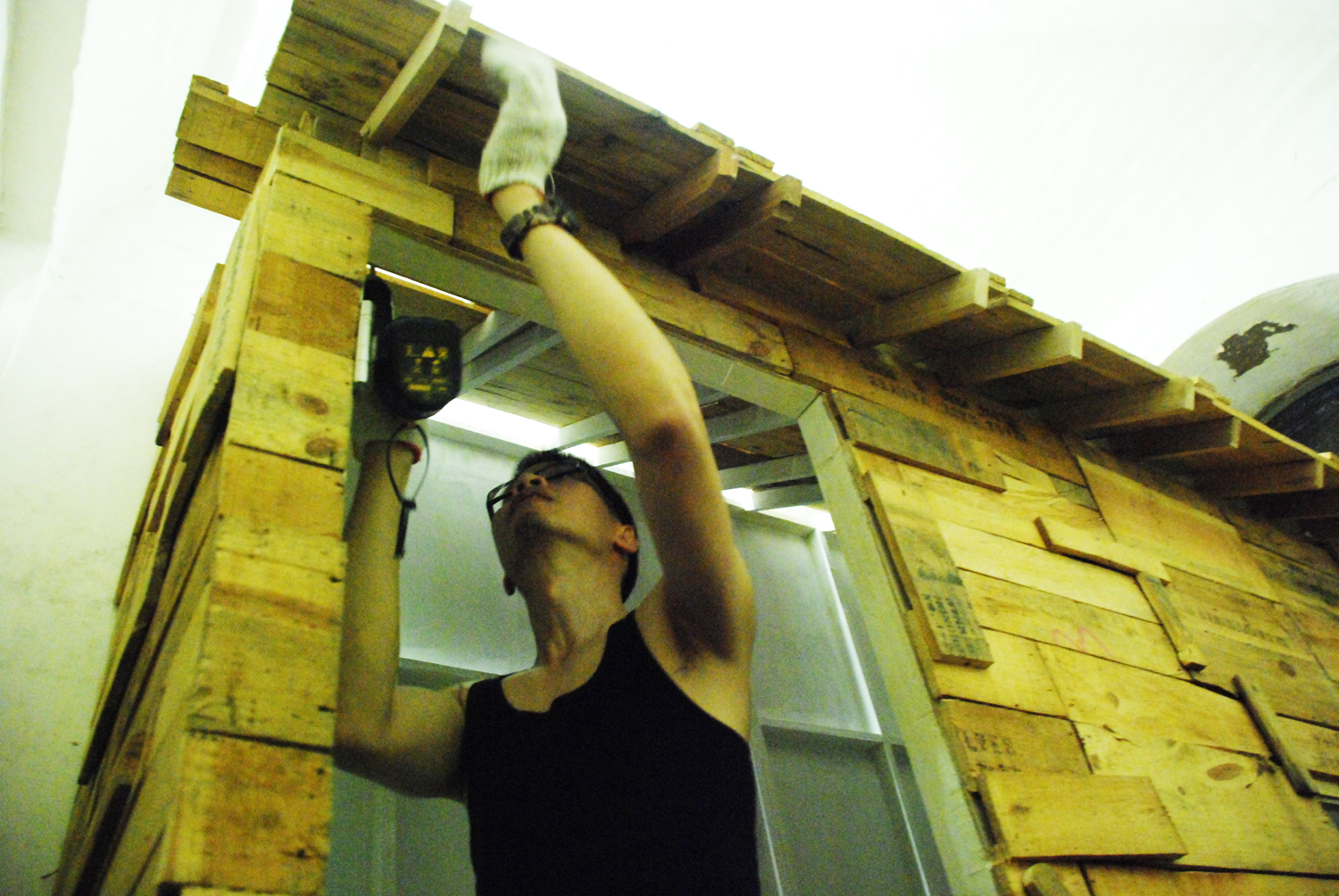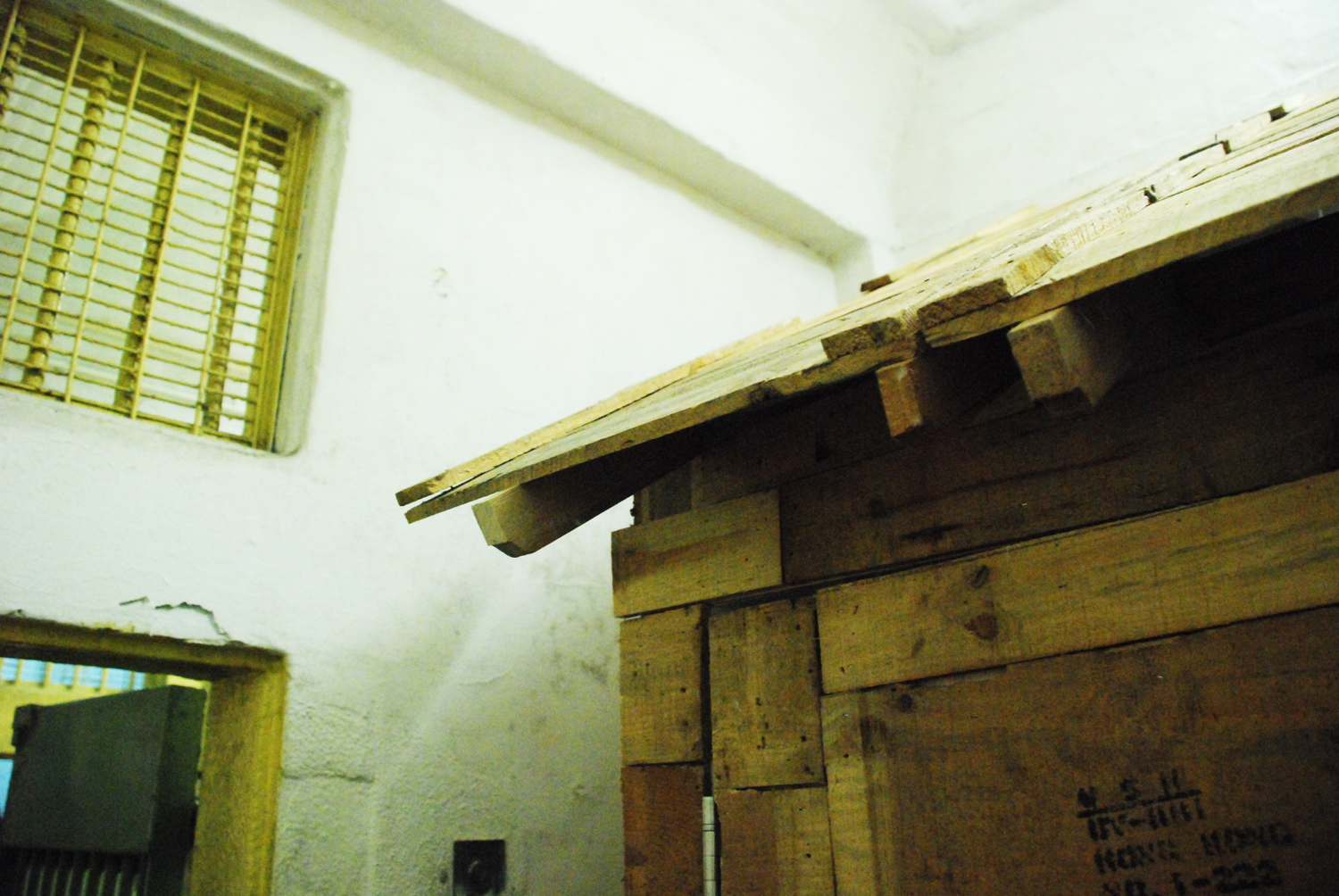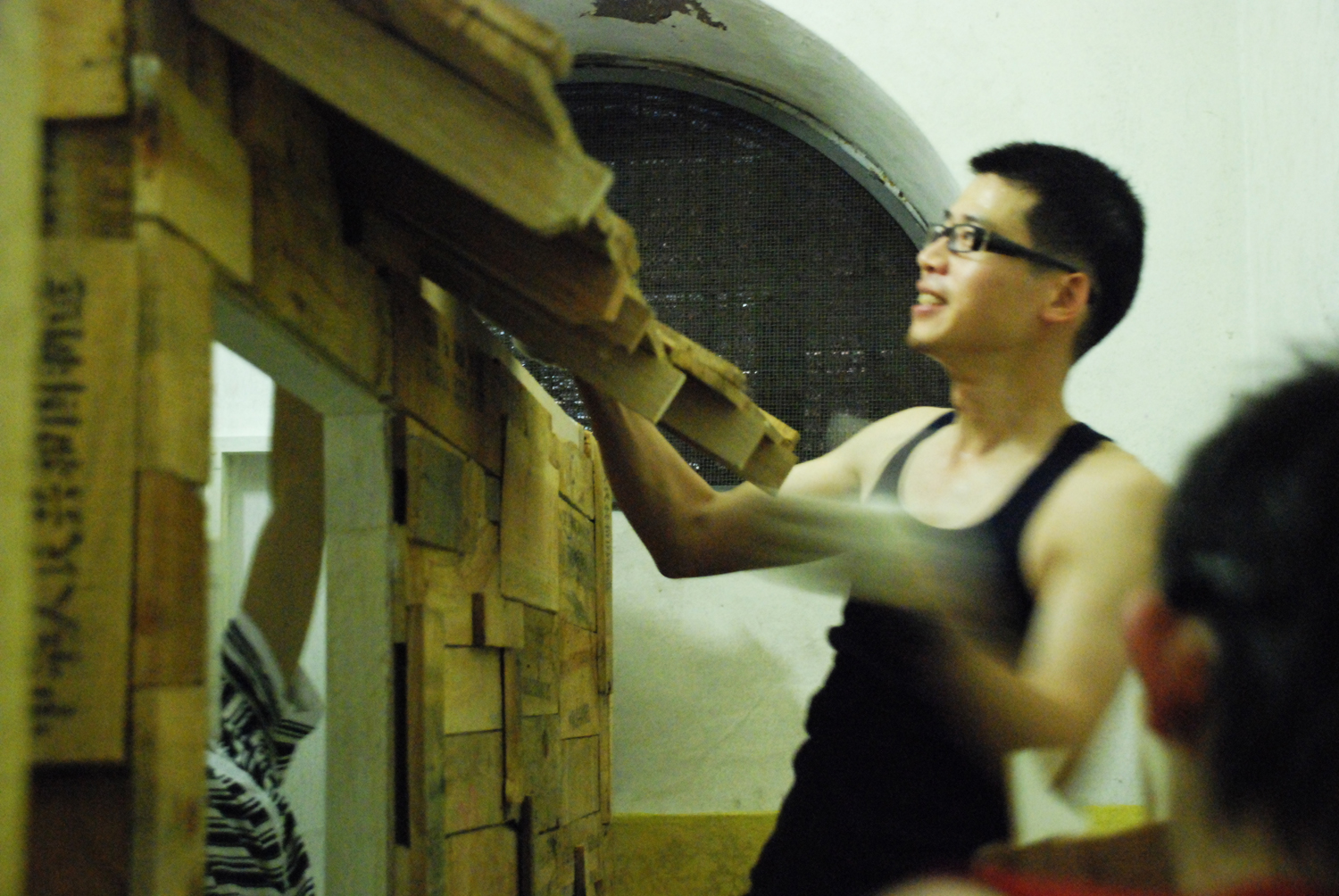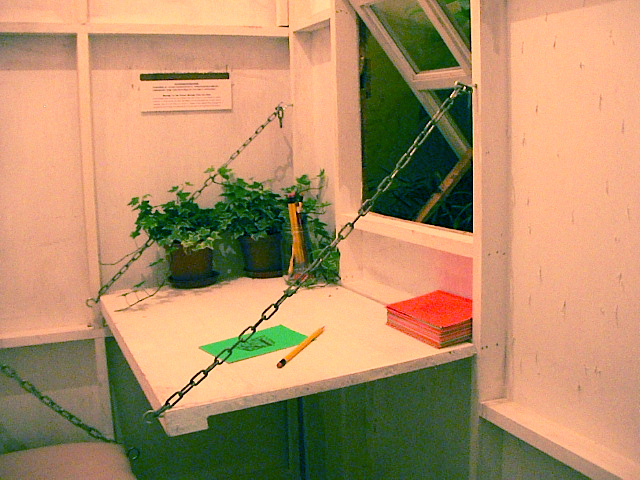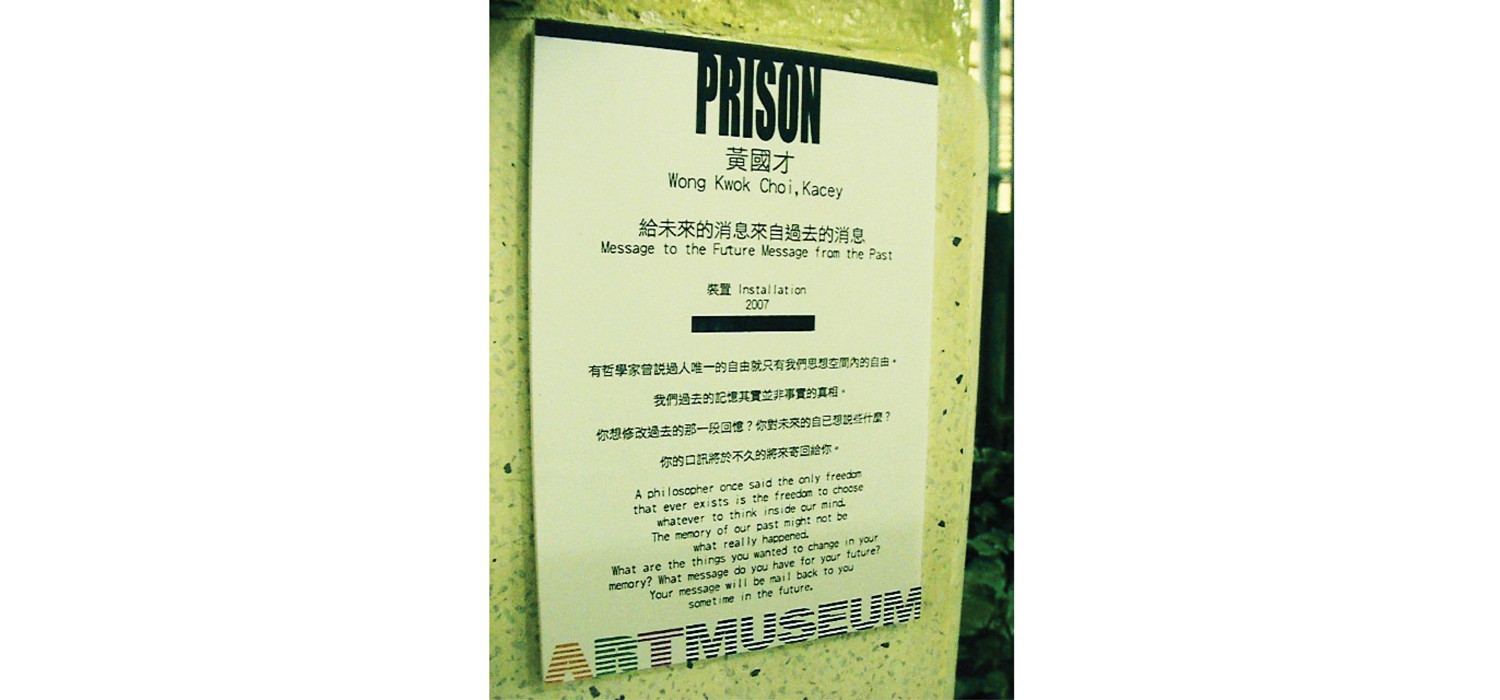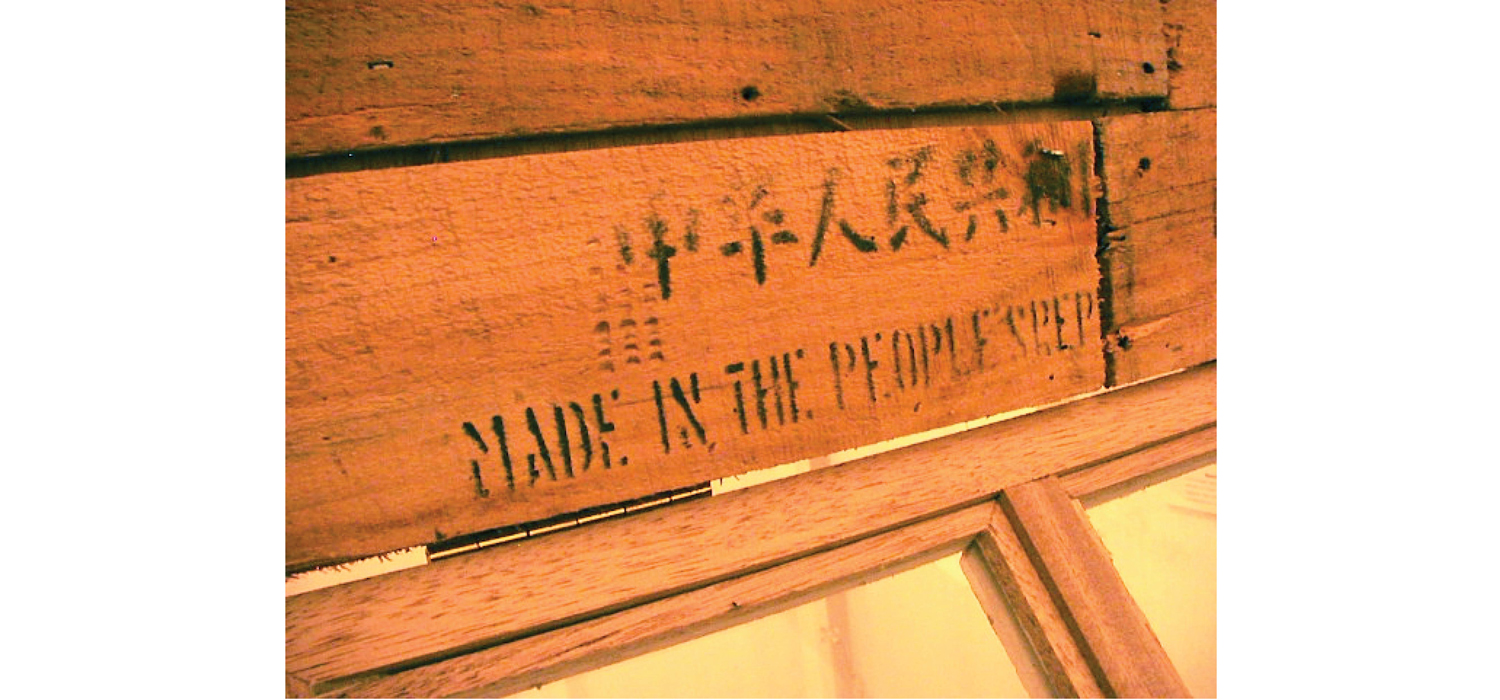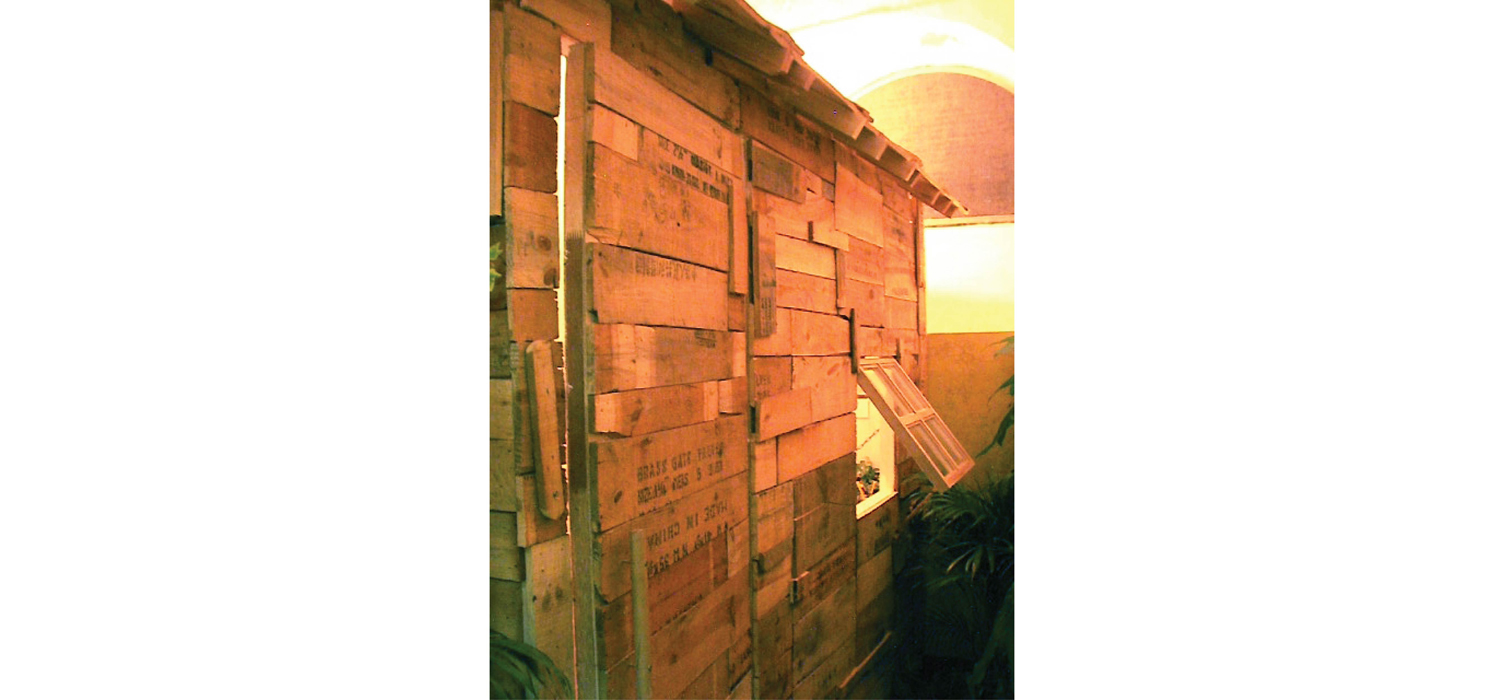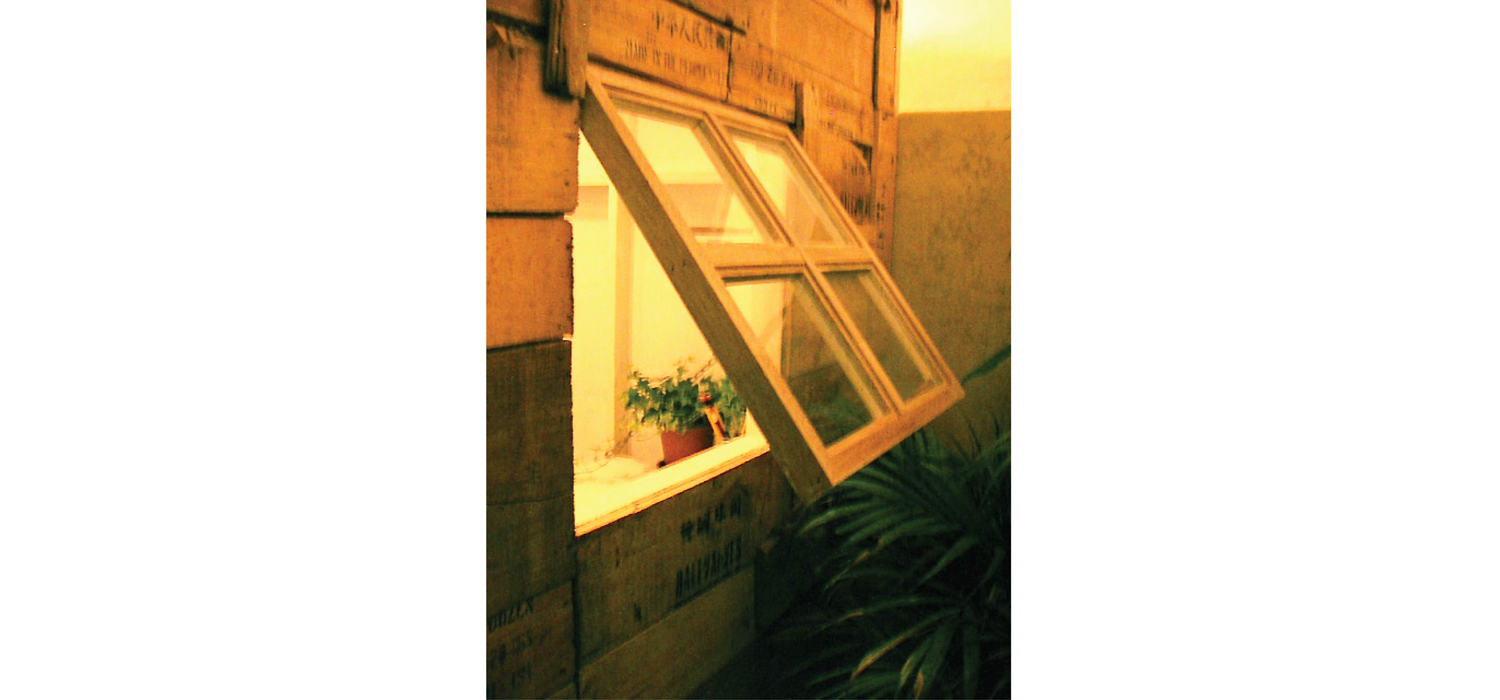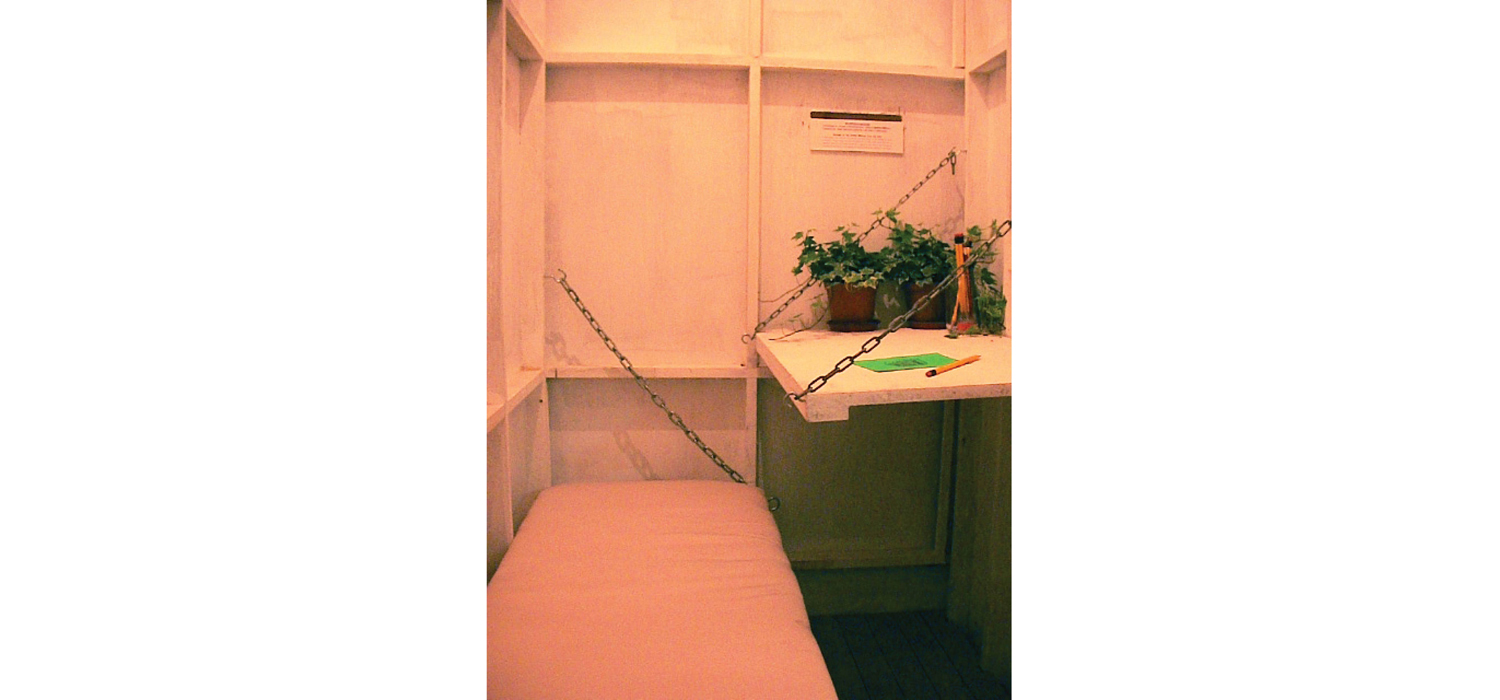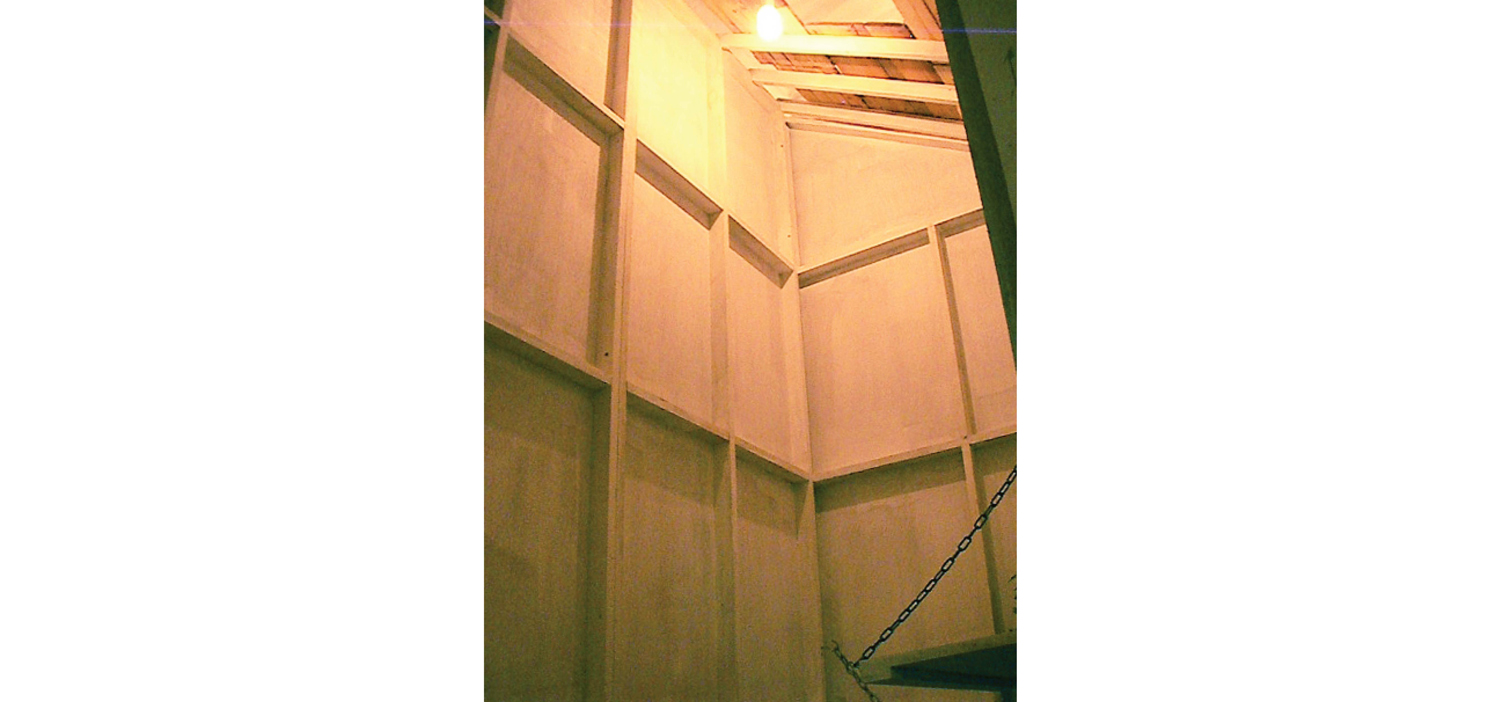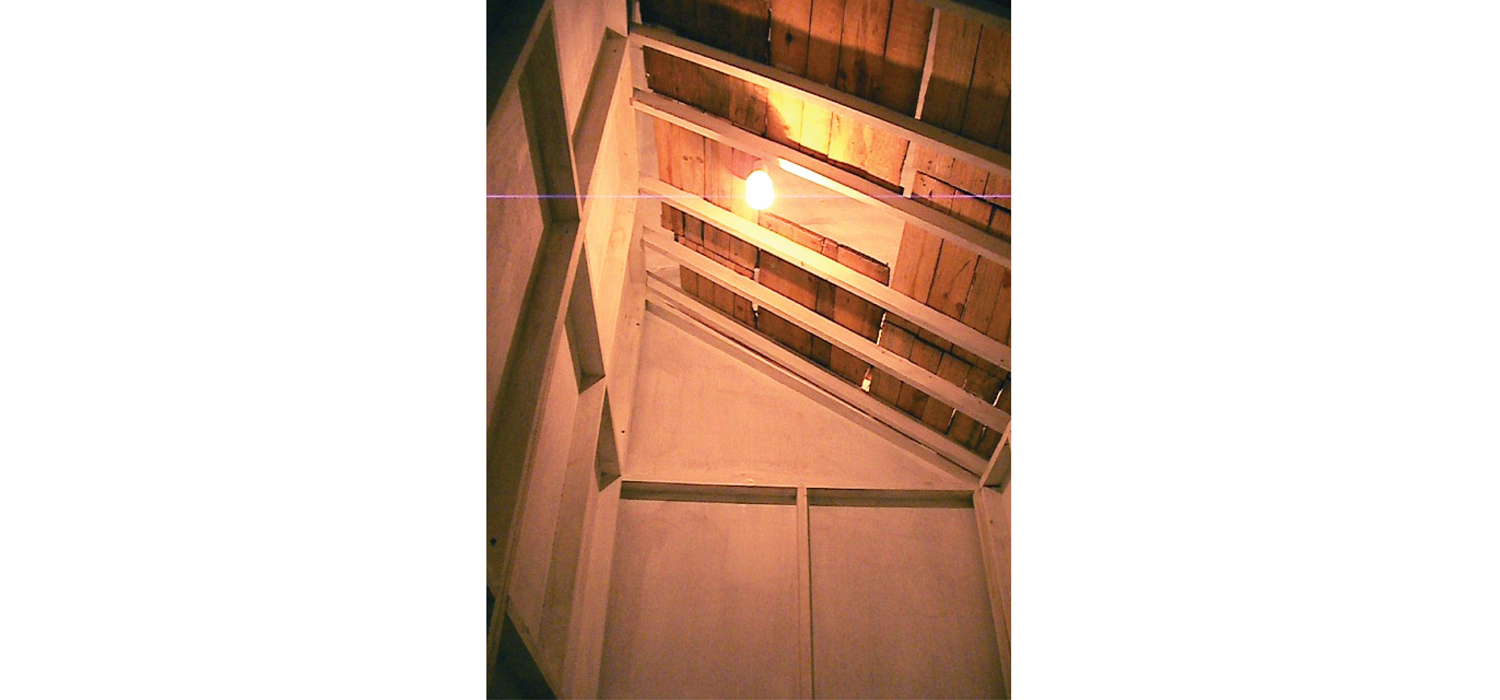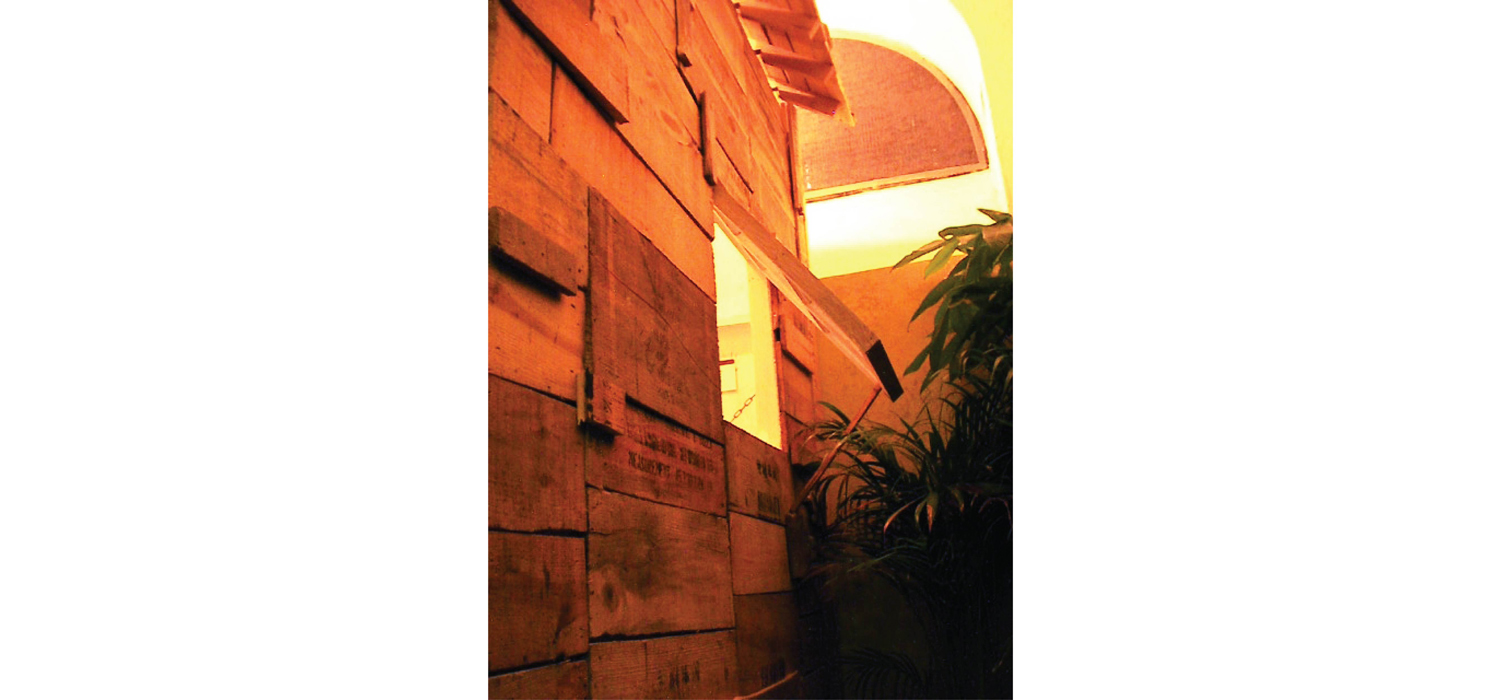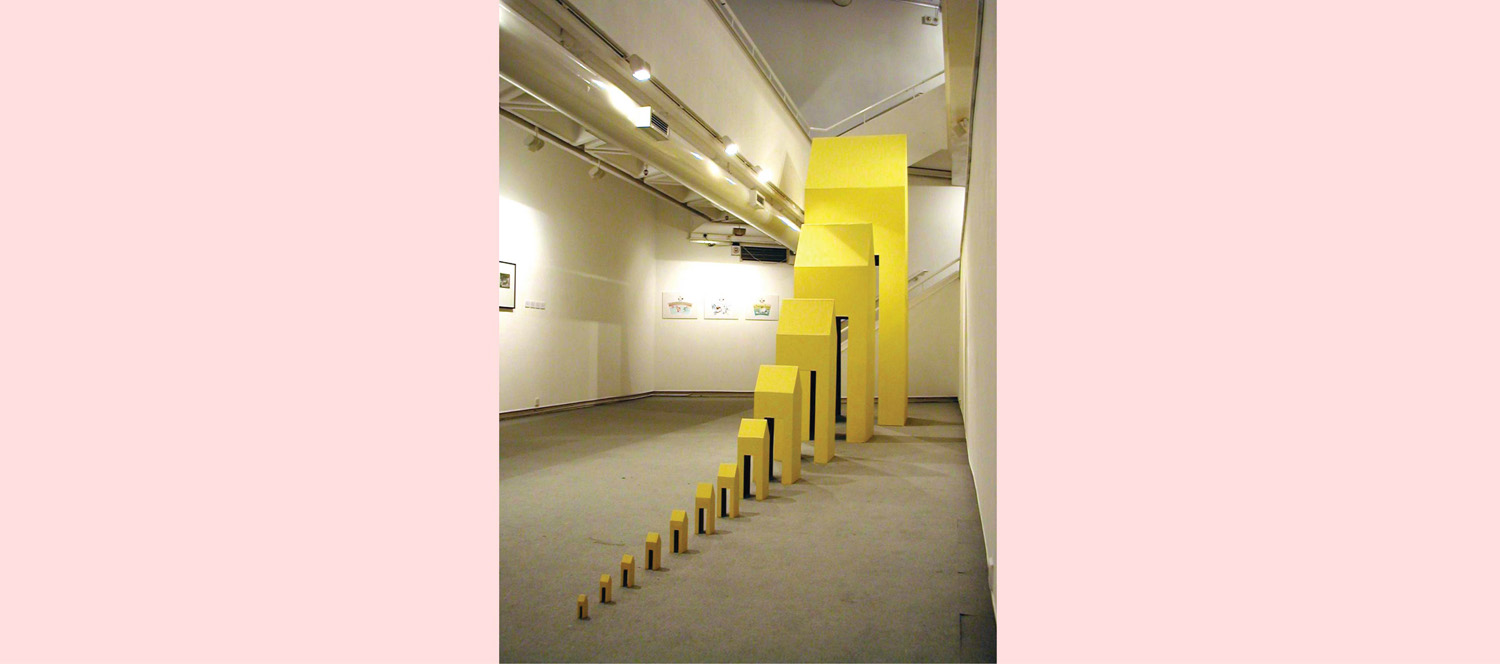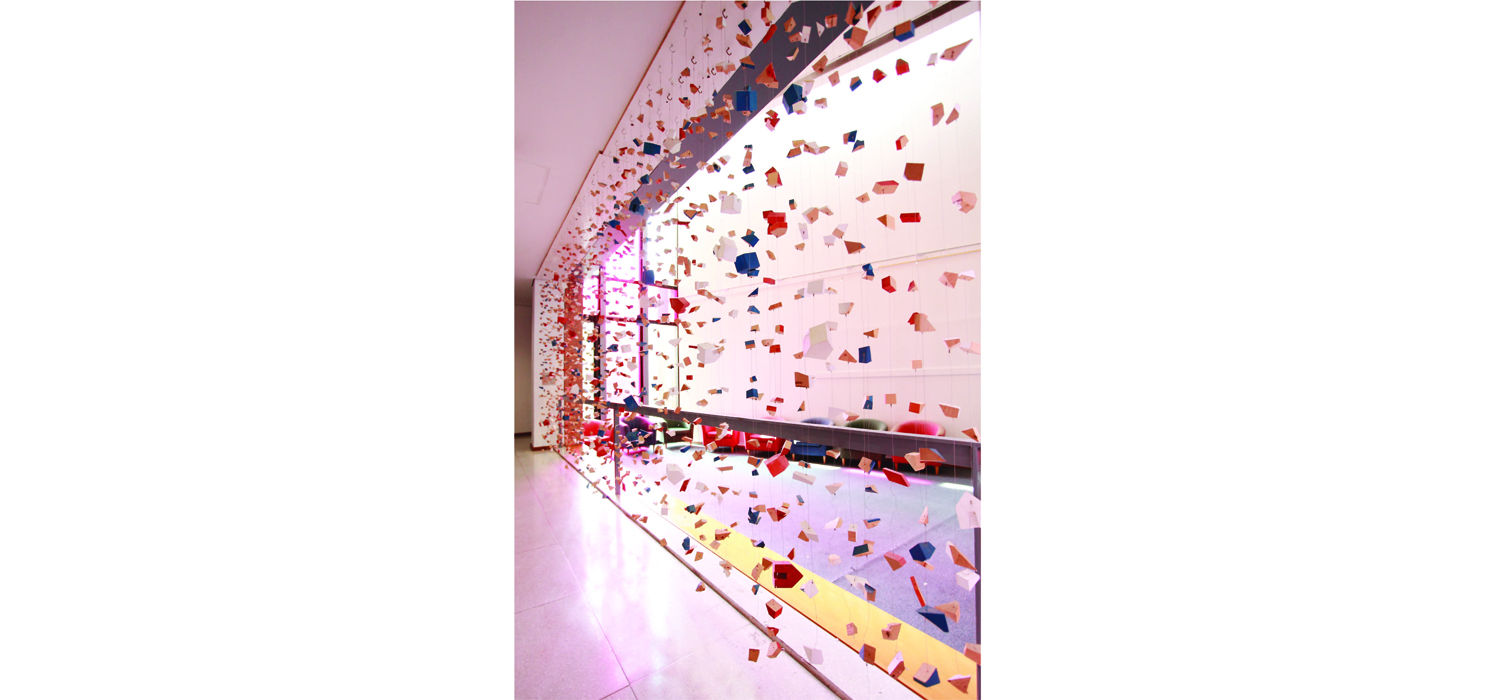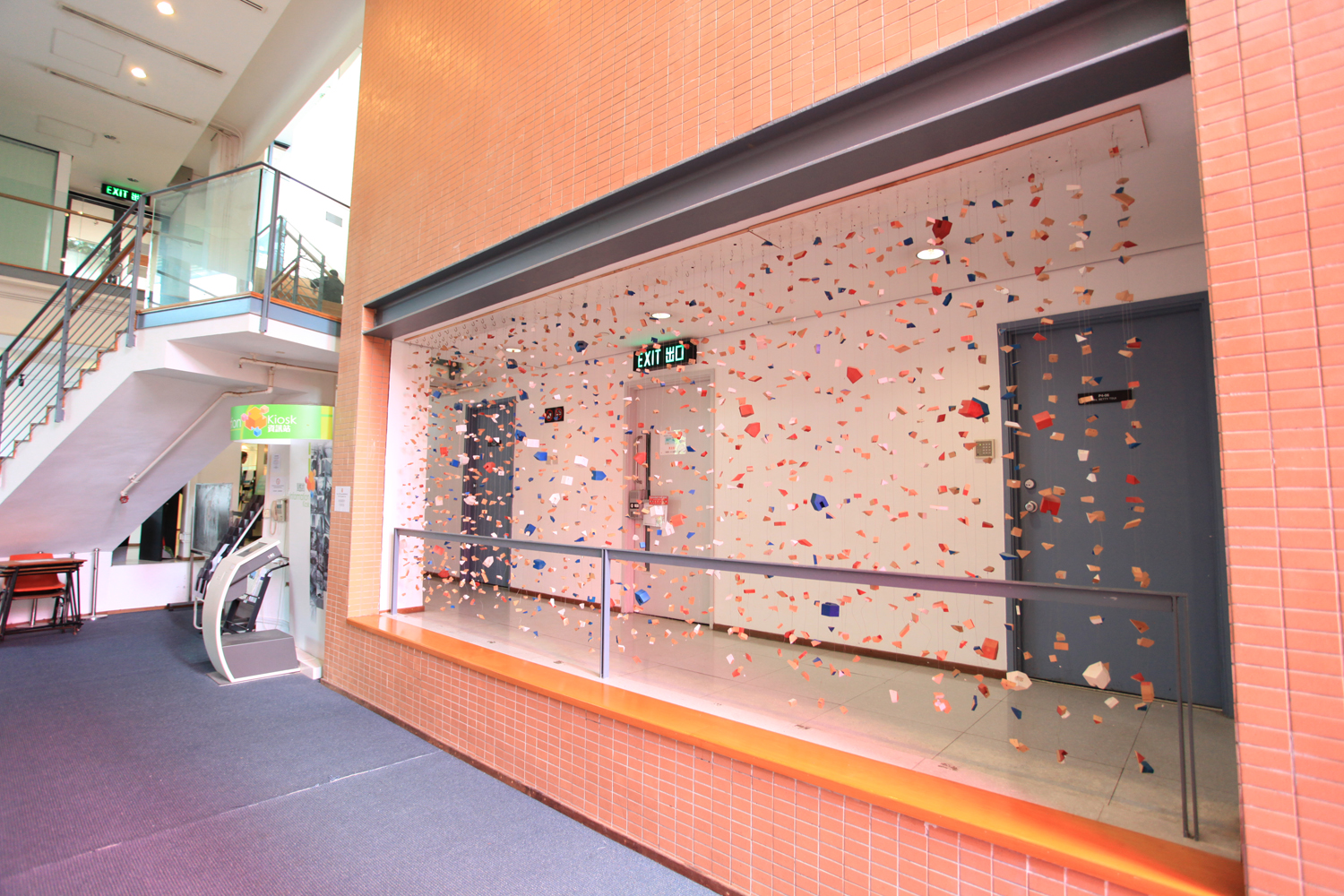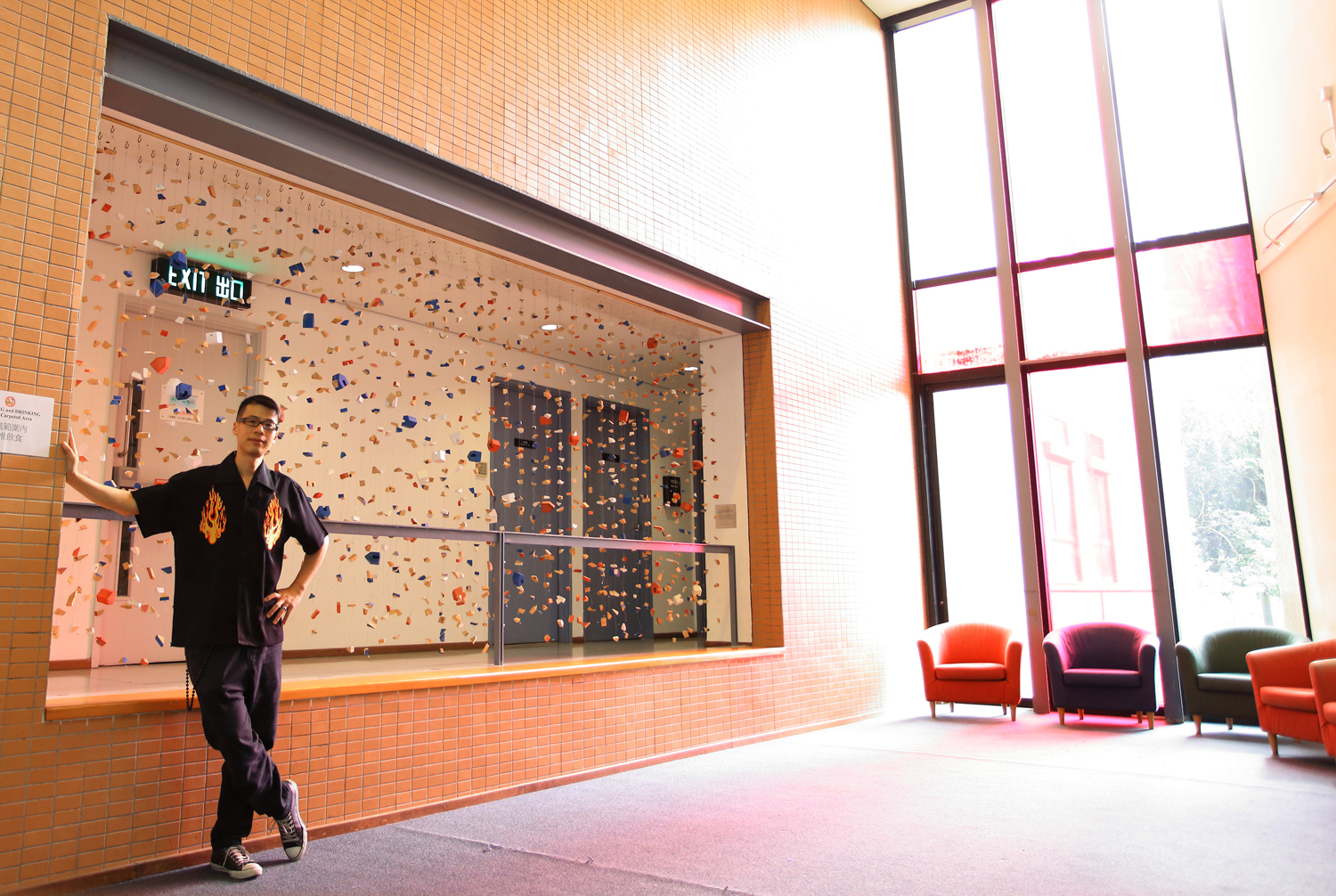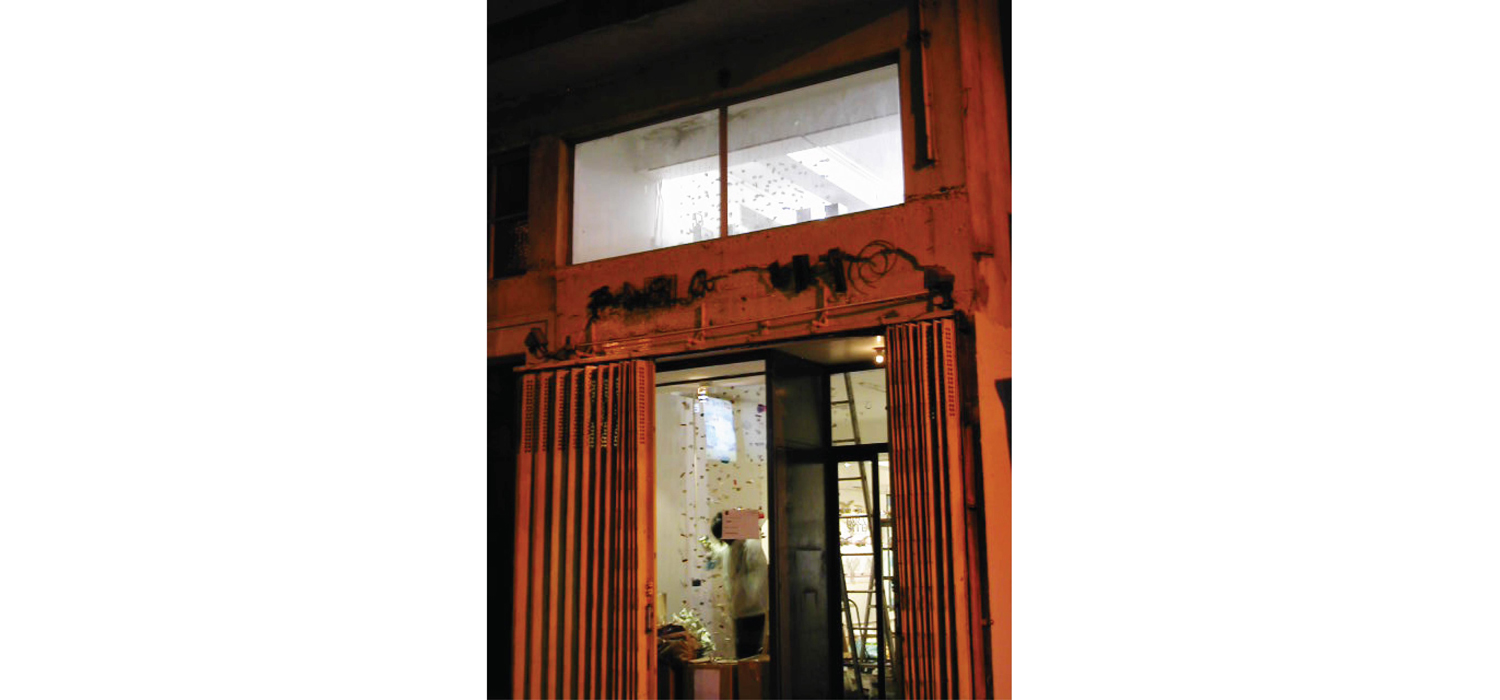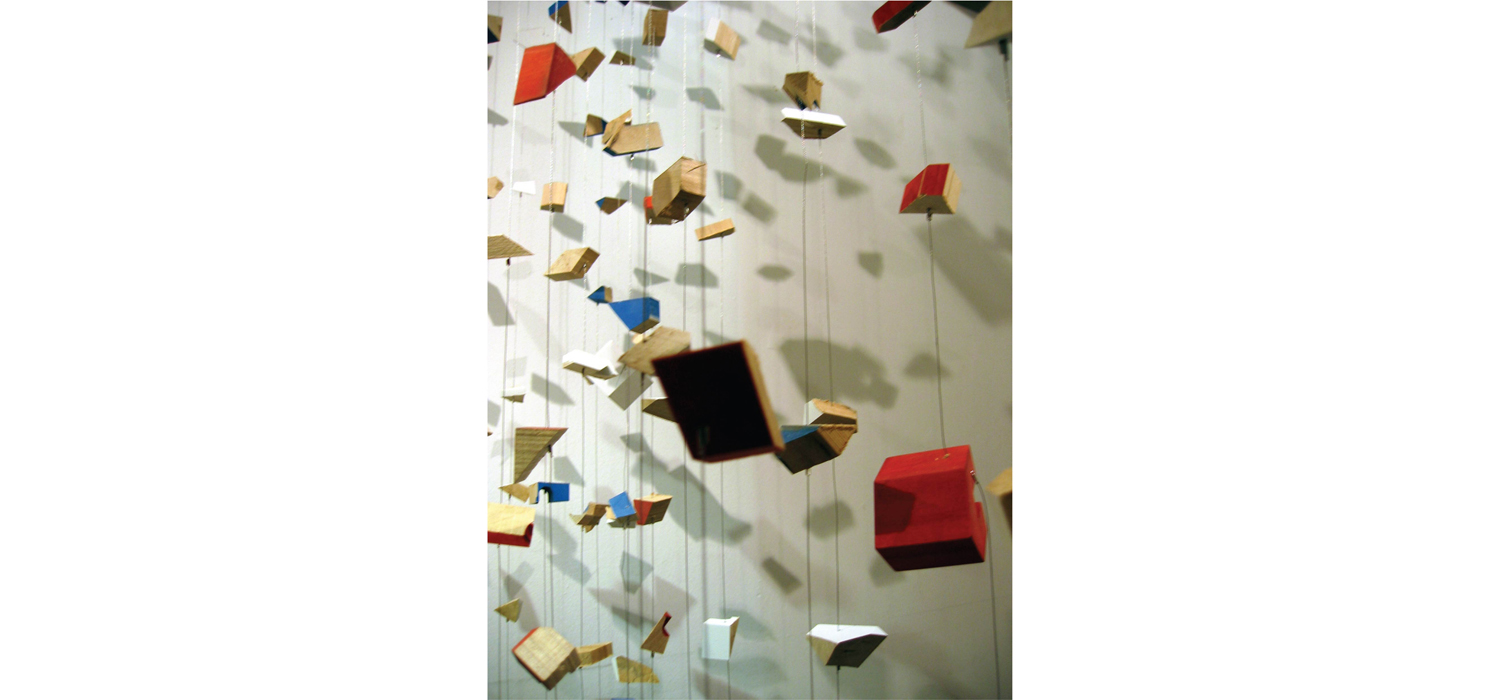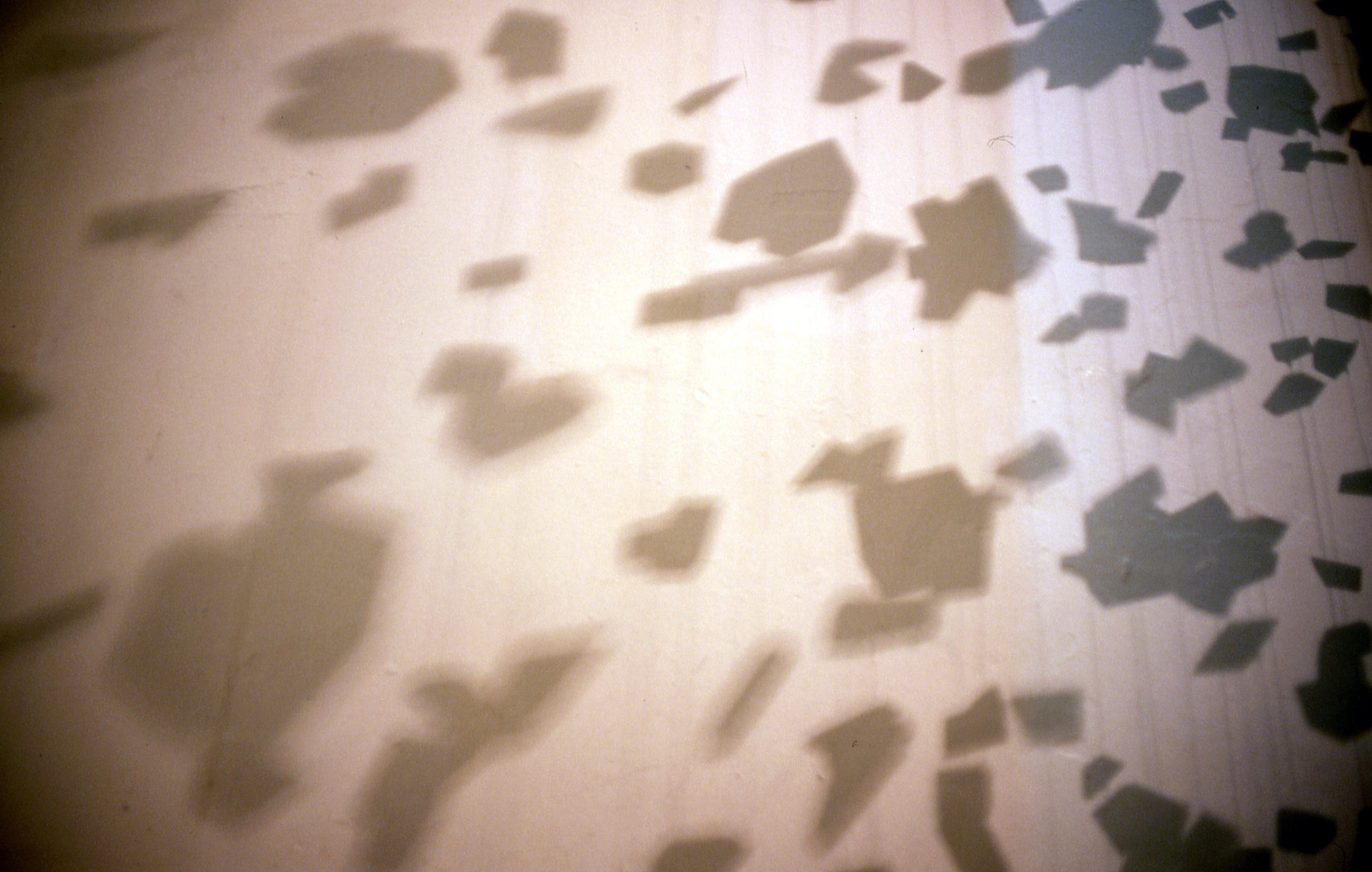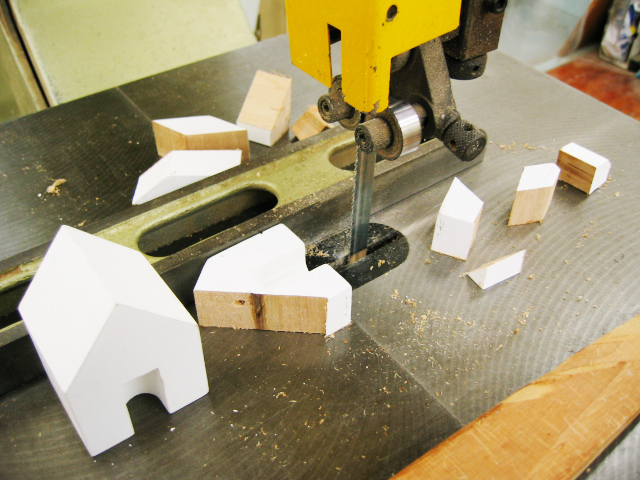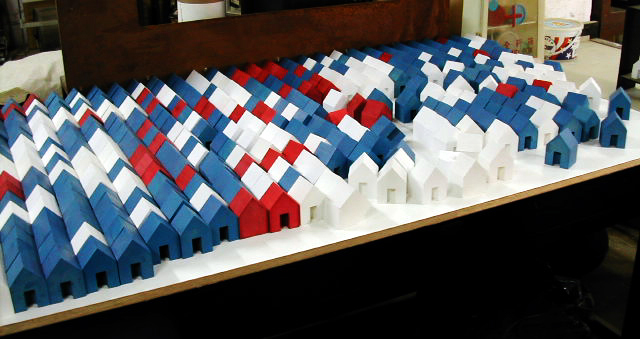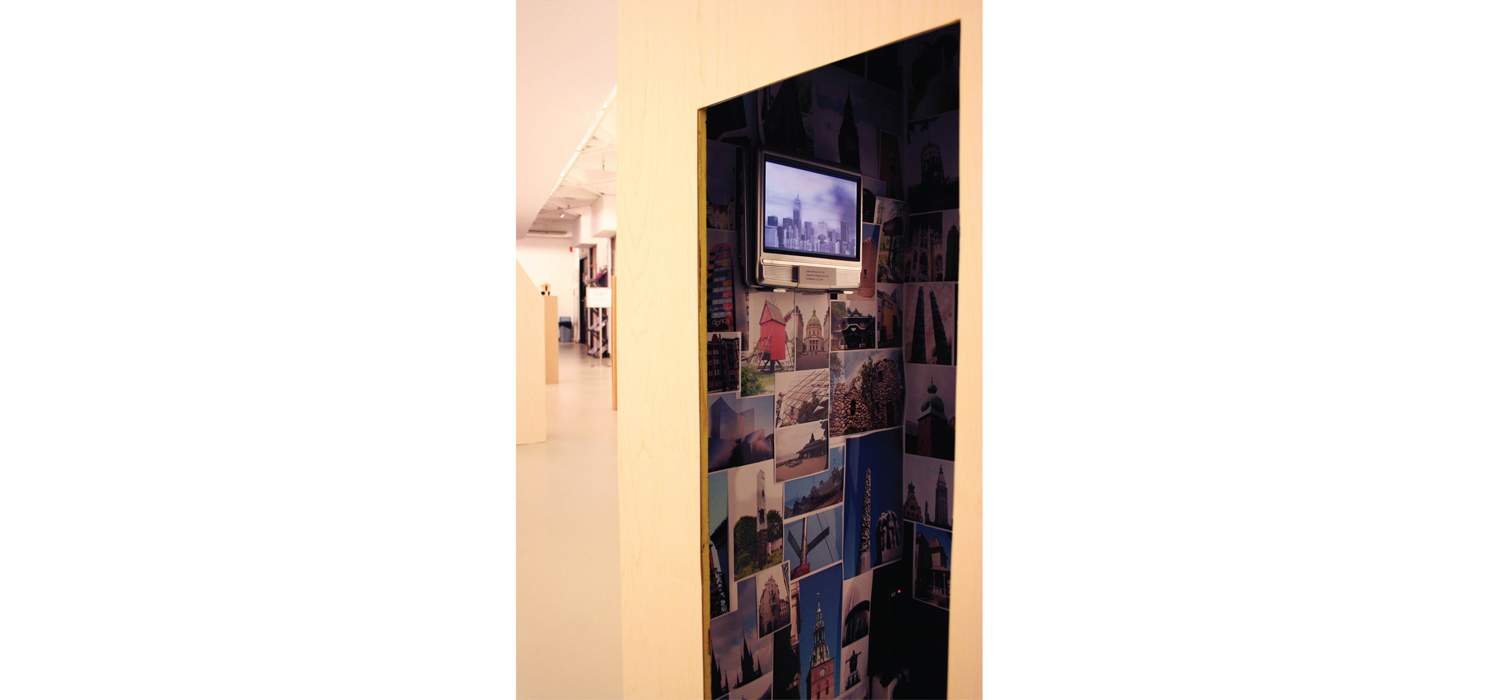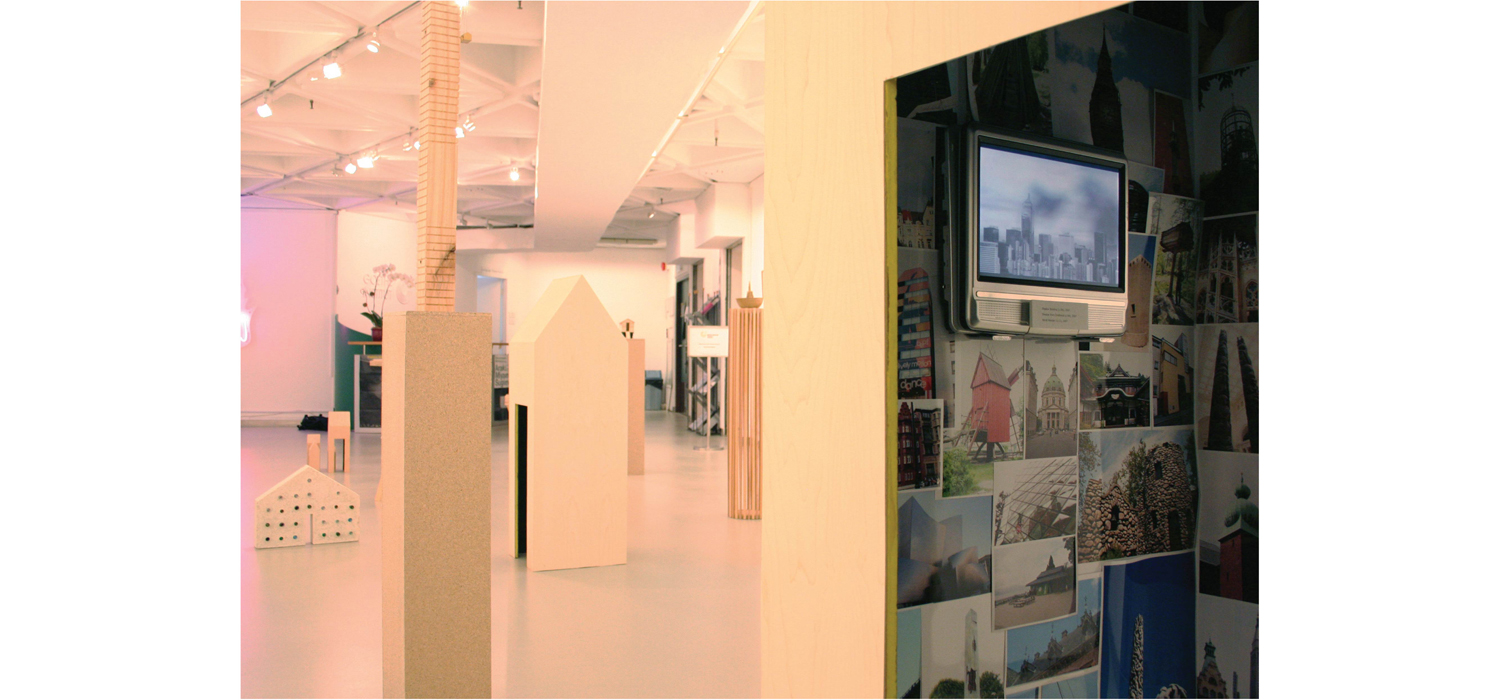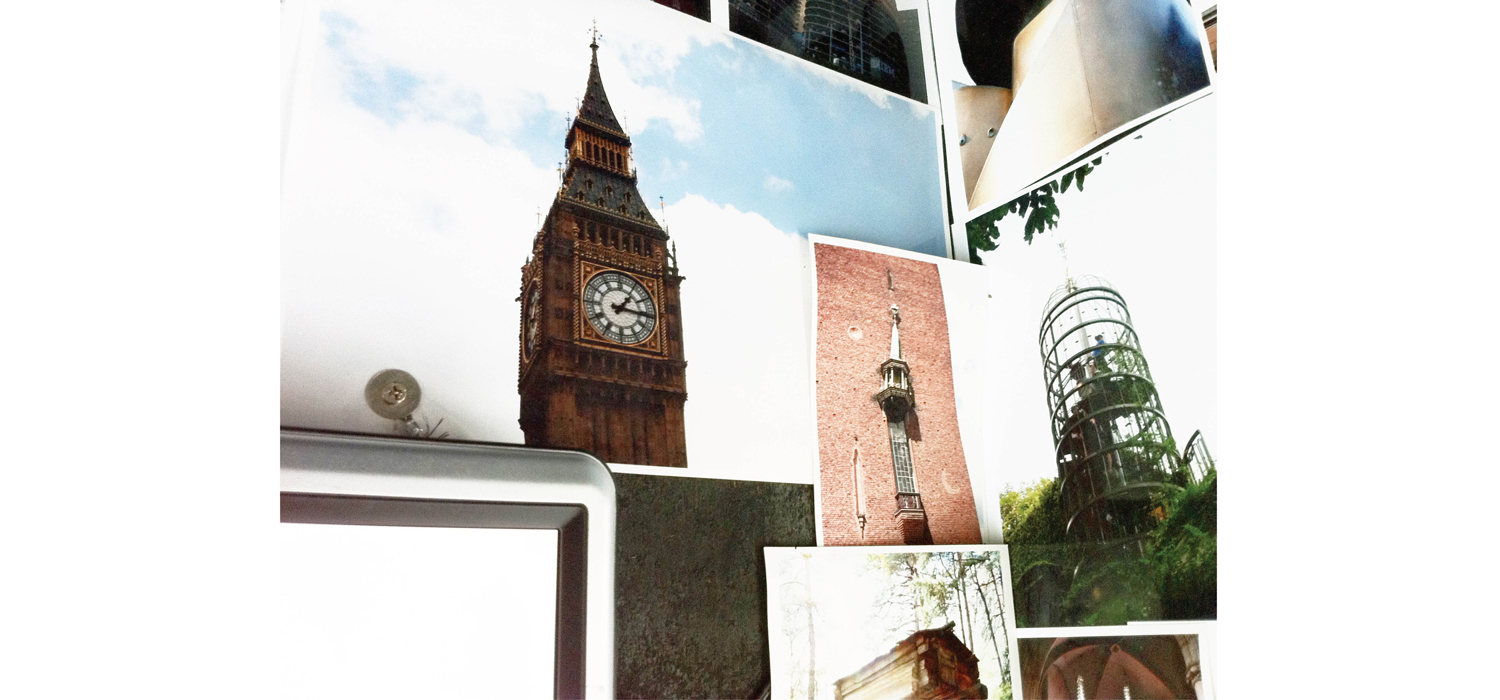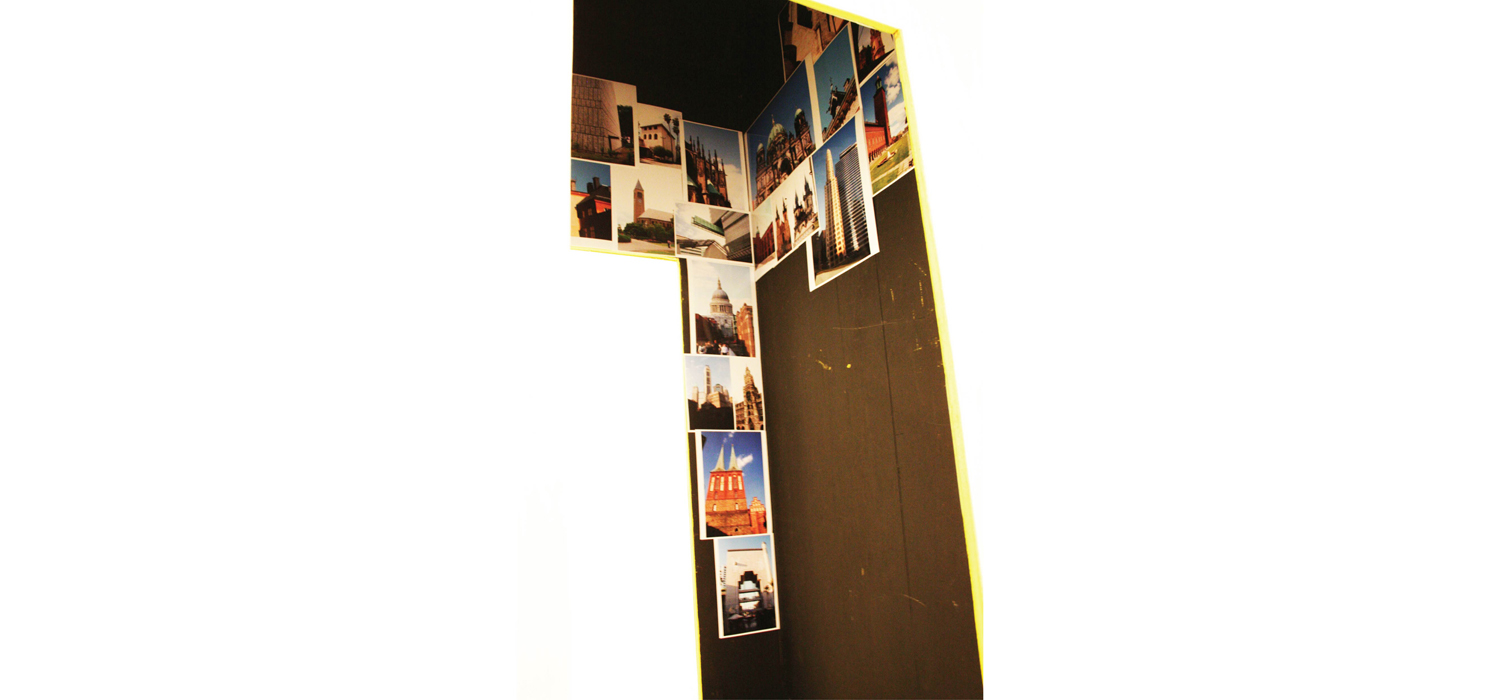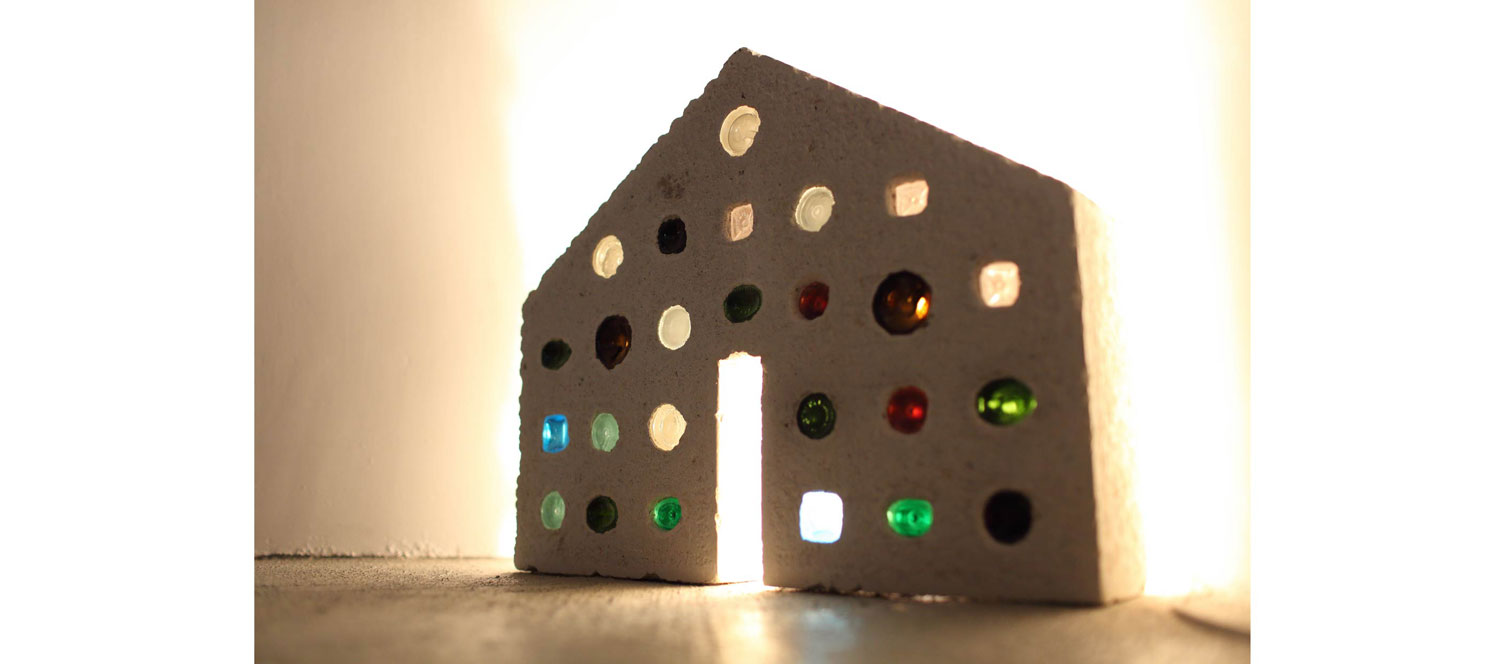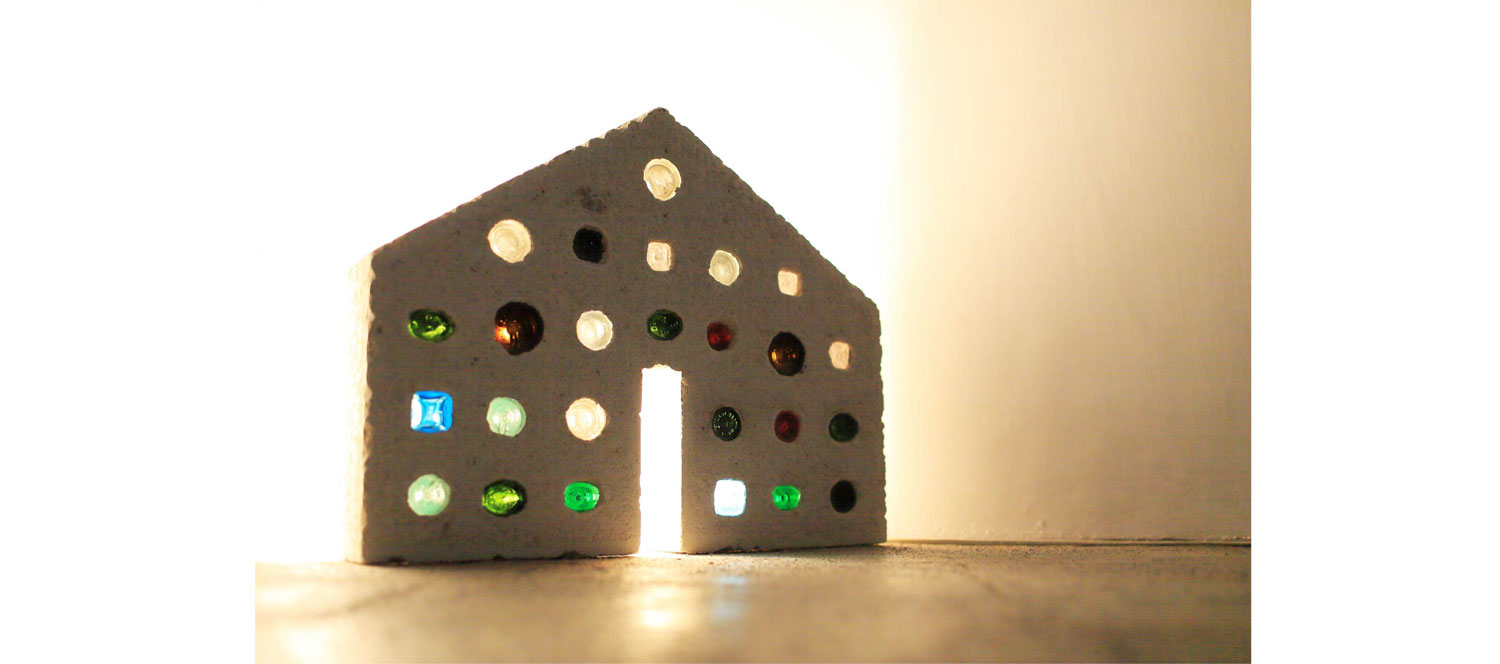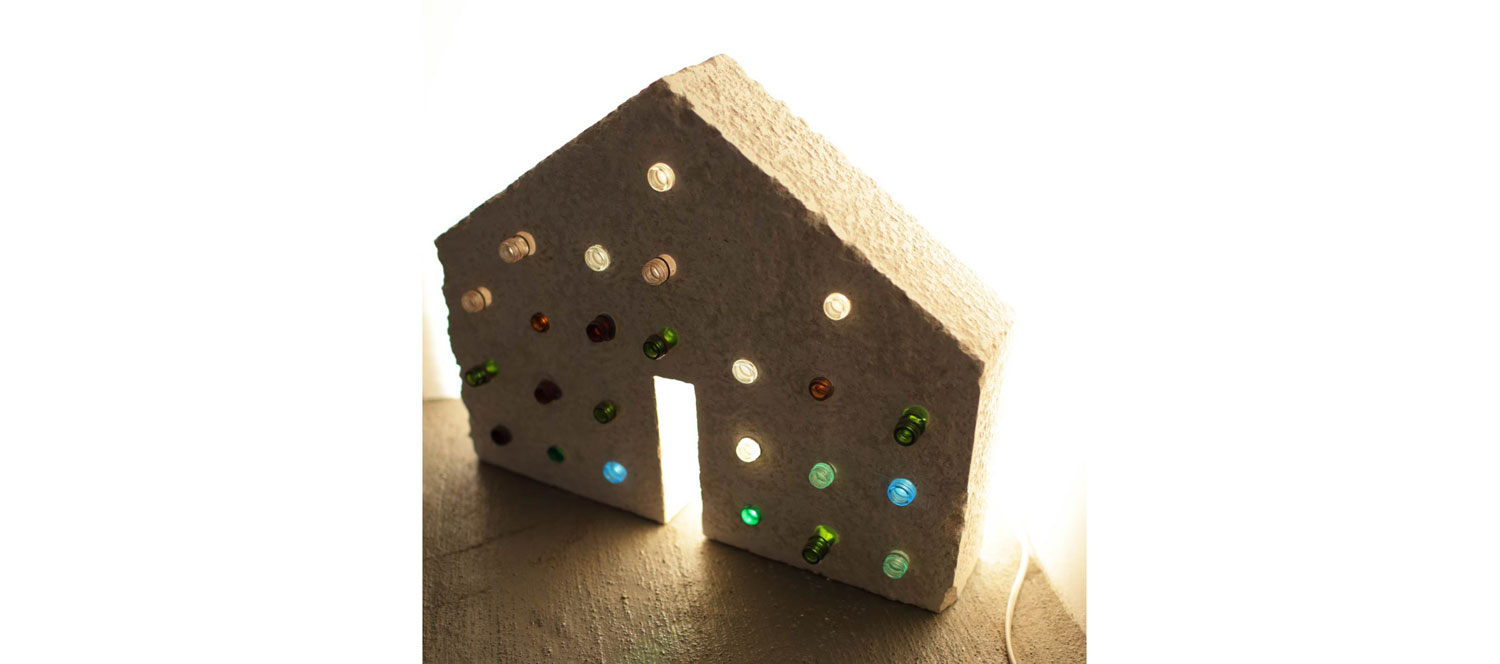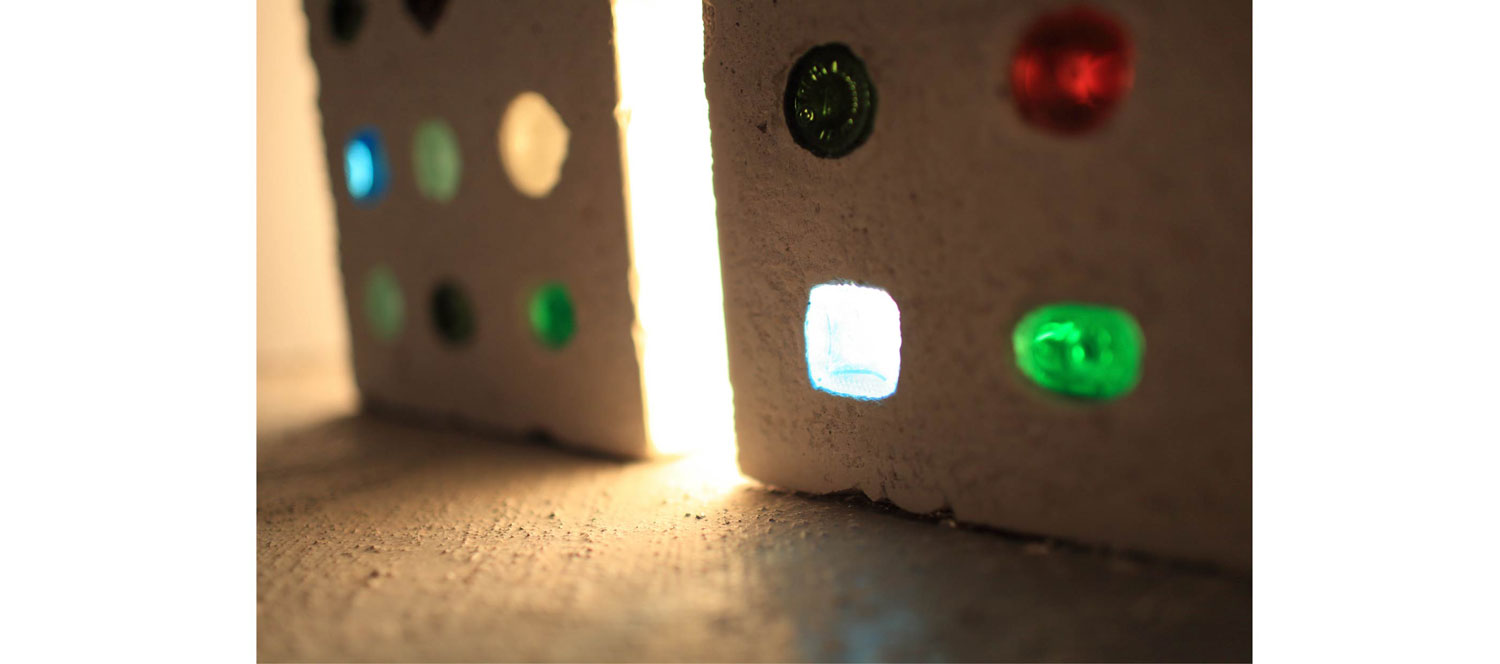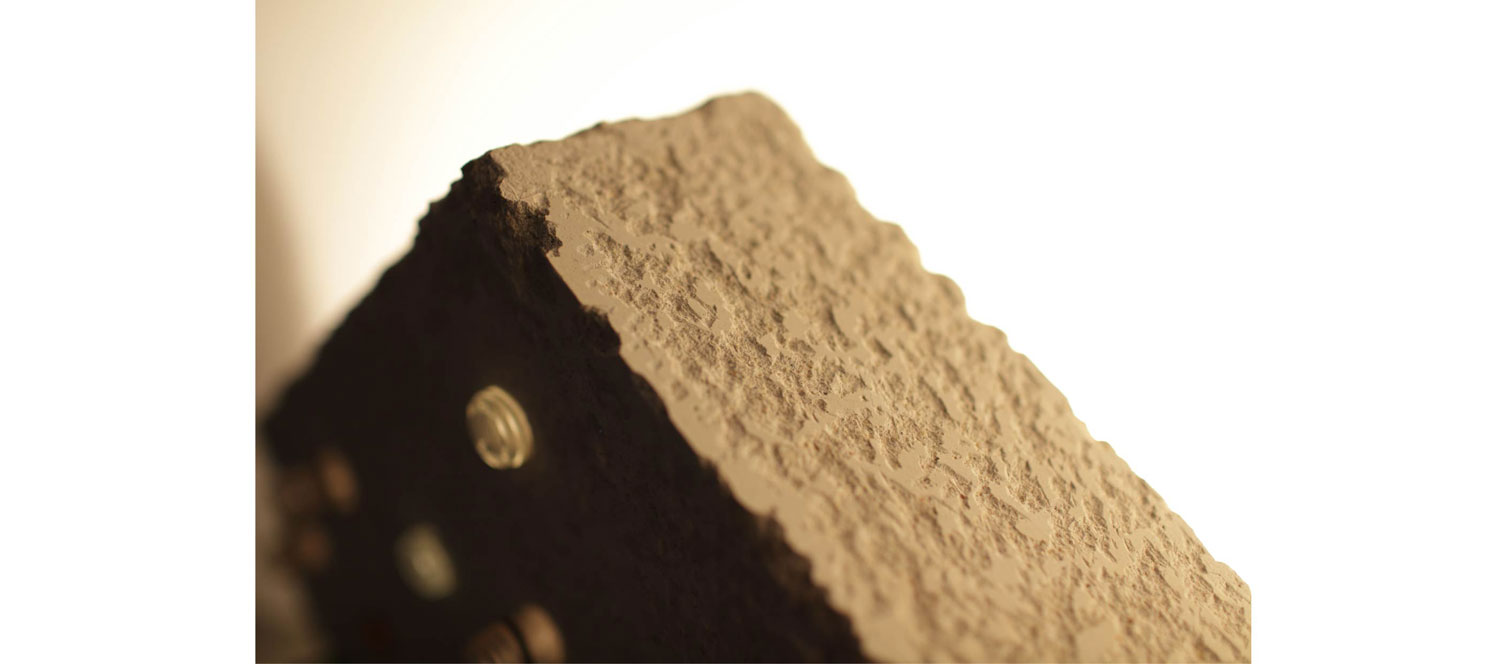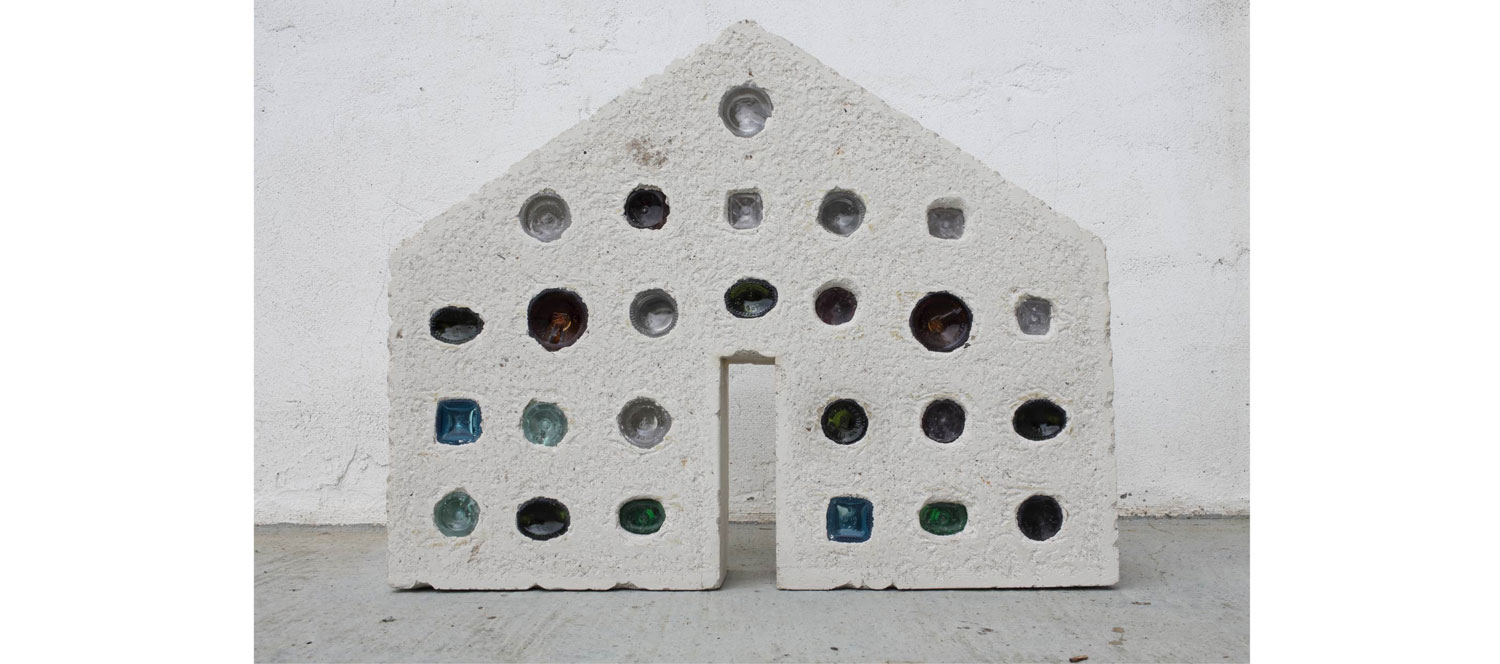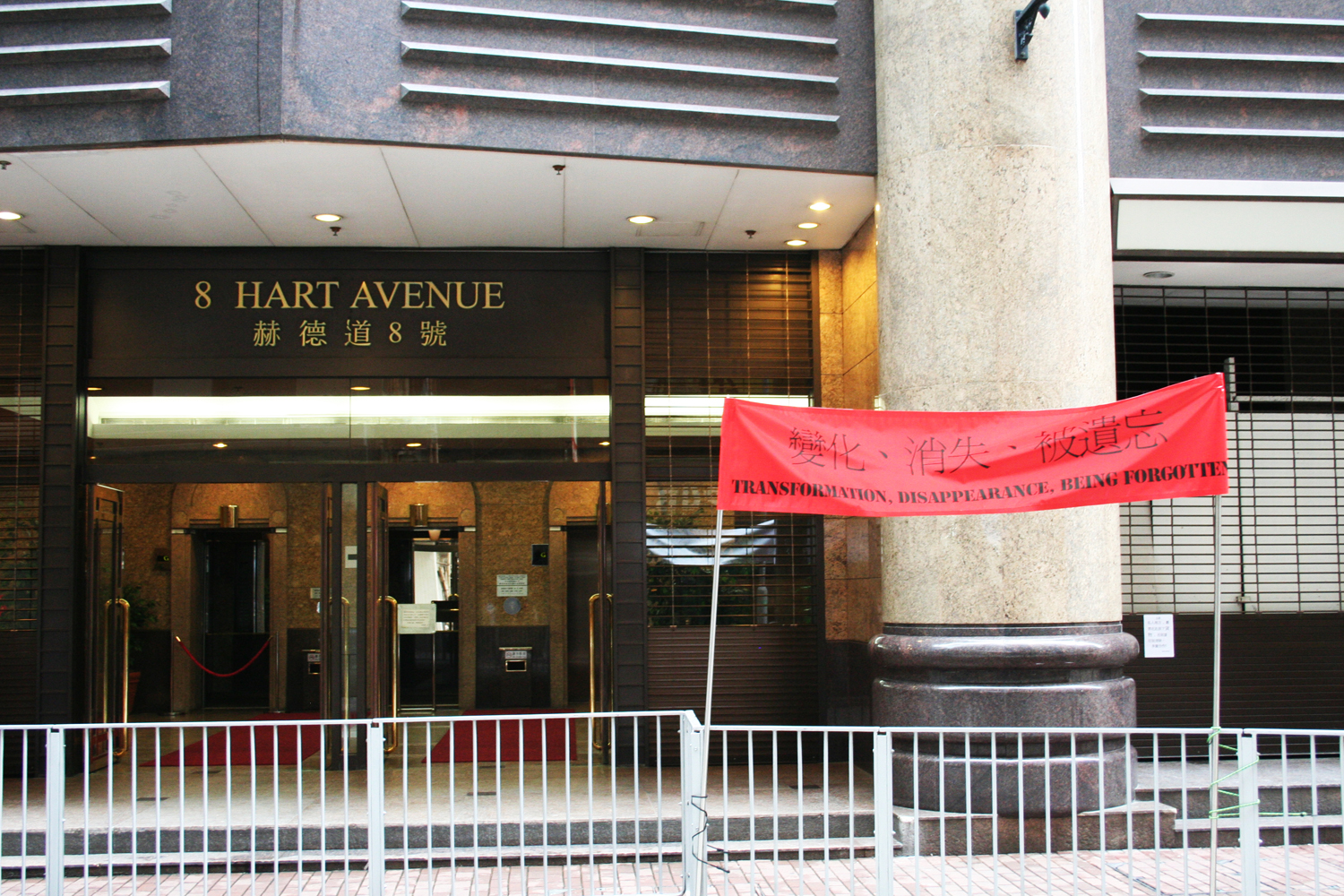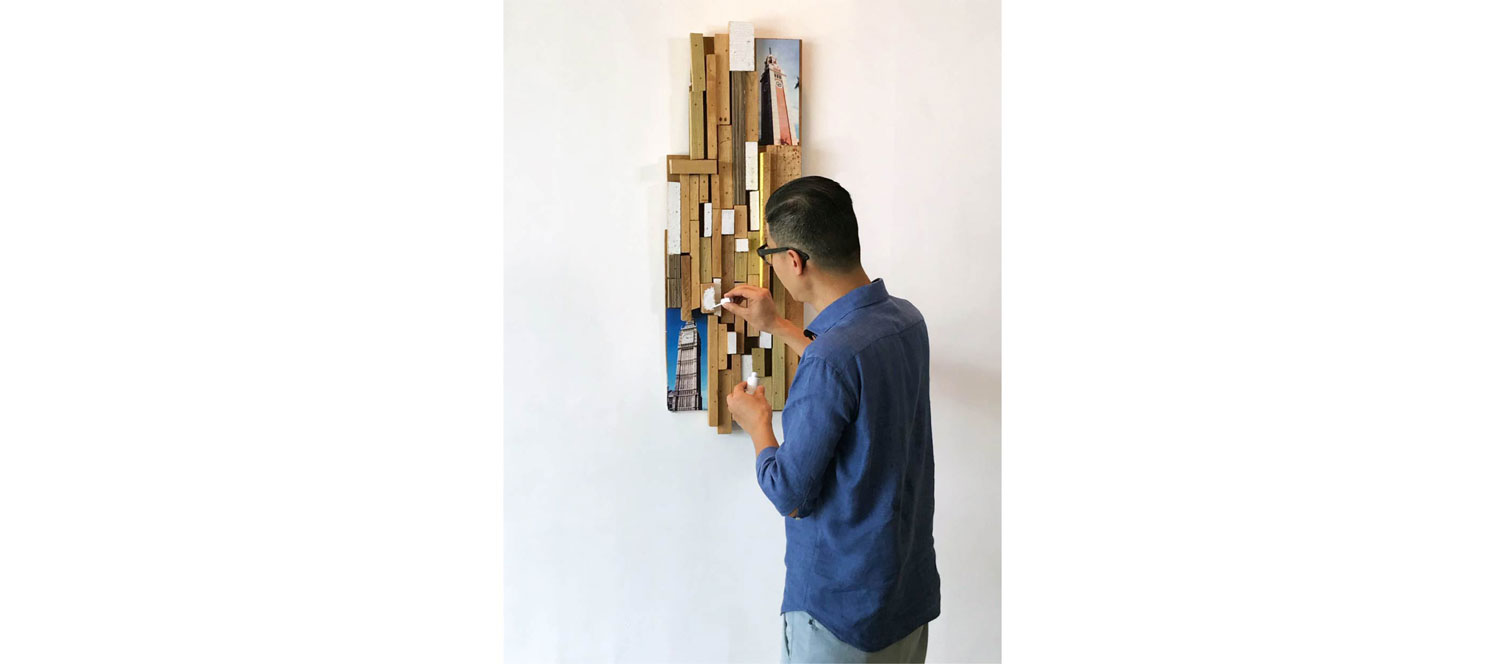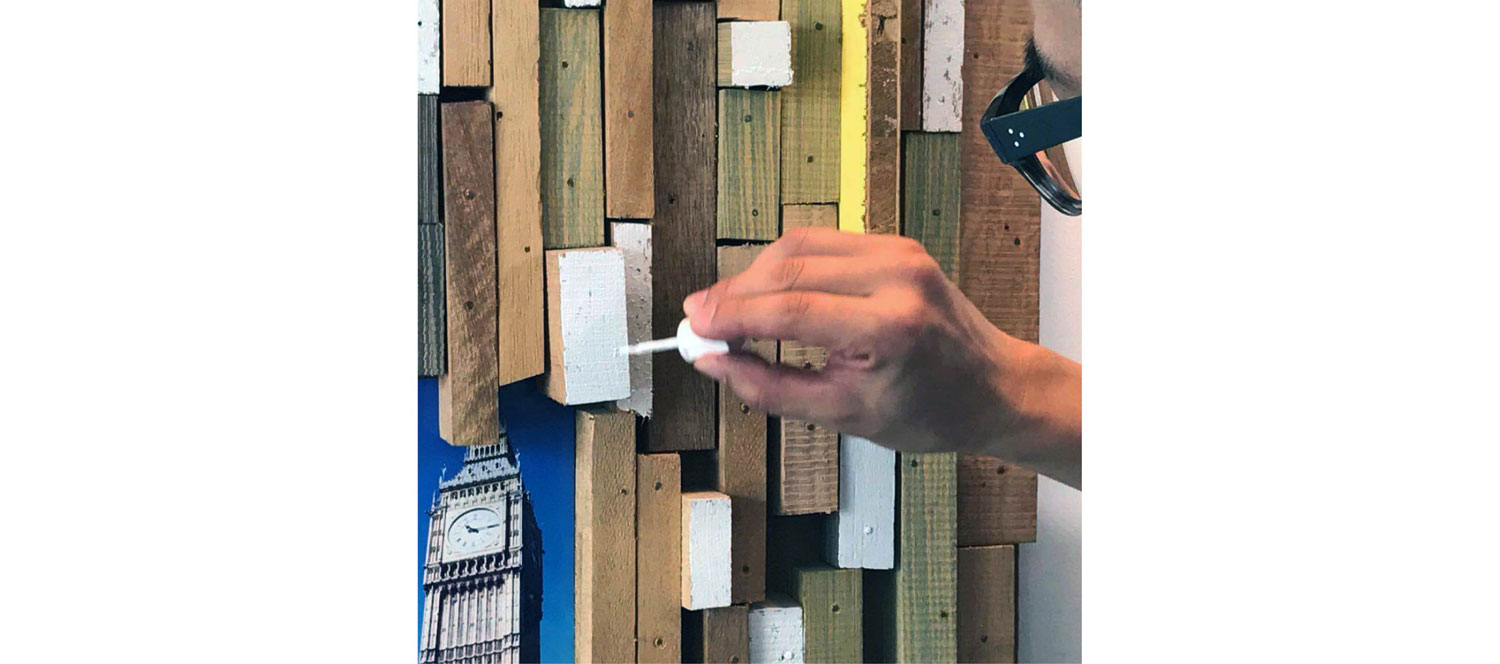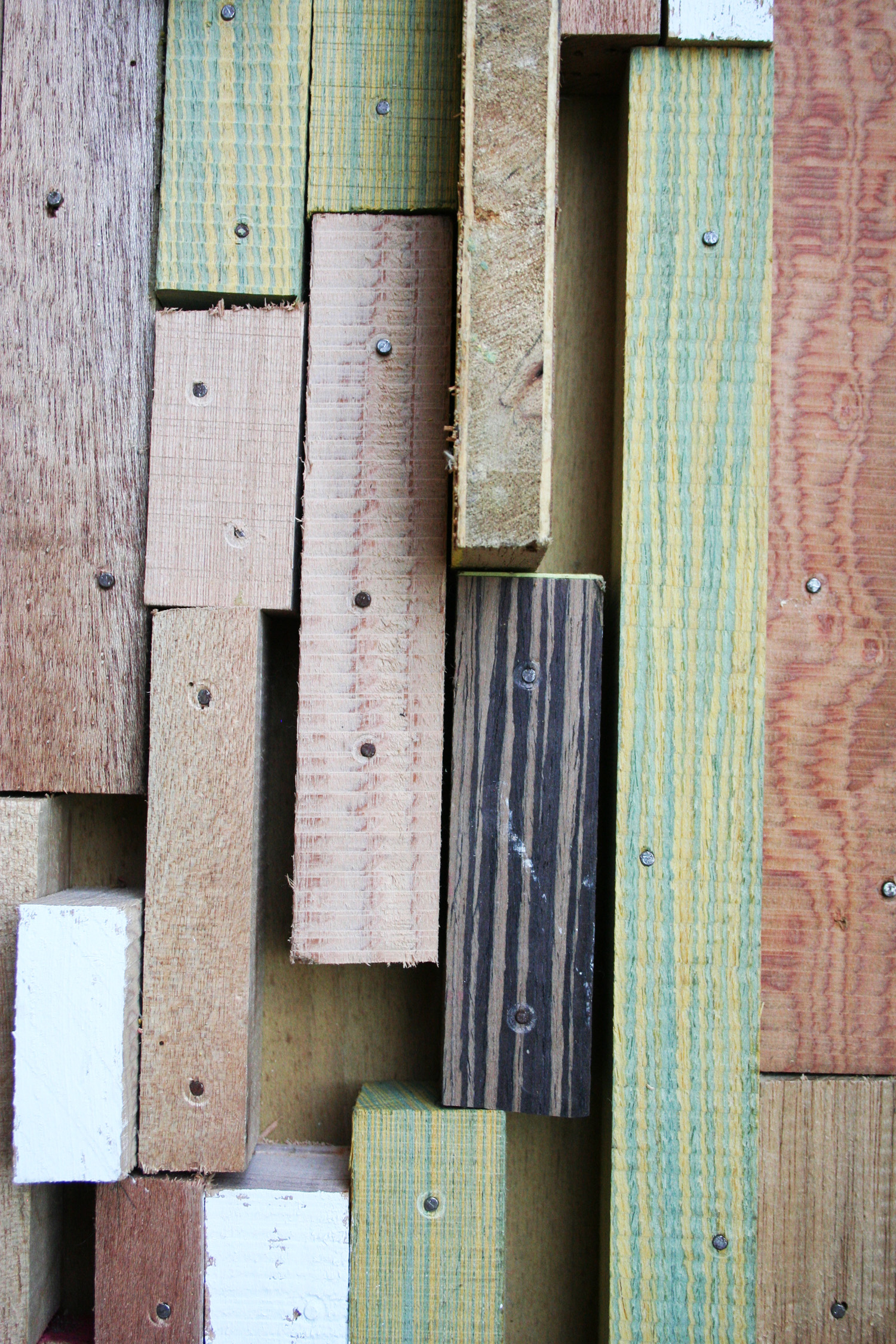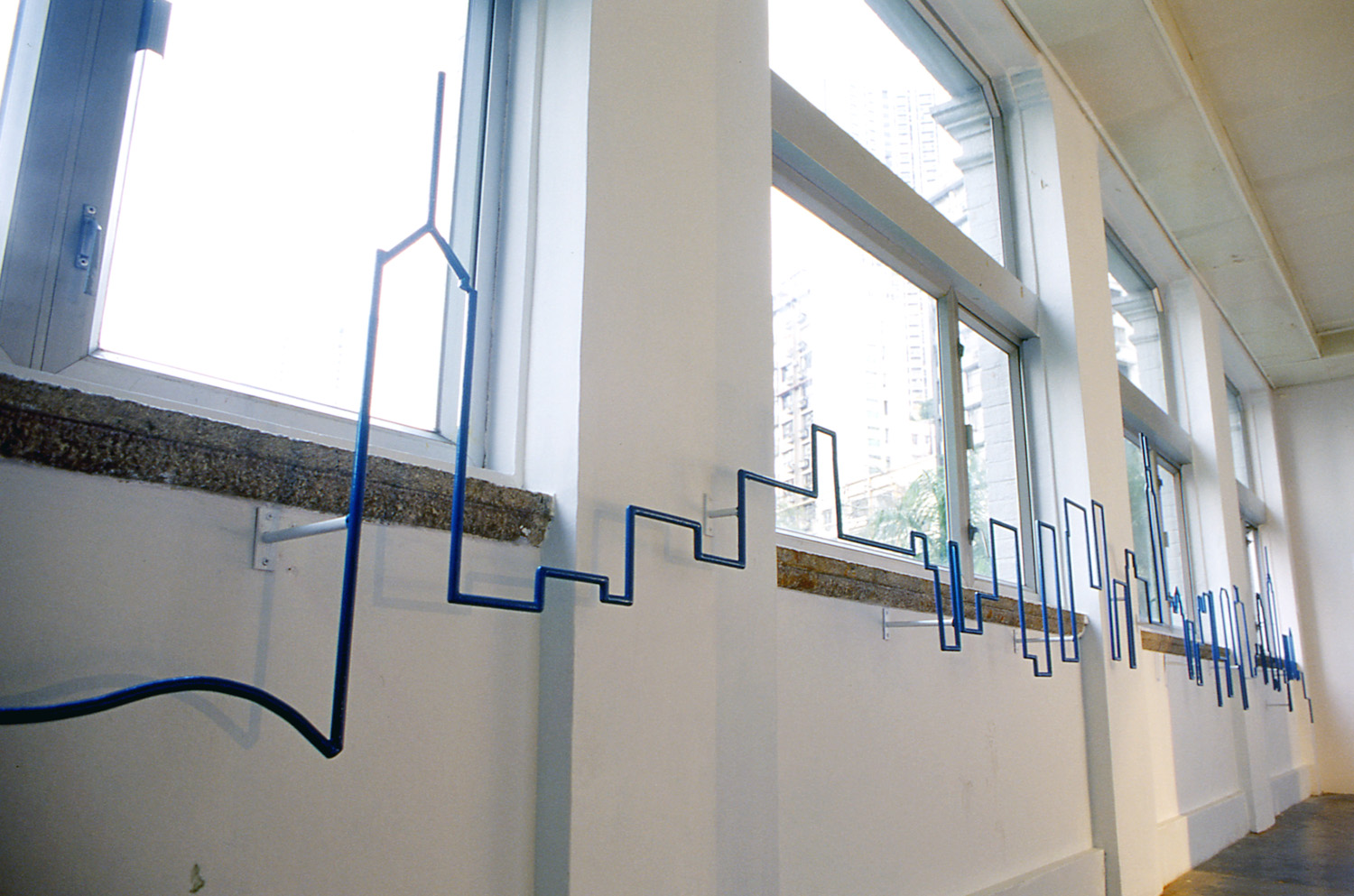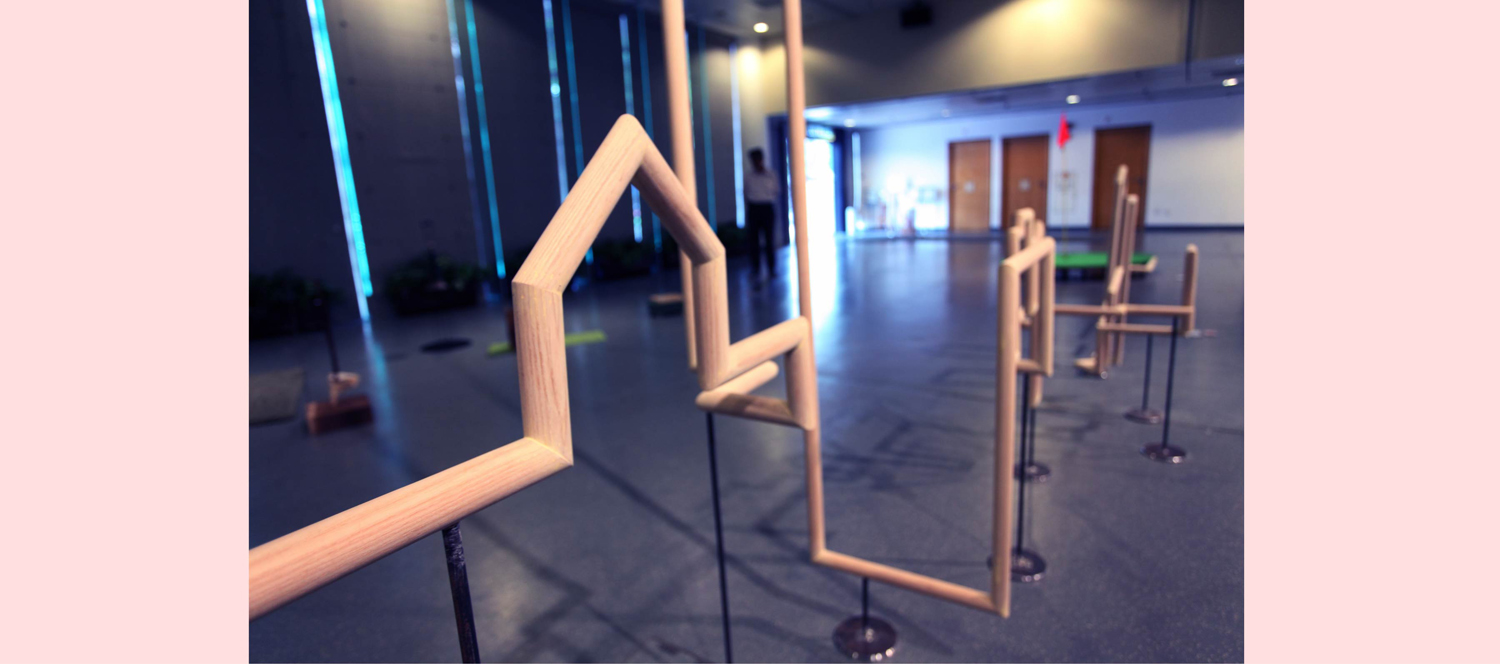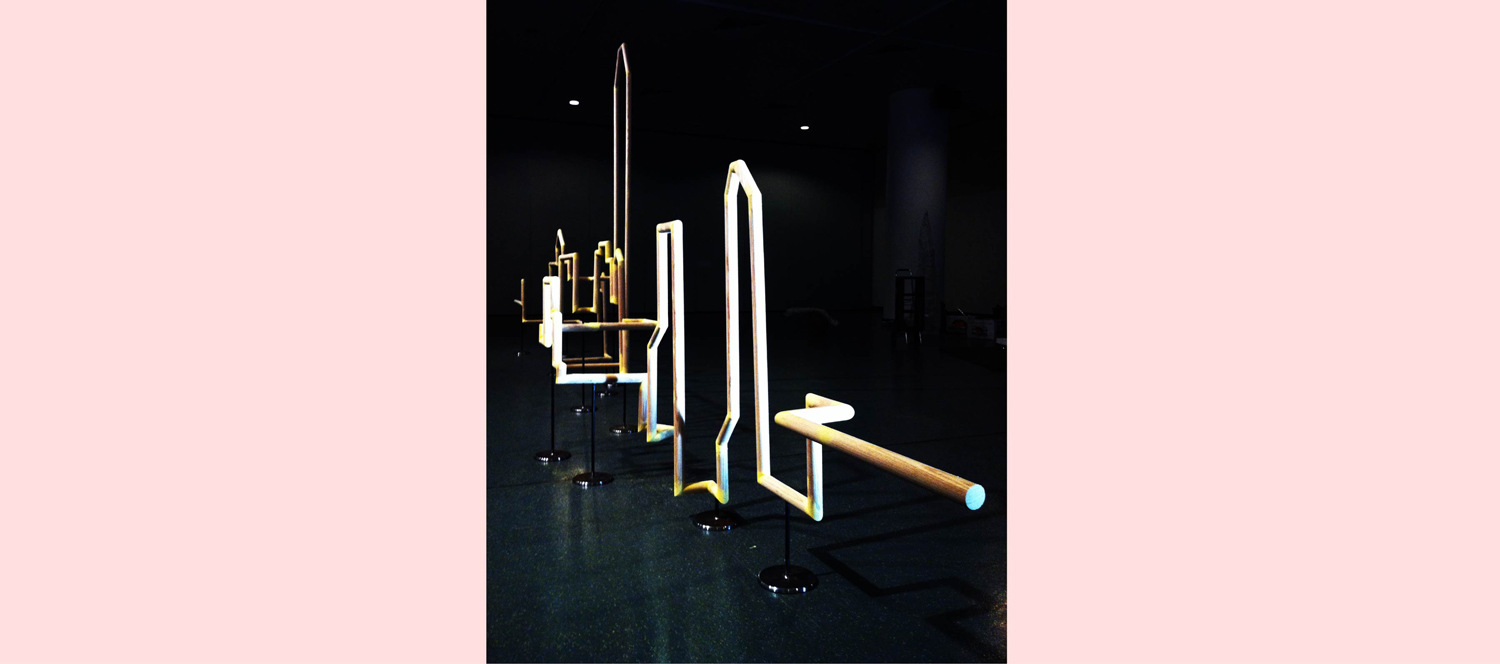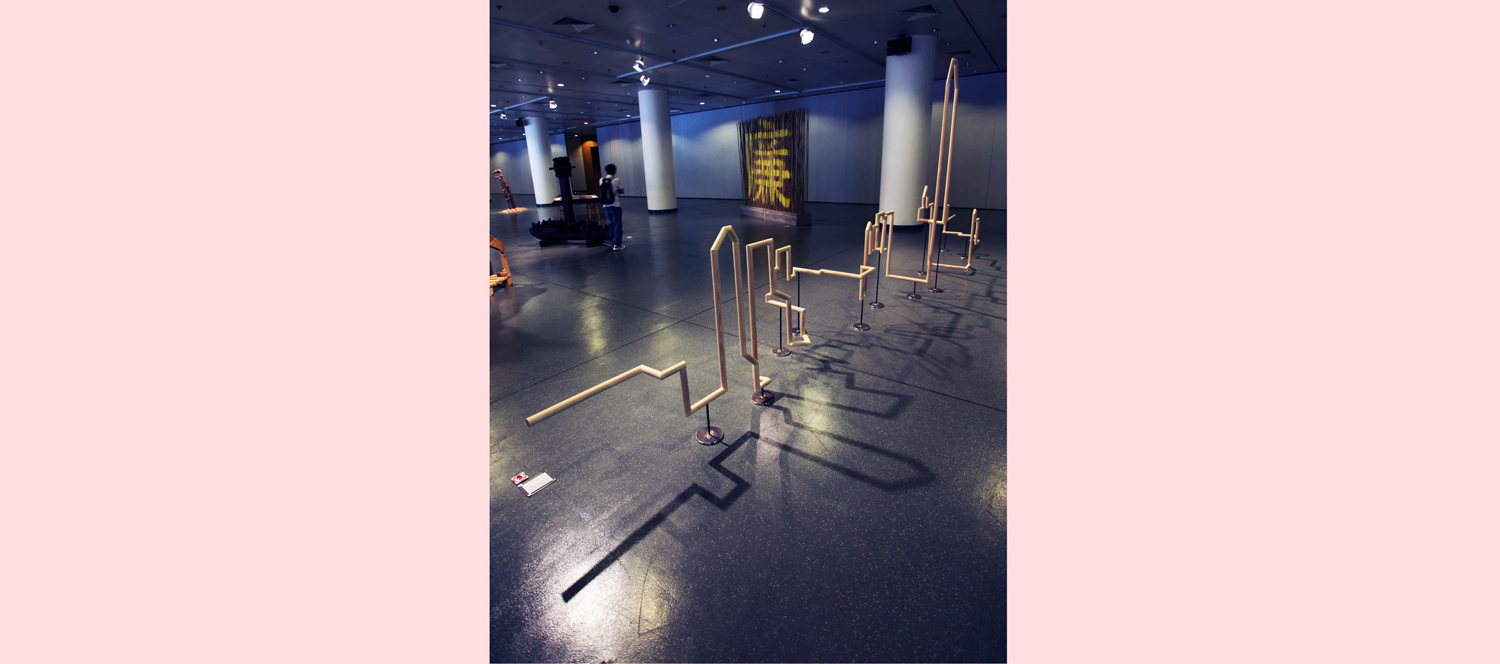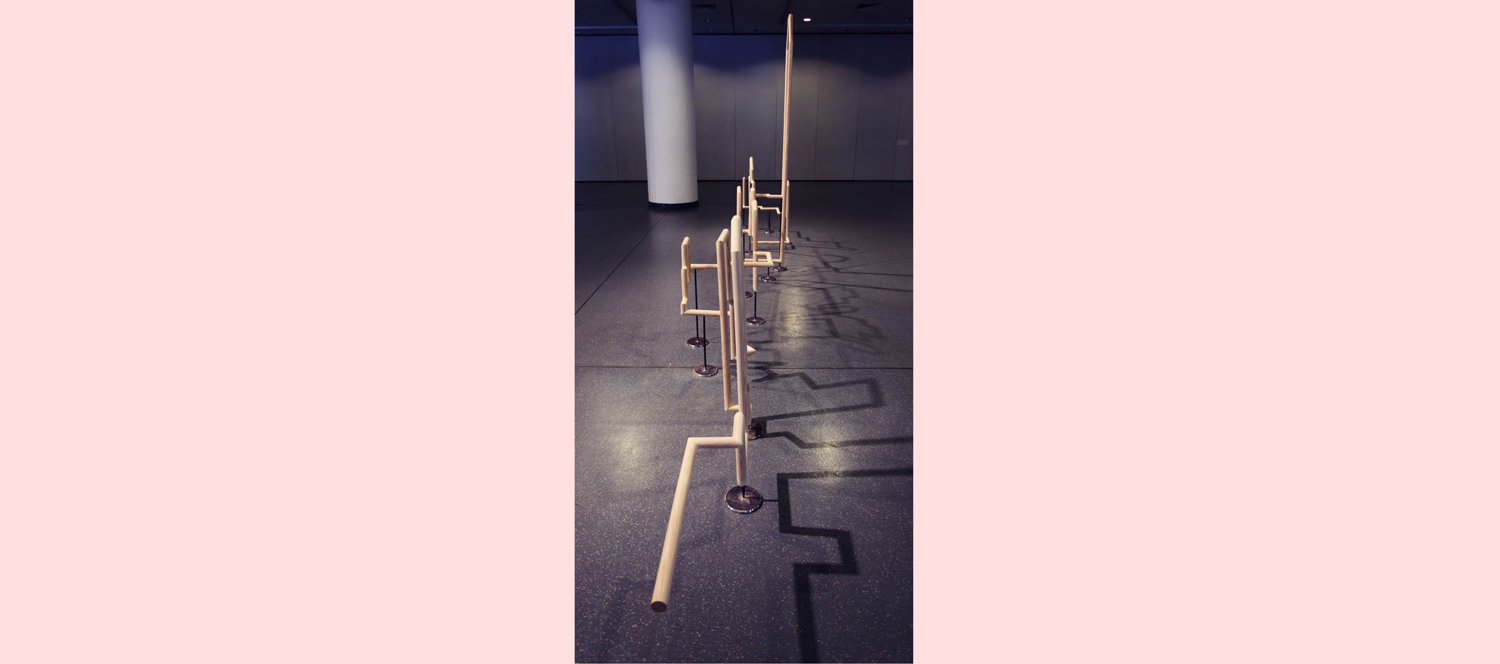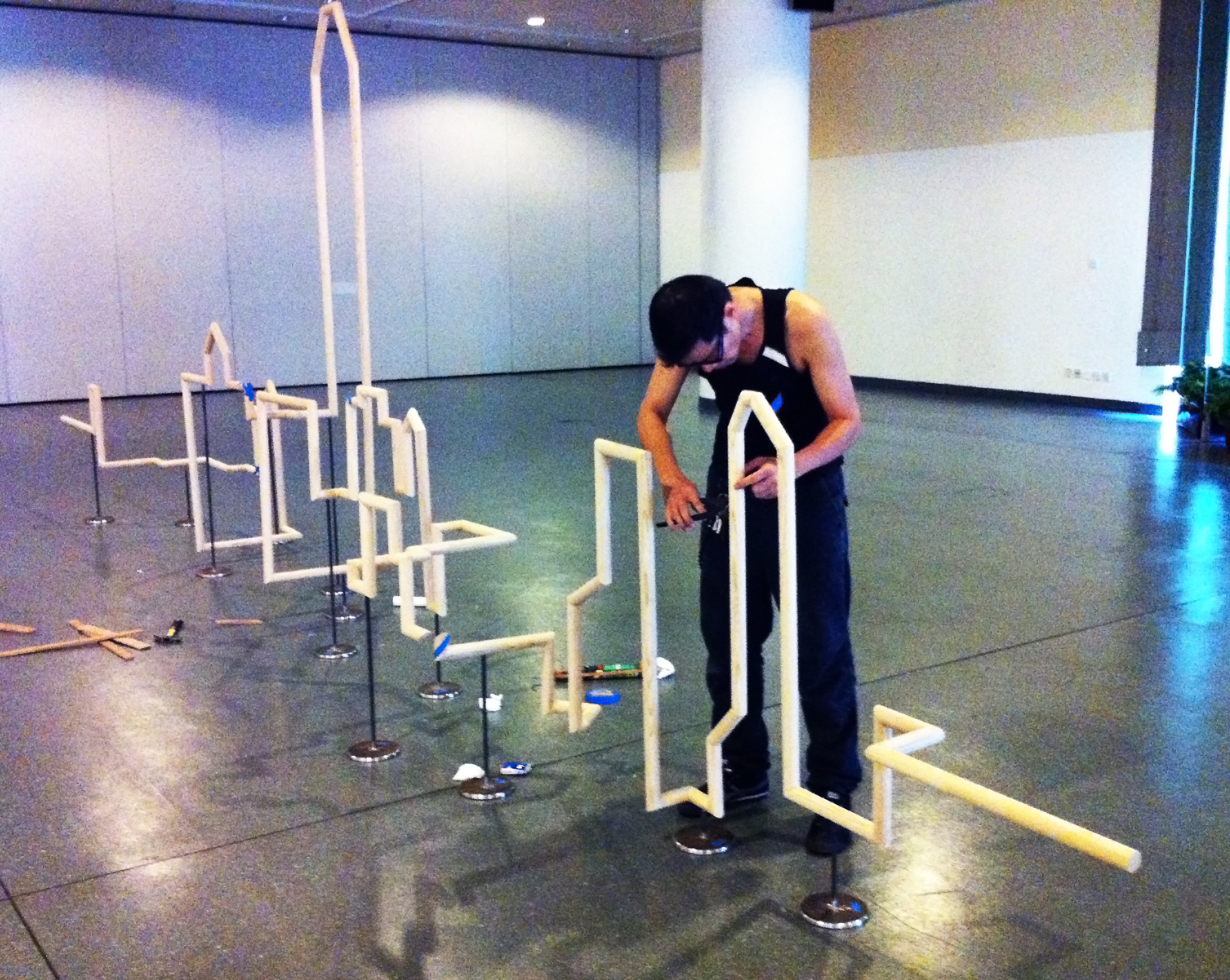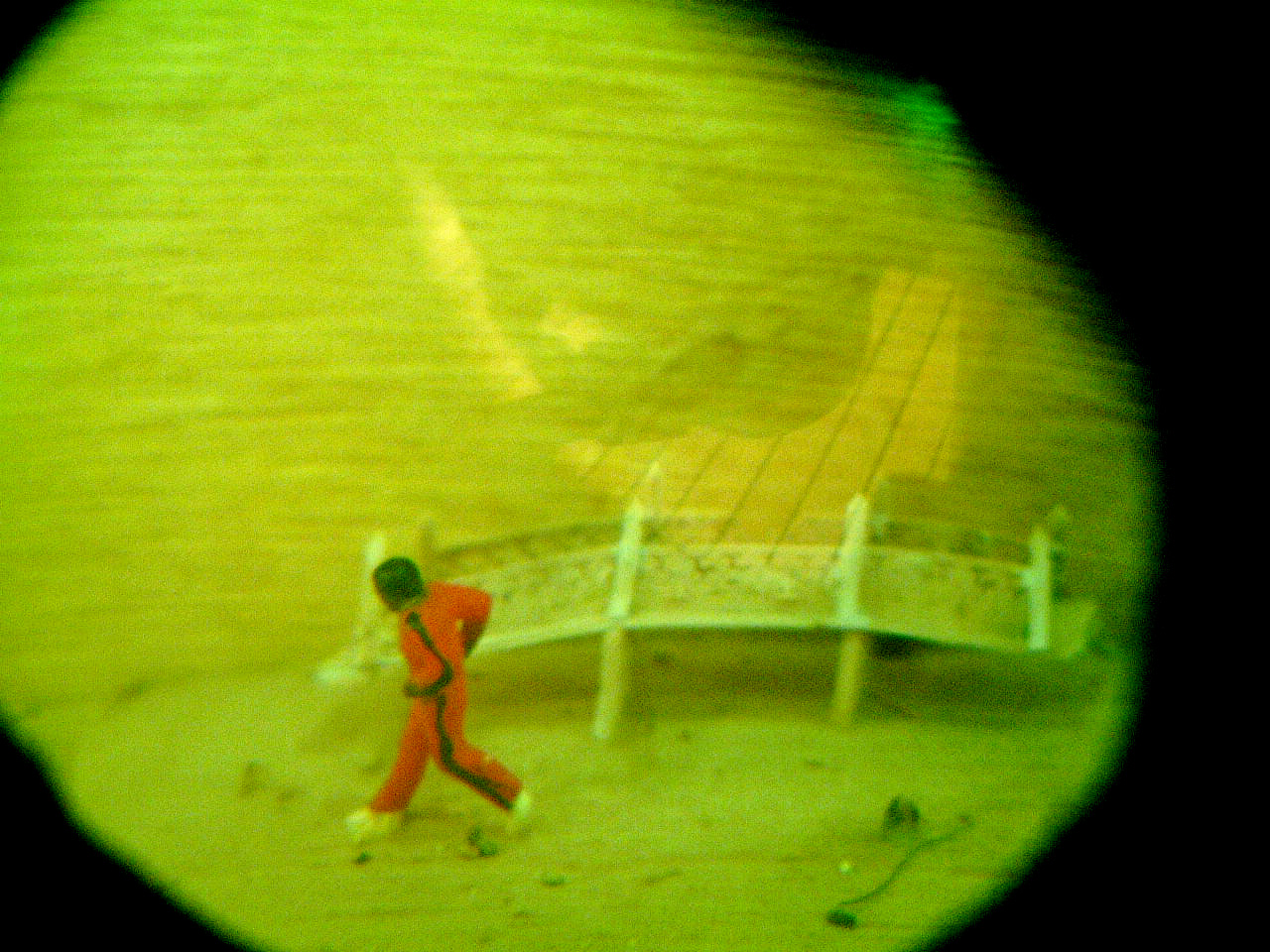 The Empire 帝都
The Empire is a commissioned project, presented as part of the My Neon City series of Mobile M+: NEONSIGNS.HK.
「帝都」乃藝術家黃國才為「我的霓虹城市」系列的委約創作,是「M+進行:NEONSIGNS.HK探索霓虹」展覽的其中一部份。
2014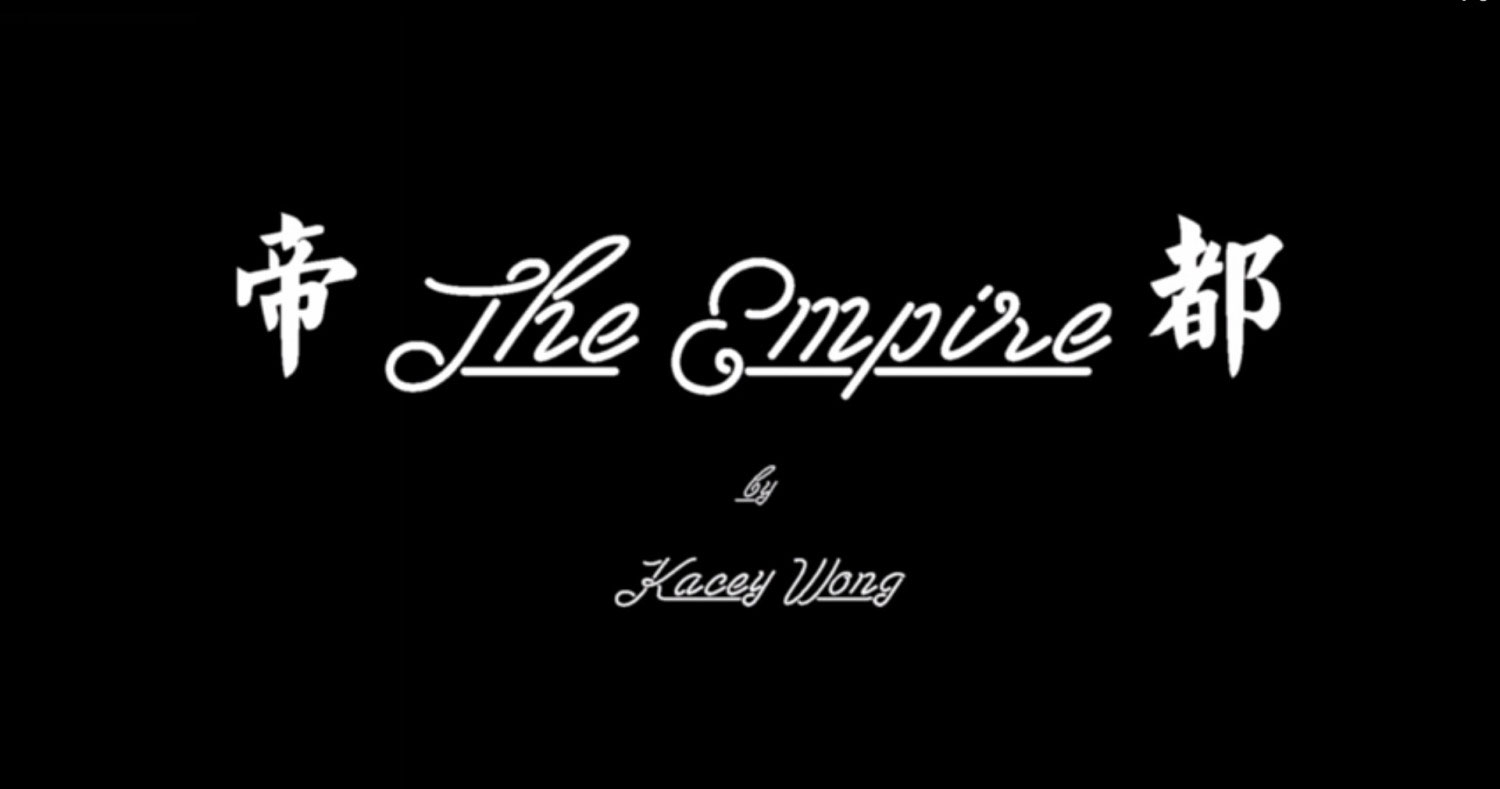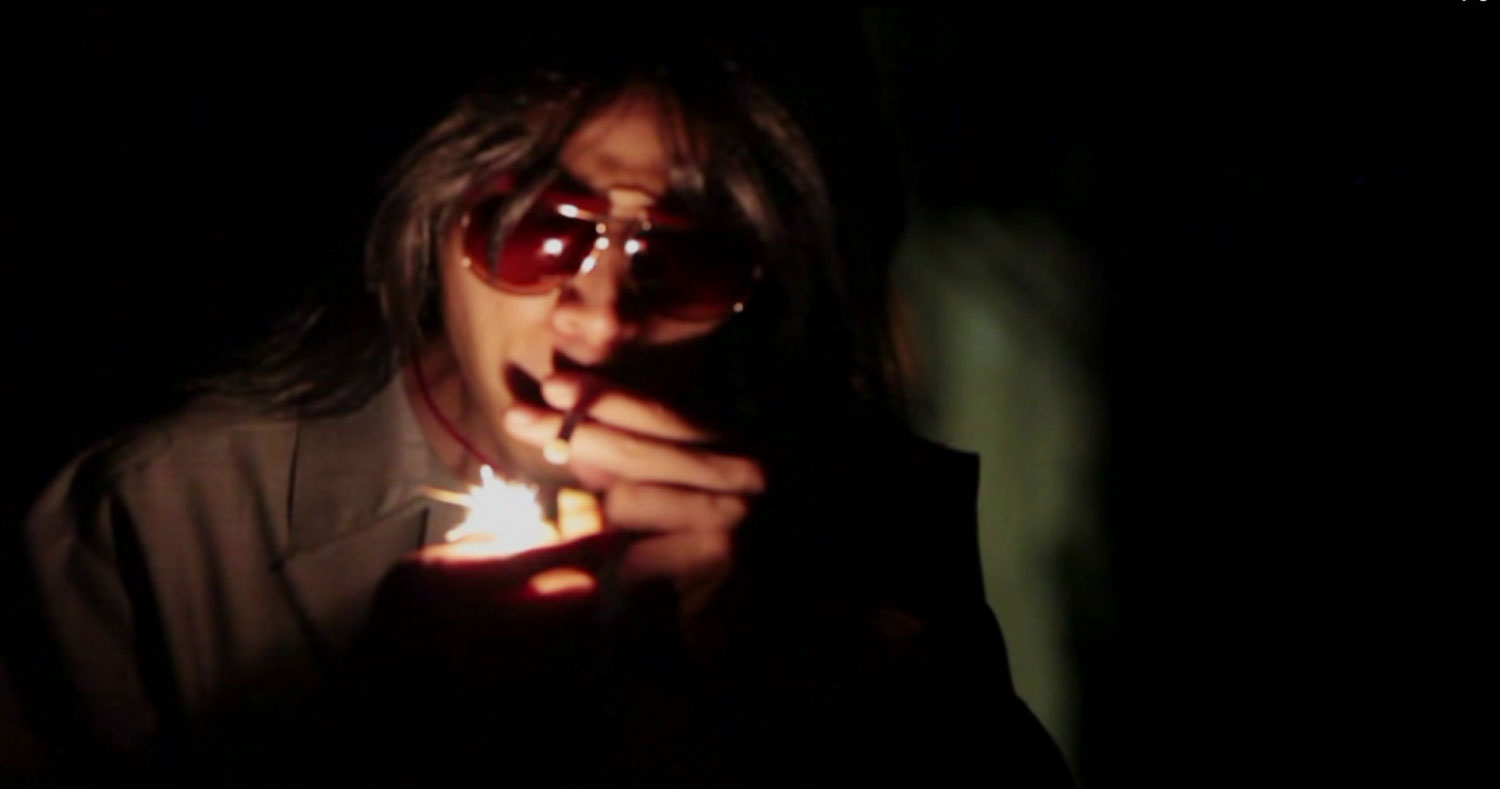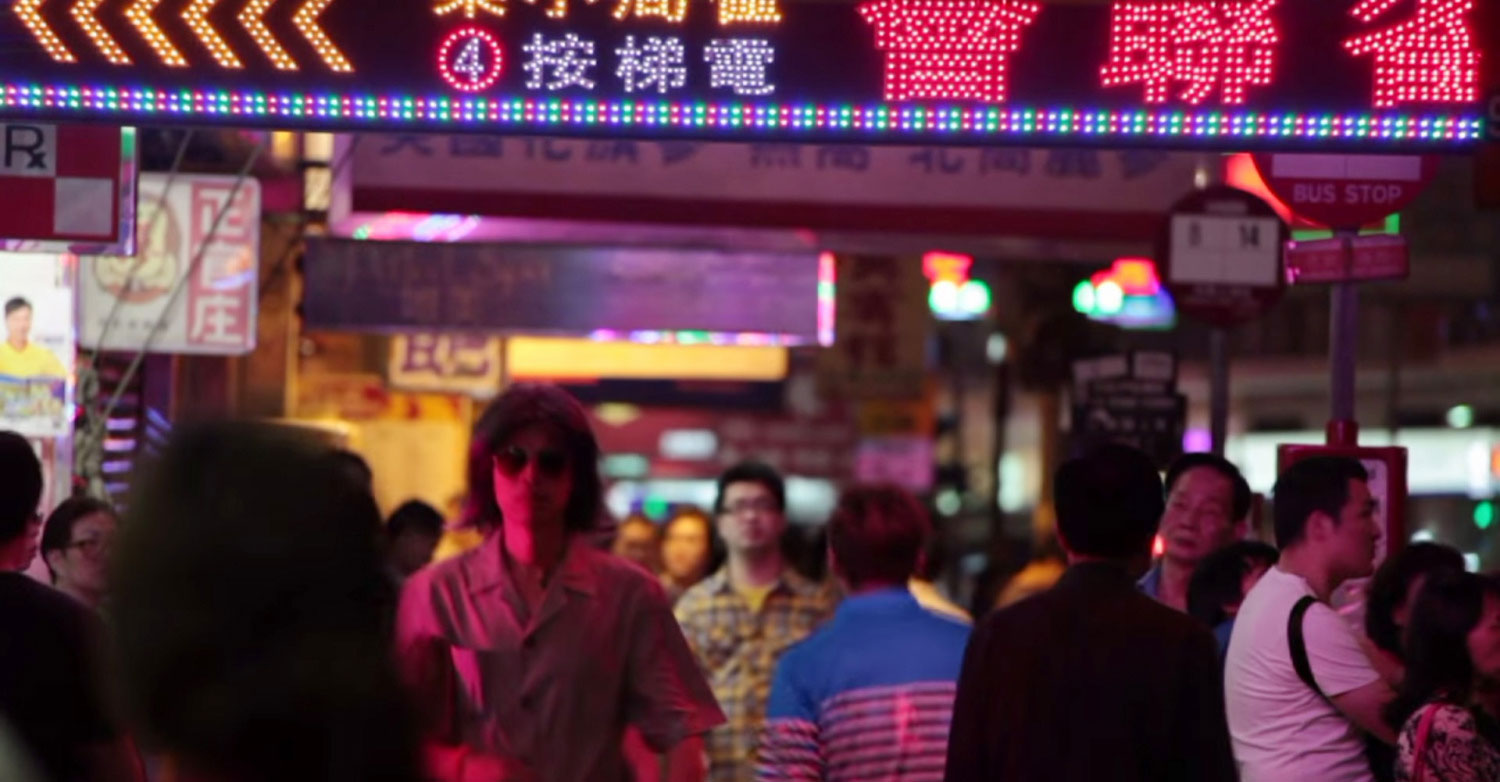 Celestial Fortune Telling 生神仙
"Celestial Fortune Telling" is a small mobile temple hosted by visually impaired artists who are rumored to have supernatural power. It inherited I Ching's 64 hexagrams based on traditional Chinese tradition, and also embraced the spirit of Dadaism from modern art tradition. The on-site "living gods" will guide the lost crowd of contemporary art worshipers away from misfortune, exploring their artistic divine future.
「生神仙」是一間由疑似失明藝術家主持的流動廟宇。它不單傳承了《易經》六十四卦的傳統中國術數,還融合了現代藝術概念的「達達主義」。主持為迷失的當代藝術信眾消災解難、占卜藝術未來。
Wood, sculpture, turtle shell, coins, clock, paint, & lights
333 cm (H) x 251 (W) x 86 (D)
2014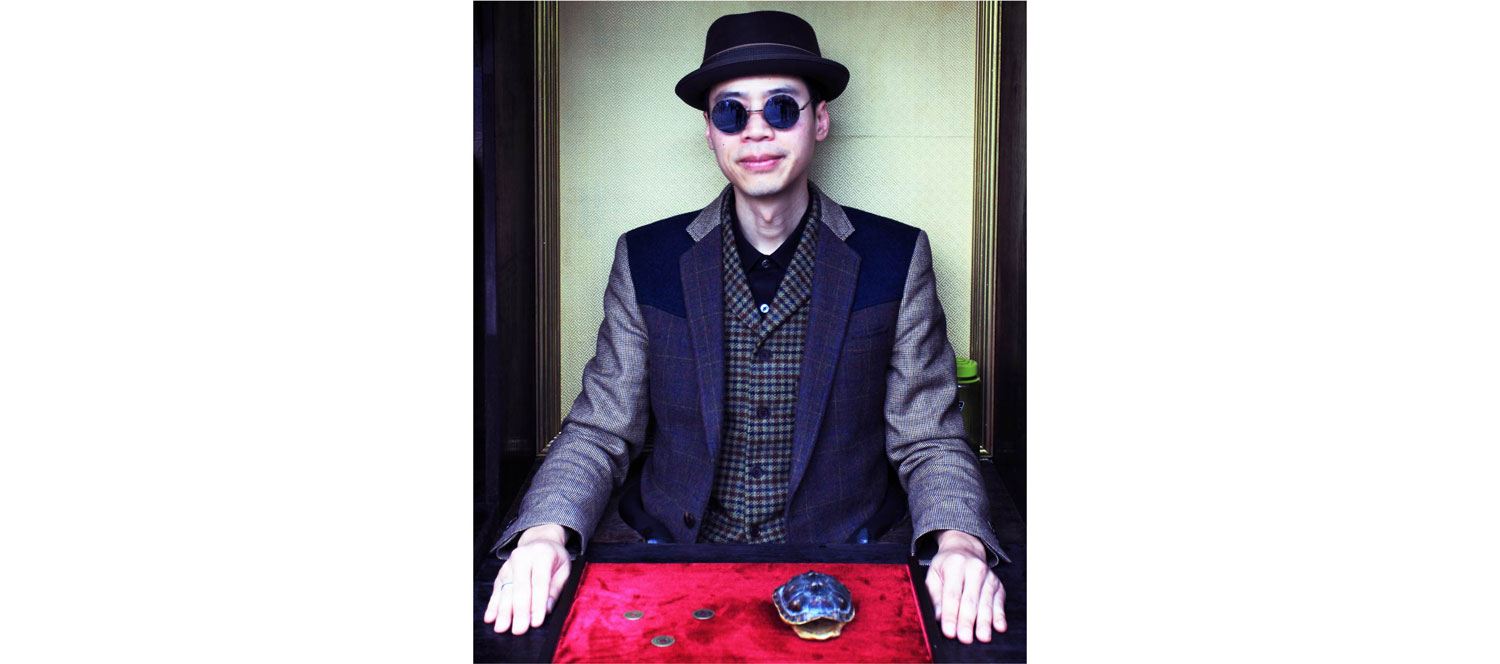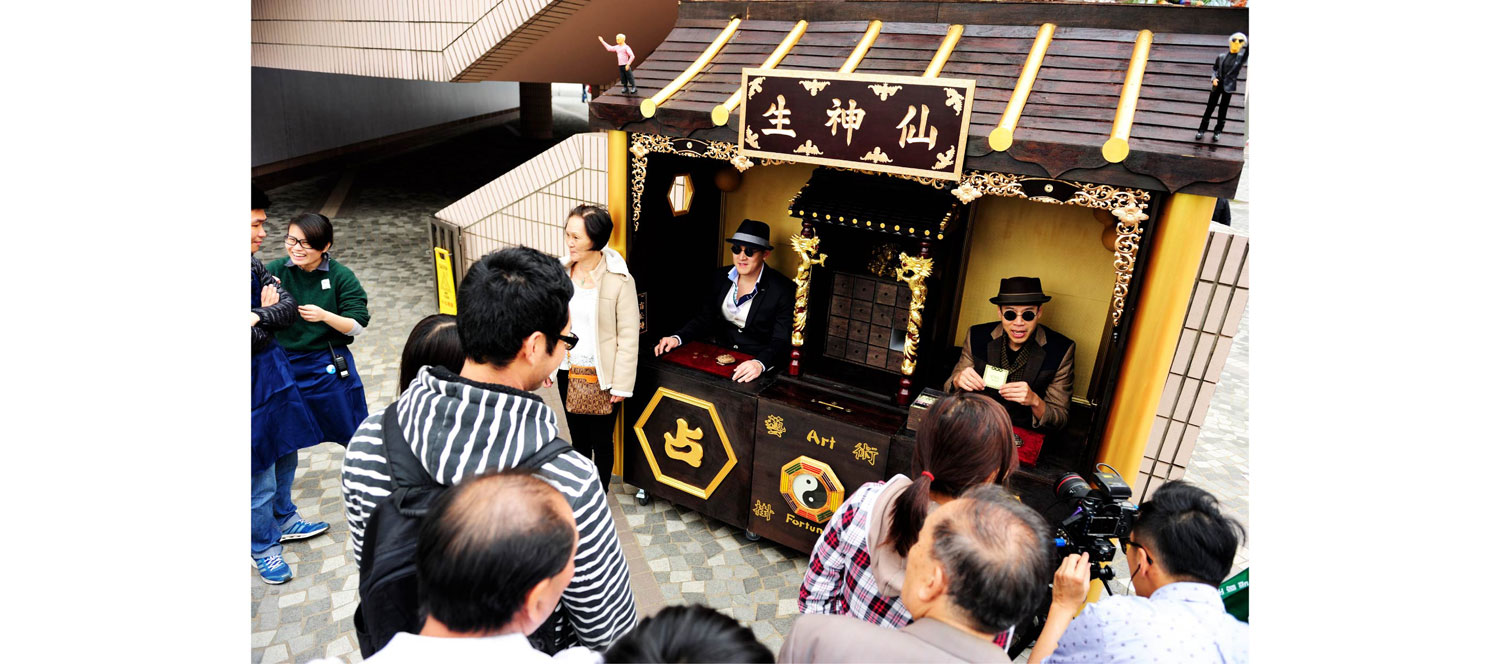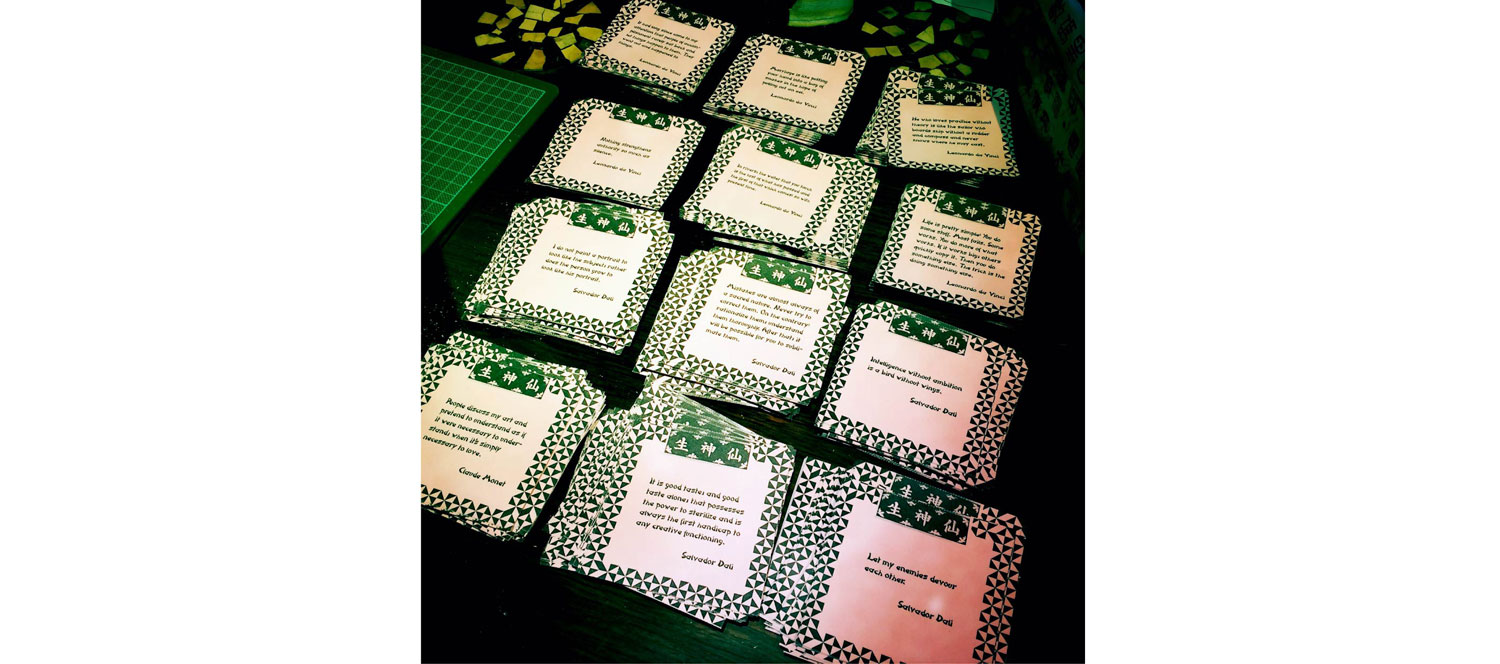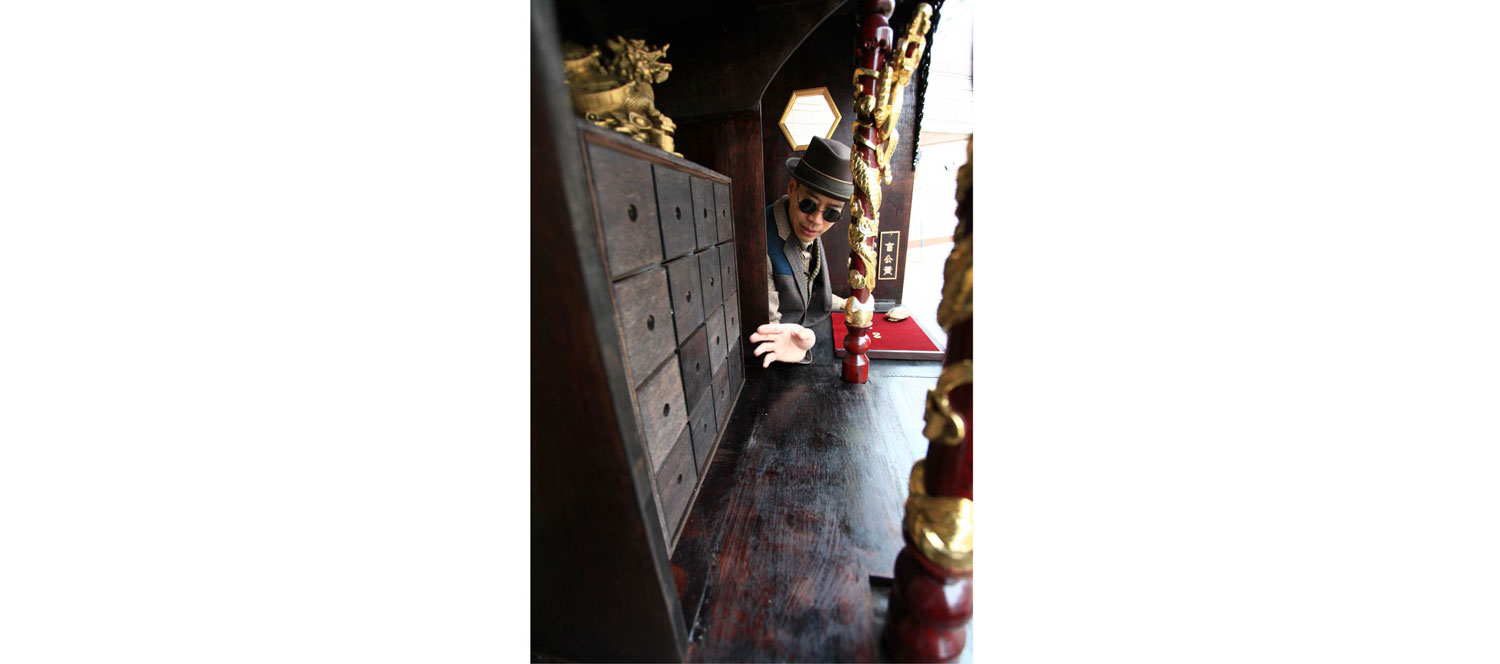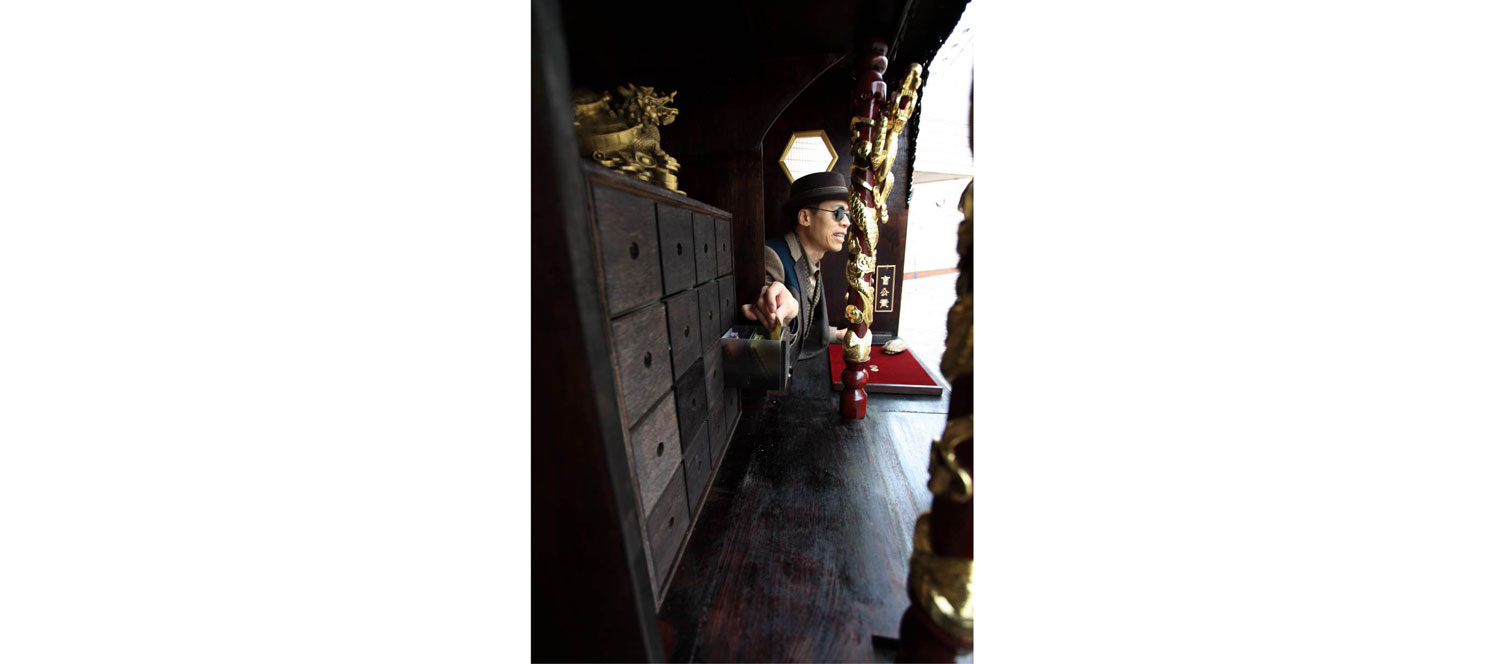 Senkaku Islands / Diaoyu Islands Belong to Birds & Fishes 釣魚臺/尖閣列島是屬於鳥和魚的
Everyone has heard of Senkaku /Diaoyu Islands but most of us might not even aware of its exact location, and only a handful of us have actually physically been there. How much do we really know about this place remains very little yet nationalism from both sides has fueled the mind of the people with images and ideas about this faraway lands.
The islands has transformed from the home for birds and fishes into the symbol of political desire, power, and control. The installation inside this room was inspired by media control center from the military suggesting the media are being manipulated and there is always a secret observer hidden behind the struggle between two species. The videos were inspired by actual elements that could be found on Senkaku Islands; birds, fishes, lighthouse, etc. triggering our imagination towards this faraway land of utopia.
Cardboard, light panels, keyboards, & paint
Aichi Triennale 2013, Nagoya, Japan
2013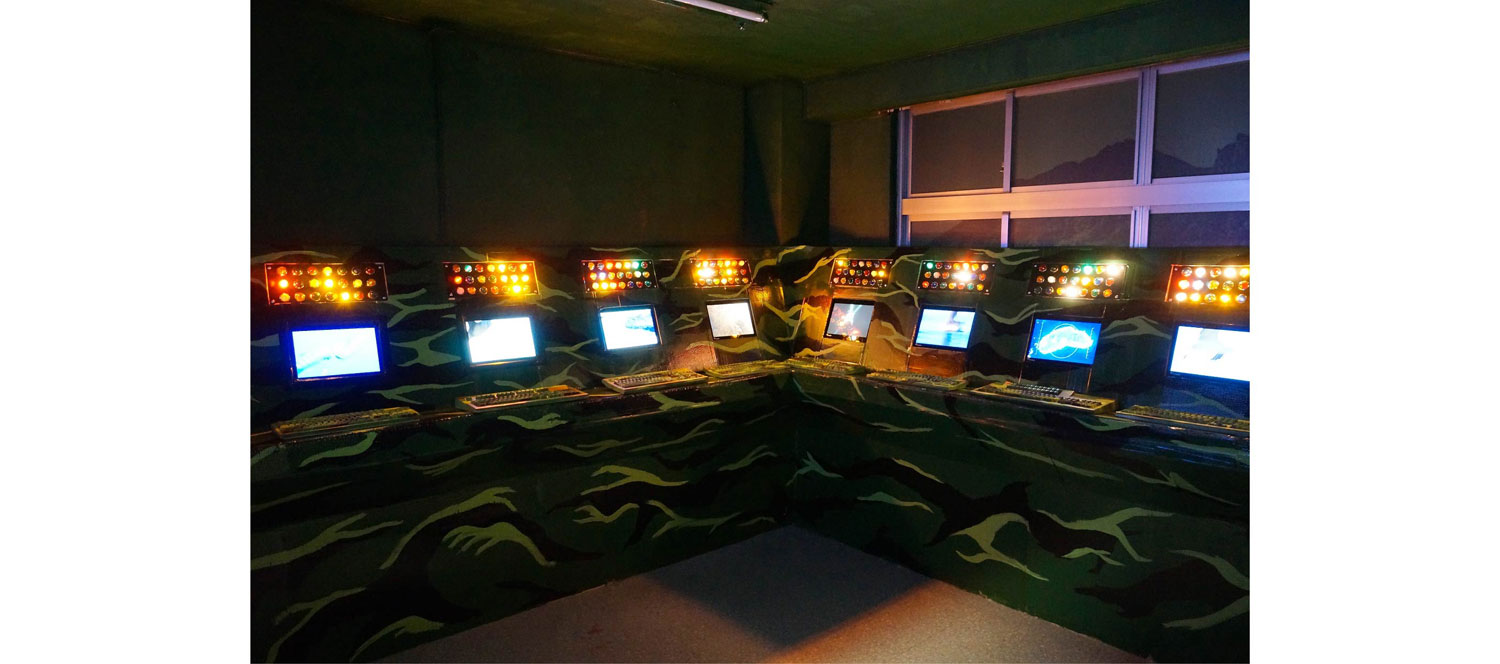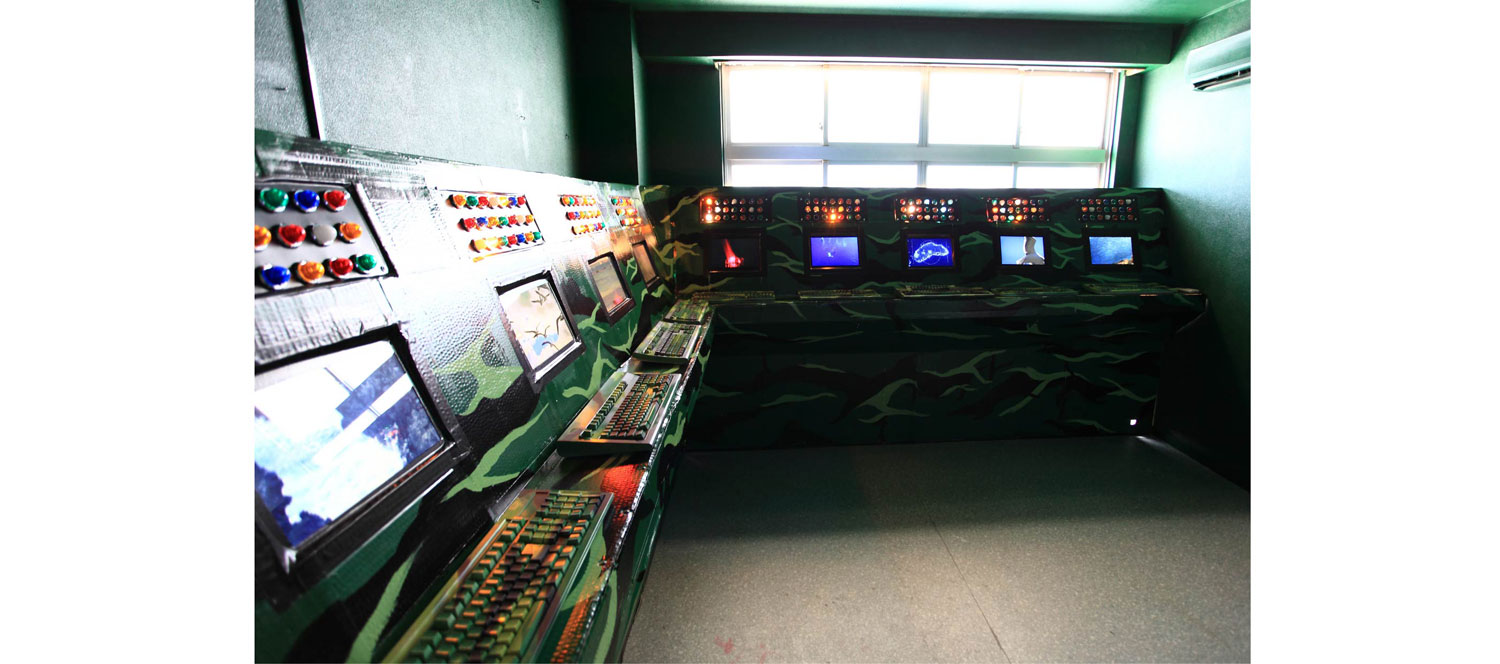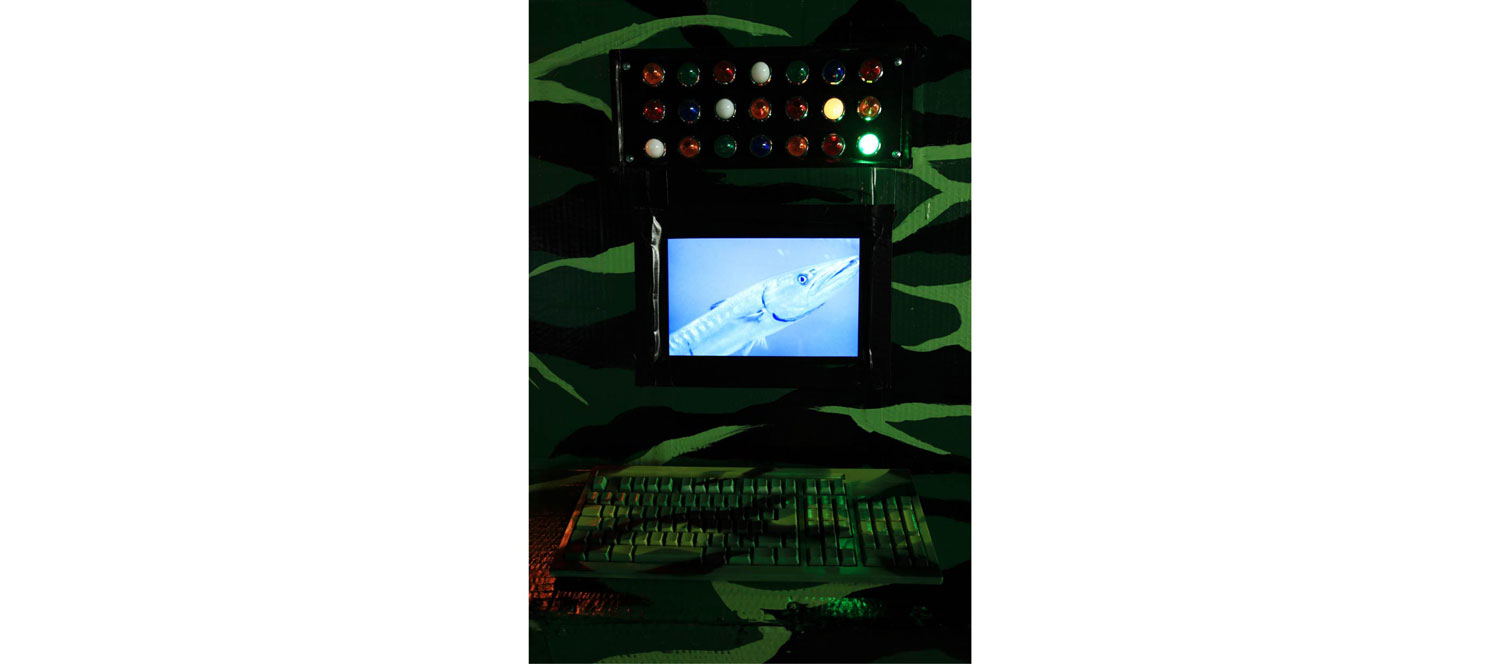 Towards A Brighter Future Through The Valley Of Darkness 為了光明前程必須經歷的黑暗
What is the most impressive memory of your parent? Going to the playground together? The food your mother cooked? Or being beaten up by your parent? The trace of physical punishment already long faded away yet a large amount of abusing words still buried deep inside the child's mind and become a wound that will not heal. Parent hit us in order to train us to become proper and not to do wrong things, yet this method of upbringing often lead to other side effects due to physical punishment according to psychologist. The damage on the soul might hurt more than the damage on the physical body. This installation dedicated to those who lived through the dark generation of physical punishment and finally arrived at the brighter future. This project was possible with research from the help of Against Child Abuse Ltd.
Lemon grass waxed children clothing, toys, hanging strings, & light bulbs
Public Art HK Scheme, Hong Kong Art Centre atrium
2009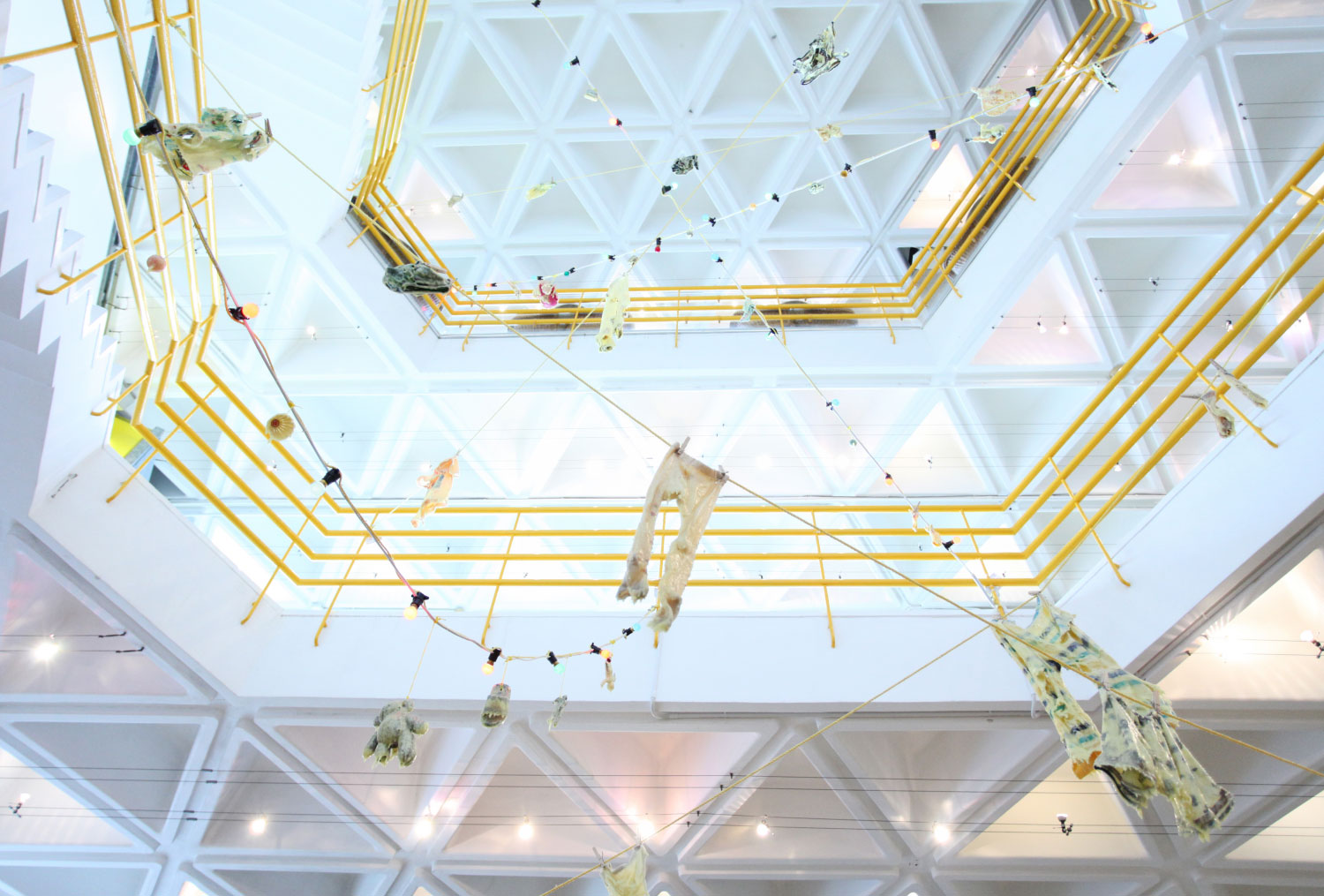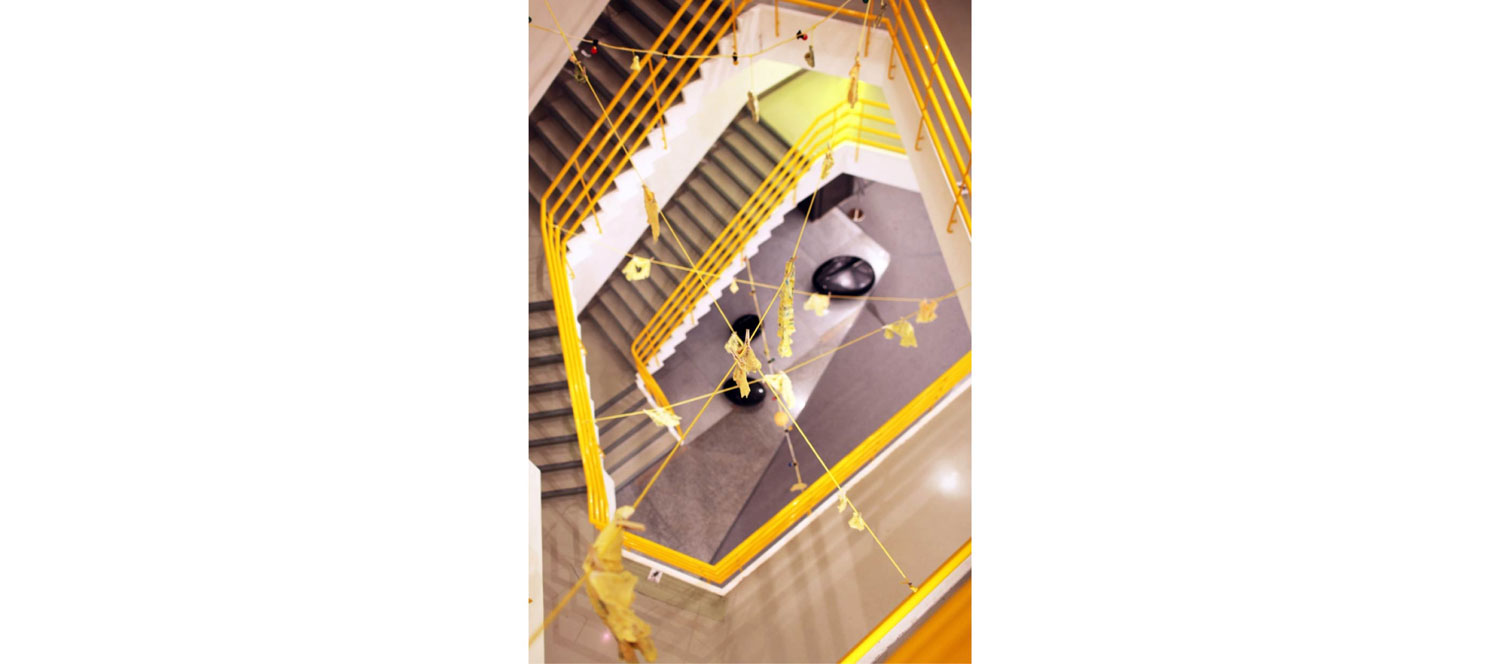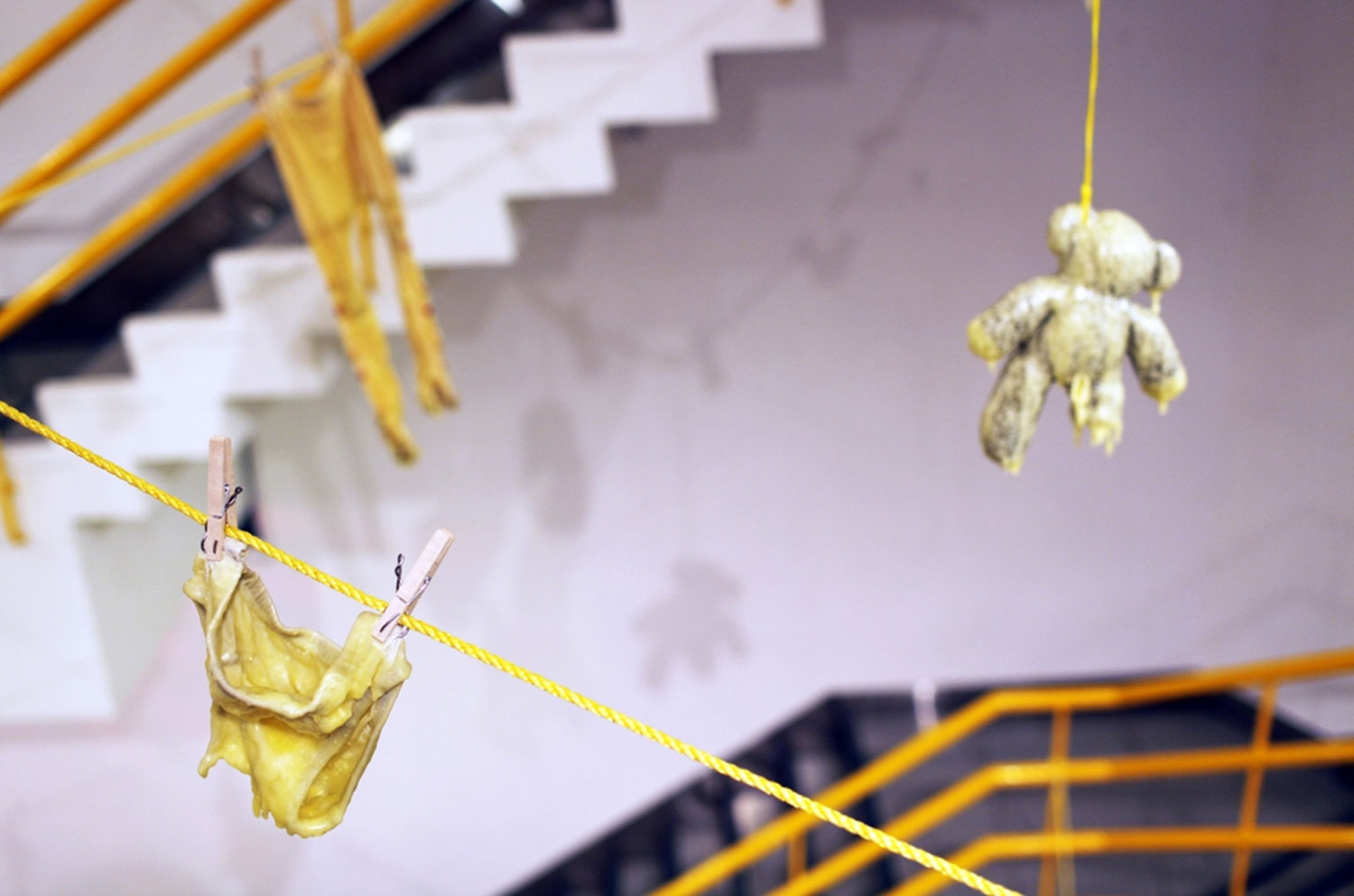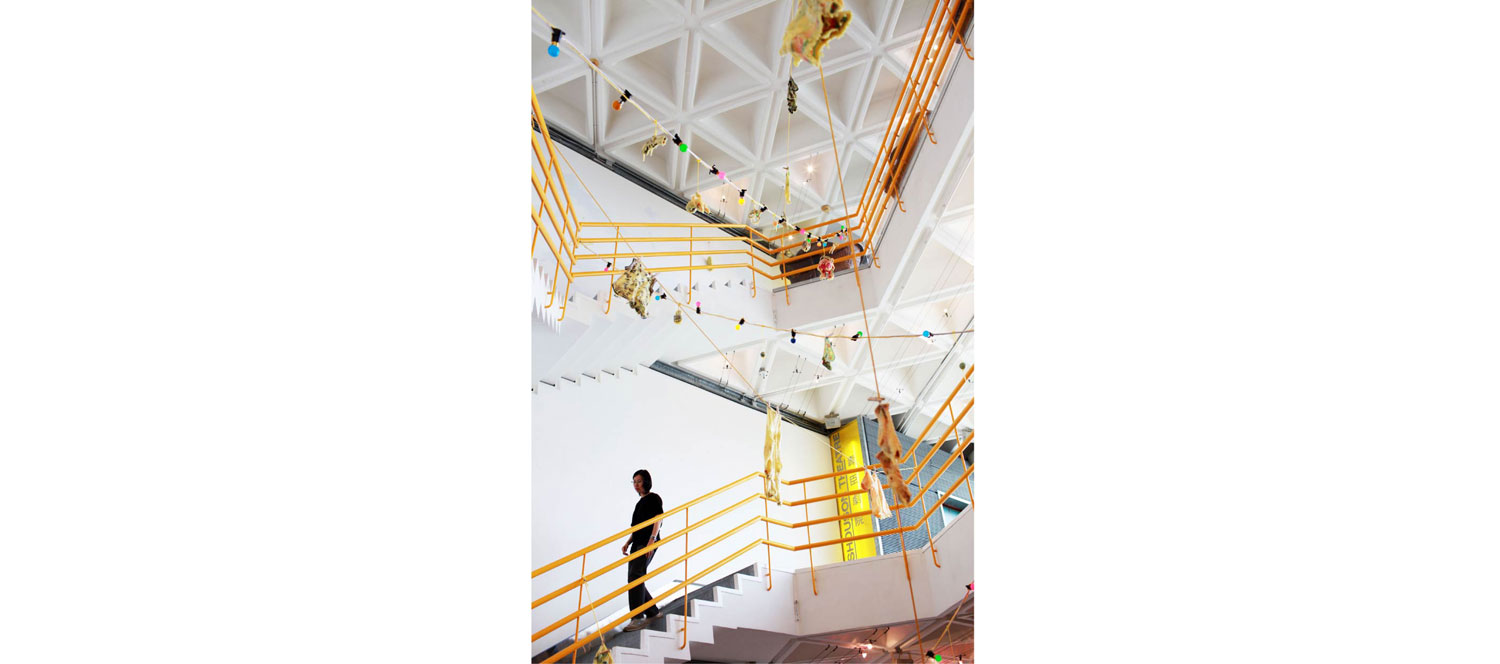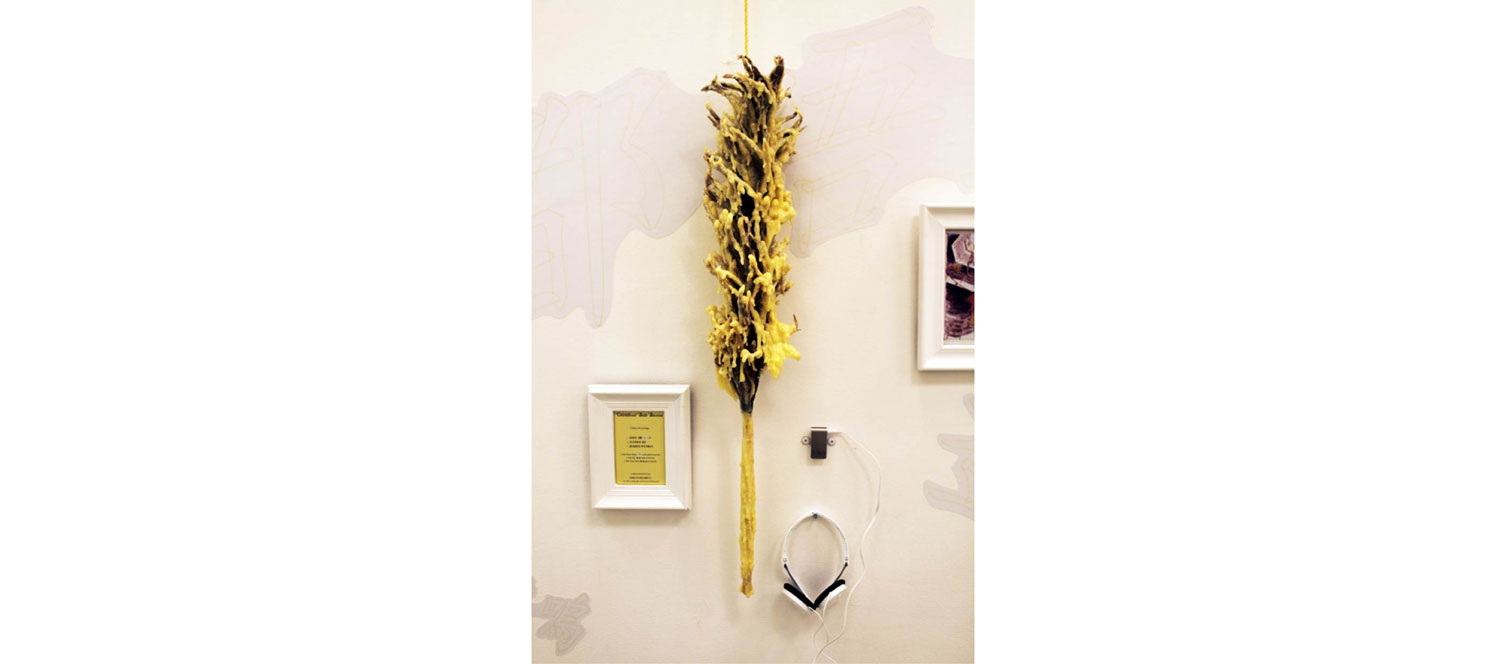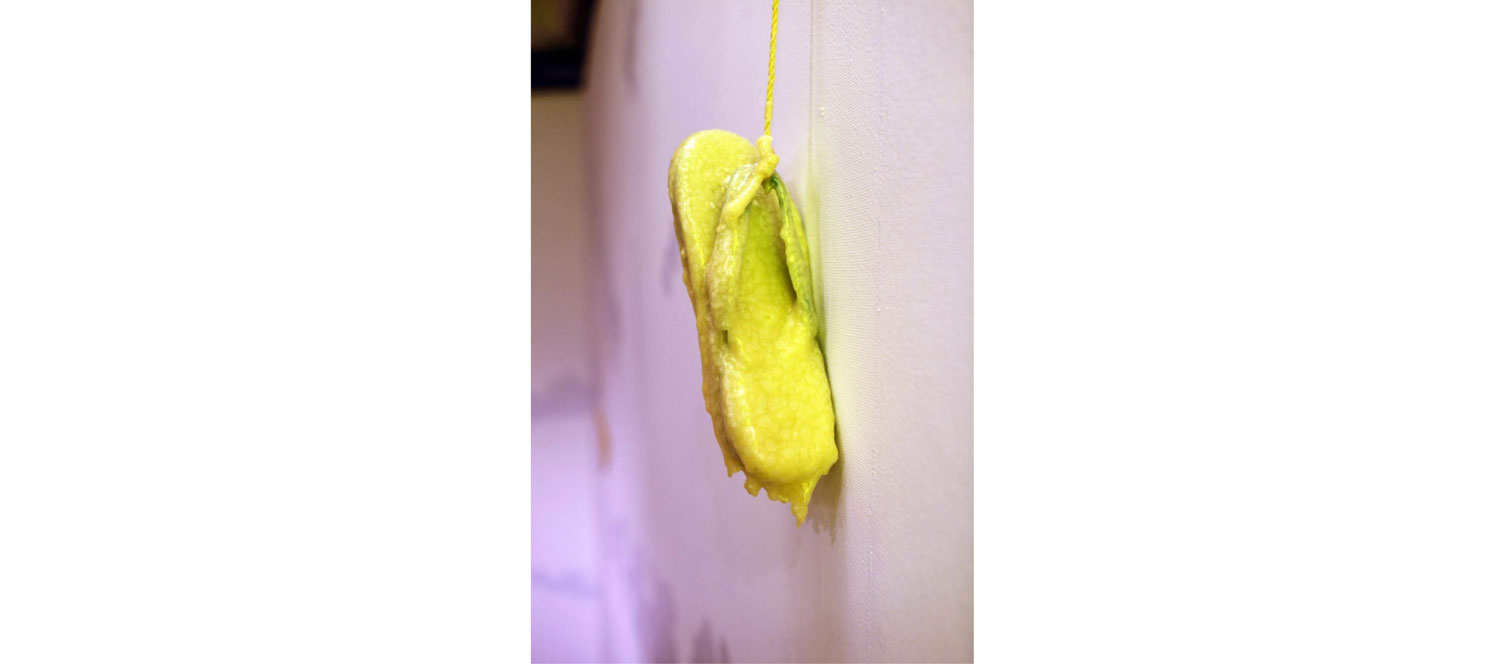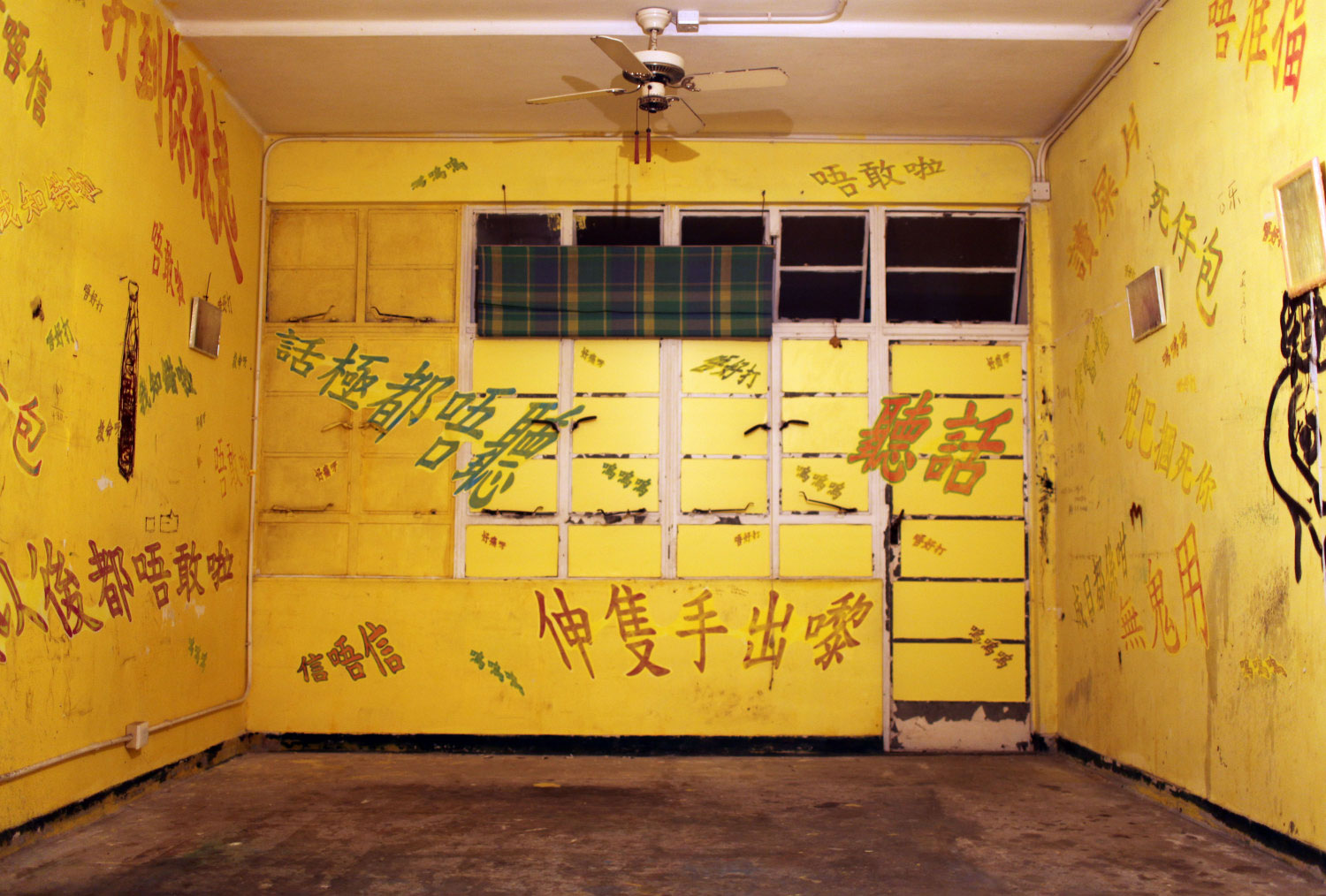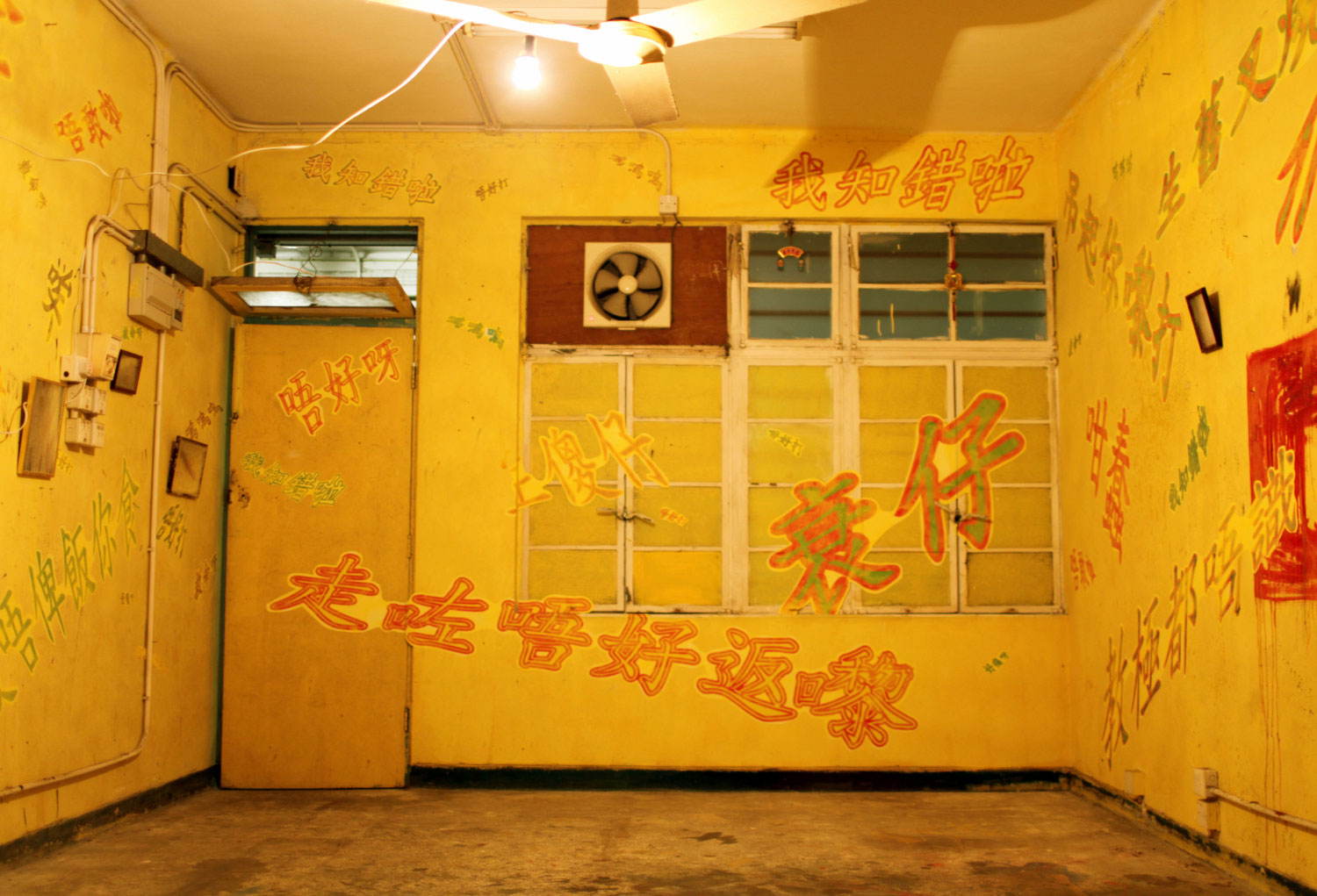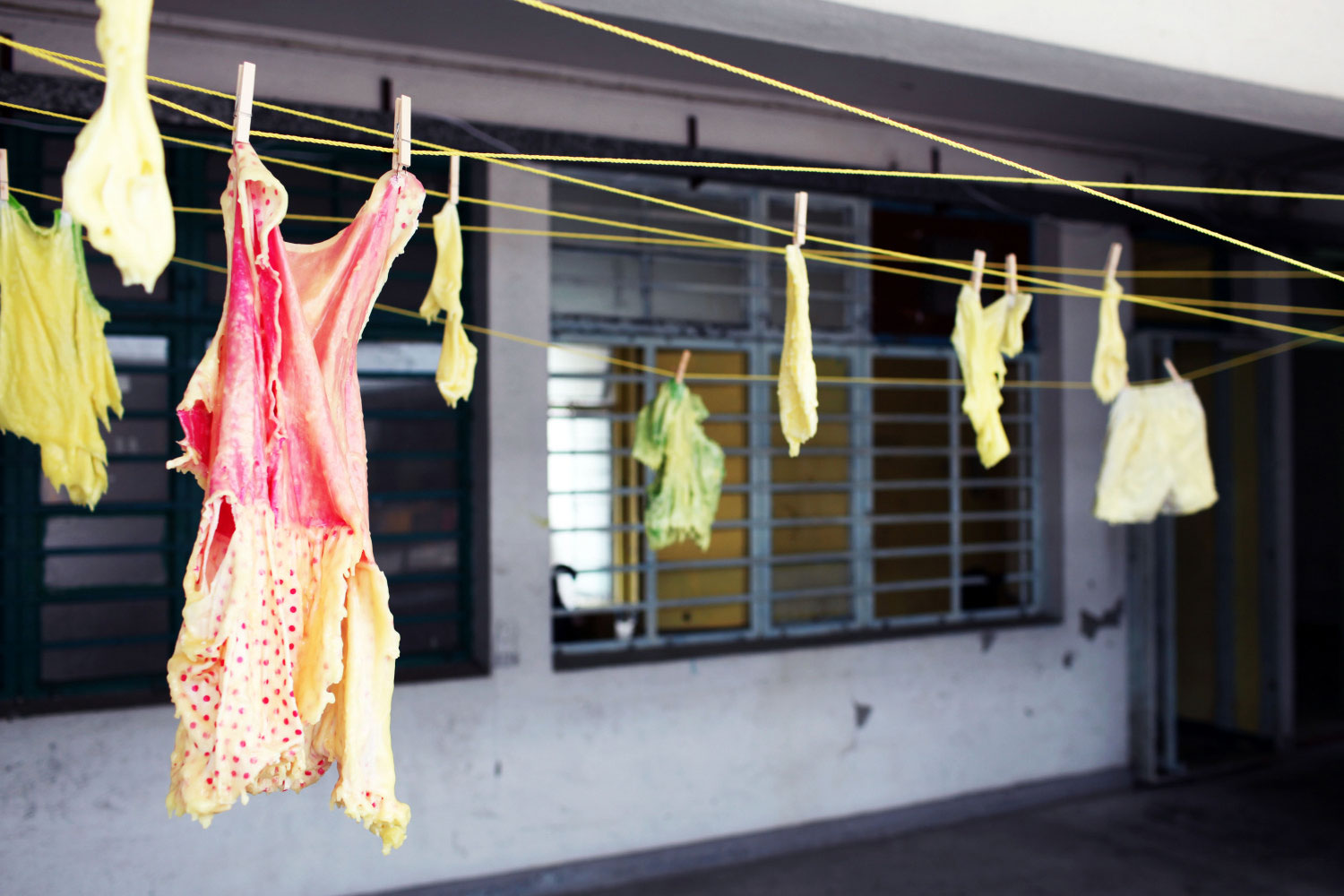 Accidental Aliens 意外的外星人
Many artists in Hong Kong often comes and goes without having the proper recognition they deserved. Their contribution to the society often gone unrecognized and maybe will only be recognize after they are dead. This installation involves the artists building a brick wall, the visitors were invited to use a sledge hammer to destroy the wall at the opening night. Other viewers who come later can look at the work through the glass panels that always remain closed suggesting 'work in progress'. Green colored tape underneath the brick pile and on the corridor suggesting a terrible art accident might have happened.
with Jaffa Lam
500 bricks, cement, & sledge hammer
Jockey Club Creative Arts Centre, HK
2008
Windows to Childhood 童年窗户
When exactly did childhood end?
Maybe, it's when the child first recognizes the concept of childhood,
It will disappear immediately.
童年是什麼時侯完結的?
可能是第一次在意到有童年這個概念時,
它就會立即消失。
一隻巨大的恐龍慢慢向大厦逼近,它的口噴出高温的火炎,把躲在裏面的敵人活活燒死。大恐龍其實是我的最好朋友,我的寵物,它肚餓時我會給它東西吃,不聽我話的敵人,都沒有好下場。
巨型飛碟羣忽然出現在大厦的上空,我立刻跑上天台去,看到人們一個接一個被吸進飛碟裏去。我也希望自己會被選中,到宇宙的盡頭當個宇宙戰士,為和平和正義戰鬥。
Transparent paint on window glass
2009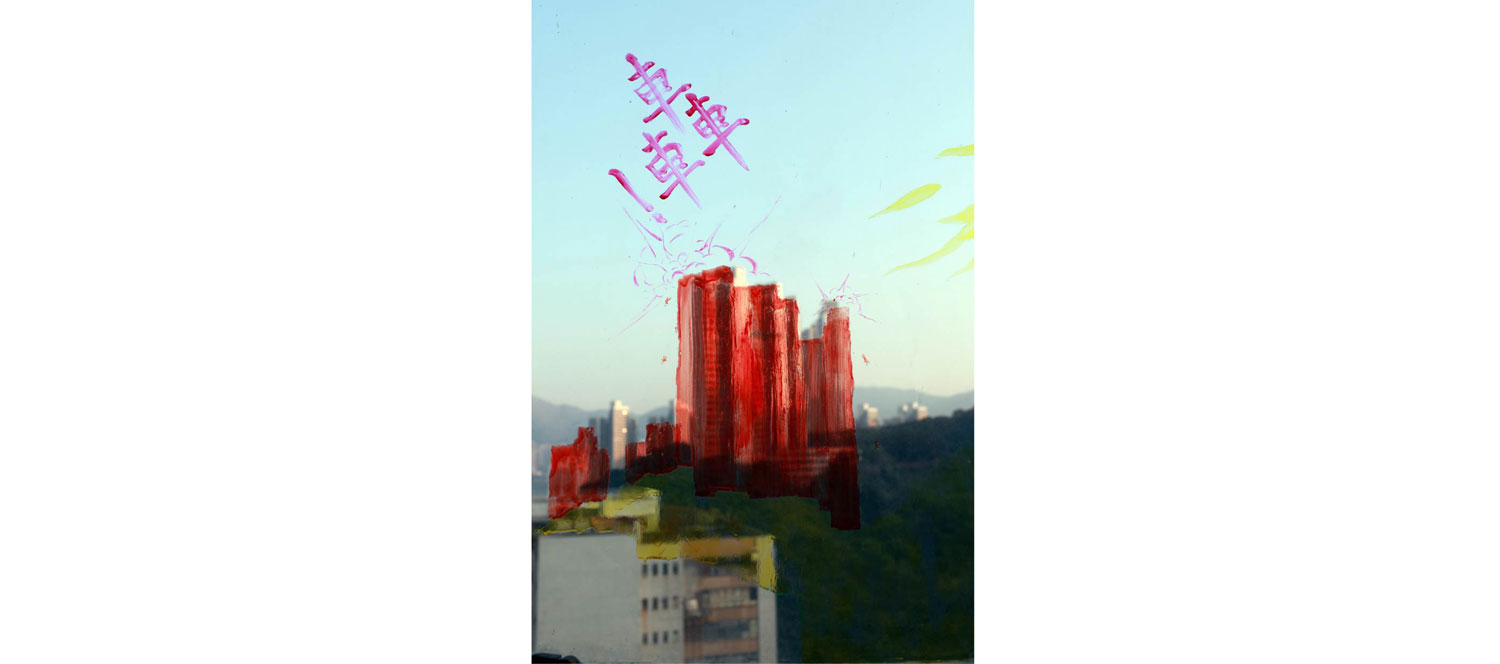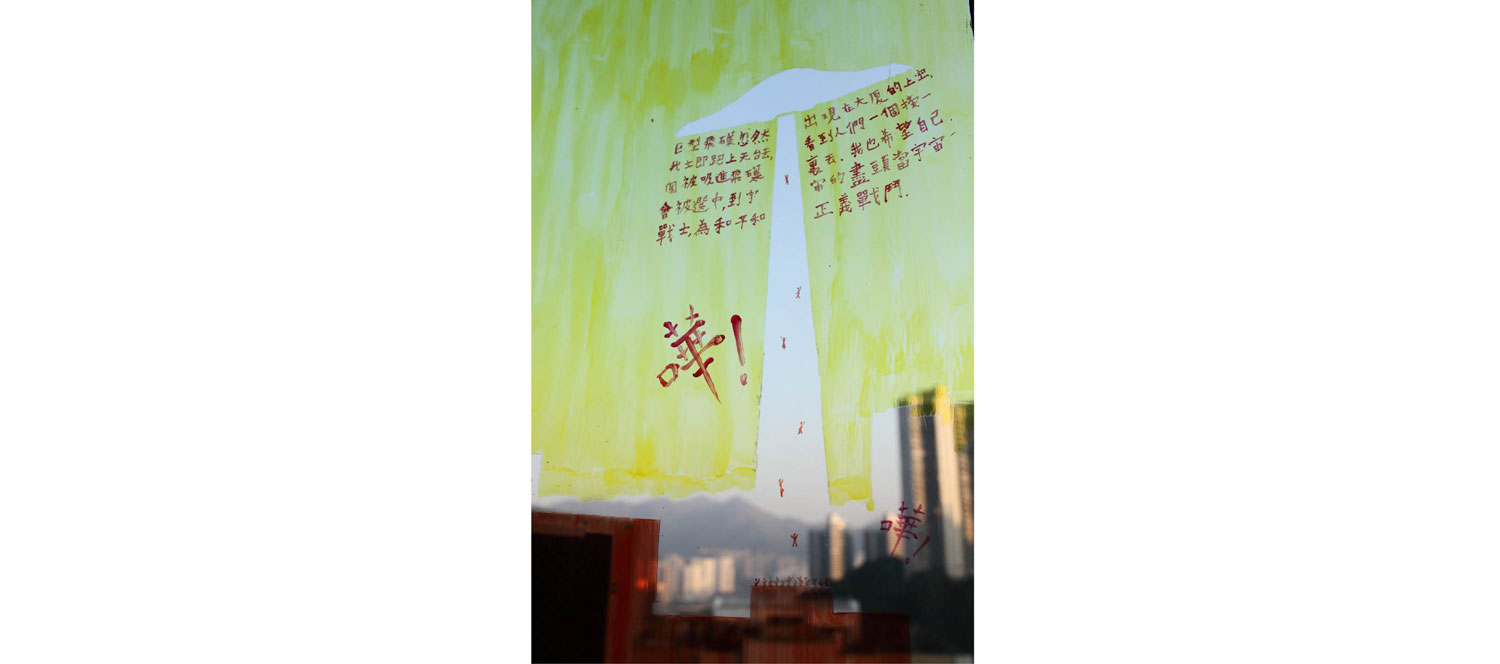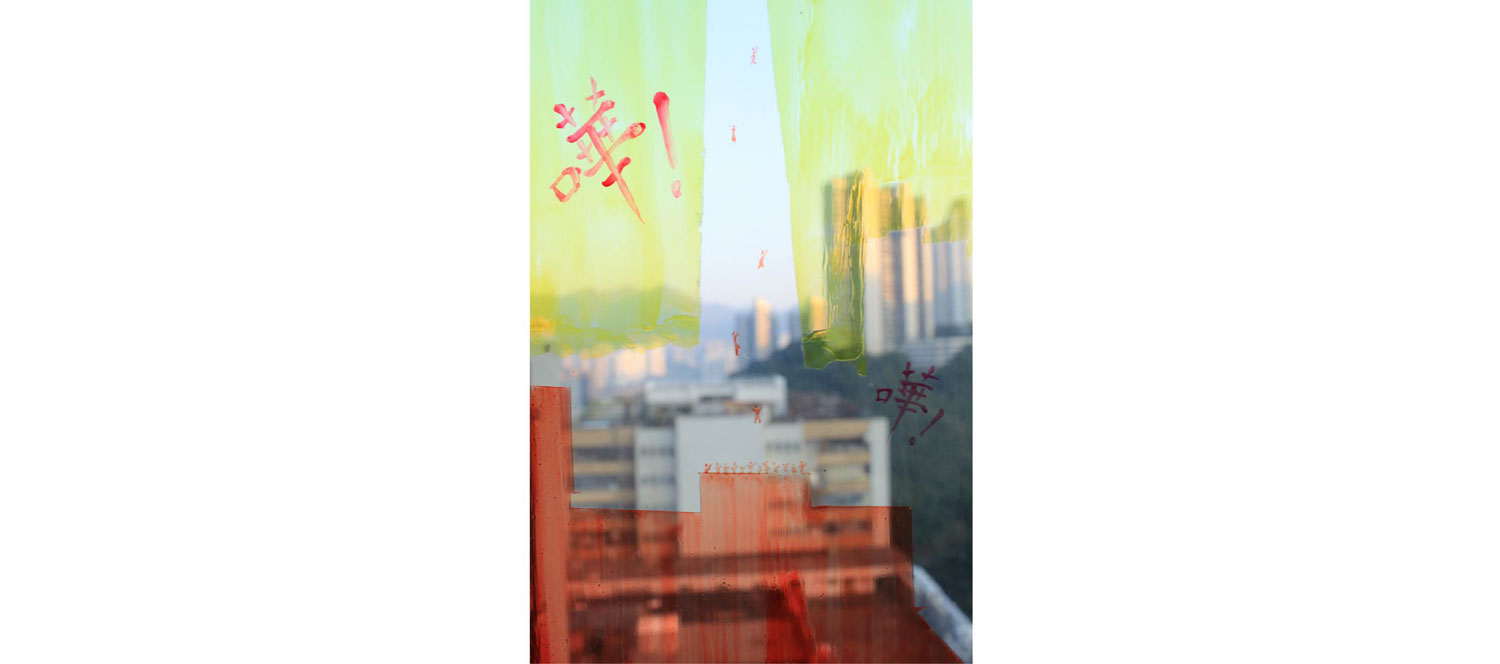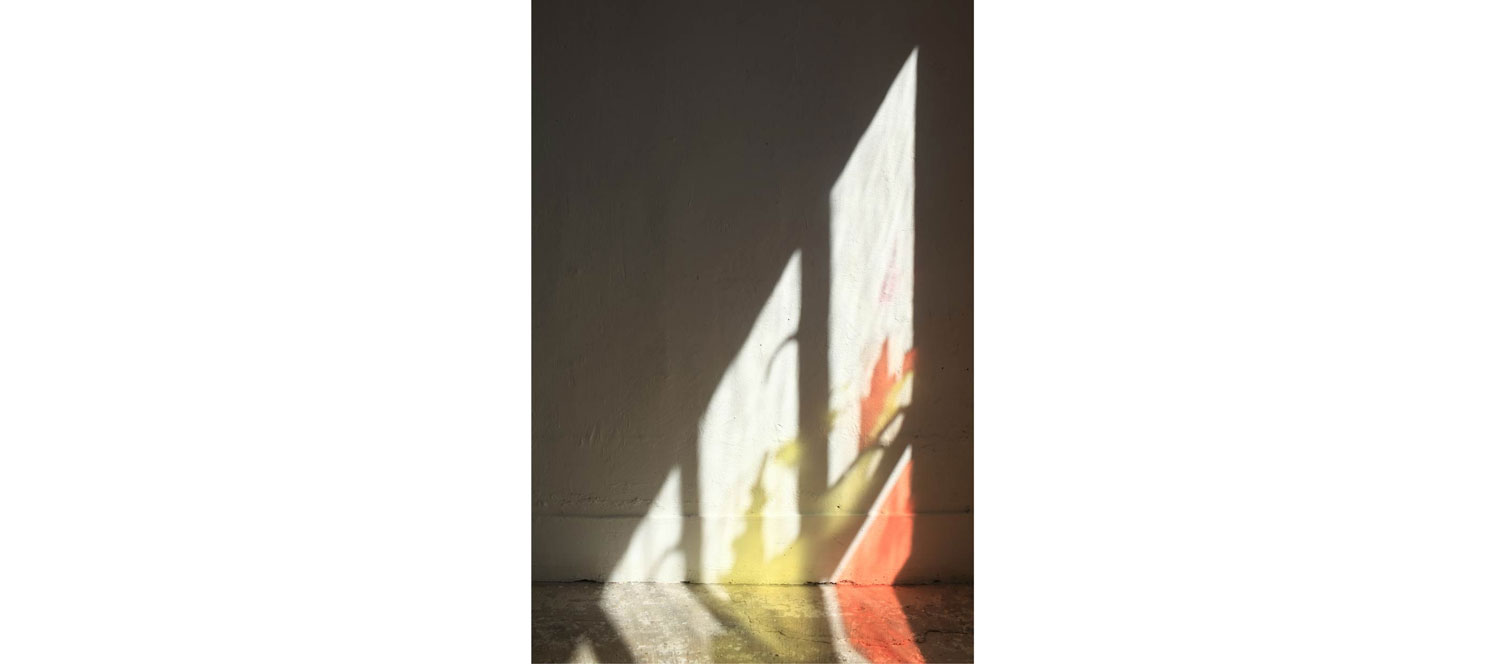 Threshold 鬼遇
Mild steel, brass sheet, mirrors, wooden louvers, infrared activated fans, & musical movements
331(W) x 200cm(H)
Para/Site Art Space, HK
(with Tim Li)
1997
Building Making Buildings 樓樓起樓樓
That summer my grandfather took me to travel back to our ancestor's village in Taishan and we had a great time together. Today I am sitting inside my own apartment on the 16th floor; occasionally I still miss the little house I used to live back at the village.
有一年暑假爺爺帶我回台山的故鄉渡過一個愉快的夏天;
今天我坐在十六樓H座自己的家裏,偶然也會記掛着當年在鄉間住過的那座小平房。
Why did you choose to work with glass for this installation?
The glass location was assigned by MTR. I found traditional sand blast glass etching technique a very interesting process which one can easily find in most Chinese restaurant and I would like to revive that sculpture technique to a higher artistic level in the MTR project. Notice my glass etching was done on both sides of the glass, some area of the glass was painted with colors and some area was left blank deliberately so to allow existing architectural scene from outside of the station to be seen the picture plane.
How would you like passengers to interact with your work as they pass by?
Passengers can enjoy my work from both inside the station and outside. When the art work being view from inside the station the large glass etching seems as if it is lit up by light since it is back lit by sunlight outside. In certain time of the day, the low angle sunlight will project various shape of the glass painting onto the opposite wall creating an interesting display of light and shadow inside the terminal where the passengers can enjoy while riding on the escalators. When viewing the work at night from the exterior corridor, the artwork would be lit up by the artificial lighting from inside the station creating a very warm feeling.
The etching on the glass depicts different architecture scenery. It ranges from small huts, Chinese traditional village house, and modern skyscraper. The work reflects the architectural development and transformation of the nearby area in Tseung Kwan O can could use as a visual aid depicting the drastic change in the area.
Edged & sand blasted glass panels
Po Lam MTR Station
2002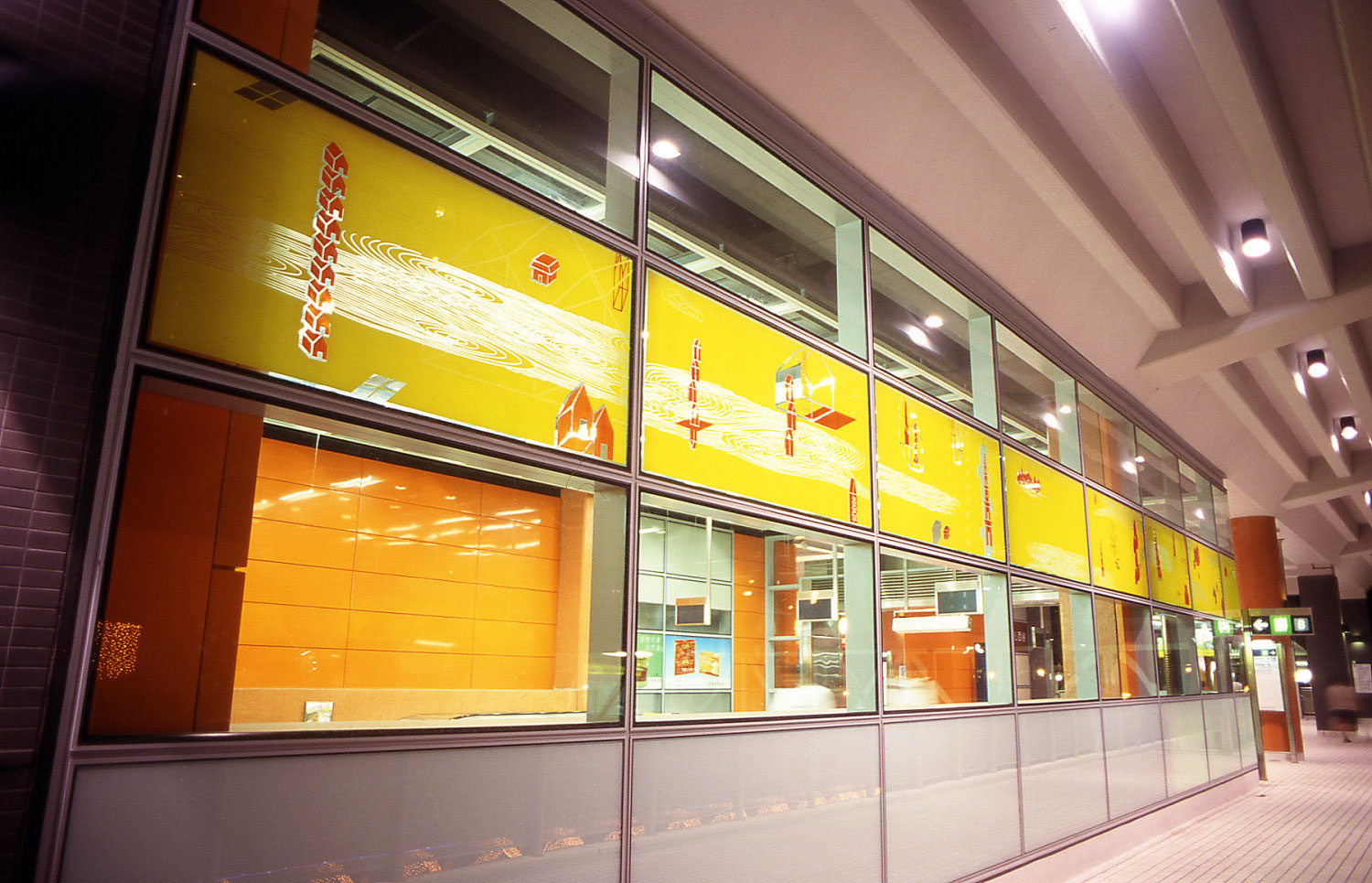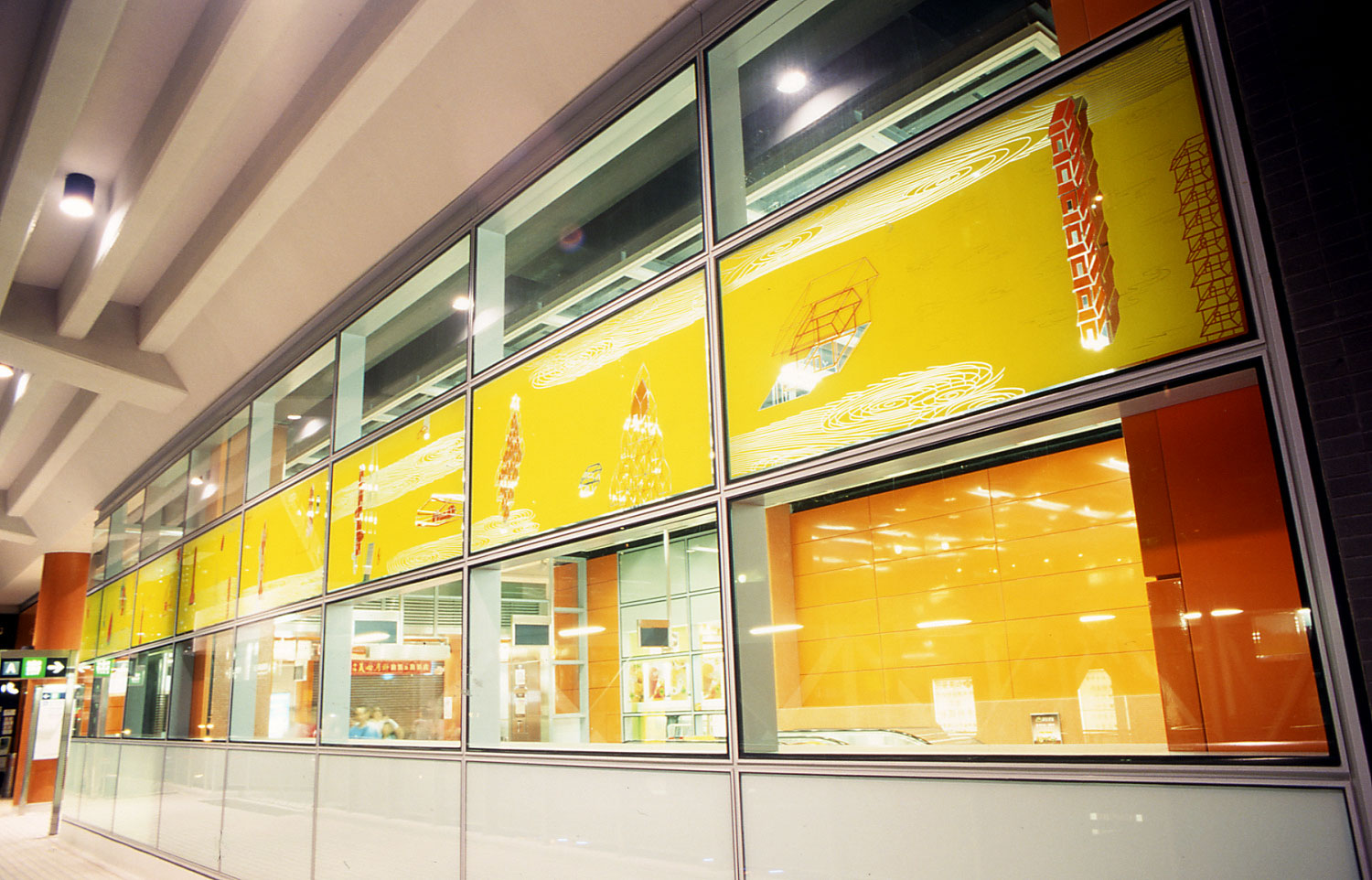 The Light of Industry 工業之光
Neon light
140 cm (W) x 100 cm (H)
2014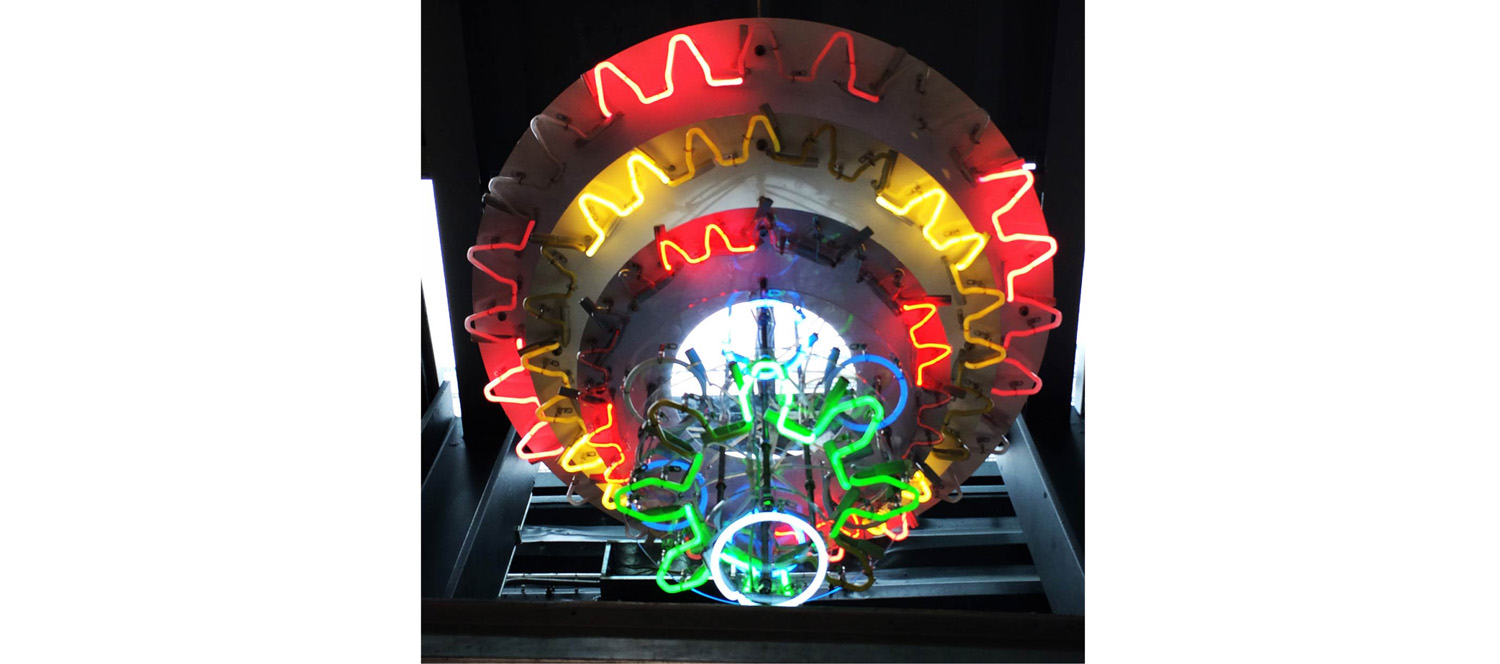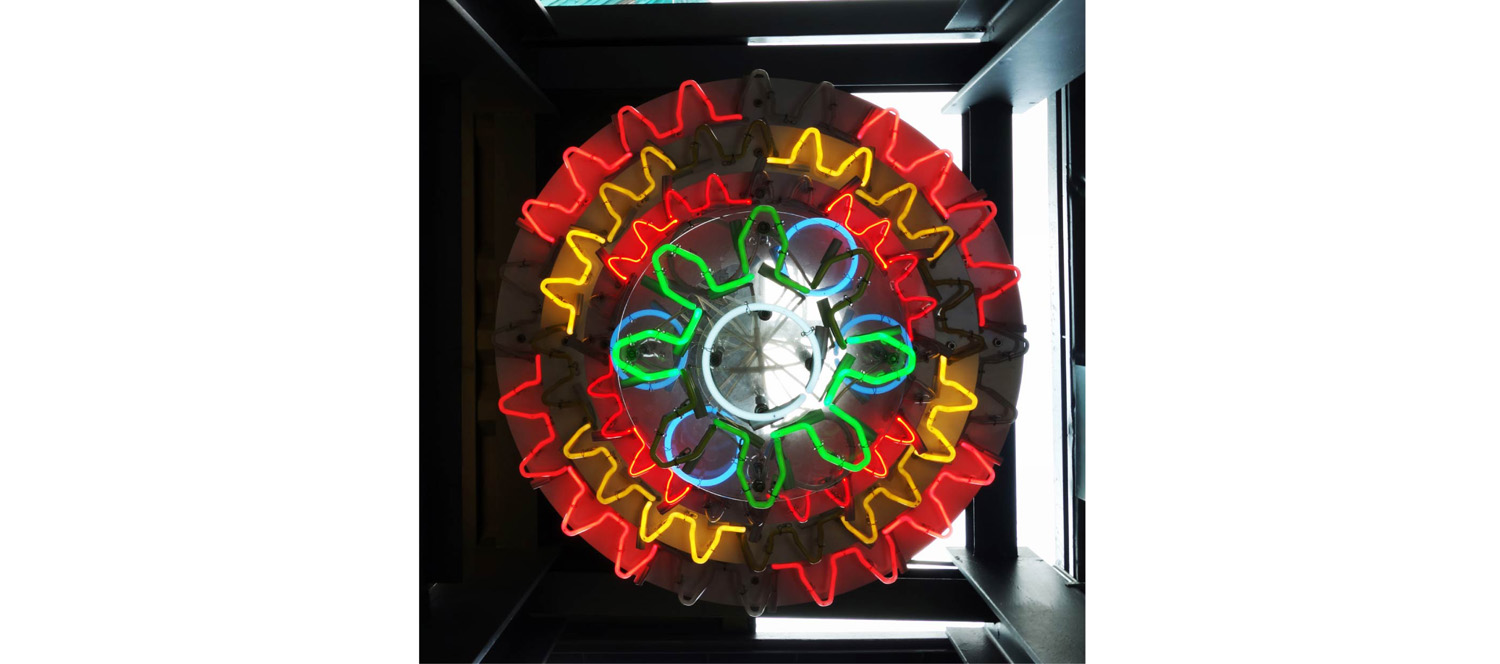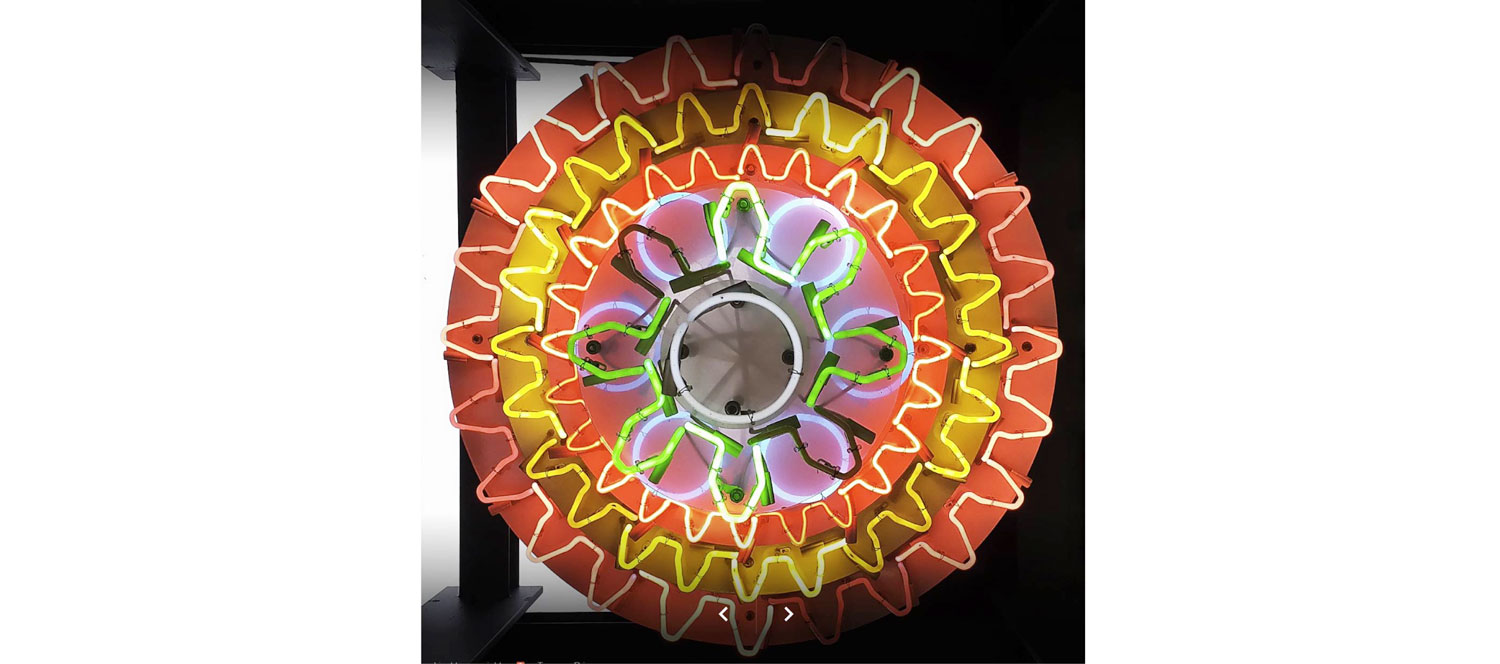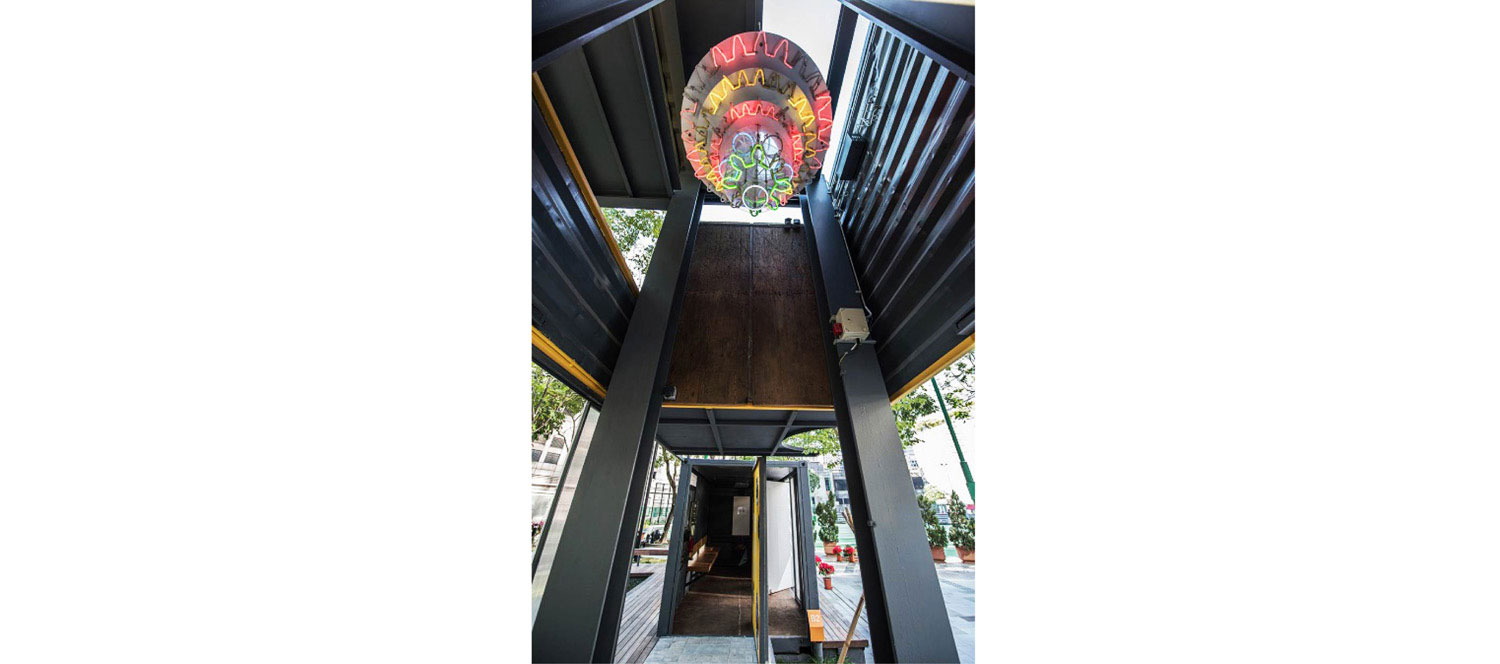 Family Production 家庭作業
Family Production summarized my thinking about the red, white, and blue plastic sheet material which is also a kind of exploration over the topic on the spirit of Hong Kong for the past 5 months. I want to make a piece of work that represents the special quality of Hong Kong. The multi purpose prefabricated metal bar and the durability of red, white, and blue plastic sheets represents the character of flexibility and practicality of Hong Kong people. The shinning plastic beads drapes down to form a metaphorical time tunnel which connects the past with the present. Families after families are being constructed, though they are temporary yet all of them are great to the individual. Red, white and blue plastic sheets remind me of the cottage industries of the 1960s and 1970s. Be it assembling plastic flowers or stringing beads, everybody, young and old, male and female, every member of the family partook in the assembly line, striving to make a living. This was how our family is constructed.

家庭作業這件作品終結了我過去五個多月對紅、白、籃膠布的反思,亦是對香港精神的探索。在這裏我想做一件能表達香港精神的作品。萬能角鐵的無限可能性加上紅白籃膠布的能耐,像徵着我們香港人靈活多變又實際的性格。閃閃生輝的珠簾形成一條通往過去或未來的時光隧道,建構出一間又一間暫時但偉大的家。紅白藍膠布這物料令我想起六、七十年代的家庭式工業。不論是穿膠花或是串珠仔,無論男女老少,家裡的每一個成員都成為這生產線的一份子,一點一滴地去努力奮鬥,我們的家就是這樣建成的。
30,000 plastic beads, fish wire, metal modular bars, red white blue plastic sheet, & paint
500 (L) x 300(W) x 440cm(H)
HK Heritage Museum, HK
2005
Message to the Future Message from the Past 給未來的消息來自過去的消息
A philosopher once said the only freedom that ever exists is the freedom to choose whatever to think inside our mind. The memory of our past might not be what really happened. What are the things you wanted to change in your memory? What message do you have for your future? The wooden cabin are made of recycle wood completed with a garden inside the tiny cell. Viewer can contemplate and reflect quietly inside by writing a postcard addressing to themselves, the artist will mail the postcard back to the writer in the future.

哲學家曾說過人唯一的自由就只有我們思想空間內的自由。我們過去的記憶其實並非事實的真相。你想修改過去的那一段回憶?你對未來的自已想說些什麼?參加的觀眾可在小木屋裏面寫一張明信片給未來的自己,藝術家會在不久的將來把明信片寄回給觀眾。

Recycled woods and plants
211(L) x 102(W) x 264 cm(H)
Hong Kong Victoria Prison
2007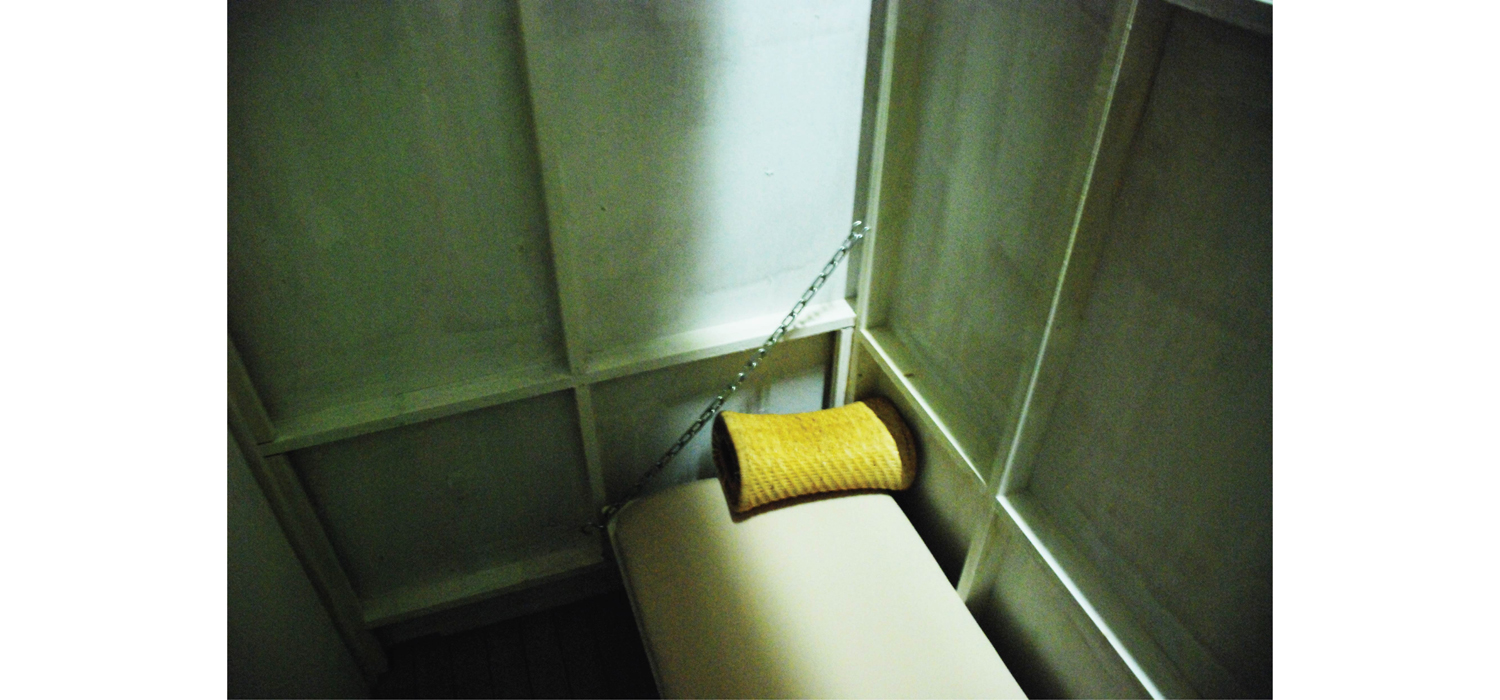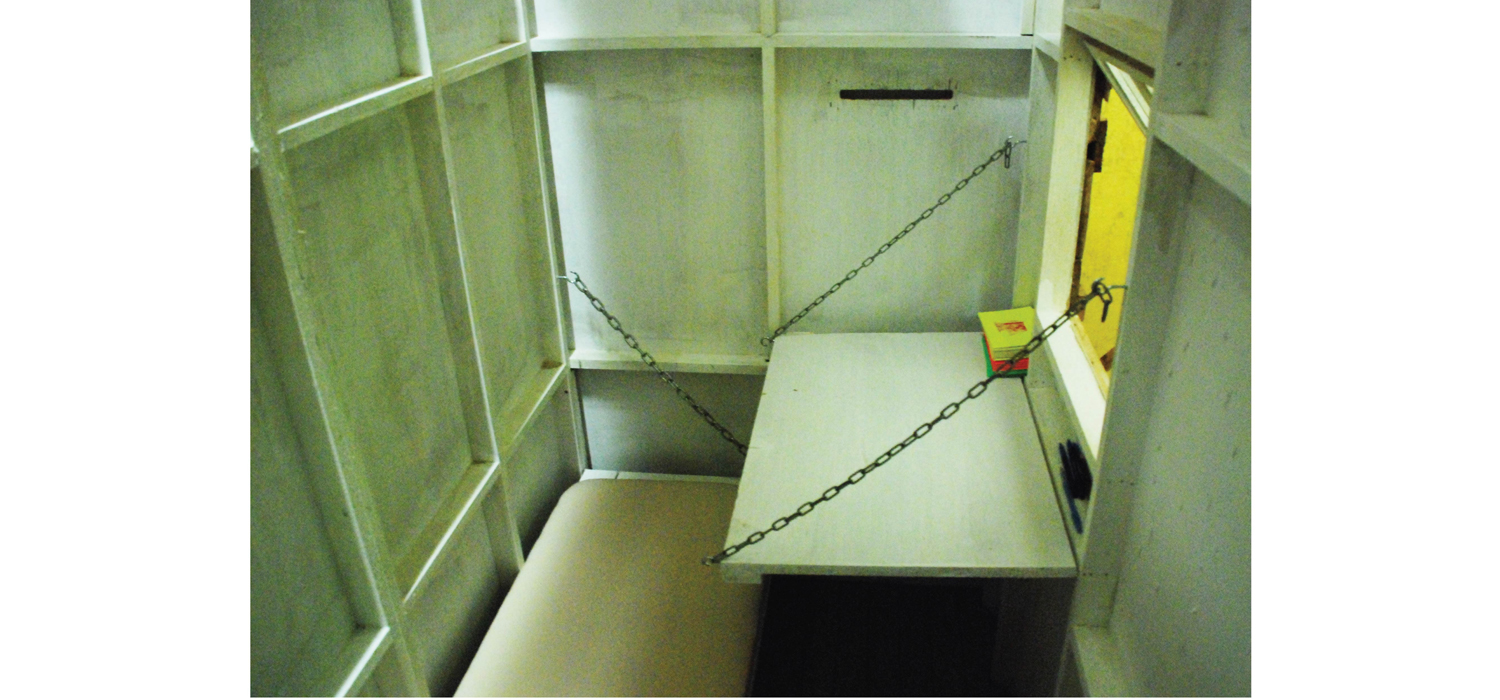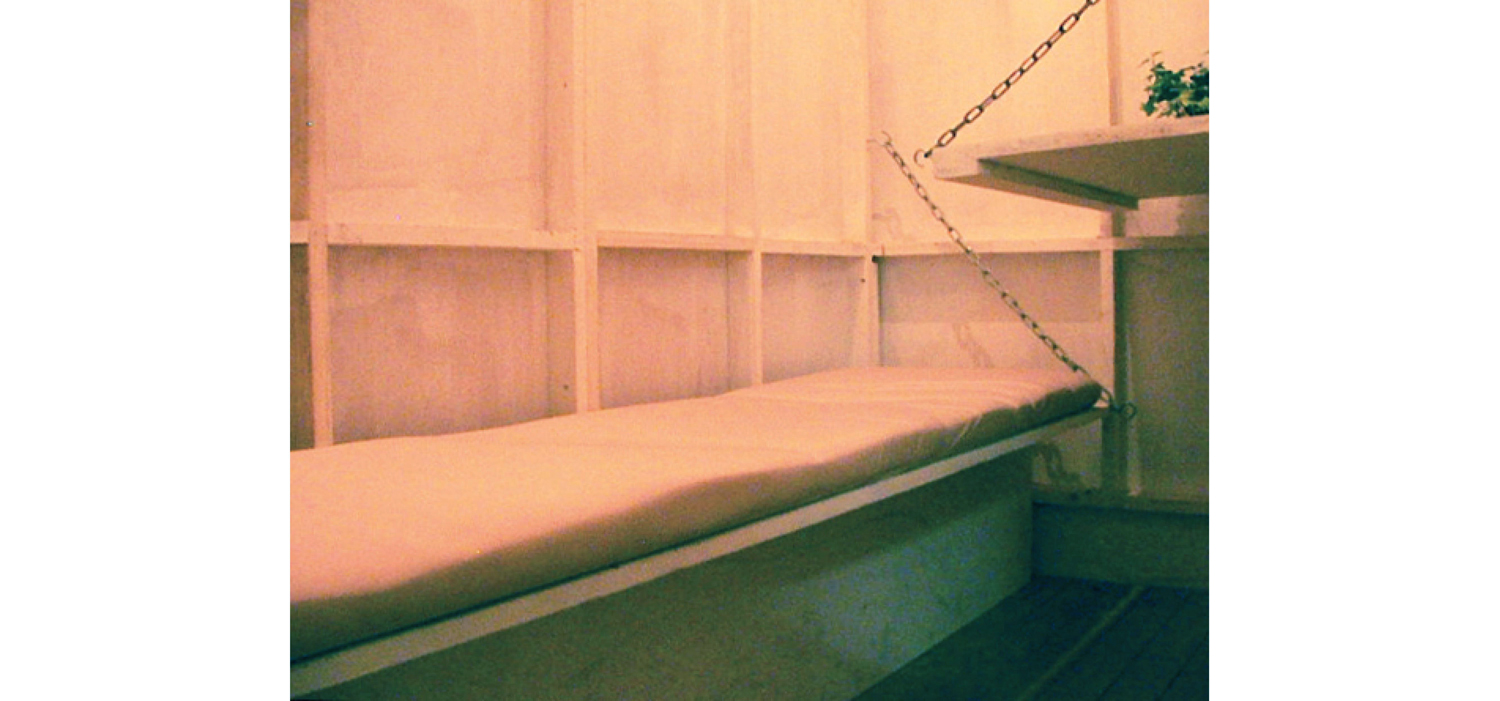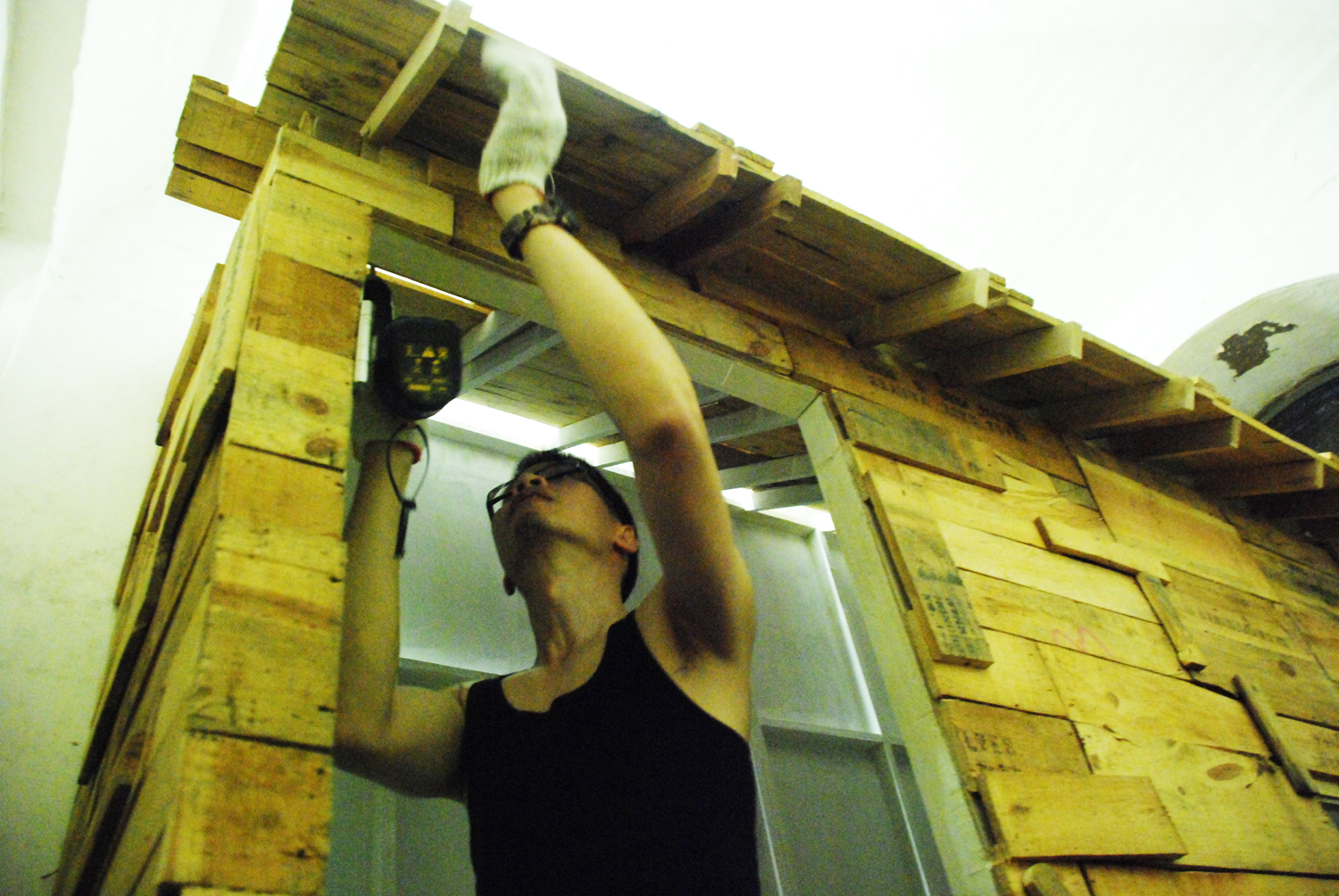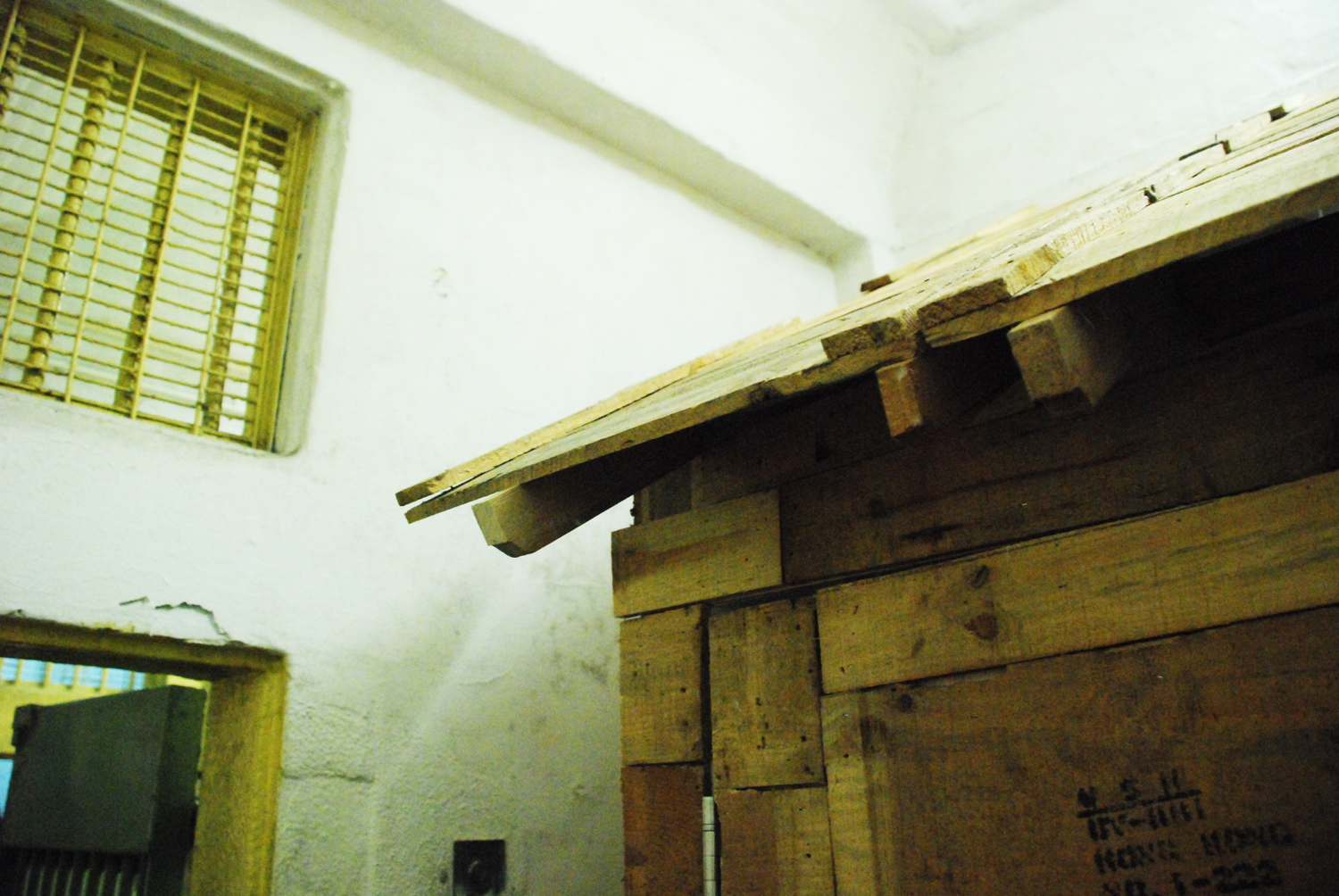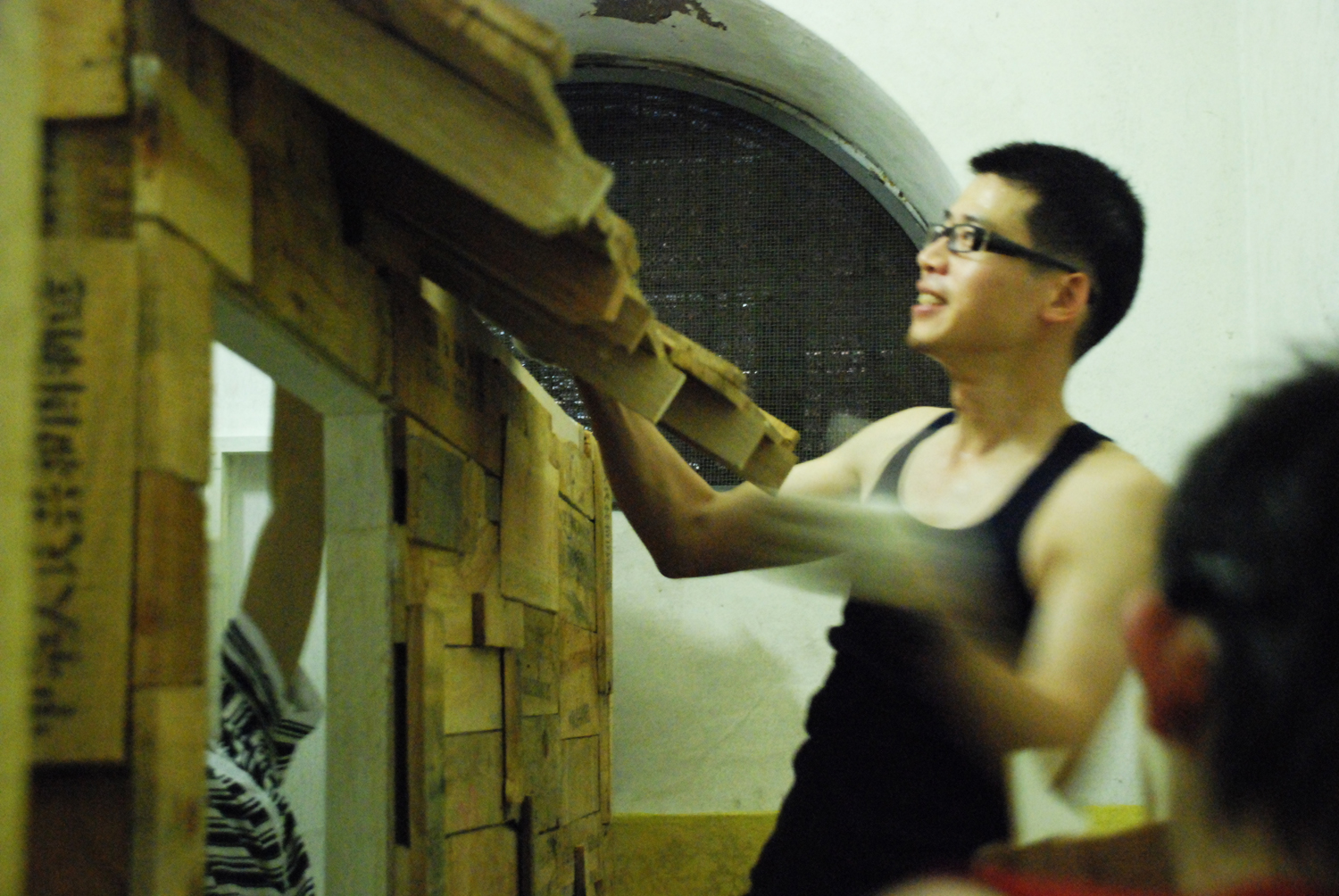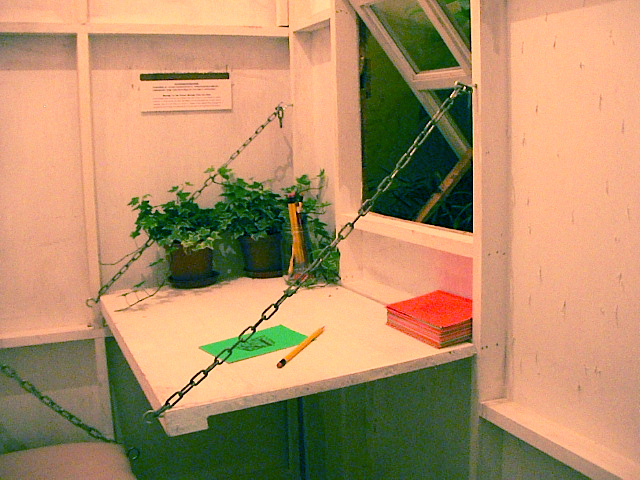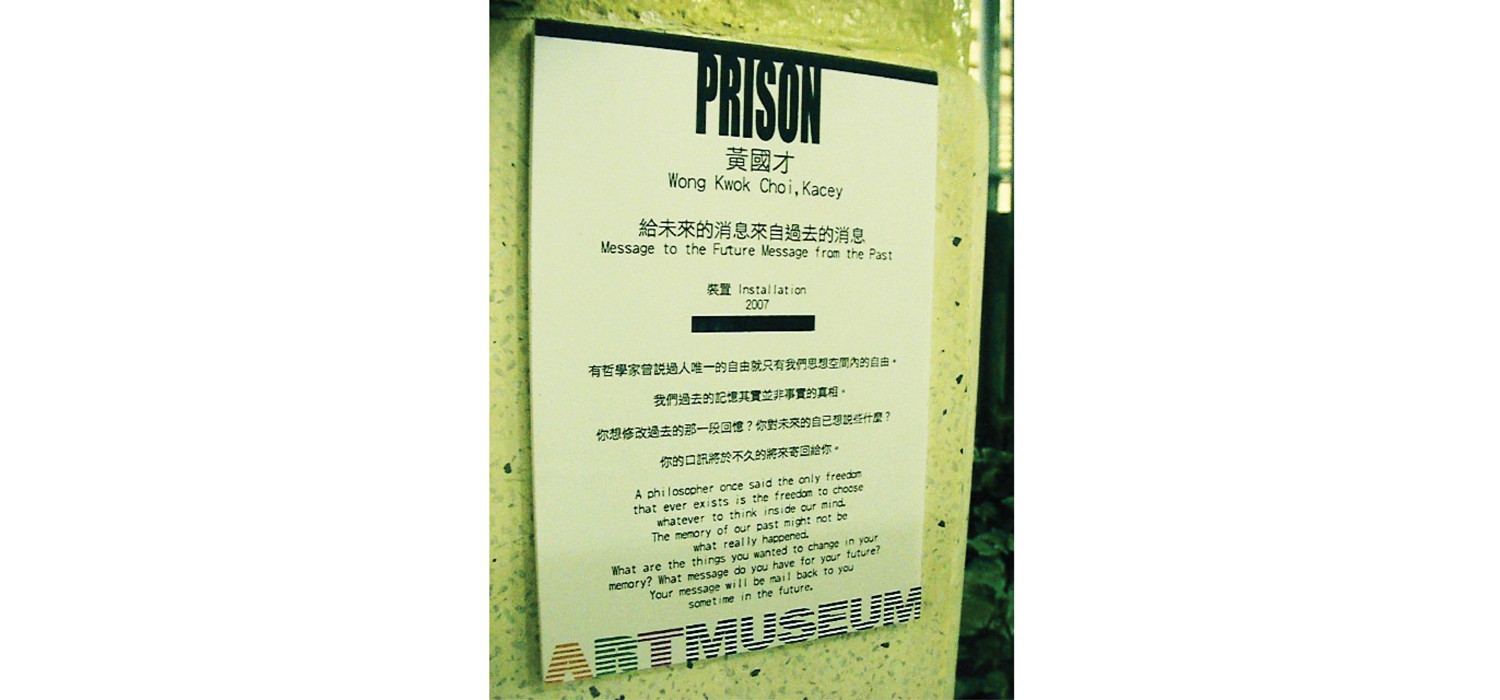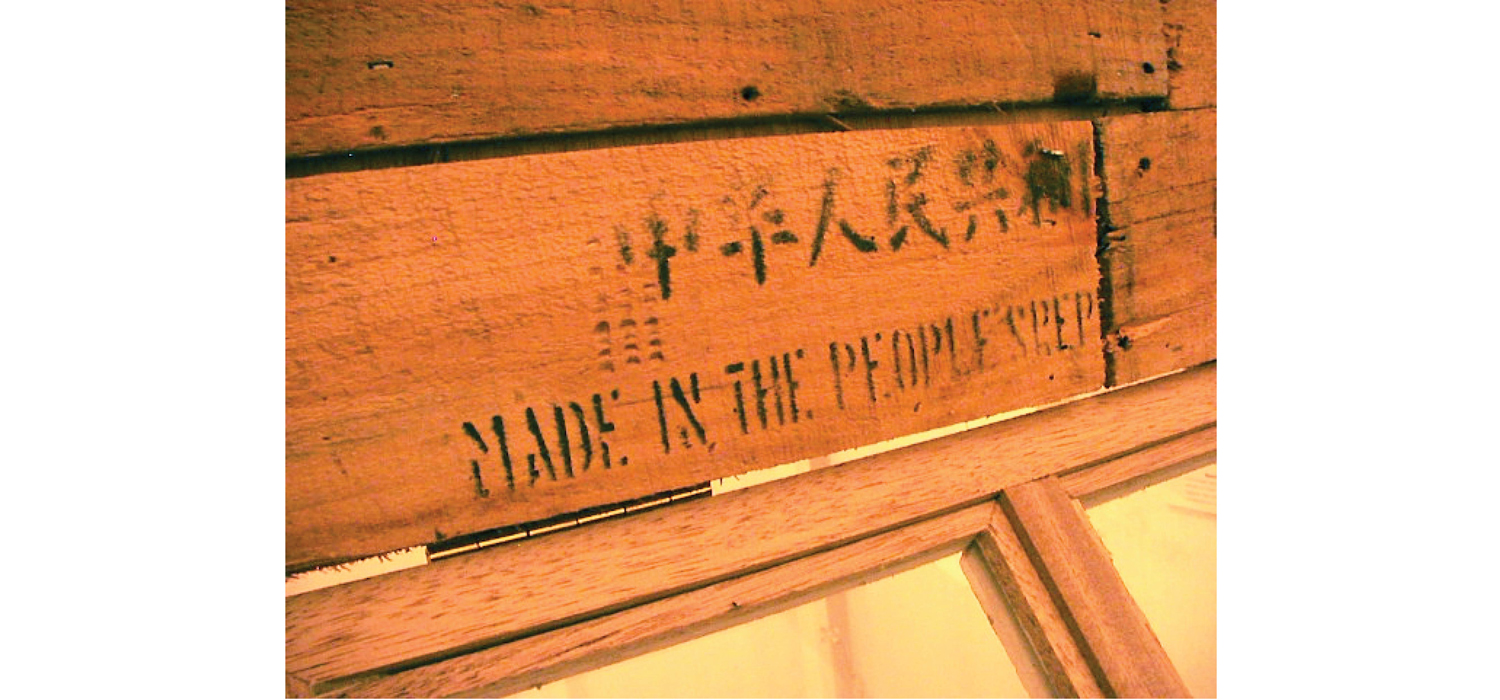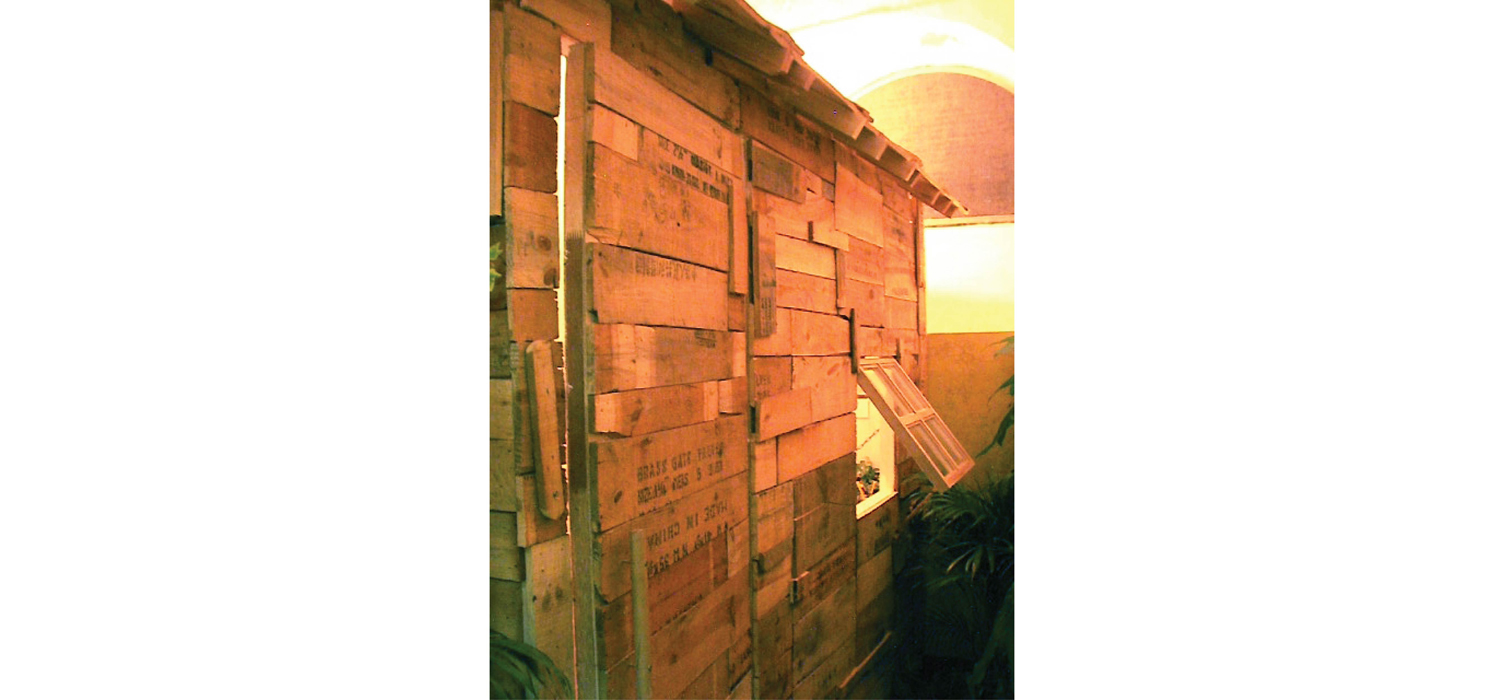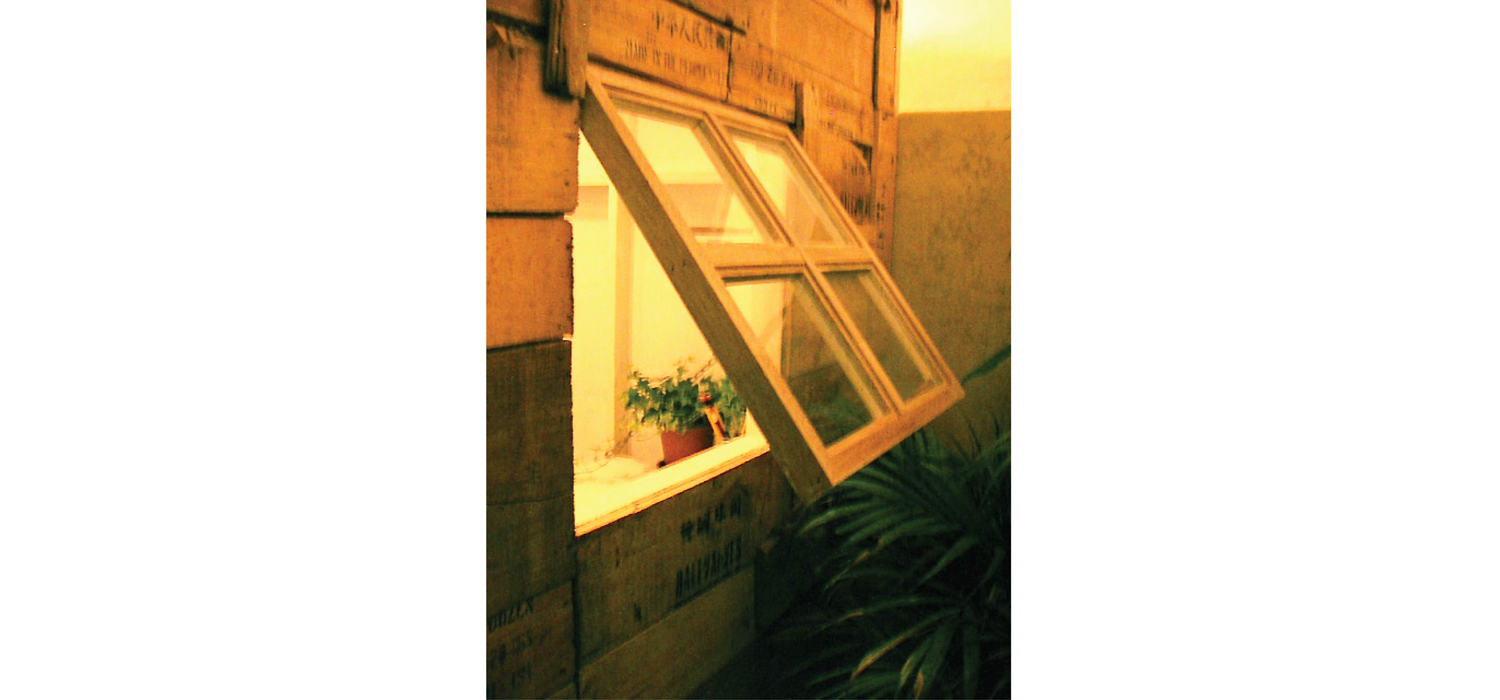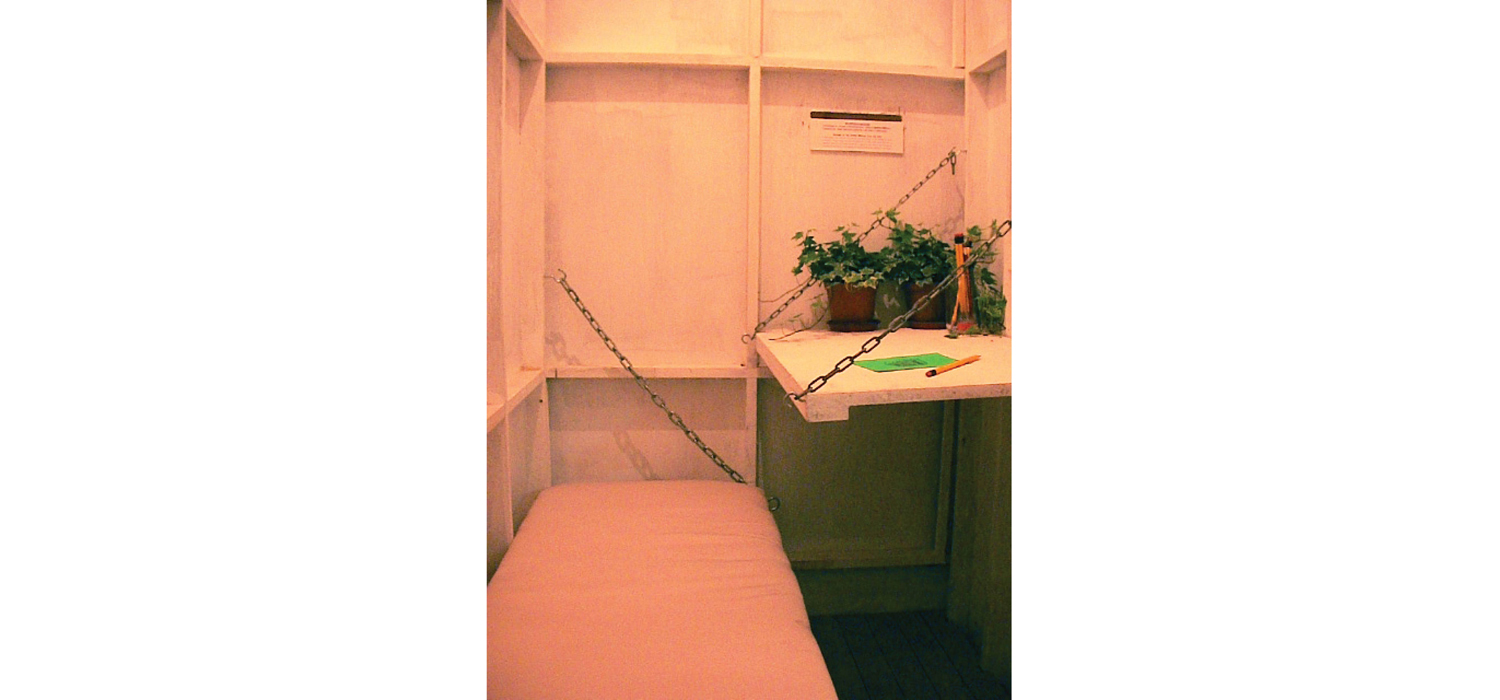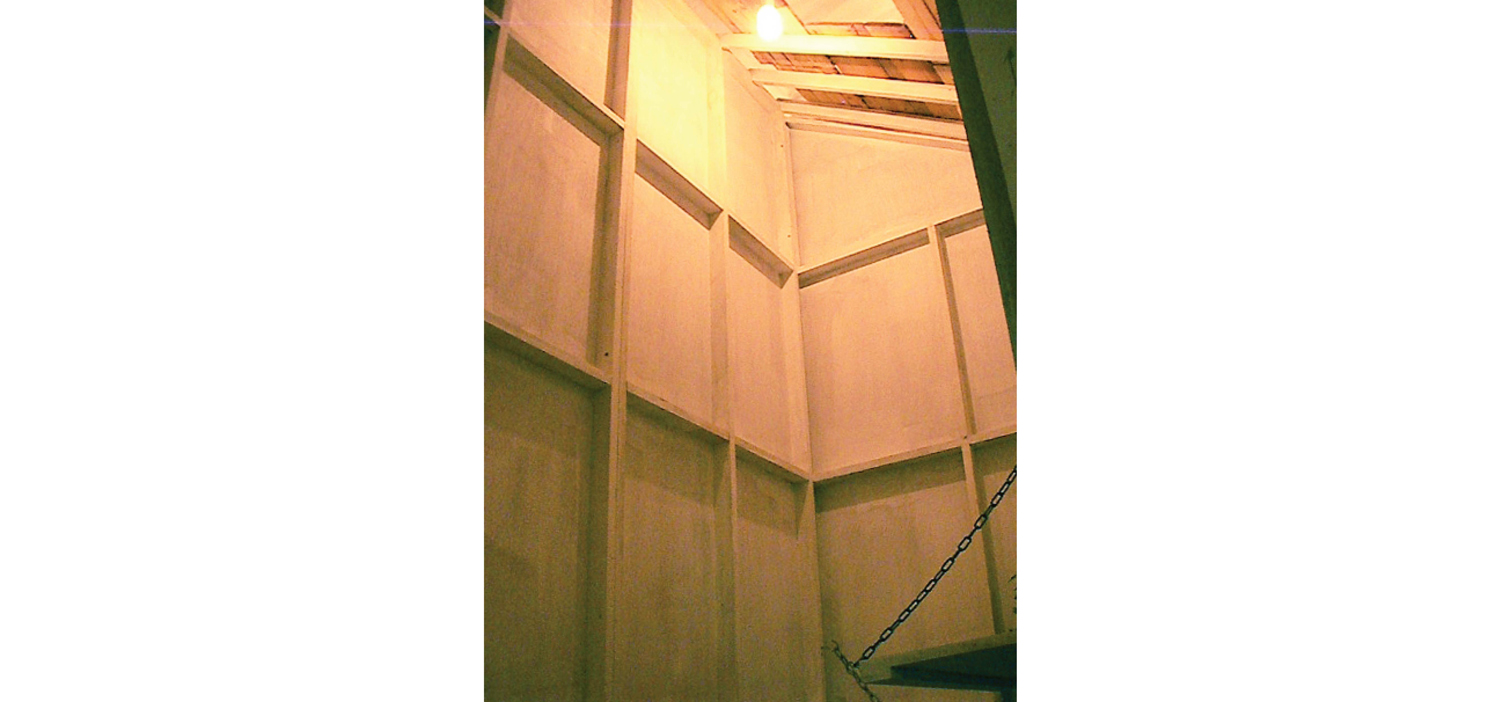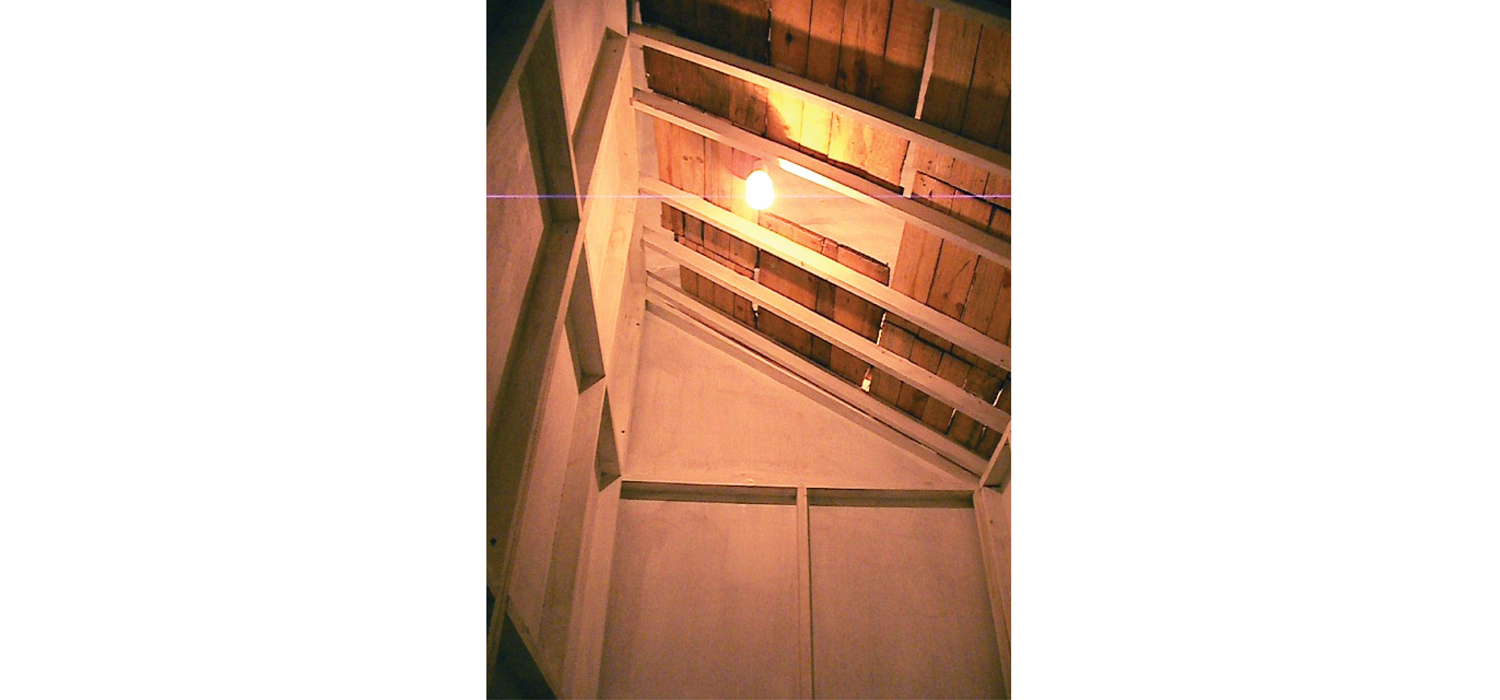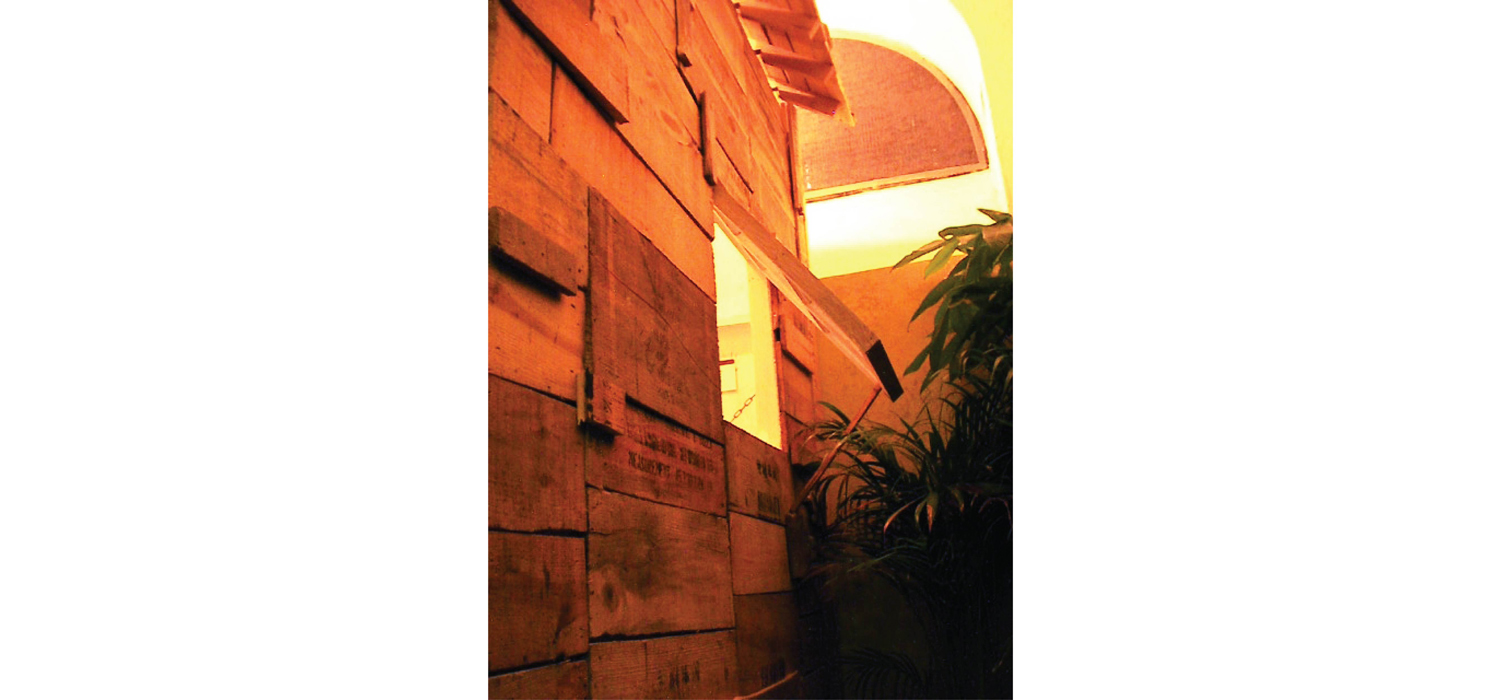 When Is The Exact Moment Dreams Become Reality? 夢想是由何時開始變成真實的?
We all dream about having a place or space of our own. 'Home' firsts exists as a tiny concept in the mind, it continue to mutate and transform into different things as we grow. Is it the shape or location or is it the various characters inside that are attracting us, causing us to endlessly chase after it? The 12 houses represented in the project revealed our endless projection towards the idea of 'home'. Upon entering, one encountered the view of an endless tunnel, which looked as if you could go inside but in fact could not. This situation is similar to the idea of entering a home, for although they are visible to our eyes, our physical body cannot penetrate them.
每個人都夢想擁有一個屬於自己的居所,一個屬於自我的空間。[家]這個東西最初好像只是我們腦裏面一個細小的慨念,除著歲月的增長它也不斷地在放大。是它的外形位置還是裏面的角式人物在牽引著我們?使我們不斷地去追求它?這十二間房子象徵著我們對[家]這慨念的無限投射。從正門進去可以看到一條無限深的通道,看似好像可以進入那樣,但其實不能。這幻象就正正好像現實世界的家那樣,雖然眼睛可以看得見但身體不能到達。

Wood and paint
450 cm (W) x 360 cm (H) x 120 cm(D)
2002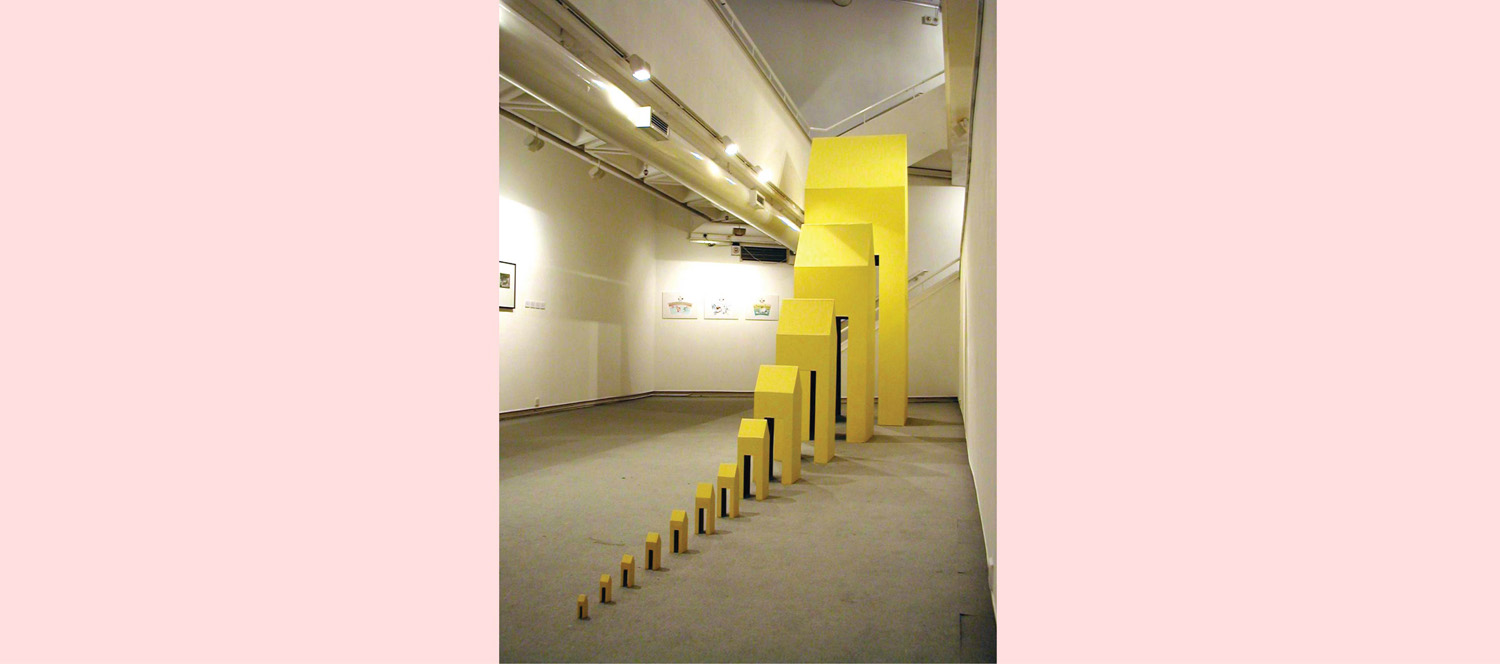 Departure & Return 離開與回來
The number of divorce cases increased rapidly during the year 1981 to 2001 in Hong Kong. In 2001, the number was 13,425 compared with 2,062 in 1981. The concept of home is constantly being broken down into smaller fragments. The ideal home is like a utopian illusion that is unreachable. This project is composed of many little house sculptures purchased from furniture stores and then randomly sawn into wooden pieces and composed into a screen. This curtain of fragments creates a spectacular display of light and shadow, provoking the viewer to think about various issues relating to families.

一九八一年至二零零一年期間,香港的離婚數字急速增長。根據政府的統計二零零一年的離婚數字是13,425宗,而一九八一年時只有2,062宗。家的概念好像在不停地分裂至最終破碎,而理想的家更好像一個幻影,可觀而不可及。此作品是把從傢俬店買回來的擺設用小屋子隨意鋸成十多件小塊然後串成簾子,利用光、影、和空間引發起觀眾對家的各種思索。
Wood & metal wiring
334(L) x 468(H) x 30(D)cm
Permanent Installation, Graduate House,
The University of Hong Kong
Para/Site Art Space, Hong Kong
2003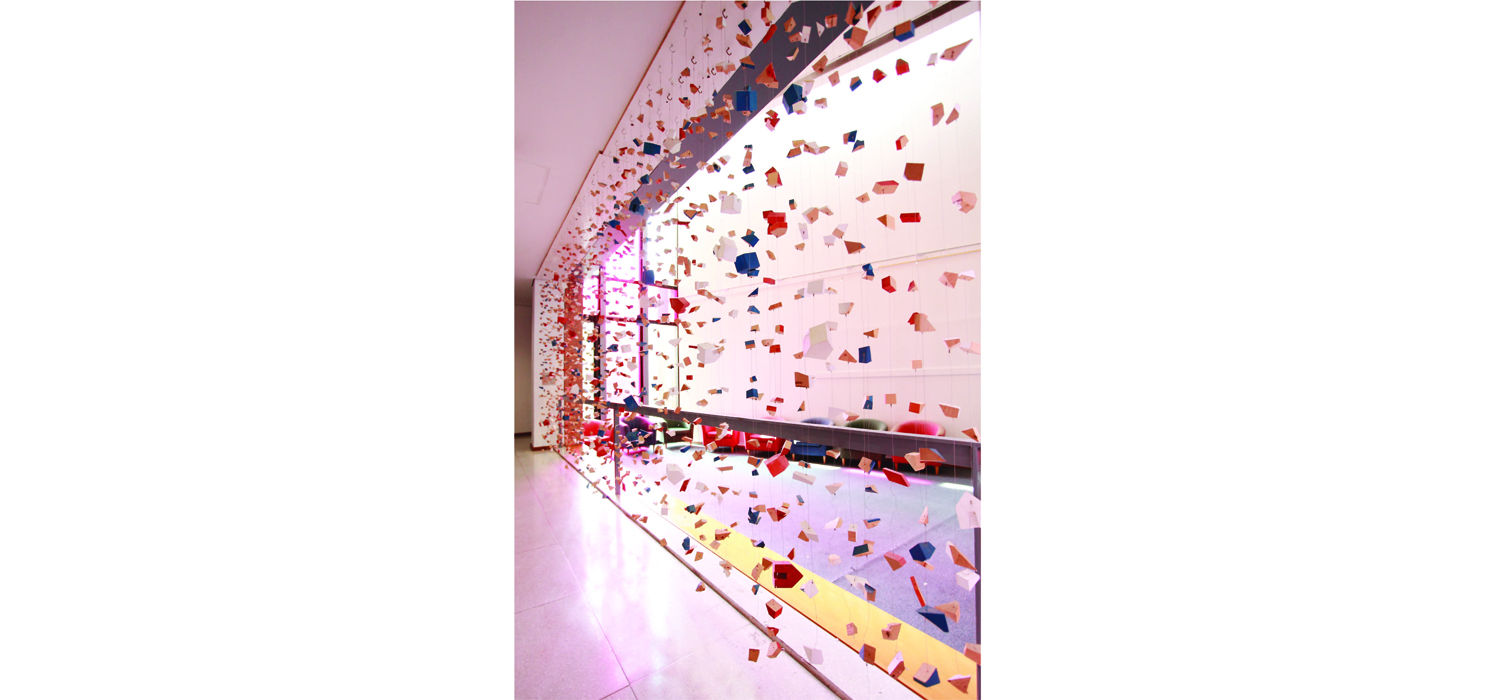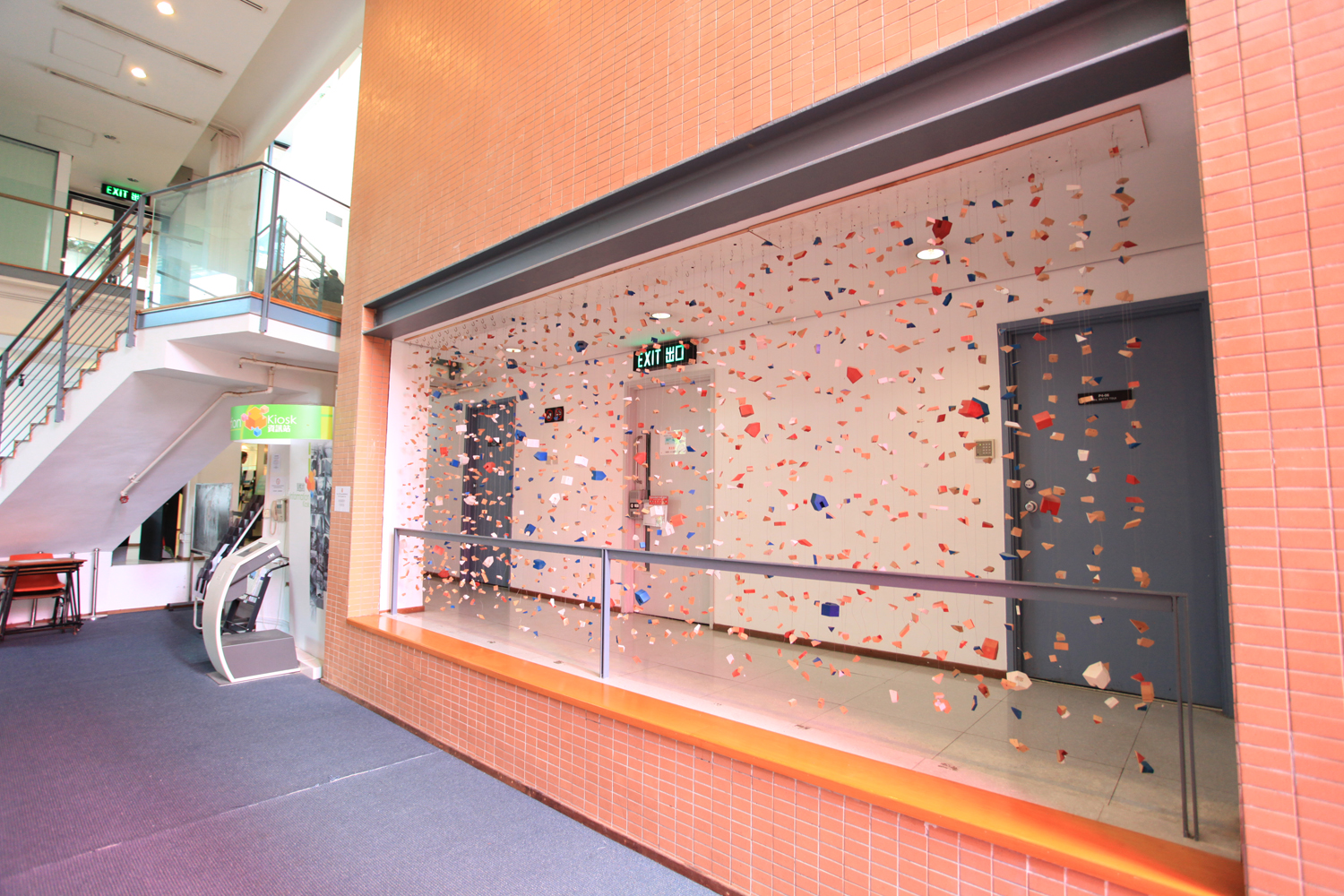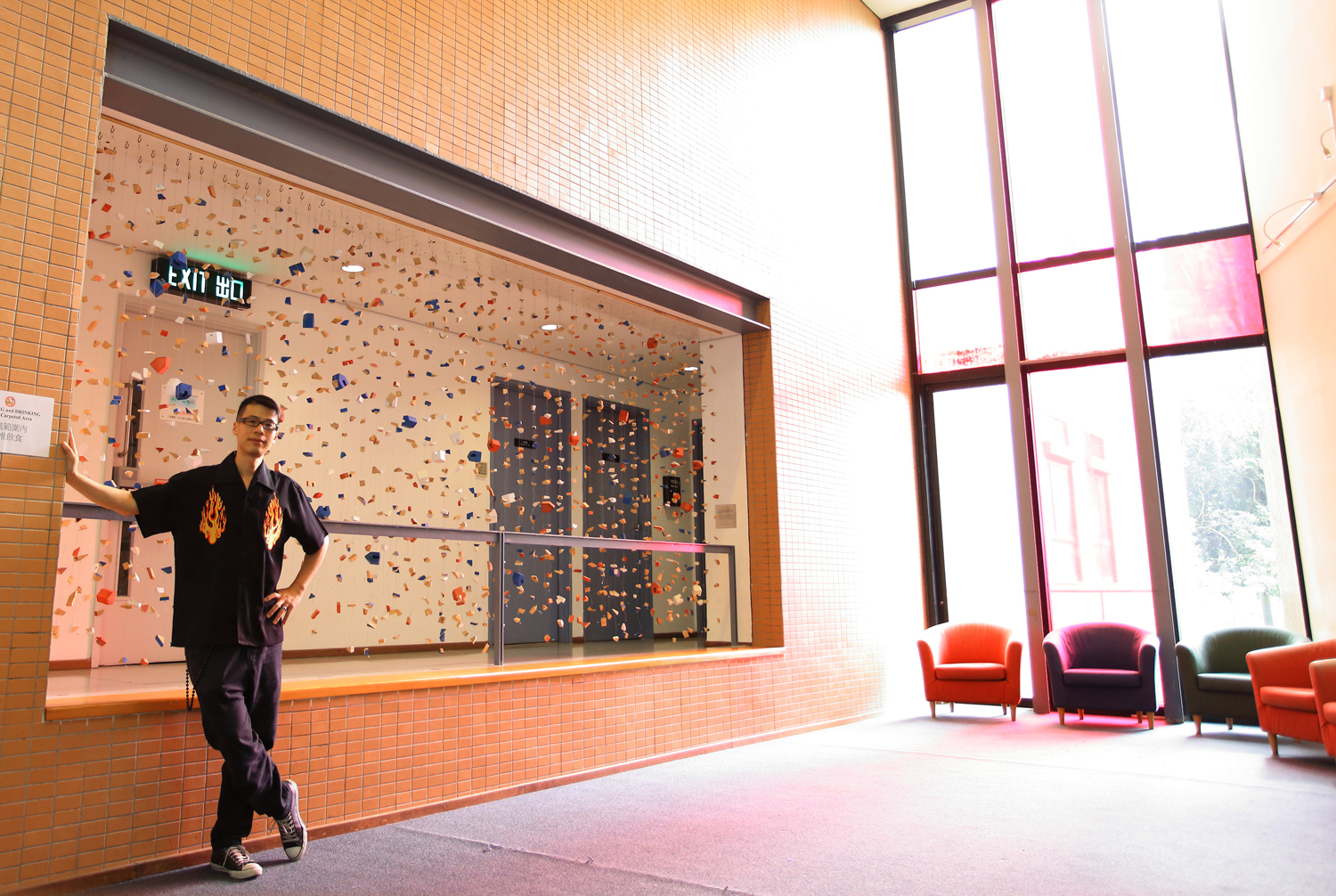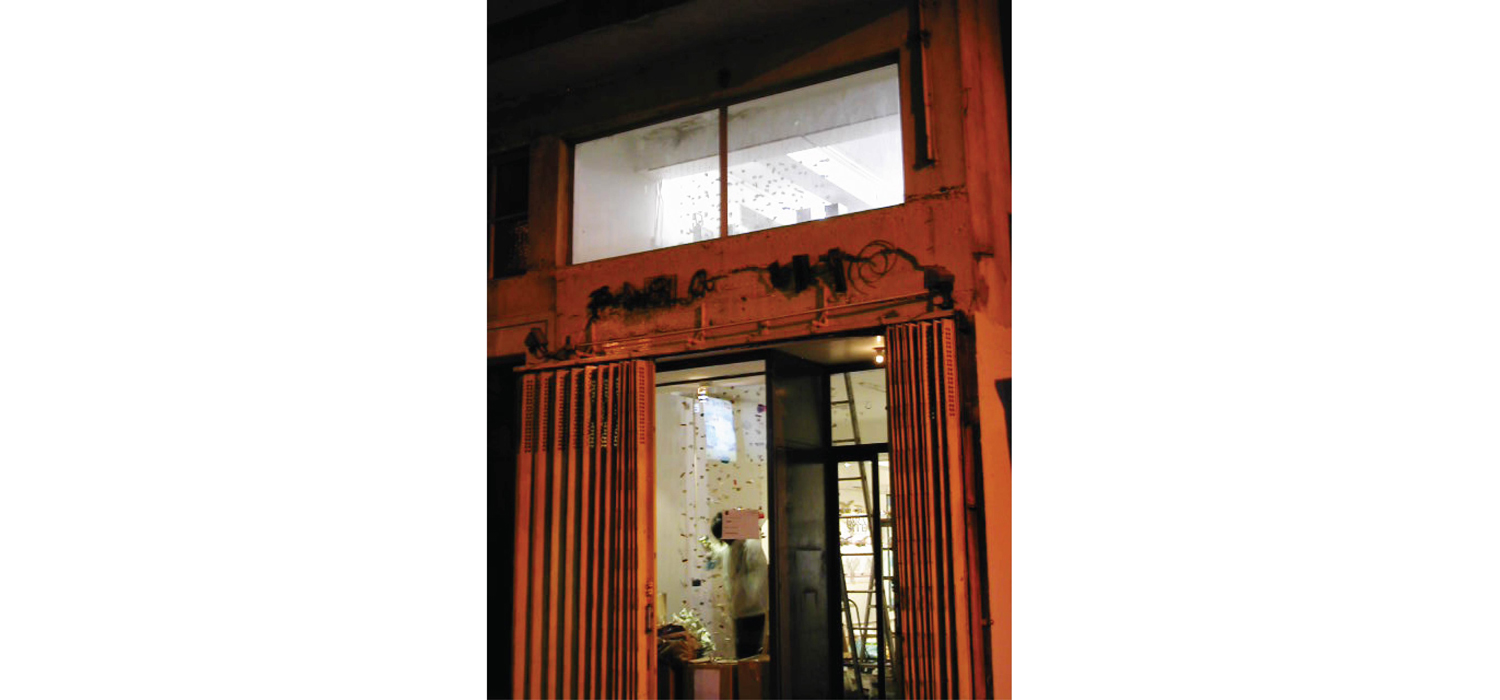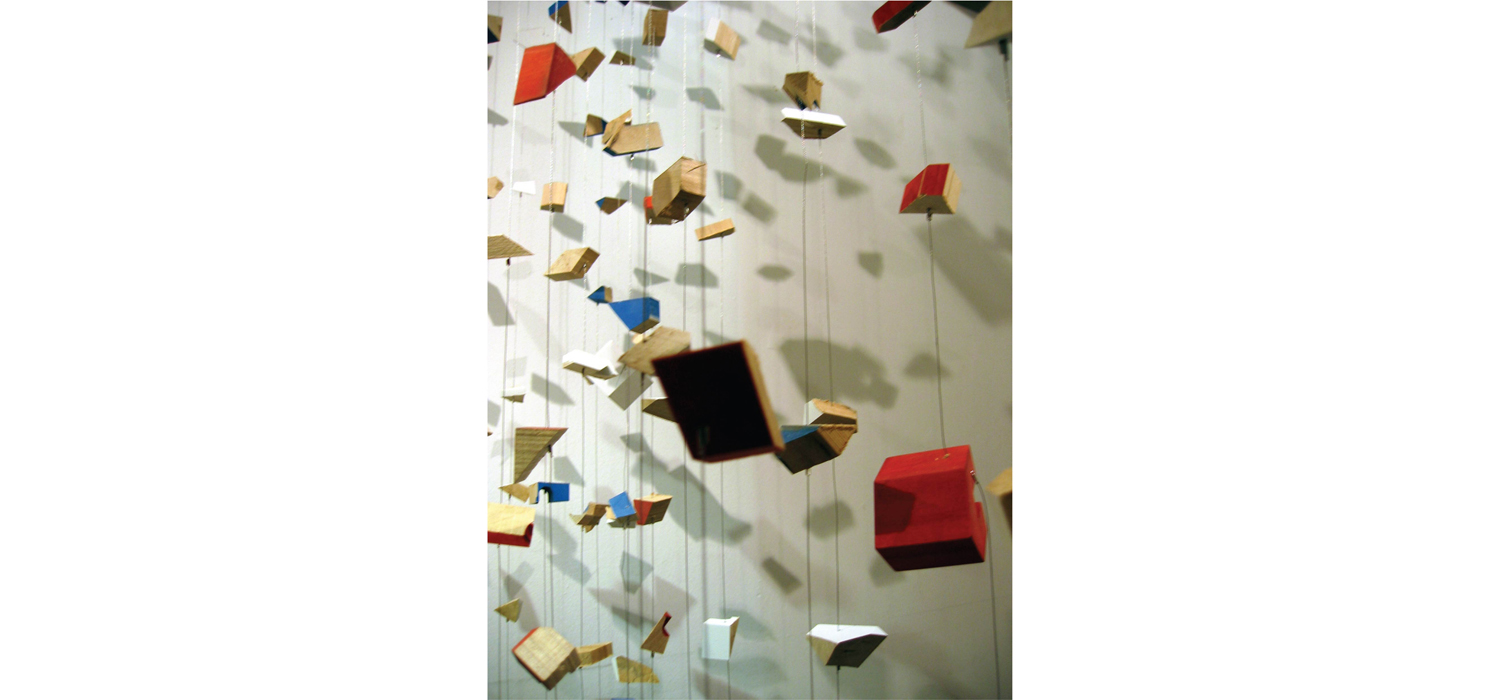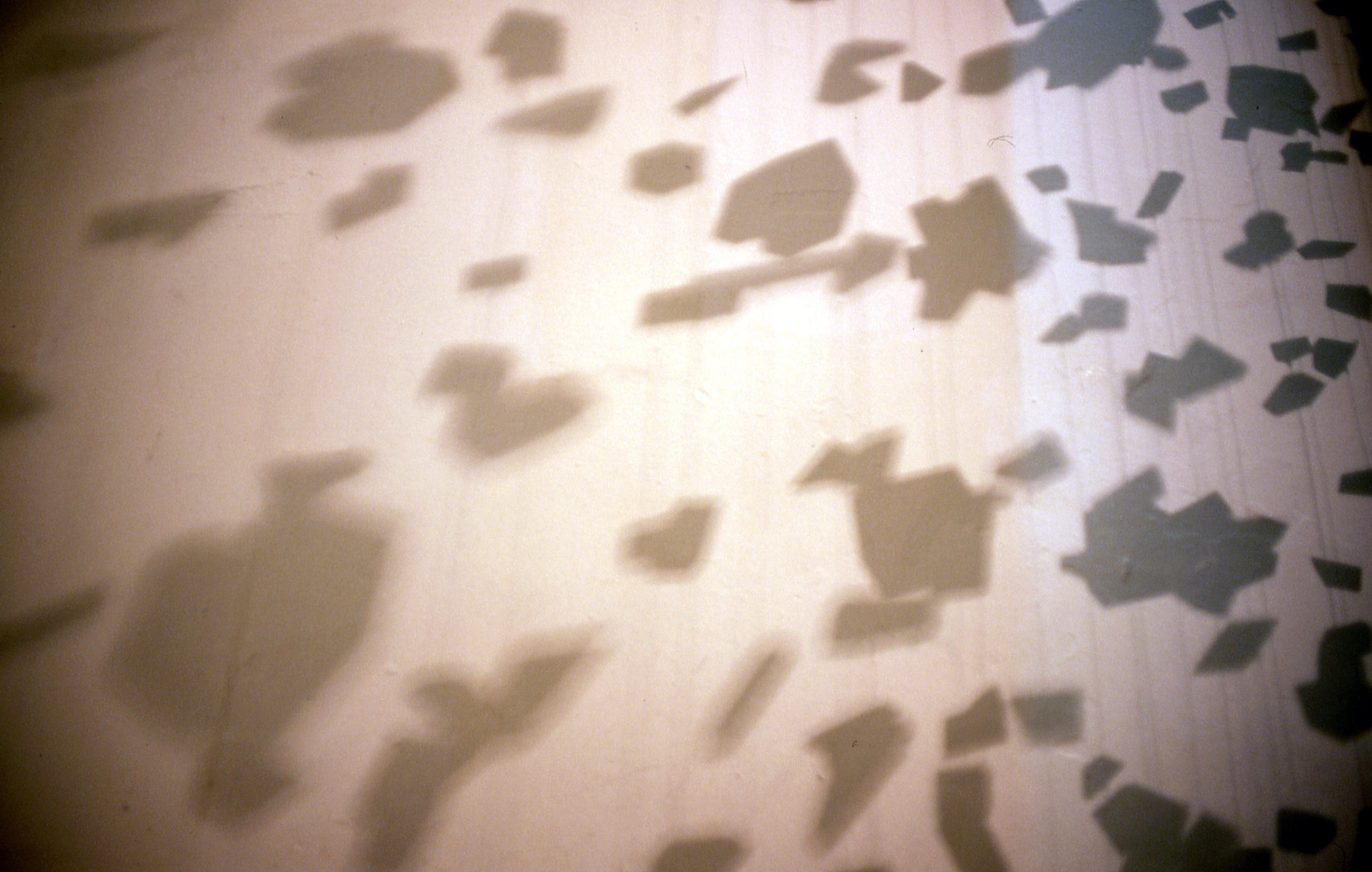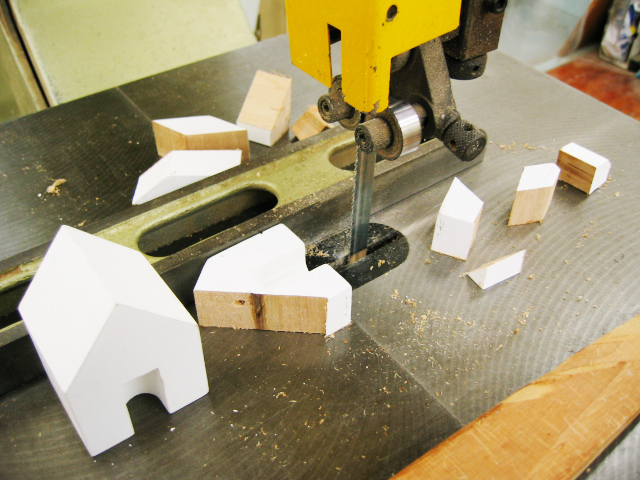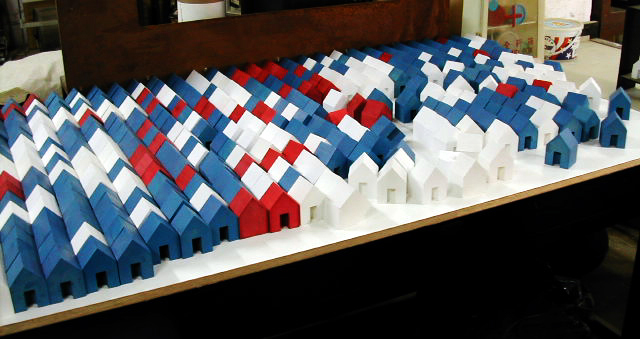 Our House 我們的家
Leather briefcase and painted wooden blocks
35(L) x 23(W) x 8.5cm(D)
1998
 
World Building 造世界
Wood, photographs, TV monitor & three videos
Goethe Institute, HK & collected by private collector
2008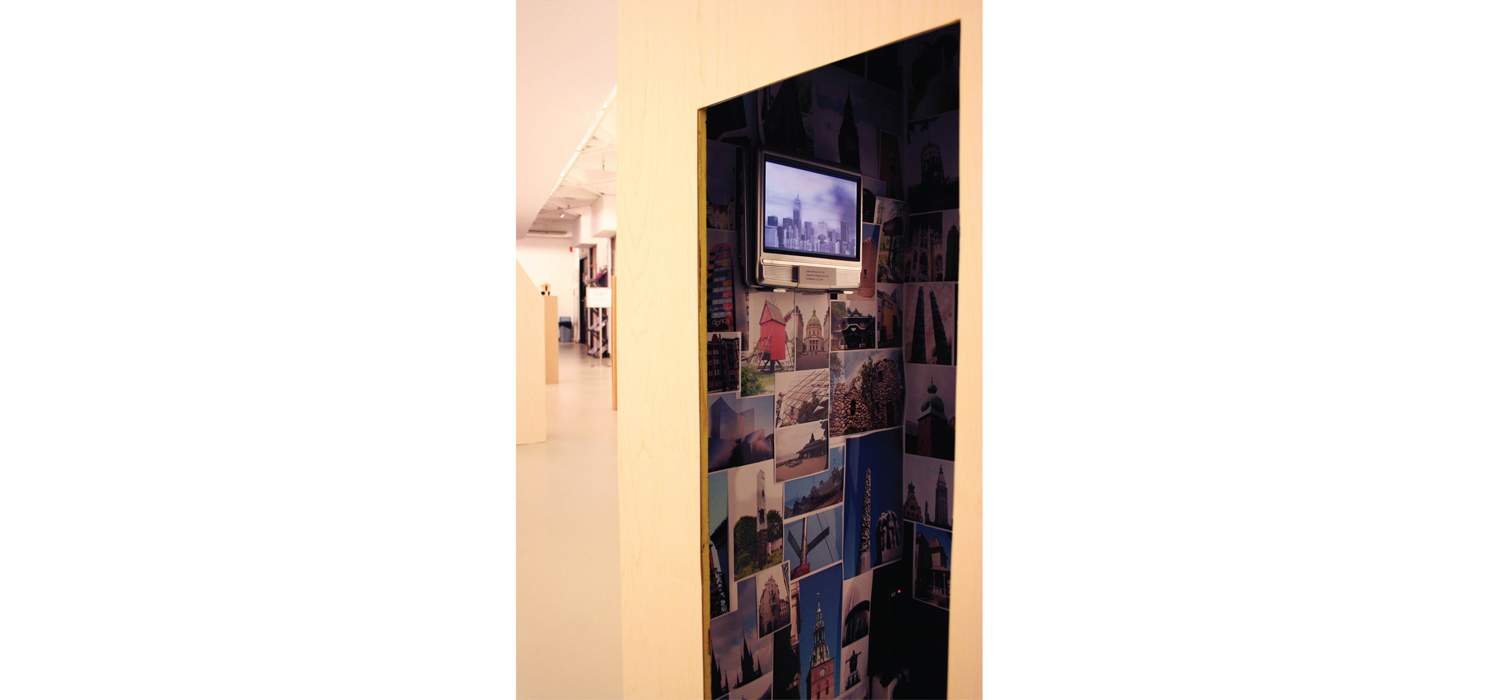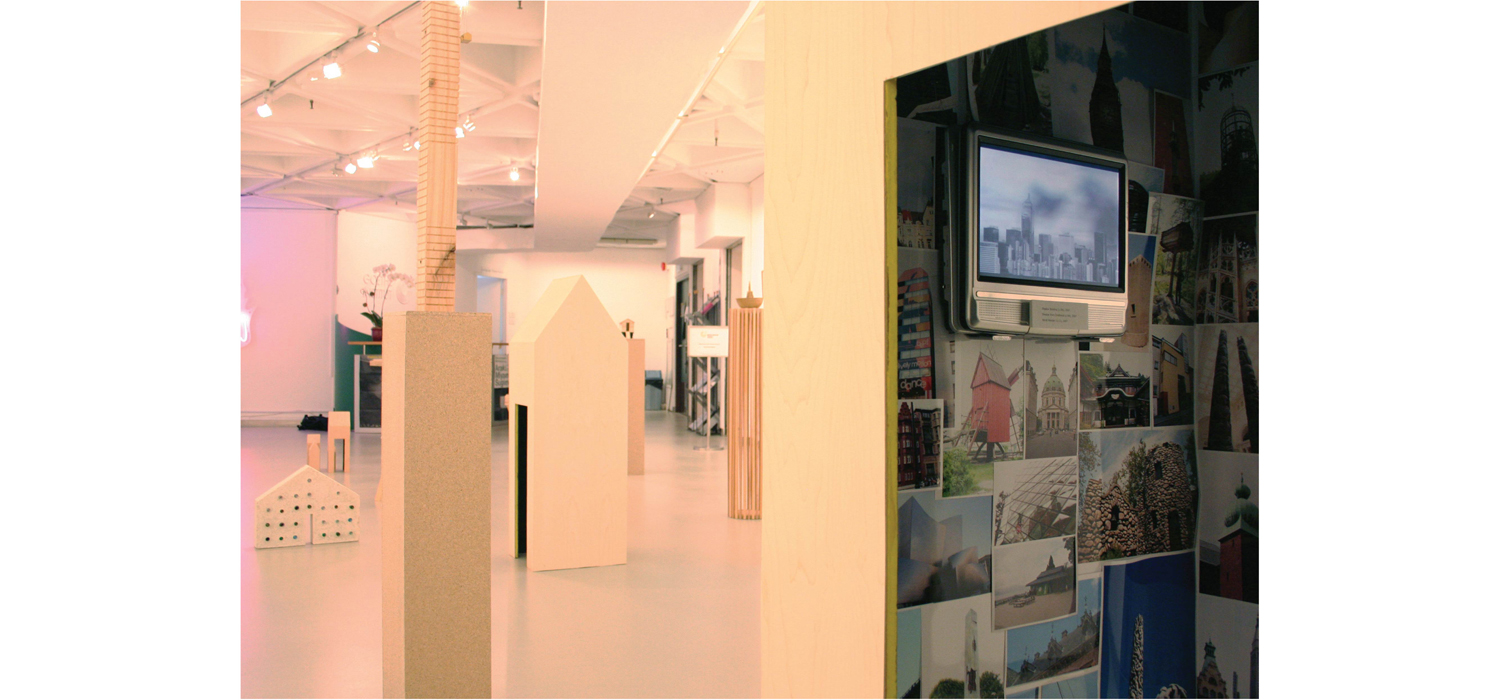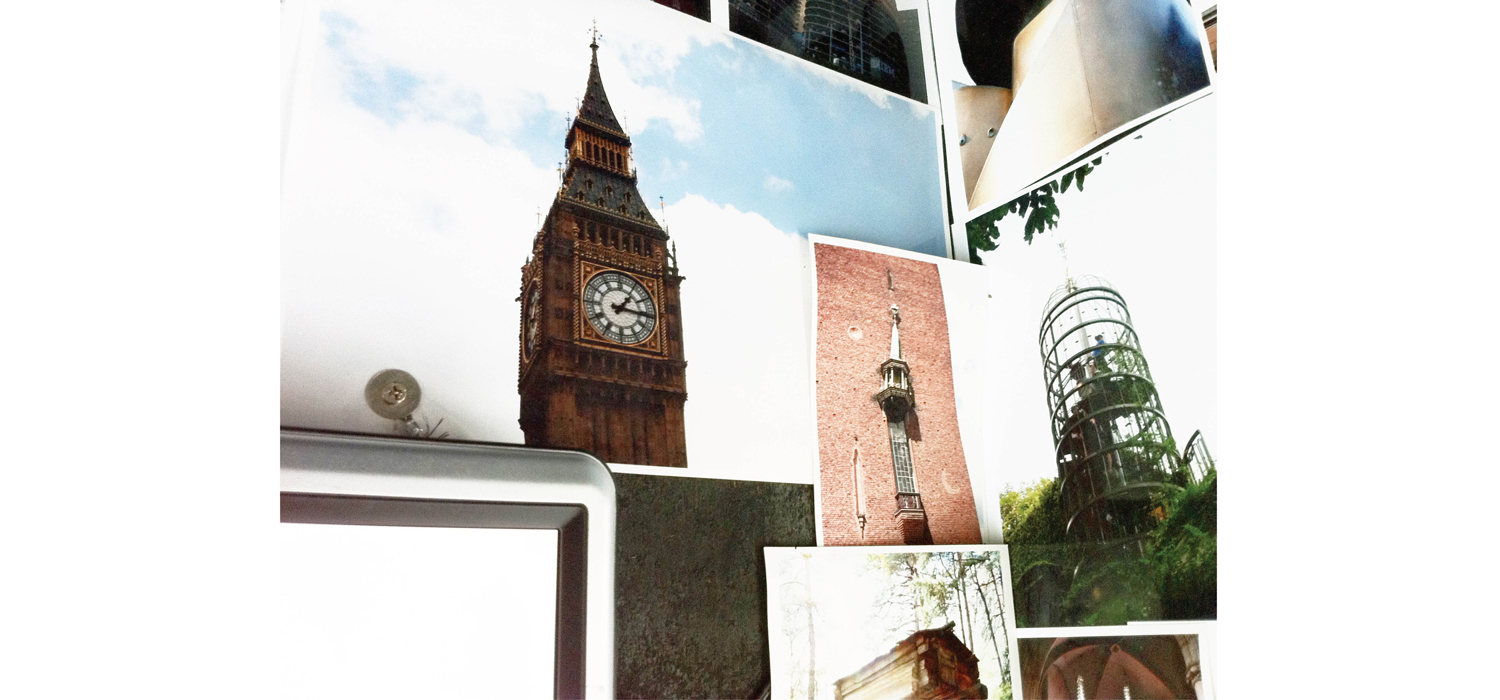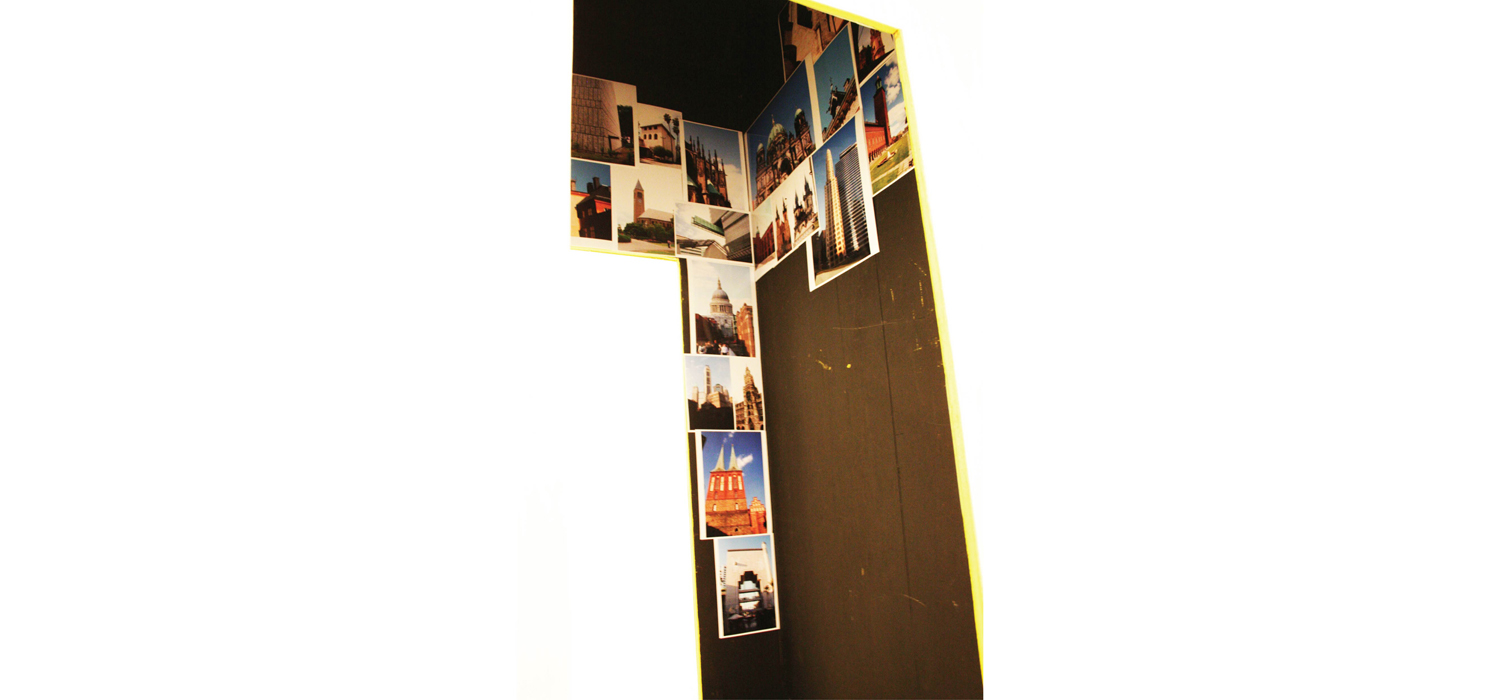 Booby 陷阱
Copper, wood, sand, & grenade
2008
A House Caught Between Two Oppositions 困於兩個相對之間的房子
Recycled wood, motors, rubber band
150cm(L) x 61cm (H) x 15cm (D)
2008
Perfect Family 完美家族
Recycled wood
2008
Party House
concrete, liquor & alcohol mini bottles
2009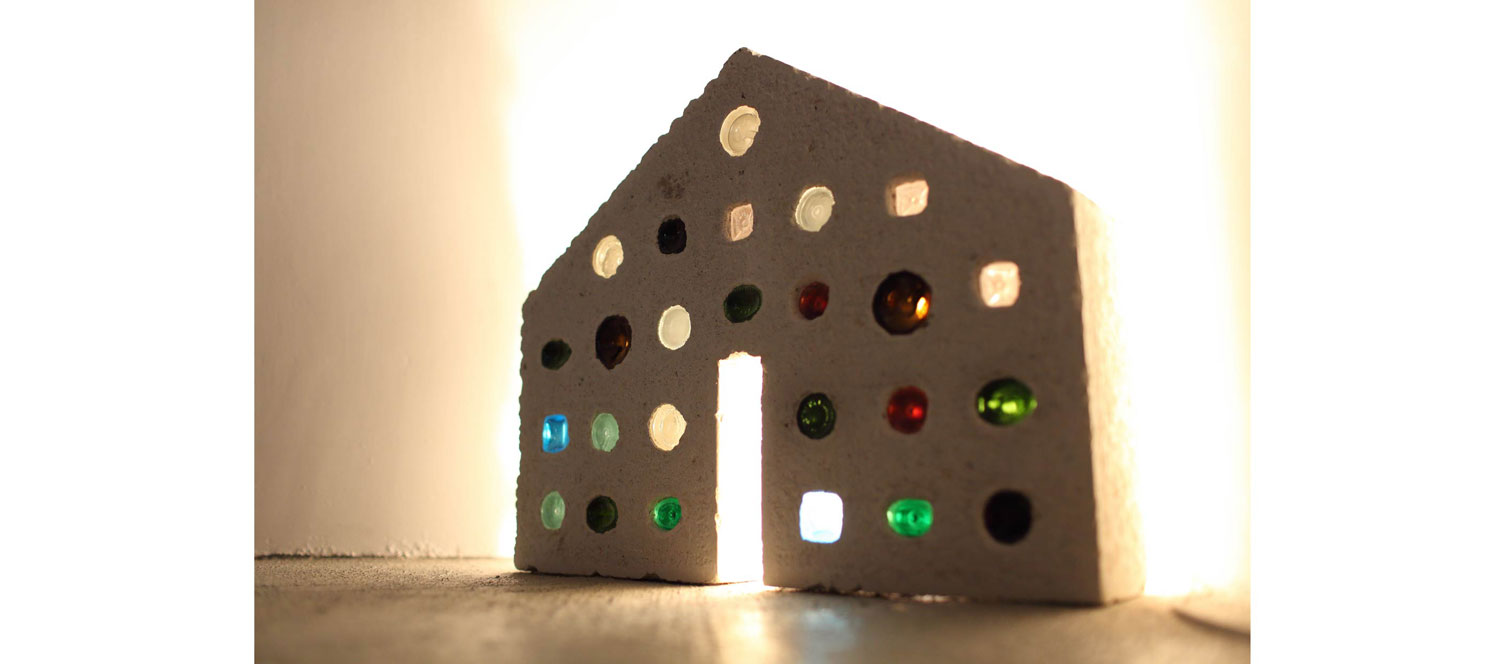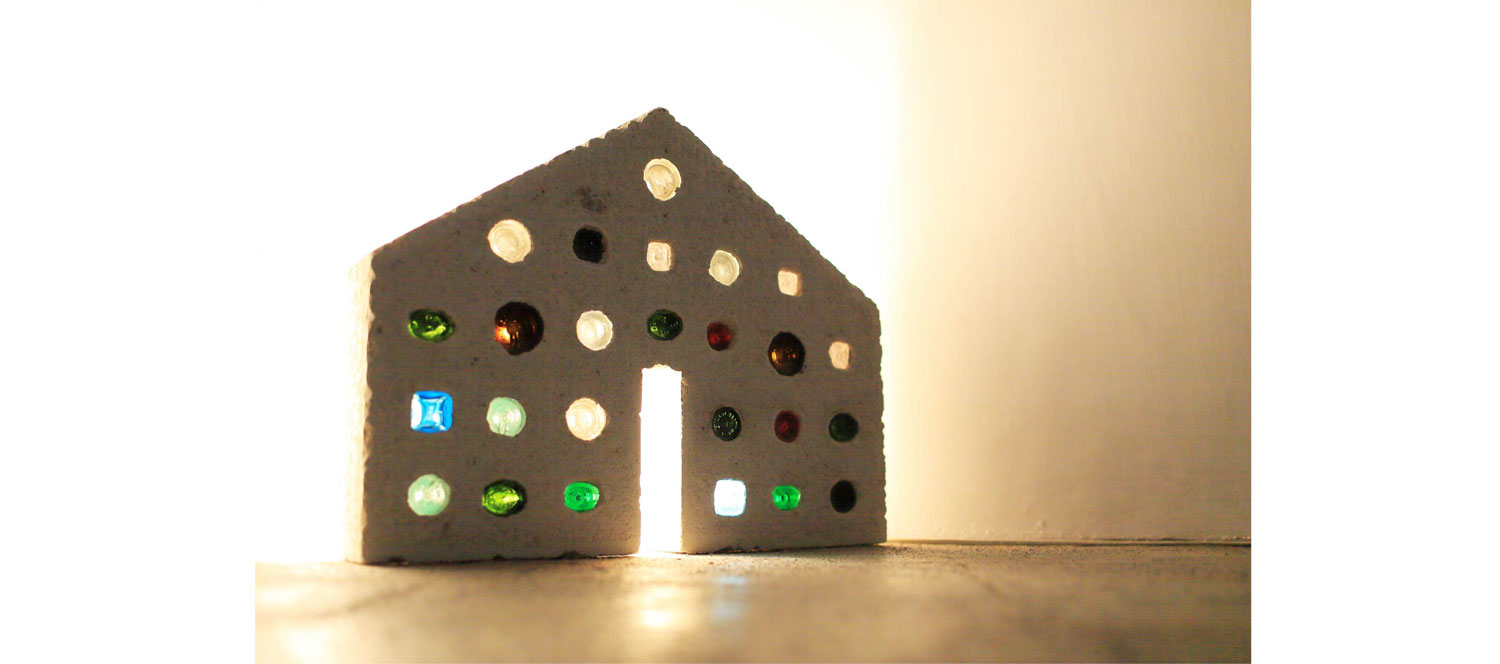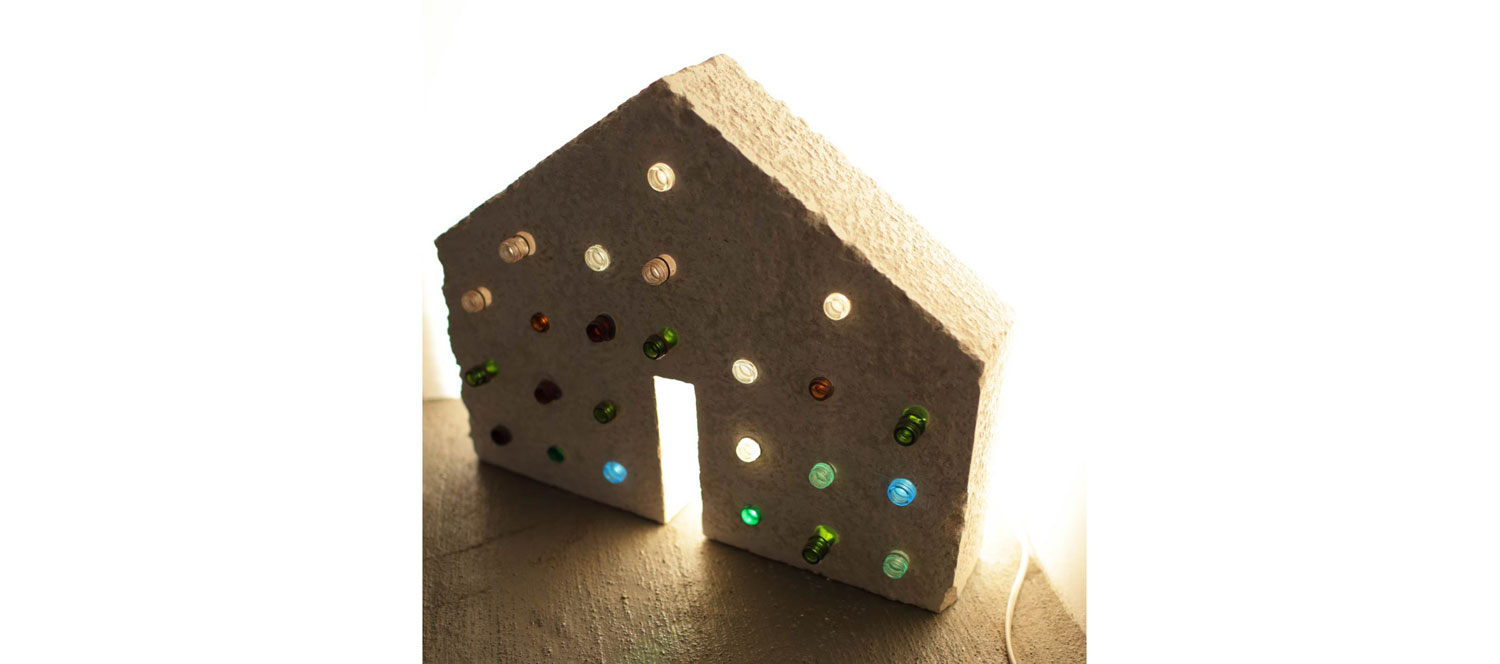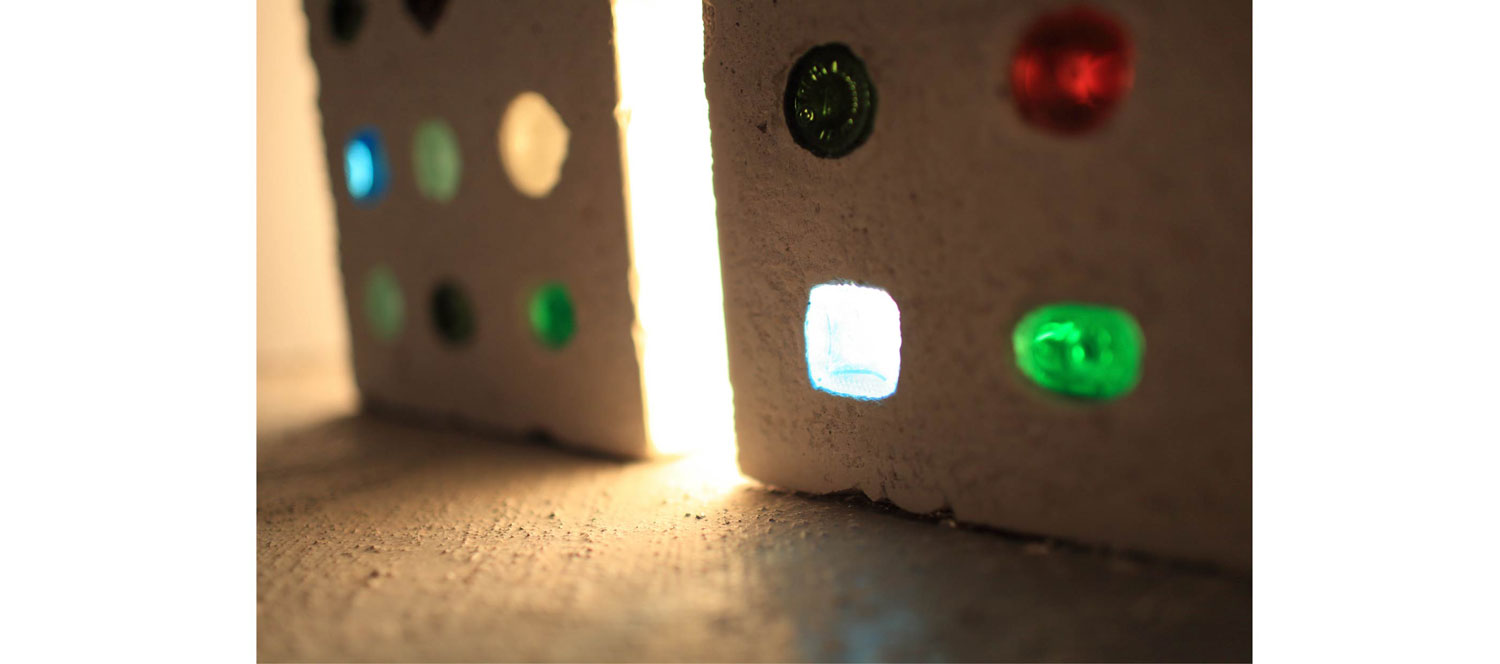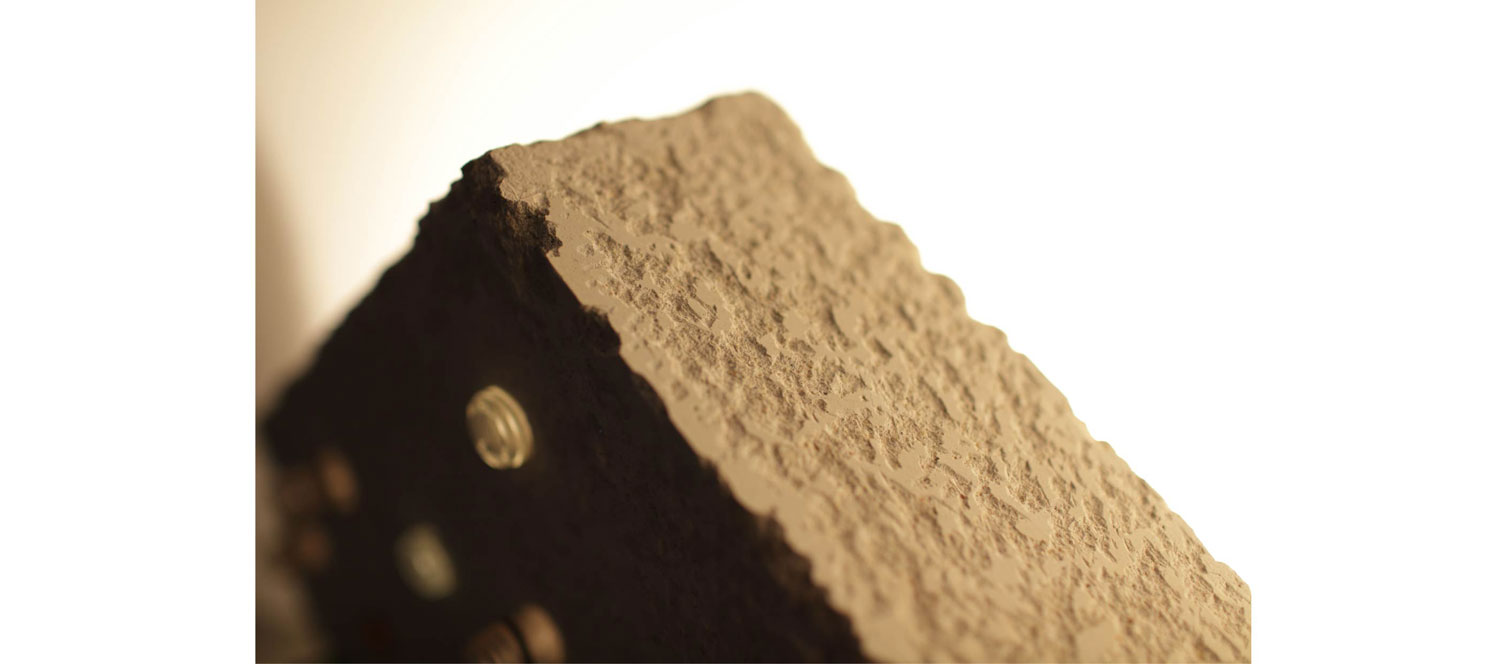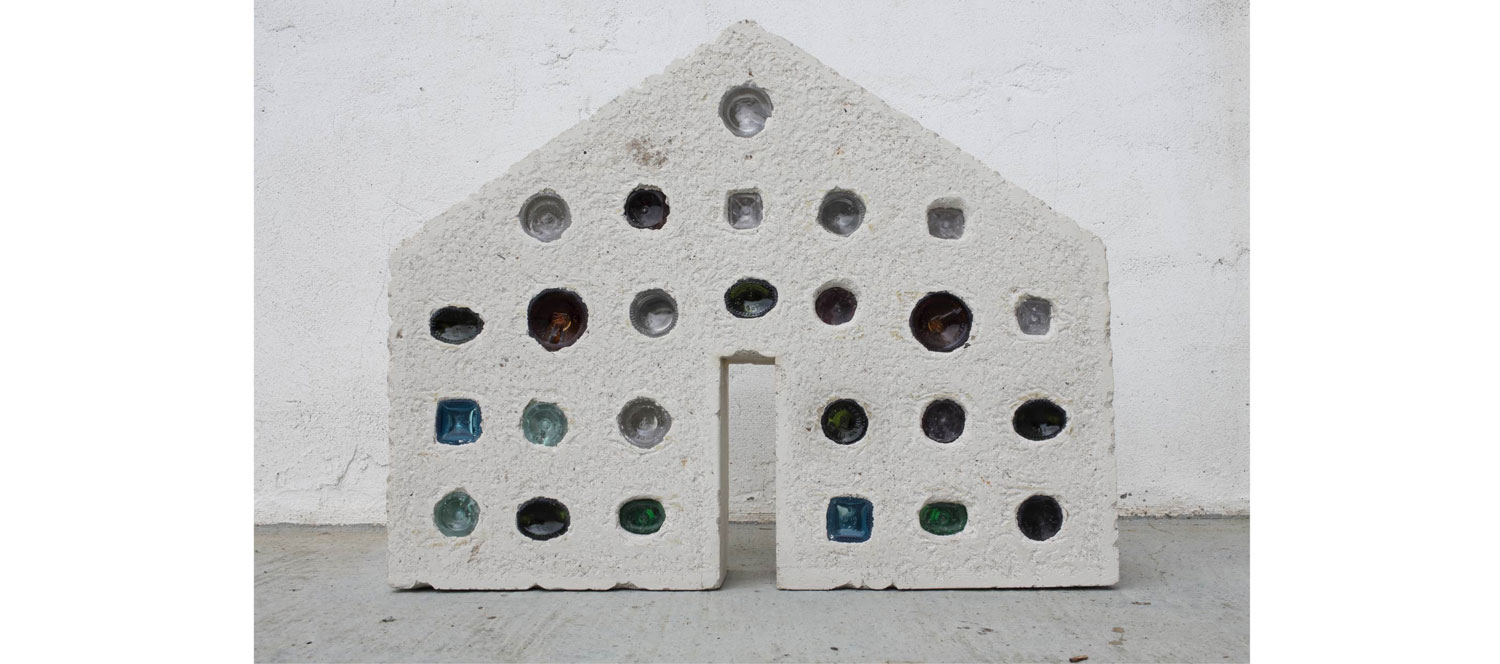 Skyscraper House 摩天大廈旁的小屋
Recycled wood & brass
2008
A For Apple . A For Atomic 蘋果 . 原爆
Galvanized stainless steel and gold
22(L) x 21(W) x 14.8cm(D)
1999
Shadow Building 影子大廈
Tall buildings are the basic structural component of the city of Hong Kong and we spent most of our life inside the space of buildings. Our personal history becomes the story of the buildings and its stories in return become our own personal history. The image of this project was taken from windows of the home of the artist, using drawings drawn on the glass of the windows to explore various issues of city, buildings, and living.

大厦是香港城市結構的基本單位,我們每天的生活也在城市中的大厦空間內渡過。我們的歷史變成大厦的故事,它的故事也變成我們的歷史。本作品由作者家中不同的窗户往外拍攝,用玻璃畫的方式探討城市、大厦、及生活的各種隱憂。
Recycled cardboards, adhersive tapes, TV monitor & DVD player
Artist Commune, HK
2007
White Wash 白牆
Plastic figurines, cork landscape, chalks, chocolate, marbles, & lighting
855(L) x 224(W) x 15 cm(D)
West Space, Melbourne
1999
 
Transformation, Disapperance, Being Forgotten 轉化、消失、被遺忘
I want to express the frustration of not able to remember the detail in one's life in this project. Those intimate moments that were once very close to the individual slowly slip away as one age. I joined the July 1st protest organized by the Para/site Art Space from the Victoria Park, then slowly wandered off from the protesting crowd. I went to the first apartment where I lived as a child, my kindergarten now turned into a commercial building, a public space in Tsim Sha Tsui where I used to hang out and rode BMX, an alley way where I wrote the proclamation to my first lover, and the restaurant my father used to take me before my parent was finally divorced. Old family photographs juxtaposed against current ones, this work mimic the pin-up notice board I used to work on inside my elementary school classroom.

Cork notice board, photographs, paper
2007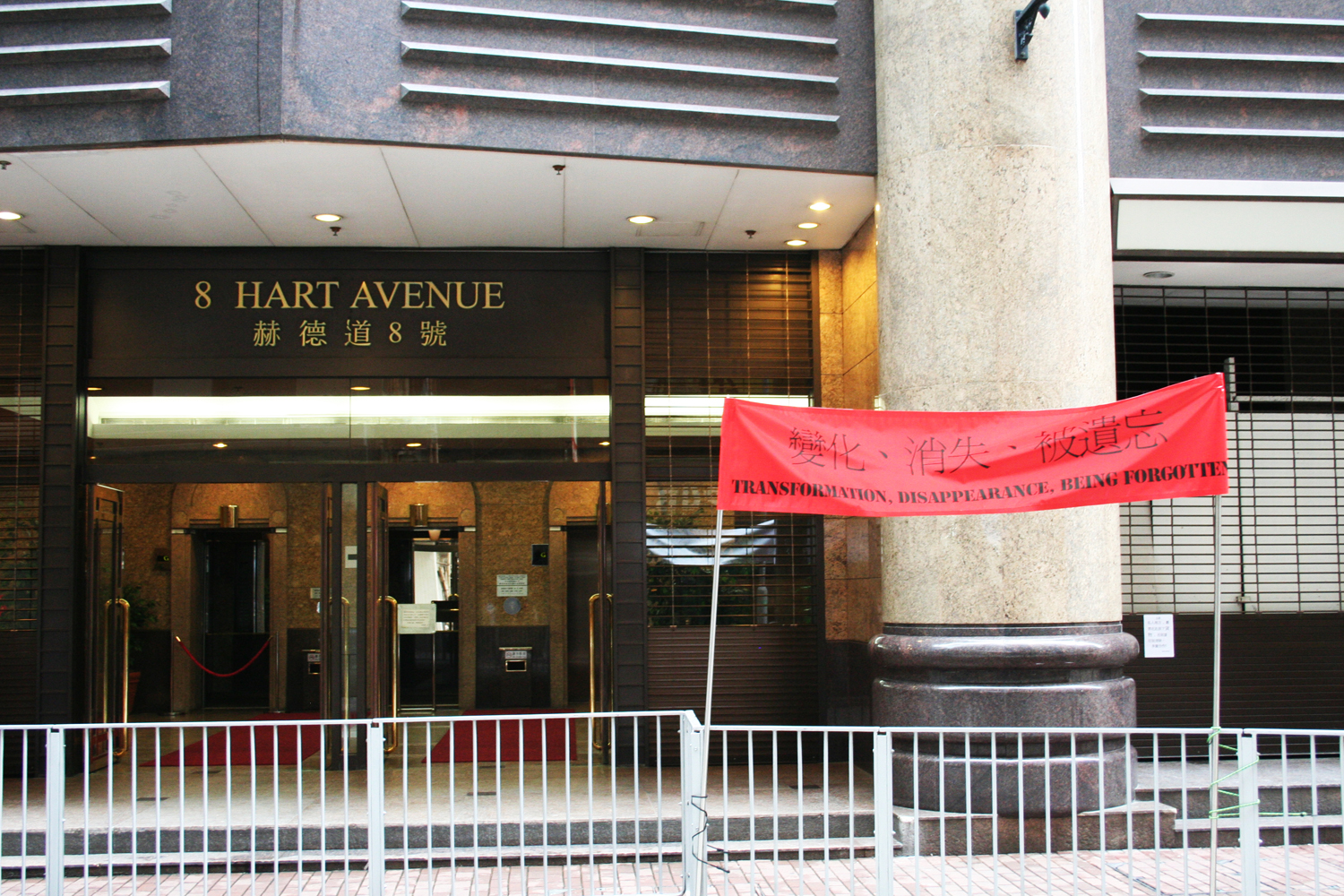 White Out 白化
What will happen after 1997? The most frequently asked question when Hong Kong was approaching the end of the 99 years lease. Unchanged for 50 years should be the standard answer; although lost in thoughts was the more common response. The culture of the British Empire had once changed the daily life of Hong Kong people in the used to be fishing village, influences from China now are quickly wiping out any remaining marks of the Brits. What remain unchanged are transformation, disappearance, and being forgotten.

九十九年租約期滿後英國國旗徐徐落下,最後一任港督帶着複雜的心情返回英國。1997年後會是怎樣?是當年最常被問及的話題,50年不變本應是標準答案,沈思卻是更普及的回覆。大英帝國的文化曾改寫了香港人的漁港歷史,中國的影響快又掩蓋過英國人留下的記號。不變的就只有變化、消失、被遺忘。
Wood, photographs, & White Out
100(H)x 35(W) x 80cm(H)
2007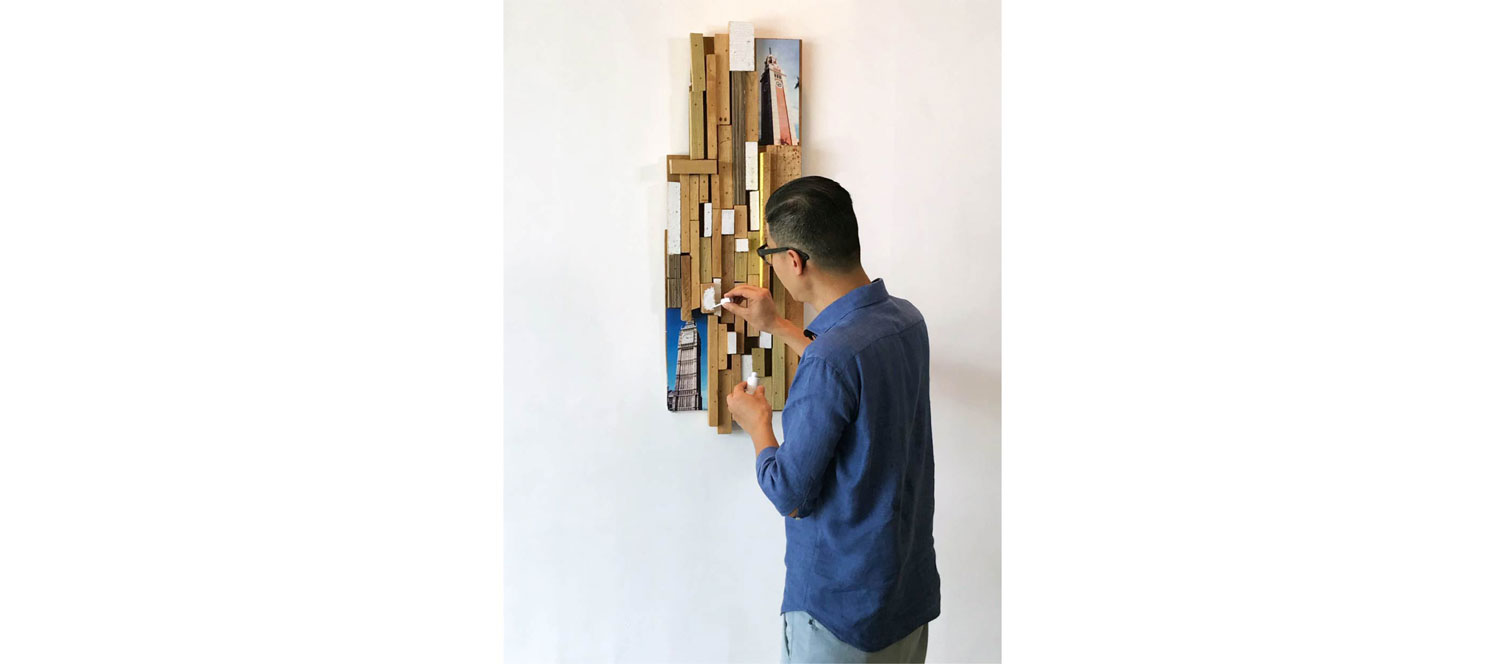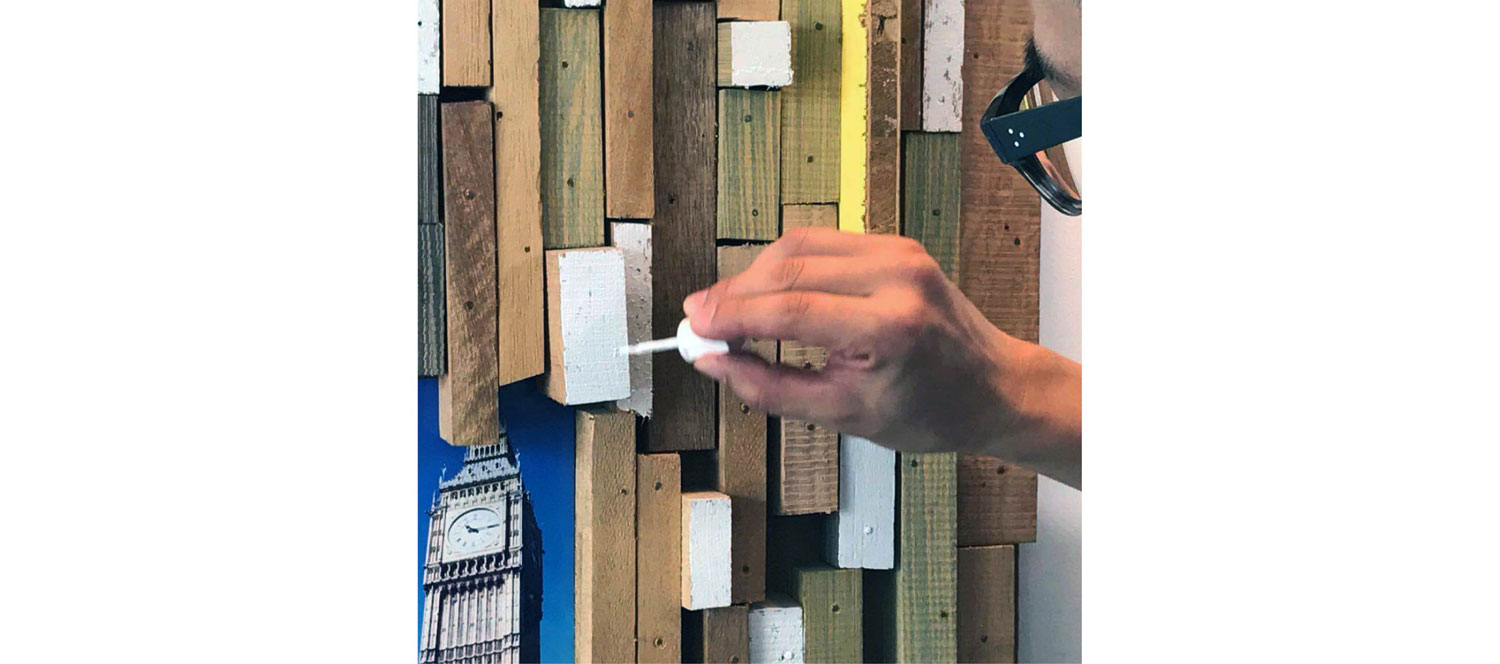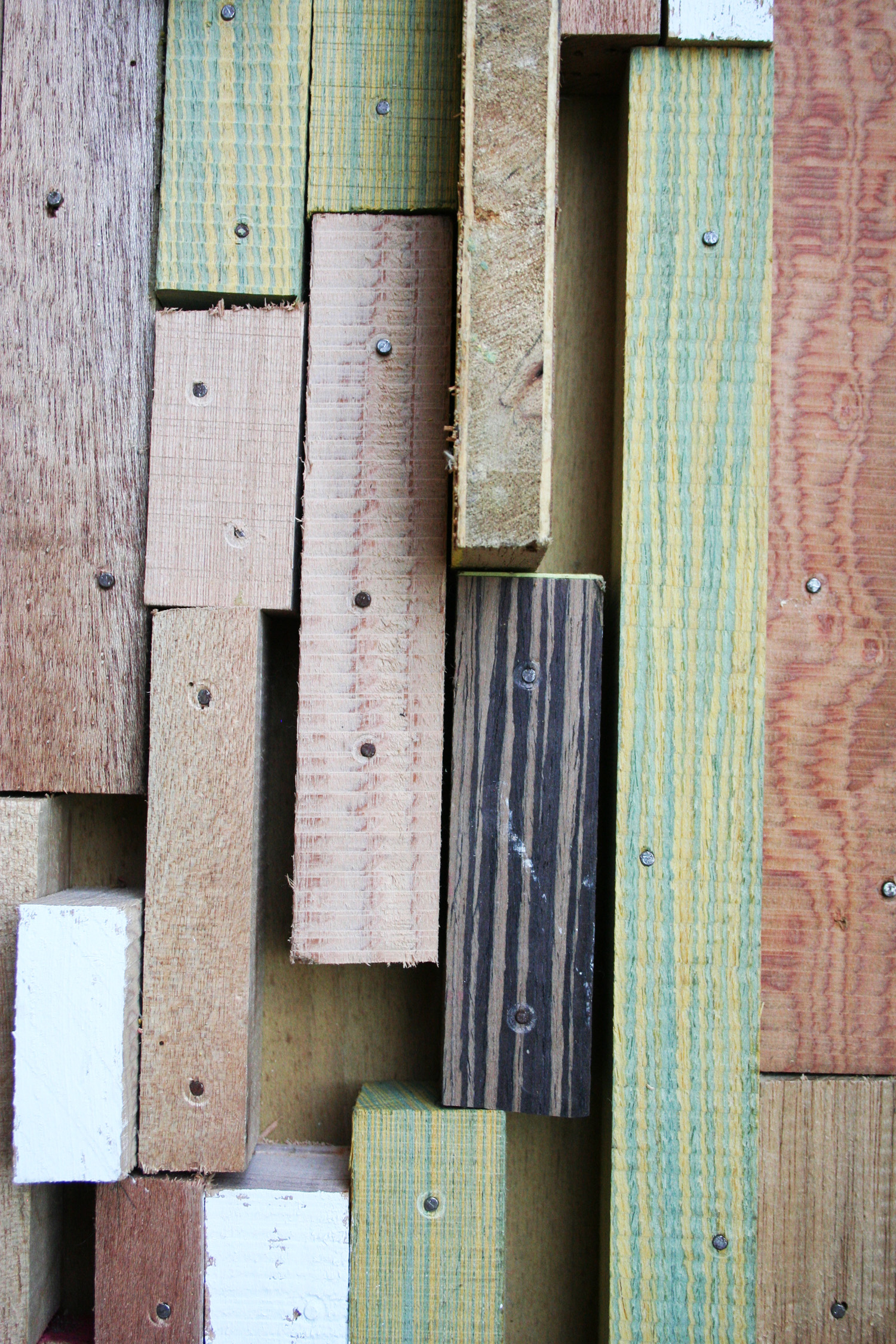 Standing Next To The Harbour Front Alone 一個人站在尖東海旁
Imagine you are now standing alone at the harbor front of Tsim Sha Tsui East, a piece of the ocean is in front of your feet, beyond the harbour stands many tall buildings from the coast of Hong Kong Island. Colourful lights emanated from the windows of these tall buildings and illuminate the sky of the dark night; the warm breeze of the ocean just caressed your face, you felt it but you couldn't see it. If you are visually impaired, how would you go about perceiving the city? This project was specially designed for the visually impaired, allowing them to "touch" our invisible city.
幻想現在你一個人站在尖東海旁看過對岸,在你腳根面前是一片海洋,海的之後就是港島沿岸的高樓大廈。高高的大廈在漆黑的晚空中散發出五光十色的燦爛,暖暖的海風剛剛在你面上吹過,你感覺到但是看不見。假如你是視障人仕,如何去認知城巿呢?此作品是專為失明人仕而設,讓他們觸摸一下你我眼中"看不到"的城市。
Painted mild steel rod
800(W) x 100cm(H)
2000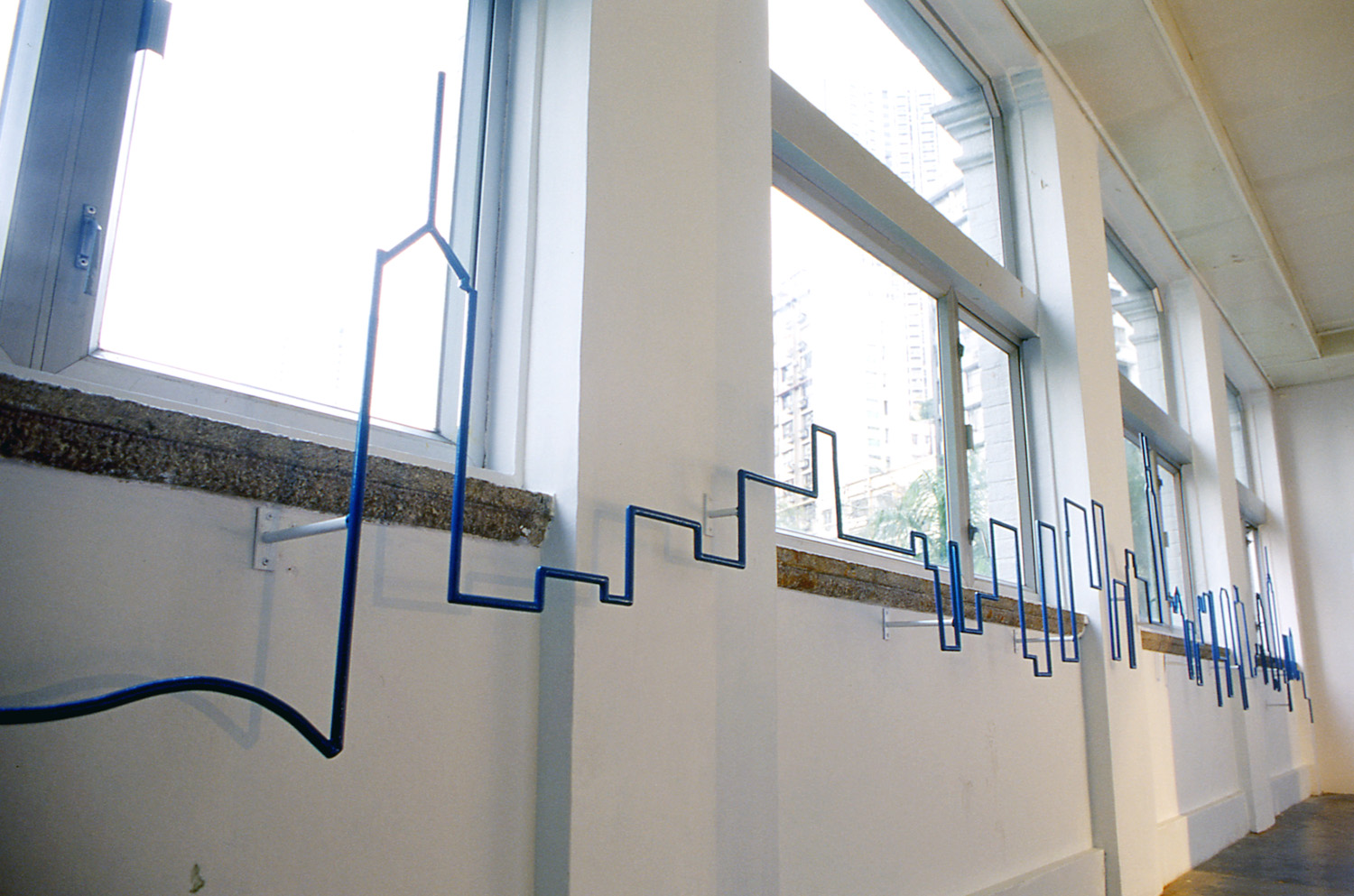 Standing Next to West Kowloon Alone 一個人站在西九海旁
Imagine you are now standing alone at the West Kowloon harbour front, a piece of the ocean is in front of your feet, beyond the harbor stands many tall buildings from the coast of Hong Kong Island. Colorful lights emanated from the windows of these tall buildings and illuminate the sky of the dark night; the warm breeze of the ocean just caressed your face, you felt it but you couldn't see it. If you are visually impaired, how would you go about perceiving the city? This project was specially designed for the visually impaired, allowing them to "touch" our invisible city.
Wood & metal
778cm (L) x 257cm (H) x 122cm (W)
2012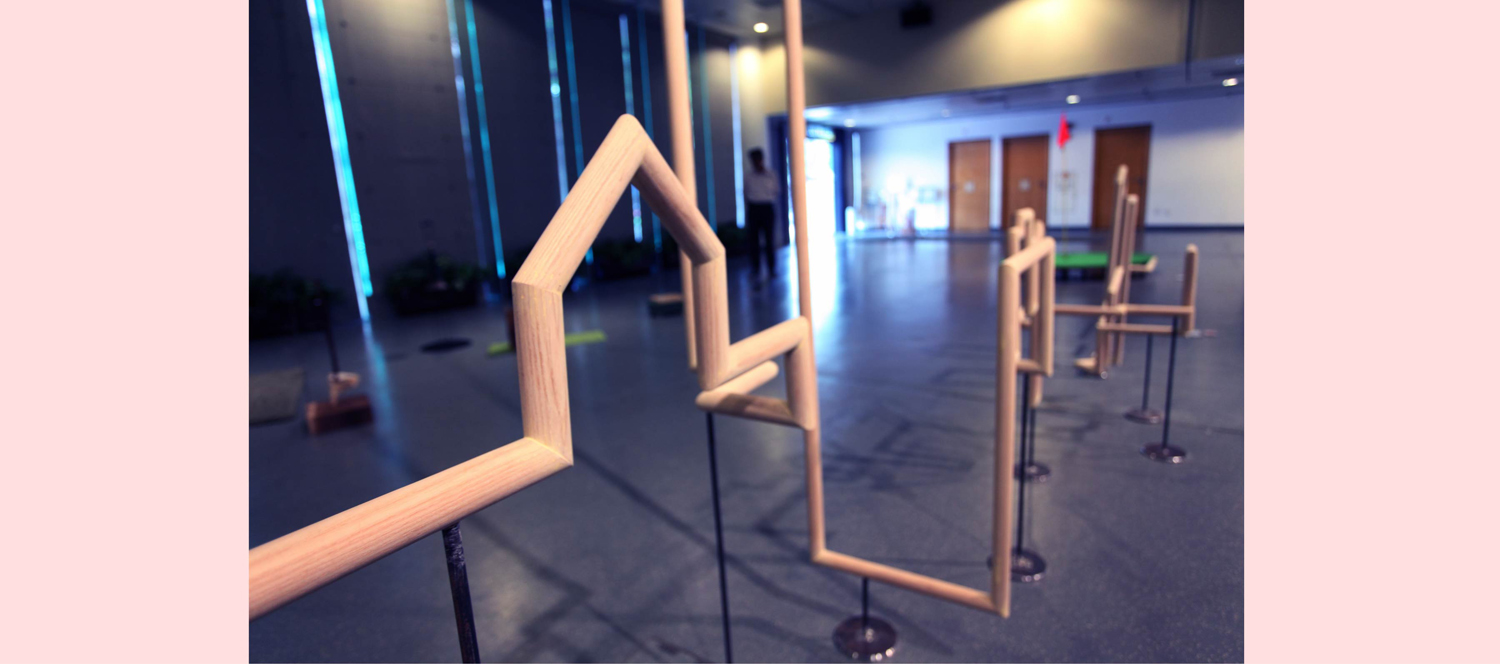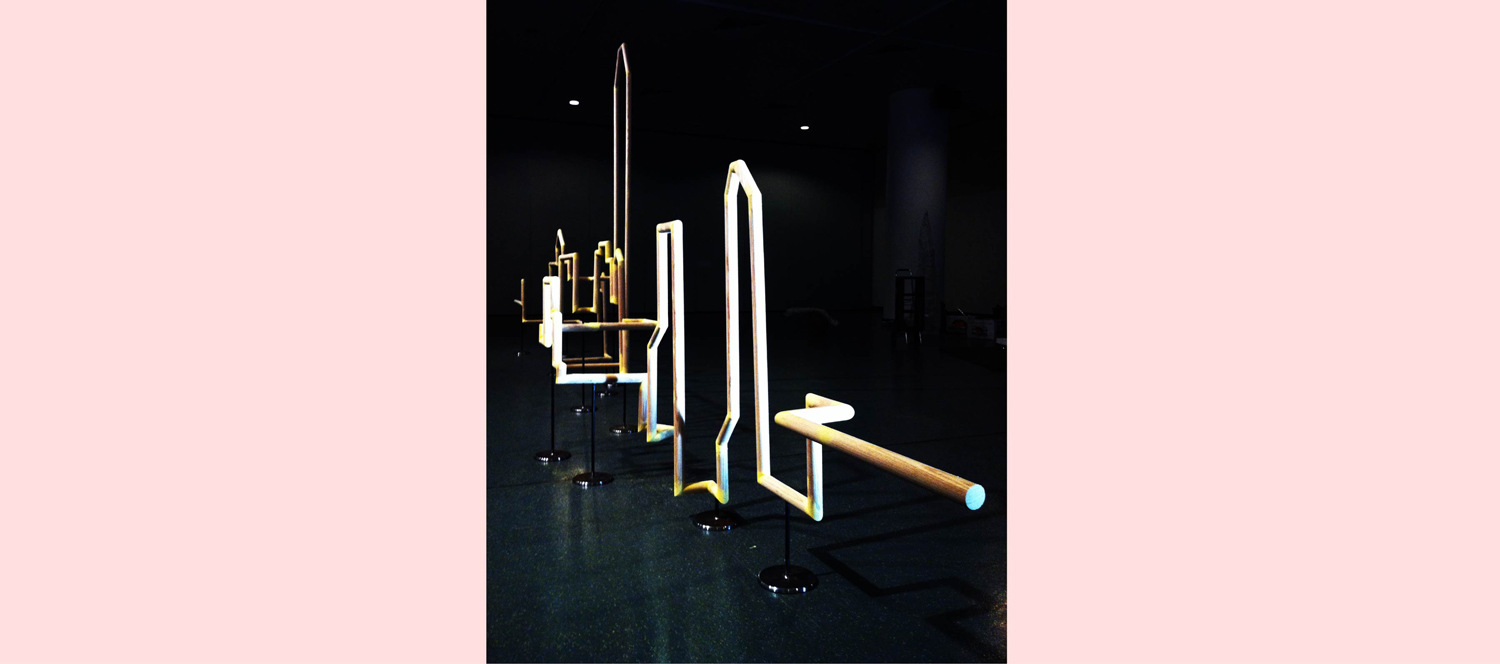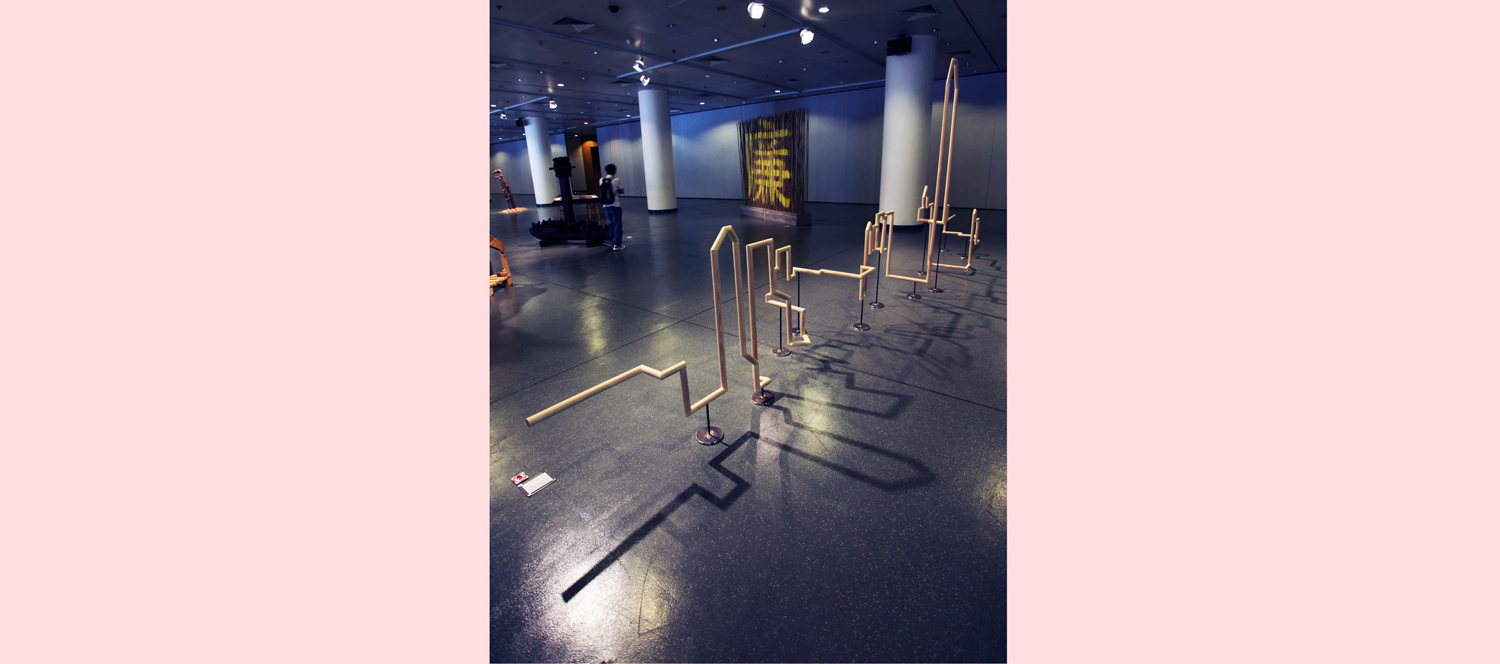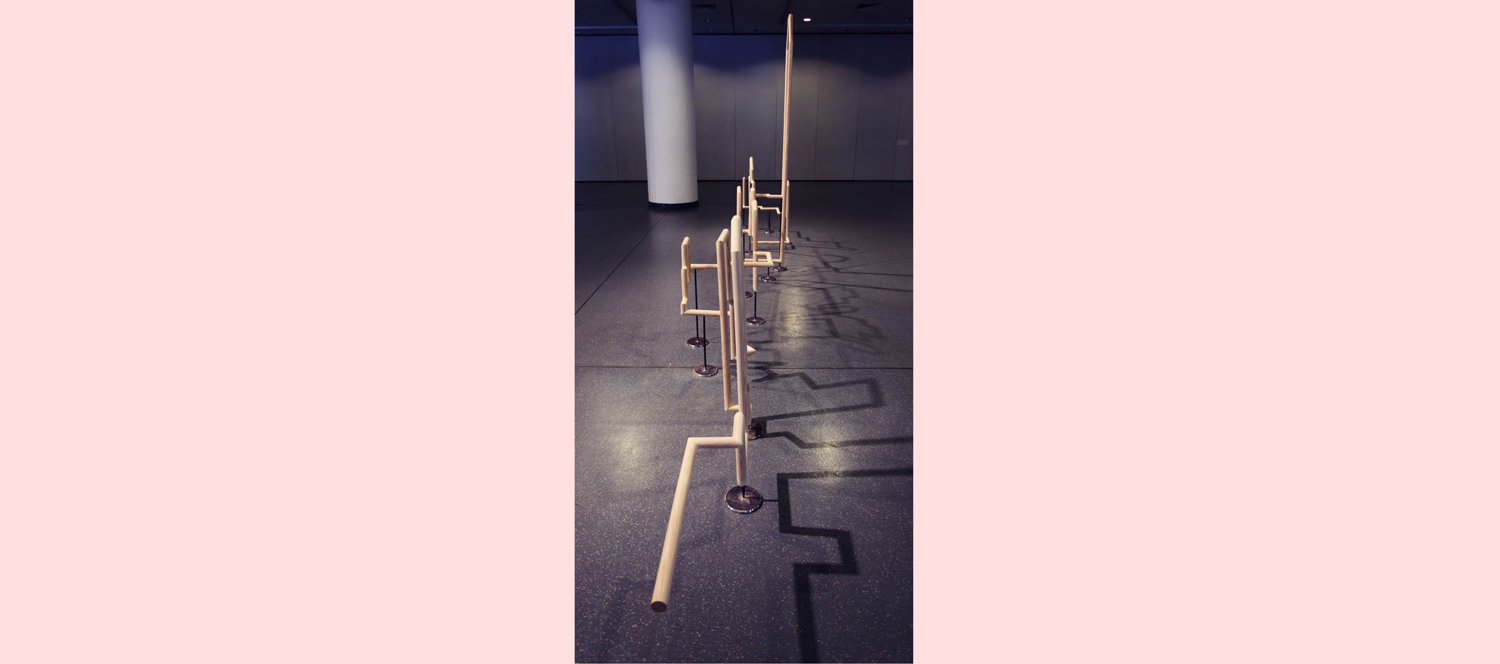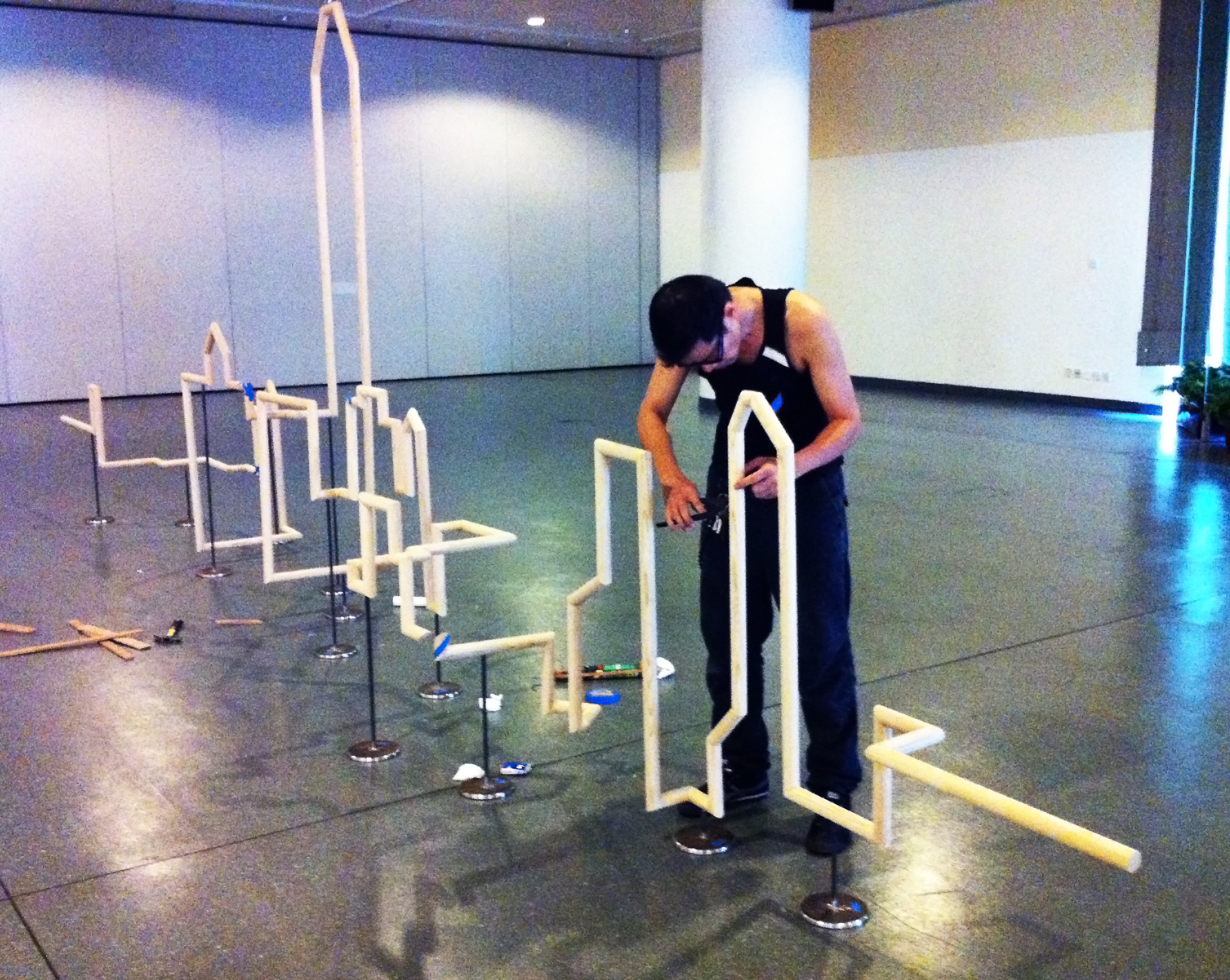 World History 世界歷史
A strange feeling stirred up inside me after I finished reading some history books on Colonial invasions and World War II. Under the pen of the historians the past almost becomes a movie script, yet these strange stories are actually a part of my history even before I was born. The upper level of this sculpture represents the form of the city I am now living in. The toy soldiers and the building represent the co-existence of war memory and modern prosperity. The lower horizontal black box represents my own personal history; it becomes the foundation of the city above. Inside, toys are stored that have been collected from different countries; it is innocent and naive. World history, personal memory and the present time all twisted into one thing, it is both ridiculous and romantic.
讀過多本有關殖民戰爭及二次大戰的歷史書後,有一種奇特的感覺。過去的時光在歷史學家筆下好像變成一部奇怪的電影,但這故事在我出生以前已是我歷史的一部份。作品的上層大廈形狀代表我現身處的都市。大廈內散置大小不同的玩具士兵,代表戰爭的記憶和現代的繁榮交替於同一空間內。下層幼長黑箱代表自我的個人歷史,這是上面城市的地基。它內藏來自各國的玩具,是無憂無慮的天真國度。世界歷史、個人記憶、現實生活被扭曲在一起,既荒謬又浪漫。
Toys, cork buildings models, painted wood, stationary, crystal ball, and Christmas lighting

720(W) x 100(H) x 10cm(D)
Young-Un Museum of Contemporary Art, South Korea
2000
Dark 黑暗
I was fascinated by the exceptionally beautiful Hong Kong skyline after dark. Yet behind this exceptional beauty exists some dark creatures that start to move about, even passing us by. Inside this sculpture lies six live poisonous scorpions, a large number of crickets, and some human figurines. The viewer engages in a kind of strange interactivity with the insects inside by peeping into the magnified peepholes. This project explores those fearful or curious feelings generated by those helpless citizens who live under the shadow of violence in the city.
每當我看到香港的夜景也會深深地被它的美麗所吸引及感動。但在它美的背後卻有一些只可活在漆黑的生物開始出動了,甚至與我們擦身而過。此作品內藏有六隻活生生的蠍子及大量蟋蟀和人形玩偶。觀衆透過裝有放大鏡片的小洞觀望箱子內的情況與作品內的生物產生一種互動。此作品探索活在黑色暴力之下的無助市民對城市內所發生的罪案那種驚恐又好奇的心情。
Magnify glass, live scorpions, live crickets, toy figurines, cork landscape, painted plaster, wood, & lighting
400(W) x 100(H) x 13cm(D)
Tama Site, HK
2000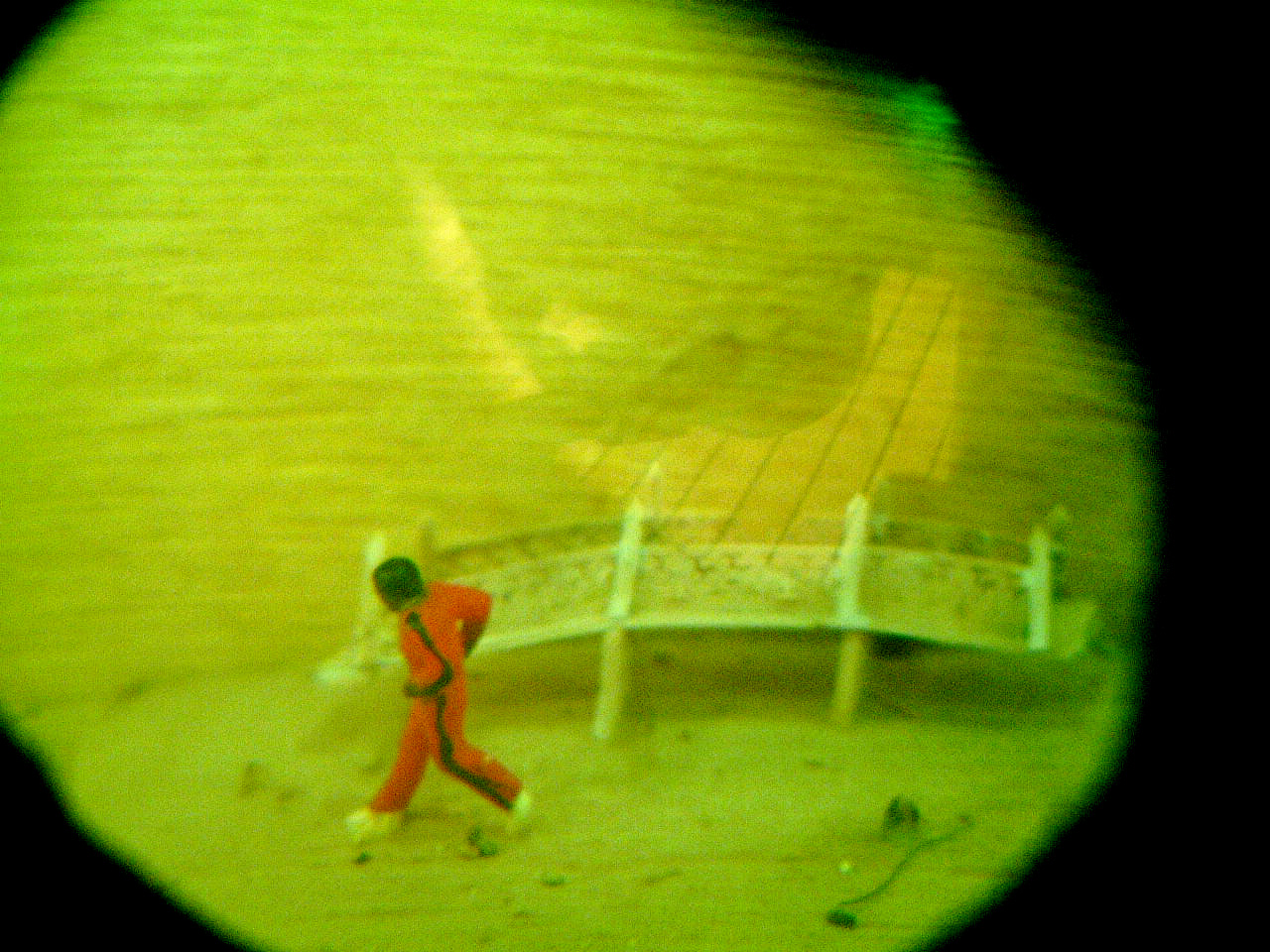 Mobile Home
Wood, aluminum sheet, brass wire, rubber band, & acrylic paint
10 cm (L) x 0.5 cm (W) x 60 cm (H)
1994