[Mar/17/2019]
My Advocation
I will be exhibiting a video work entitled My Advocation at the Precedee Art Gallery during the Art Basel period in Hong Kong, those who attend the opening will receive a signed hand band from me. Opening on March/25 Monday at 7pm, don't miss it.
[March/11/2019] M+ Rover Renovation
After 3 years on the road the M+ Rover mobile gallery & education centre have taken it's toll, my team is now busy refurbishing the exterior and interior adding new features to it as well.
[Dec/31/2018]
Sci-Fi Countdown Party
This year's countdown party theme is Science Fiction, I spent a week constructing 4 space suits based on the movie 2001 Space Odyssey and the result are stunning.
[Sept/28/2018]
My Advocation 我的主張
My floating bamboo rafts installation Drifting Congress was successfully installed on the Tian Liao River in Keelung, Taiwan. I also performed a live art piece entitled My Avocation which was published by the loacal TV station. This was part of the 2018 Keelung Harbor Biennale.
[August/10/18]
2018 Keelung Harbour Biannual
I am very glad to be part of the participating artists to be invited to attend the Keelung Harbour Biannual in Taiwan opening on Sept/29/18. My latest artwork will be creating a floating congress similar to the form of the real Taiwan congress. The work will be install on the water outside of Keelung Harbour Plaza. I constructed a bamboo raft study model with chairs on top to investigate its movement on the ocean and it was very exciting.
[7/1/2018]
The Patriot
I performed The Patriot in front of the Hong Kong Central Government HQ to thousands of protesters on the annual 1st of July Protest in front of thousands of protestors. Three songs was played continuously: God Save the Queen, National Anthem of Republic of China, and Do You Hear What People Sing. Symbolizing Hong Kong transformation from a British colony into a Chinese Communist colony, but the real need of the people are actually justice and freedom. The performance was well received but the political situation is very sad indeed.
[June/3/2018] Messenger of Democracy
Participated in the annual 64 bike ride organised by Green Wave Art commemorating the dead students and citizens of Beijing's pro-democracy movement of 198. This event is also known as the Tiananmen Square Massacre where as the Communist Party's People Liberation Army opens fire with AK47 machine guns on innocent citizens and squashed them with T64 tanks. We rode in peace and gave flowers at the Freedom Fighter sculpture by the famous French sculptor César Baldaccini.
[June/2/2018] 8x9 = 64
This year is the 29th anniversary of commemorating the June 4th Tiananmen Square Massacre. I created a metal elementary school table and chair to commemorate June 4th this year. The artwork focus on the eradication of the 1989 pro-democracy history in education. The word 8 times 9 equals 64 was cut onto the steel table top simulating the multiplication table children have to memorized. Expressing the political association of this set of sensitive numbers in recent Chinese history.
[May/17/2018]
(IN) Tension, One Country, Two Systems
I will participate in the (IN) Tension, One Country Two Systems art exhibition held at the Art Exchange Gallery in University of Essex in UK. The exhibition was curated by MA students from the School of Philosophy and Art History's Centre of Curatorial Studies. Photos & videos of Kidnap, Hong Kongese Warning Squad and Black Cop Candle will be shown at the gallery. I will also attend a talk over there on June/14. It is such a rare occasion for Hong Kong, Taiwan, and Tibet's political issues to be the main feature in UK, so do stop by to support if you are around that area, University of Essex is about one hour train ride north east of London.
Duration: 5 17 - 6 16 2018
Venue: Art Exchange, University of Essex, UK
Opening: 5 17 18, 6 pm - 8 pm
Talk: 6 14 18, 6 pm - 8 pm
Info: http://www.artexchange.org.uk/
[May/11/2018] ADC Award M+ Rover!
The M+ Rover! I designed and built were given the Arts Education Award by the Hong Kong Arts Development Council. The M+ team and the artists involved were at the TVB recording studio participating in the award ceremony, it was like a family reunion we were all very happy.
[April/26/2018]
Dr. Sun Yat-sen Historical Trail
The two large scale public art works commemorating the Chinese revolutionist which eventually lead to the fall of imperial China and the first Chinese Republic is finally completed. I worked on this project for 18 months and it is part of the Dr. Sun Yat-sen Historical Trail.
[March/18/2018]
Winnie The Pooh Enthronement Ceremony
Participated in the Winnie the Pooh enthronement Ceremony. The work is a critical protest about Xi Jingping reappointed as Chinese president with no term limits. It staged an enthronement ceremony of Winnie the pooh in support of the crown. It feature a Chinese Kung Fu character participating in the enthronement process as a witness of the ridiculous enthronement ceremony from 1960's movie name Flying Dragon Sword.
[March/11/2018] Hi Hill!
What is your memory of the elementary school you are attending? Graffiti on the desktop, snacks in the tavern, or knowledge in textbooks? The all-metal primary school classroom equipment in Cheun Lung Village was finally completed. The natural light effect from the sun cast the shadow transforming the drawings on the metal tables onto the ground, the effect is amazing. In each person's memory, primary school experience is like a stage that has forever solidified, and it is also like the ruins of memory.
Wrok: Memoir of a Classroom 班房回憶錄
Exhibition: HI! Hill 邂逅! 山川人
Venue: Former Cheun Lung Koon Man Schol & Chuen Lung Village, Tsuen Wan, HK
Duration: March/11- August/12/2018
(Closed on Wednesday)
Info: https://www.lcsd.gov.hk/CE/Museum/APO/en_US/web/apo/hi_hill.html
[March/3/18]
Harbour Arts Sculpture Park Exhibition
My Asteroids & Comets sculpture is now installed at Hong Kong Tamar Park at the Harbour Arts Sculpture Park sculpture exhibition. It featured 19 international artists and 21 large scale public sculpture, there are lots of interesting lectures and activities, don't miss this great opportunity to enjoy art in our public space.
[Aug/15/17] I Have No Enemies
The sculpture commemorating the Chinese human rights activist and Nobel Peace Prize laureate Liu Xiao Boa is now permanently installed at a secret place in Hong Kong. The work is made of steel facing the ocean and will be left to rust by the weather. On a good sunny day, the sunlight will cast Liu Xiao Boa's name, birthday, and death date onto rocks below. A powerful solitude piece about a great man and a great cause.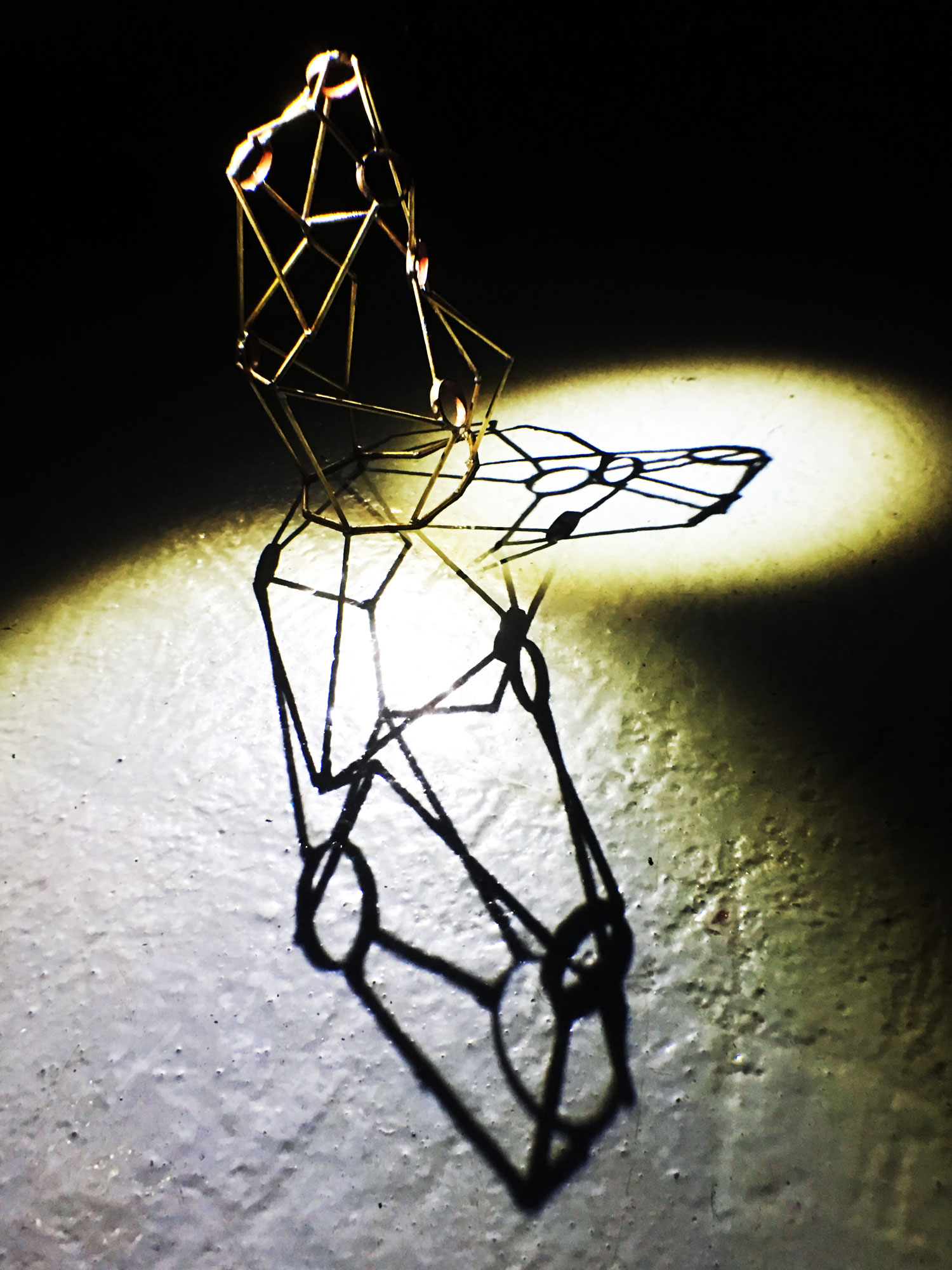 [June/9/17] Many Visions of Many Cosmos: 宇宙律動的視聽想像
Olivier Messiaen's Visions de l'amen
I have been busy working in the studio for the past two months over this group of large scale sculpture entitled Asteroids & Comets and it will be release in this experiment piano concert. The six steel sculpture were inspired by abstract asteroids forms travelling in outer space and constructed by welded steel rods. The wire-frame vector construction generated many faceted surface creating multiple geometry which is fun to look at. If you are looking for a program that contains music, projection art, and sculptural art then this is the one, you can book tickets here, enjoy. This project was organised by Contemporary Musiking.
[Feb/29/17] Controlling Device 控制裝置
I am busy producing a new art work entitled Controlling Device for the Amnesty International Hong Kong Chapter fund raising event. The work is a hanging noose-shaped candle and a bronze sculpture. The kidnapping of the "Causeway Bay booksellers" and the recent Chinese business man abduction allegedly by the Chinese Government caused chaotic fear here in Hong Kong. As the ropes on the neck Hong Kong people become getting tighter, freedom of expression and freedom of life in Hong Kong are seriously threatened. The works will be on display at the Kong Art Space in Soho, look forward to see all of you there.
最近在工作室全力為「國際特赦組織香港分會」製作新作品「控制裝置」,作品是吊頸繩形狀蠟燭和古銅雕塑, 由「銅鑼灣五子」綁架事件一直發展到現在的「肖建華」事件,套在香港市民頸上的繩索越拉越緊, 香港的言論自由與人生自由受到嚴重威脅, 要活出免於恐懼的自由,才是真正的自由。作品將於下個星期四 2月16 號於 Kong Art Space 展出為他們組織籌款之用, 到時還有很多香港重量級藝術家參與,切勿錯過。
[Feb/14/17] Manufactre Date & Expiration Date
My latest work is now on show at the Hong Kong City Hall at the 7040 Leong Ka Tai Photo Moments Exhibition. This work is a photo booth allowing the viewer to take a selfie of themselves and to contemplate a little about their dying date. Exhibitions ends on Nov/21 1016.
[Nov/6/17] Everything is Fine
In response to the recent state conducted kidnapping incidents, the victims were forced to lied about their return to mainland China is under their own free will and made confessions in front of national TV like a prisoner of war. The title of the work Everything is Fine can be interpret as 'nothing really happens' or an attitude towards absurdity. This artwork generates a strange surrealistic feeling, inspiring the viewer to reflect upon their own life under current political absurdity in Hong Kong.
這件作品回應最近在香港出現由國家策劃綁架與禁聲事件,受害人被迫像戰爭罪犯那樣在公眾媒體前公開表達自身的不自由狀態是出於自願, 而不是受到國家機器的打壓。「無事」這題目可以剖釋為沒事發生、也可剖釋為「虛無」、也許是一種對荒謬事件的態度。此作品令觀眾感覺離奇超現實,從而引起公眾反思香港當下政治生活裏的荒誕。
[Nov/2/2016] Manufactured Date & Expiration Date
Now making a new work at the studio for my photographer friend Leong Ka Tai, it is a photo booth for the visitors to take selfie. I invited Ka Tai to come to the studio to lit it up and we had a great time playing with fire.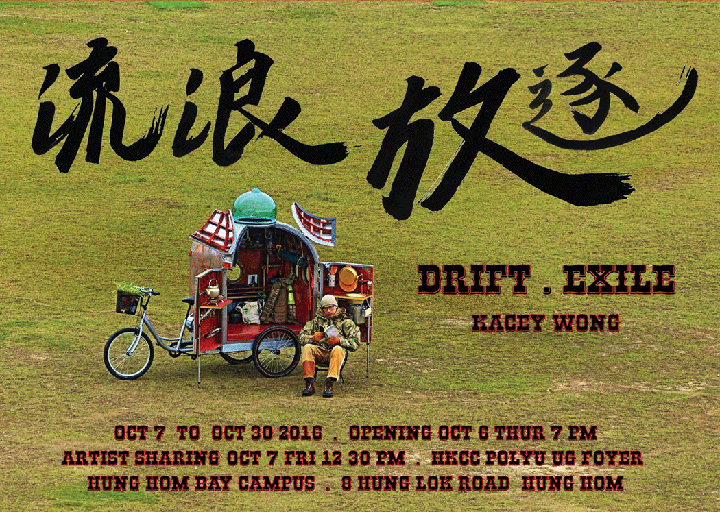 [Oct/6/2-16] DRIFT . EXILE - Kacey Wong solo exhibition
Date: Oct 7 - Oct 30 2016
(Open Mon - Friday, Closed on Sunday )
Opening: Oct 6 (Thur) @ 7 PM
Artist Sharing: Oct 7 (Fri) @ 12:30 PM
Venue: UG Foyer, HKCC - PolyU Hung Hom Bay Campus, 8 Hung Lok Road, Hung Hom (Hong Kong Community College)
[July/1/2016] Black Flag
There are really nothing worth celebrating in the July 1st Change of Sovereignty in Hong Kong, from the abusive 7 Hong Kong Police incident to the recent booksellers kidnapping incidents, there are just too much absurdity proving this city is slowly heading towards death under the kidnapping of Chinese Communist Party. My art work for this year's Hong Kong July 1st Protest is a black flag. It symbolize mourning, pain, resistance, and power to mourn this dying city. It also express the resistance spirit of We live free or die (Viurem lliures o morirem).
[June/3/2017] Don't Want to Remember, Dare Not Forget
This year is the 27th anniversary of the1989 Tianamen Square Massacre. I have finally edited the performance I did from last year by finding the right music and doing all the sub-titles, etc. Don't forget the original spirit of the Chinese citizens calling out for freedom and Democracy, we should use this spirit in our own terms, peace.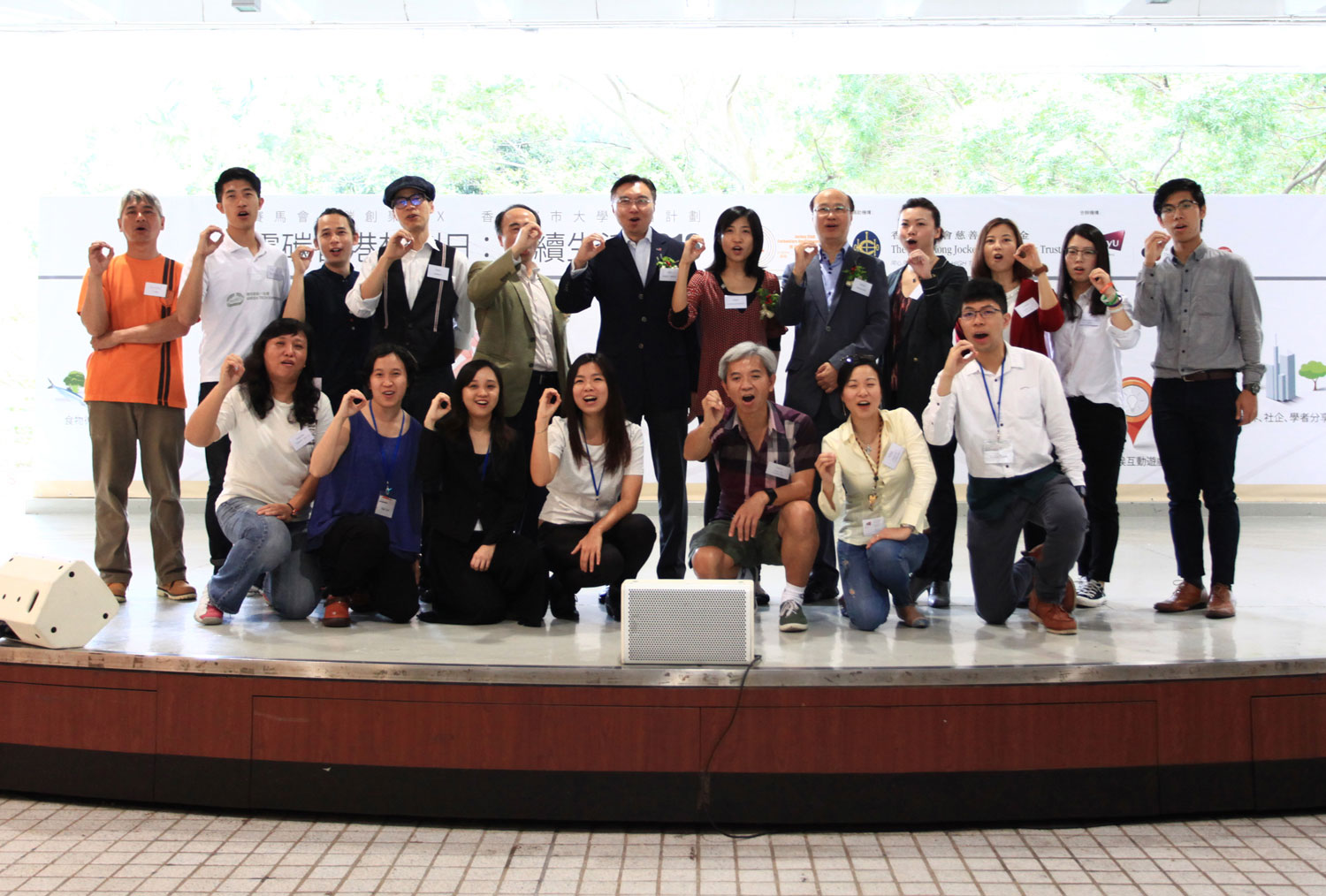 [April/9/2016] The Inspiration
I just created two interactive artworks using antique bicycles to generate electricity entitled The Inspiration and Forever Absolute Loneliness II. The Inspiration will generate bright light on the head of the rider and Forever Absolute Loneliness II allows the rider listen to old songs from a record player while riding. The show was organized by Jockey Club CarbonCare Open Innovation Lab and was shown in City University, bicycle generators from Tritech Environment Technology Co.
[April/4/2016] Substainable Festival II
I just participated in the Sustainable Festival at the Cattle Depot. I sat the whole day in my Wandering Space Camper Tricycle, ate food, drank tea, and chat with visitors the entire day performing 'living'. The day passed by so quickly in such a relaxing way I wish all art exhibitions are like this.
[March/29/16] M+ Rover!
The mobile art space entitled M+ Rover! I designed and built is finally operational, it will travel to more than 50 public high schools and public space bringing artists and art to the public. The interior of this 25 feet cargo container are covered by recycled wood collected from pallets. Old ship windows dotted the interior space bringing fresh air and light from outside. My inspiration for this project is the submarine from the movie 20,000 Leagues Under the Sea and the spatial cross-section of a whale, I am sure the students will love this mobile art space since it is so different than their everyday life in school, enjoy.
[3/19/2016] Urban Ninja Workshop
Just did a wondering Urban Ninja workshop at the Cattle Depot with young children. They were asked to create a wearable paper sculpture that mimic ordinary items often seen from the streets, this exercise train to children to observe, image, and to create with their hands.
Feb/26/2016 – May/29/2016
Objection! Protest by Design

I did a short video interview talking about the relationship between design and political activism and it is now being shown at the Vitra Design Museum in Germany. Here is the abstract from the museum. "When spontaneous student protests erupted in Hong Kong on 28 September 2014 as a reaction to proposed changes in the electoral process, the global media was rife with images not only of the protesters themselves, but also the myriad informal structures and designs they had created. Barricades, shelter and sculptures were constructed from everyday objects, the umbrellas that coined the movement's name were used for protection from police enforcement. The exhibition presents this act of civil disobedience through the objects that were spawned by the movement, illustrating that design not only shapes and defines products, but can function as an agent of change in politics, communication and social innovation." Do stop by to check out this nice little show and support Hong Kong if you are around that area.
[Jan/31/2016] Eggette Bar
I support Hong Kong hawkers and local Hong Kong street food delicacy hence I transformed my camper tricycle once again into a mobile street hawker stance distributing free cocktail eggette to the public, expanding the imagination and the possibility of a what a hot food truck could be. The current government proposed hot food truck scheme is tailored made for large cooperation and tourist only (which kind of people can afford a HK$800,000 trucks?). The government should reopen the hawker license policy so grass root citizens can apply and ultimately establish hot food districts so both local citizens and tourist can enjoy. After many failures trying to make the eggette, I finally mastered how to make them tasty and crunchy, my formula have Whisky soaked raisins in them creating a wonderful aroma which goes well with the taste of the eggette. You do get drunk after eating too much, that's very important...
[Jan/23/2016] Substainable Festival
On the coldest night of Hong Kong in 59 years (3.1 degree Celsius), I slept at the end of the former Kai Tak Airport runway experiencing the good and the bad of Mother Nature with my Wandering Space. The wind speed was 45km/hour and garbage bins were being blown around and one of it did hit my bike in the middle of the night. I woke up at 2am due to freezing cold and put on every bits of clothing I have and finally was warm enough to go back to sleep. A wonderful experience and I survived to tell the tales.
[Jan/10/2016] Anti Kidnapping Protest
Just participated in a public protest and performance against the mainland Chinese Government allegedly conducting illegal abduction operations in Hong Kong targeting Hong Kong citizens, British citizens, and citizens of Sweden. This kind of cross country kidnapping activity are illegal and condemned by the international community. The citizens of Hong Kong were shocked by this event but I am sure there will be more of such kidnapping in the near future since the One Country Two System is corroding by the days!
[March/2/2015] Art of Protest - Resisting Against Absurdity

Duration: March 2 - March 28, 2015
Venue: Amelia Johnson Contemporary, HK
Opening: March 4, 2015, 6-9PM

Social injustice, government incompetence, police violence, freedom retrogression; how could a citizen create positive change to the society by linking art production and politics? Hong Kong artist Kacey Wong created large amount of political artworks in the past four years, exhibiting them in the streets of Hong Kong during public protest and rallies, expanding the sites for art to exist. His works armed with black humor and a sense of performance, linking art performance and action, resistance the era of Hong Kong political absurdity.
社會不公、政府無能、警察暴力、自由倒退。夠竟市民可以如何參與抗爭,為社會帶來正面的改變?藝術家黃國才過去四年積極創作大量的藝術作品,把它們帶到示威遊行街道的人羣當中,擴張了藝術展出的場地。化黑色幽默為武器,結合藝術行動與抗爭,抵抗這個治大時代。