The Loveliest Person 最可愛的人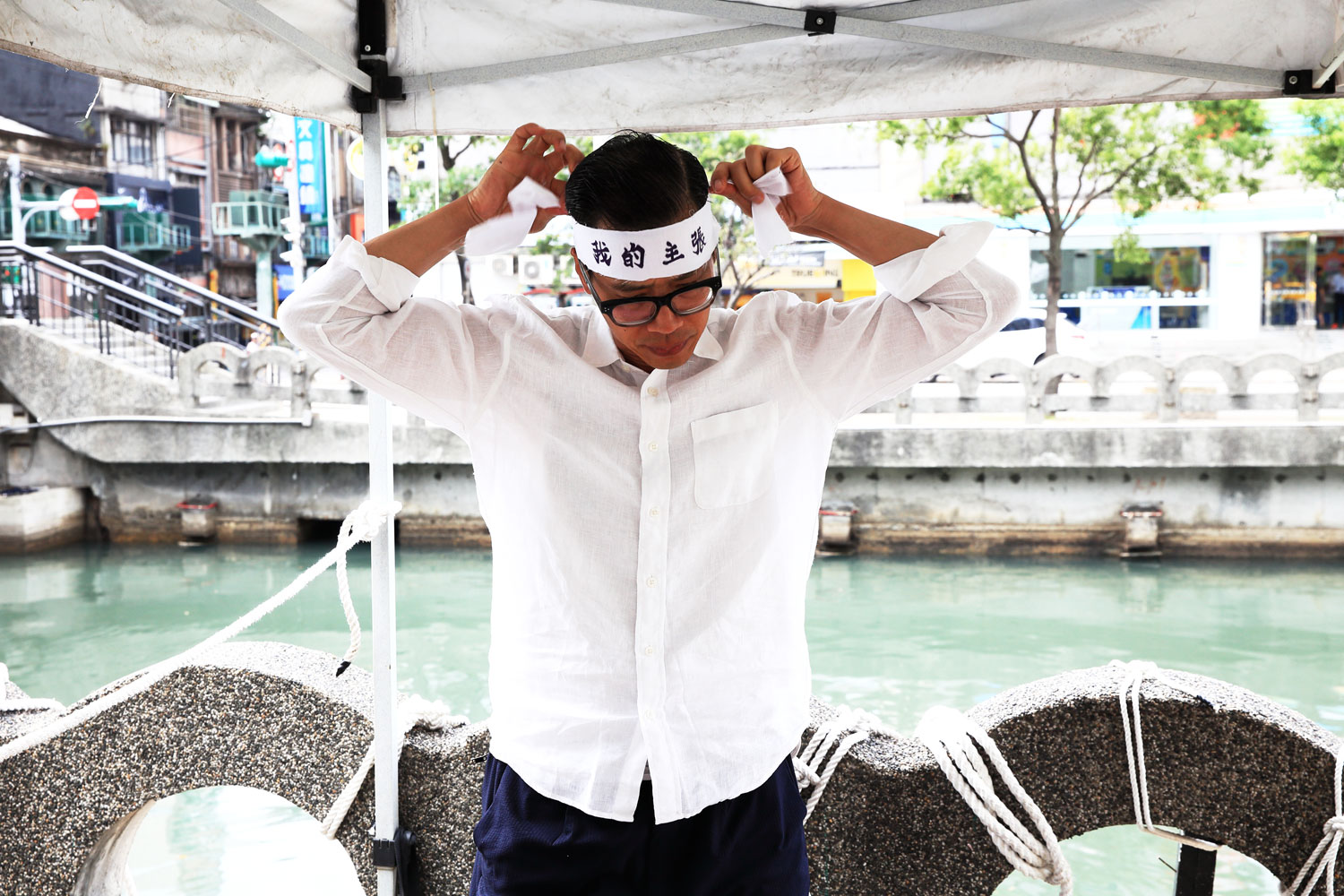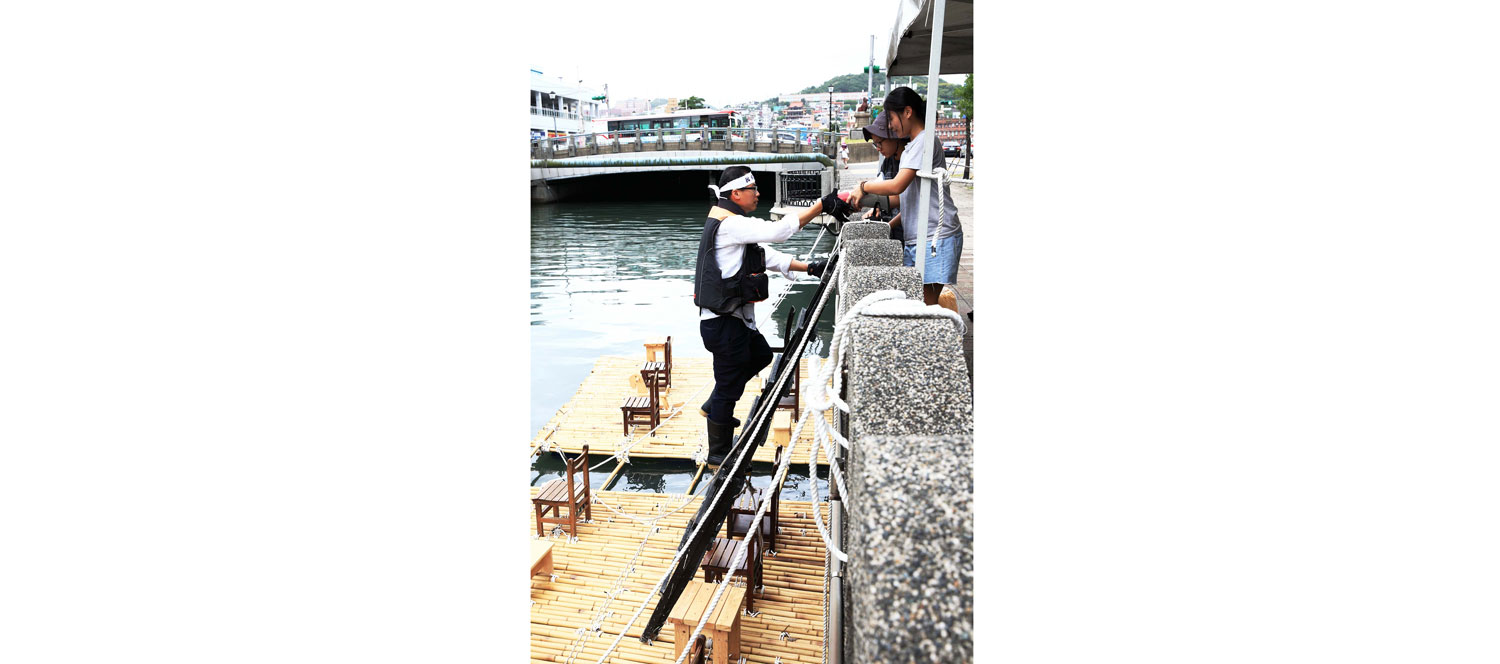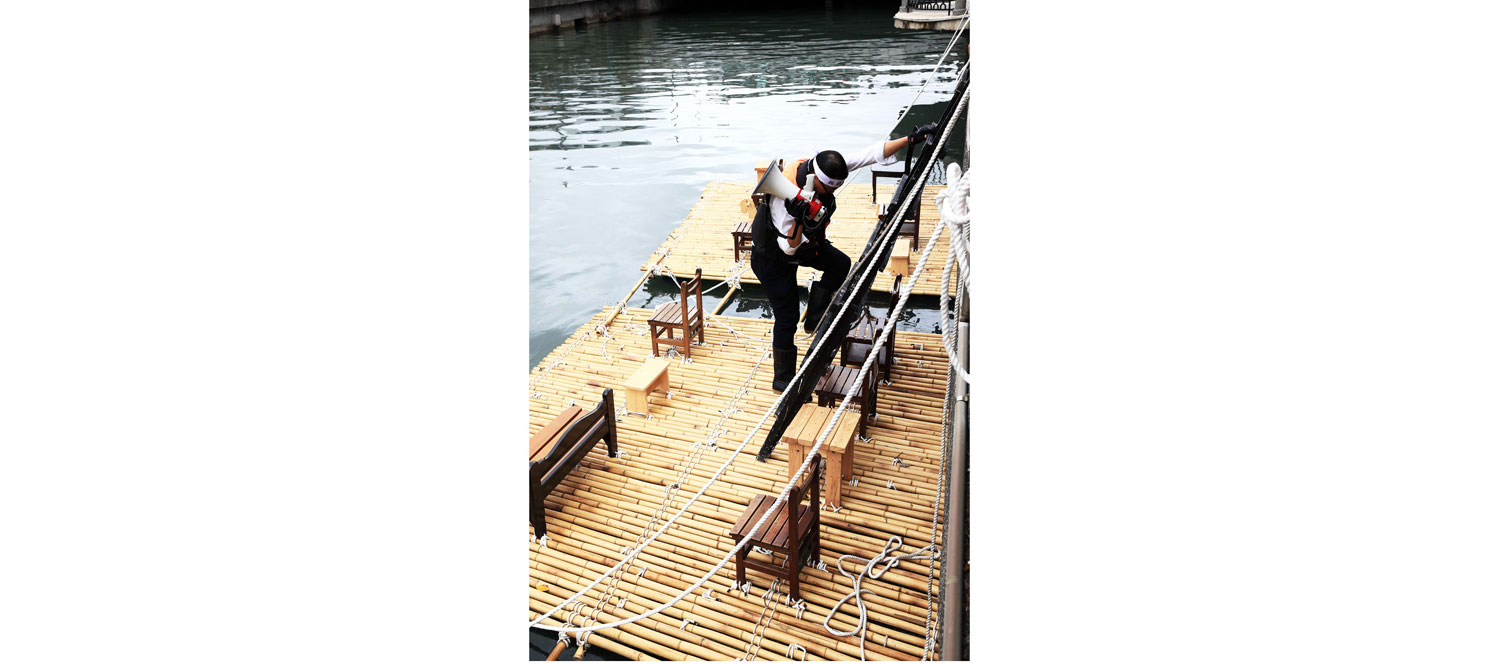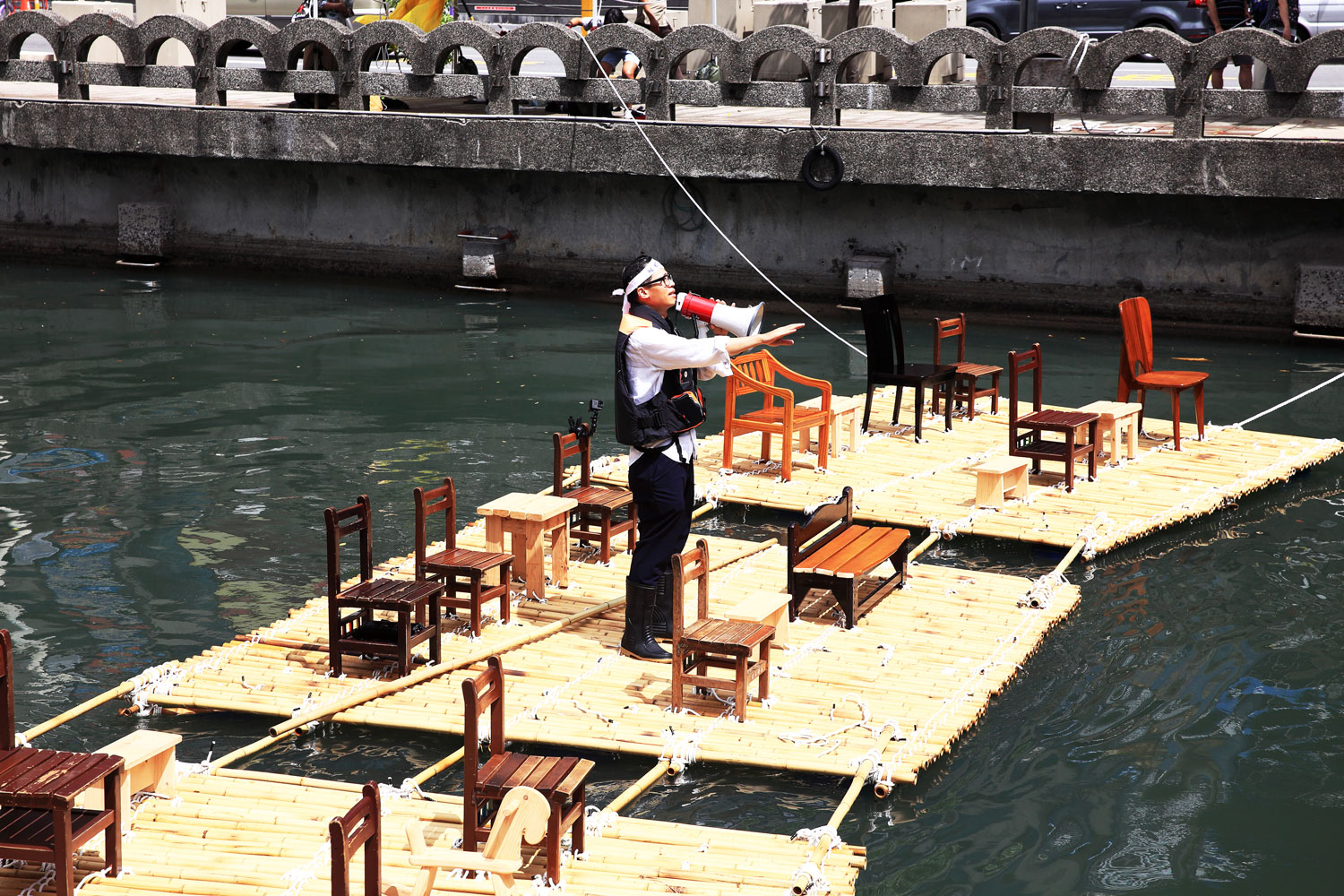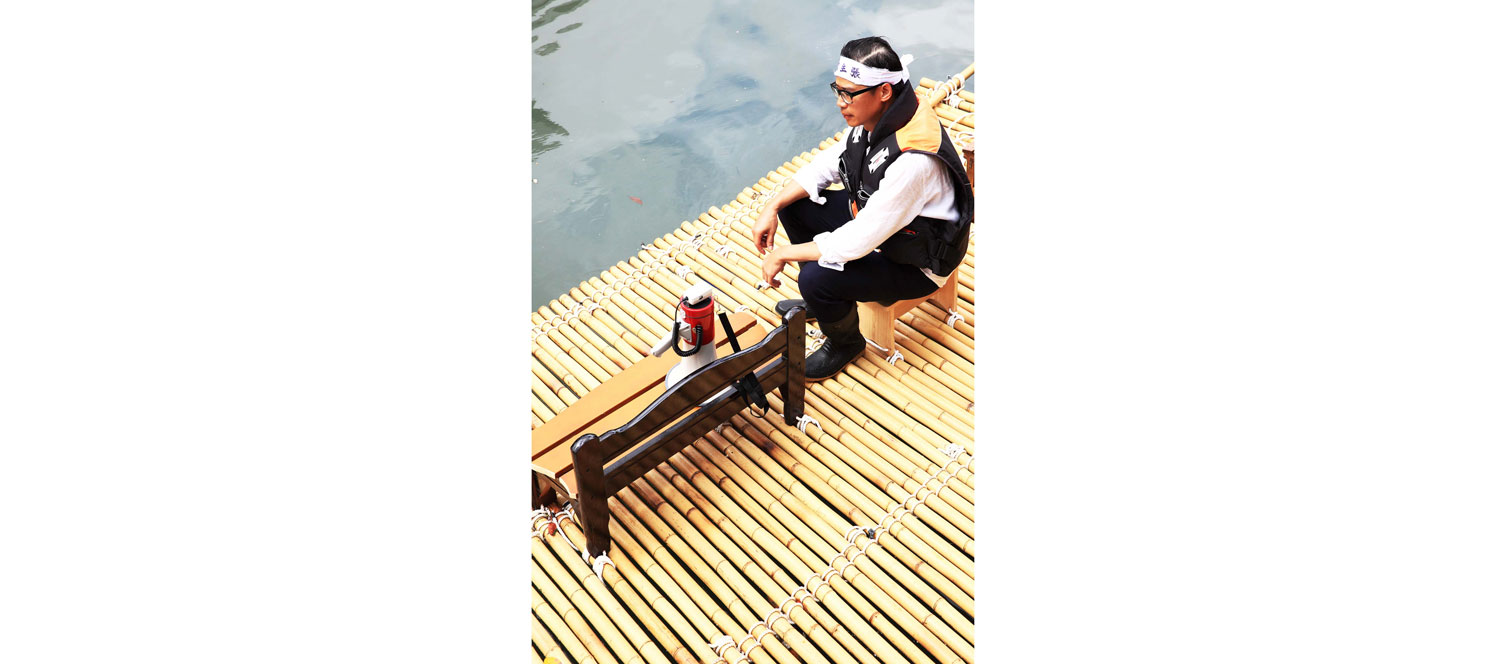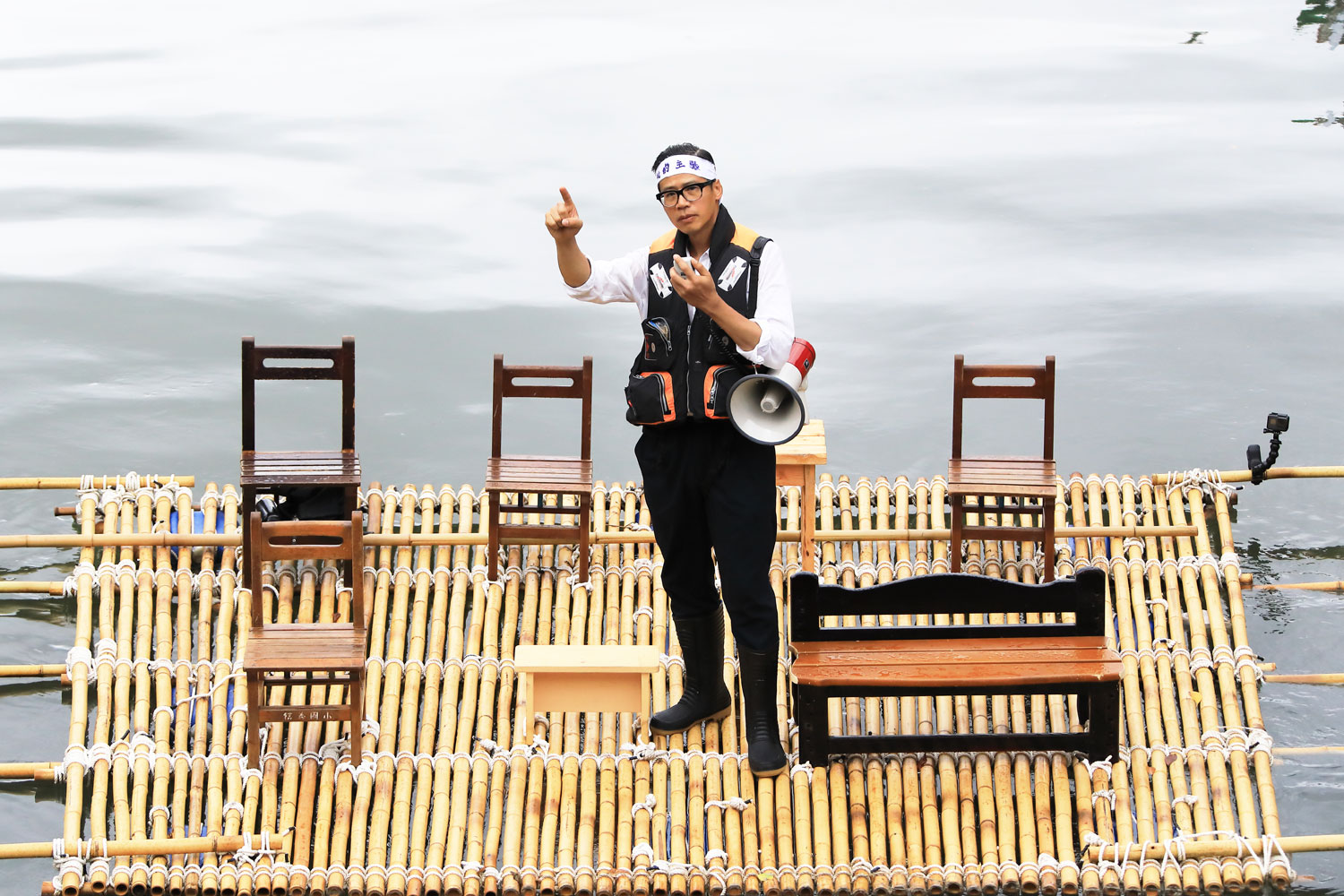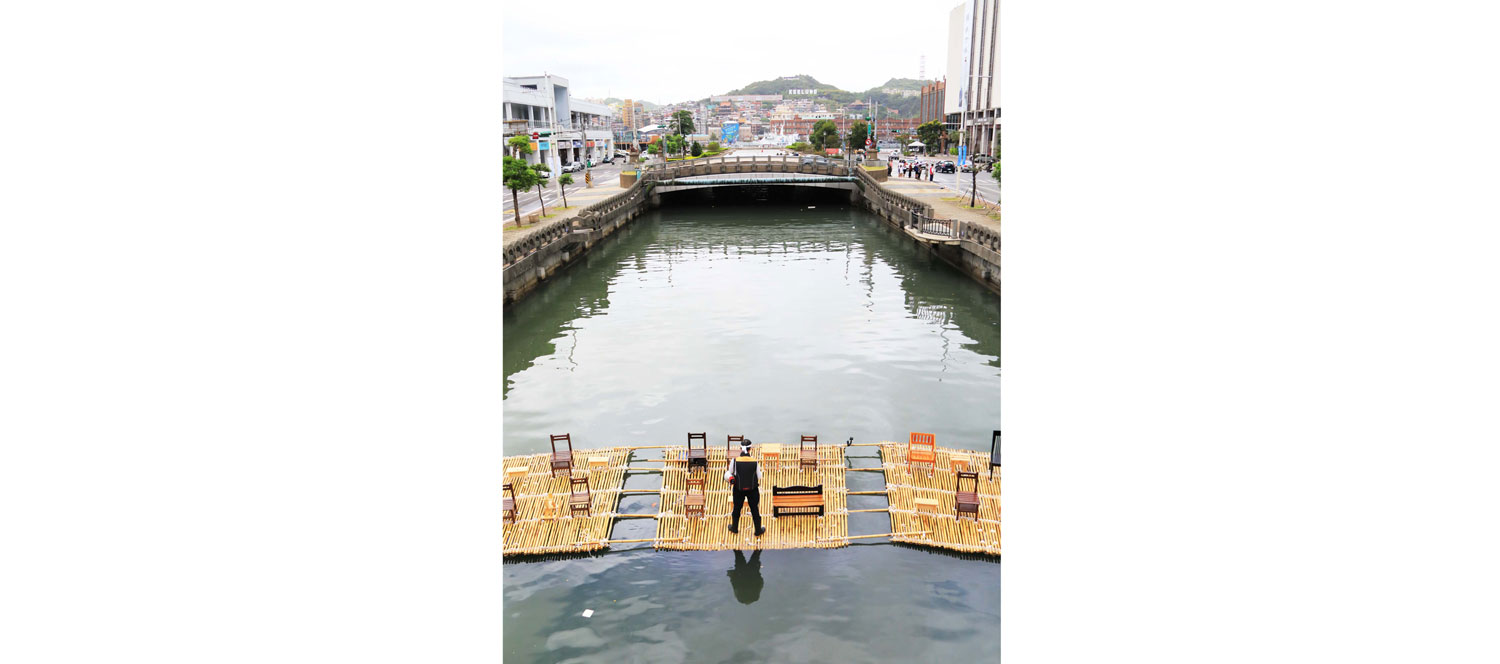 The Patriot 愛國者 July 1st 2018
This video documented Hong Kong contemporary artist Kacey Wong performing his live art performance piece The Patriot in front of the Hong Kong Central Government HQ to thousands of protesters. Three songs was played continuously: God Save the Queen, National Anthem of Republic of China, and Do You Hear What People Sing. Symbolizing Hong Kong transform from a British colony into a Chinese Communist colony, and the real need of the people are actually justice and freedom.
The Patriot 愛國者 by Kacey Wong
無事 Everything is Fine
In response to the recent state conducted kidnapping incidents, the victims were forced to lied about their return to mainland China is under their own free will and made confessions in front of national TV like a prisoner of war. The title of the work Everything is Fine can be interpret as 'nothing really happens' or an attitude towards absurdity. This artwork generates a strange surrealistic feeling, inspiring the viewer to reflect upon their own life under current political absurdity in Hong Kong.
這件作品回應最近在香港出現由國家策劃綁架與禁聲事件,受害人被迫像戰爭罪犯那樣在公眾媒體前公開表達自身的不自由狀態是出於自願, 而不是受到國家機器的打壓。「無事」這題目可以剖釋為沒事發生、也可剖釋為「虛無」、也許是一種對荒謬事件的態度。此作品令觀眾感覺離奇超現實,從而引起公眾反思香港當下政治生活裏的荒誕。
November 3rd, 2016
Flying Dragon Sword 龍劍飛 by Kacey Wong
Controlling Device Candle 控制裝置蠟燭
Carnival - Kacey Wong interview 黃國才訪問
Controlling Device Process 控制裝置製作過程
Basic Dafa x Nam Mor Sic Far Mau Dun Doi
實不相瞞,小弟過去十數年苦練「基本大法」, 要知道「基本大法」雖然在中國大陸被打成為邪教, 但其法力無邊,世界通行, 所以我冒險也要修練,而且已修到一定成果。 數天前出去散步,巧遇歐陽東居士, 他修煉的是「喃嘸釋法茅躉代大悲咒」,拜的是「習大佛」, 本人雖然對此道有點保留,但對歐陽居士的個人情操十分欣賞及尊重。我倆漫遊寧靜的森林討論佛學期間, 忽然遇到一個書生,他正被白骨精所發出的「音波功」所凌虐, 於是我首先使出我的「基本大法」第一式之「講道理」, 怎料對白骨精完全無效!非常失望,最後我放下自我的成見,與歐陽居士合力一起諗「喃嘸釋法茅躉代」 大悲咒,此招有效,白骨精最後被我倆合力打敗落荒而逃,森林裏的動物見如此情況也拍手慶祝,場面十分感動。 過程被我的「第三眼」法寶記錄下來,現與大家一起分享。路見不平,拔刀相助,見義勇為,方為君子,阿彌陀佛~
《罷課不罷學》黃國才 用藝術去改變世界-如何把遊行示威轉化成為你的私人藝術館 24092014
Attack of the Red Giant 進擊的共人
'Attack of the Red Giant' a derivative work based on the Japanese comic 'Attack on Titan'. A giant sculpture made of cardboard is built on a trolley. It stands out amongst the crowd due to its red color and height. The work was juxtaposing against the protesting crowd and the architecture on both sides of the road, creating an interesting contrast. The Red Giant symbolizes the bad guy who is fast approaching our city. It might even conceal itself amongst Hong Kong people, waiting for a chance to devour them.
「進擊的共人」是模仿日本漫畫「進擊的巨人」的二次創作。紙皮造的「巨人」站在手推車上,很高又且是紅色,在人群中一支獨秀。巨大的「共人」和它身旁撐起傘子的人群和大廈產生了有趣的對比。「共人」象徵壞份子正在對香港步步進逼。它甚至潛伏在市民當中,等待著 '吃人' 的機會。
Cardboard, colored adhesive tapes, push trolley
July/1/2013 Hong Kong July 1st protest
The Real Culture Bureau 文化號
The Hong Kong Government was trying to set up a Cultural Bureau few years ago. The official they were trying to appoint doesn't really know much about art and culture policy and has a suspicious Communist background. This angered many art and cultural people, they worried the bureau will eventually become a tool of suppression. Another inspiration comes from the Armored Personnel Carrier (APC) of the People Liberation Army (PLA). Linking these two events, I built a cardboard tank-like APC on a trolley so it can be moved easily. I also dressed up like a Communist official wearing Chinese tunic suit, Ray Ban sunglasses and red pins, playing the role of 'Real Cultural Bureau Director'. One of the greatest achievements of my bureau is that the director's photo got published on the Communist newspaper Ta Kung Pao. The reporter didn't know the sarcastic meaning of the artwork and took a photograph of me during an art opening. I guess I infiltrated them after all!
幾年前香港政府說要成立文化局。將會是哪一位去帶領呢?市民懷疑是有「紅色背景」的官員。於是文化界人士起來反對讓文化局成為一個劣質政治洗腦工具。「文化號」的另一靈感來自解放軍的裝甲運兵車,紙皮造的裝甲車安裝在手推車上,推動非常方便。抗爭時我穿中山裝戴黑眼鏡,扮演著一個來自內地的「真文化局長」,專負責來香港收買市民。我還特別準備了一箱自己印製的藝術鈔票,用官方口吻大叫:「現在命令你們全部離開!不要作出反抗!這裡有錢,每人一億!拿去花吧!」「真文化局」最強的戰績是上了共產黨報──《大公報》。有一次《藝術學院》邀請我出席開幕典禮,《大公報》的記者居然把我拍攝下來,並登於報上,我猜我滲透他們了!
Wood, cardboard, speaker, push cart, banners, fake money
July 1st, 2012
The Pinocchio 木偶奇遇號
'The Pinocchio' represents a lying puppet on a string controlled by someone else. There is a loud speaker in the bottom, connected to a smart phone playing a sound clip of Henry Tong Ying-yen questioning C Y Leung during a public debate. The recording was looped and played loudly: "You lied. You are lying, how come you are always lying?"
「木偶奇遇號」 象徵着一個說謊的扯線木偶。底部裝了一個揚聲器,接駁到手提電話,播放着唐唐 (唐英年) 與CY Leung (梁振英) 參與特首候選人公開辯論時的一段說話: 「你呃人!你講大話!點解你成日講大話?」
Cardboard, adhesive tapes, push cart, speaker, i-phone player
January1st, 2013 @ Jan 1st Protest
Art Citizens Parade for Freedom of Speech - Release Ai Wei Wei
1001 Chairs Hong Kong 4 17 2011
Don't Want to Remember Dare Not Forget 不想回憶未敢忘記號
How to make a happy face?
This artwork was done during the SARS period of 2003 in Hong Kong when everyone were afraid of the contagious disease and are wearing face masks all the time. Their nose, mouth, and smile are gone. I tried many different compositions on the mask within two months period and finally discovered this image to be very effective to cheer people up. Not only the nose and mouth is back, everybody who saw my mask starts to smile again beneath their masks.
The Loveliest Person 最可愛的人
The concept of this performance came from 1989 June 4th when the Chinese People Liberation Army just finished their Tiananmen massacre against the students and citizens, the Chinese Communist Party sent Peng LiYuan (Xi Jinping's wife) to comfort the soldiers. According to documentation, she sang the song "The Loveliest Person" to the soldiers, and "The Loveliest Person" this term actually came from Wei Wei writing " Who is the Loveliest Person?"from 1951 which was about the PLA soldiers battling to their death when attacked by American soldiers. When Mao Zedong read his writing he loved it so much that he forced the whole country to read it, from that point on the People Liberation Army is synonymous to "The Loveliest Person", isn't this ridiculous enough? Murderers become the loveliest person. Under the suppression of the brutal death machine of Nationalism, actually no one can be exempted, the students would not and the soldiers certainly wouldn't.
In this performance I played the ghost of a PLA solder from the 1989 Beijing Tiananmen Square Massacre, playing the funeral version of the Chinese National Anthem with my accordion based on Chopin's Piano Sonata No. 2 in B flat minor. With this music I am Death, whoever hear my tunes shall be perished.
作品概念來自1989年六月四日北京解放軍屠城之後,中共派出勞軍隊彭麗媛勞軍,根據文獻她當時唱出「最可愛的人」給剛剛完成大屠殺的解放軍聽,而「最可愛的人」這名詞是來自魏巍1951年關於韓戰解放軍軍人被美軍圍攻直至戰死的著作叫「誰是最可愛的人?」,毛澤東看過此文章後非常喜歡要求全國閱讀,自此解放軍在大陸往後數十年就等同「最可愛的人」,夠荒誕了吧?在殘暴的國家主義死亡機器打壓下,其實沒有一個人能夠幸免,學生不會,軍人更絕對不會。
Performance in East Point Road, Hong Kong on June 3rd, 2018
HK to CN 香港往中國
民陣4.28發起反修訂《逃犯條例》大遊行,佔中9子呼籲市民趁着還有自由上街保衞我城。視覺行動藝術家黃國才因修例創作出藝術品「HK to CN」(香港往中國),外形為一個流動監獄,喻意「逃犯條例係one-way,只有由香港去中國冇得走」,預視未來10年港人下場是流亡海外。

該藝術品是改裝自另一個名為「愛國者」的藝術品,他說「當時係因為侮辱國歌法,自己坐係入面,拉手風琴奏國歌……」,而今次改裝成一個流動監獄,上面掛着一個盾,盾上印有長城和一顆星的圖案。

他表示,「揀長城係因為強烈大陸味,其實好諷刺,長城起出嚟係阻擋匈奴,但依家阻擋唔到中國胡亂執法,偷偷捉人、打壓異見分子、新疆集中營。」他認為,現時中國就如新納粹主義抬頭,針對另一個民族而進行殺戮、洗腦和打壓等;一顆星則象徵中國。

他續指,盾上寫上「HK to CN」就似機場看到航班由起點到終點,同時這代表是單程,「逃犯條例係one-way,由香港去中國冇得走。」他稱,藝術品花了兩日時間完成,透過這藝術品帶出修例後胡亂拘捕任何人,不只是香港人、內地走資商人,甚至是外國人,「只要經過香港機場啲所有人」。

作為文化藝術人的他指,言論自由對創作十分重要,「有言論自由先表達到自己,唔係就唔知做緊咩藝術。」他坦言,曾想過離開香港,惟想到「走去邊都係危險」,突然想通後就認為「唔使走」,因此會繼續在自己能力範圍內參與,以後亦會如林榮基所說「盡一切方法保護香港」。

遊行當天於銅鑼灣東角道展示藝術品,他和友人更會穿上猶如公安和國安的制服,準備警棍、手銬和皮鞭等「招呼」示威人士,歡迎市民進入流動監獄體驗和拍照。

Apple Daily, 4/27/2019
【4.28上街】修例如單程機票冇得走 藝術家備監獄警棍「招呼」示威者
My Advocation 我的主張
你有沒有什麼想要爭取? 你有沒有什麼主張? 今天的主張,今天的人可能完全聽不懂,要去到未來才聽得懂,才知道它的真正價值。今天聽起來很有意義的主張,去到明天大家可能覺得這些主張只是一堆廢話。
站在親手建造的竹筏,在田寮河上用廣東話大叫口號和唱歌。叫的都是一些聽起來全是對的、無關痛癢、可有可無、似是而非、充滿矛盾、精神分裂式口號,唱的是令人振奮的社運歌。這件作品是受到80年代台灣「新國家運動」鄭南榕先生啟發,根據他的錄像演說轉化出來,鄭先生用身體作原材料,燃燒出一個百分百言論自由的國家,致敬!
Keelung, Taiwan
2018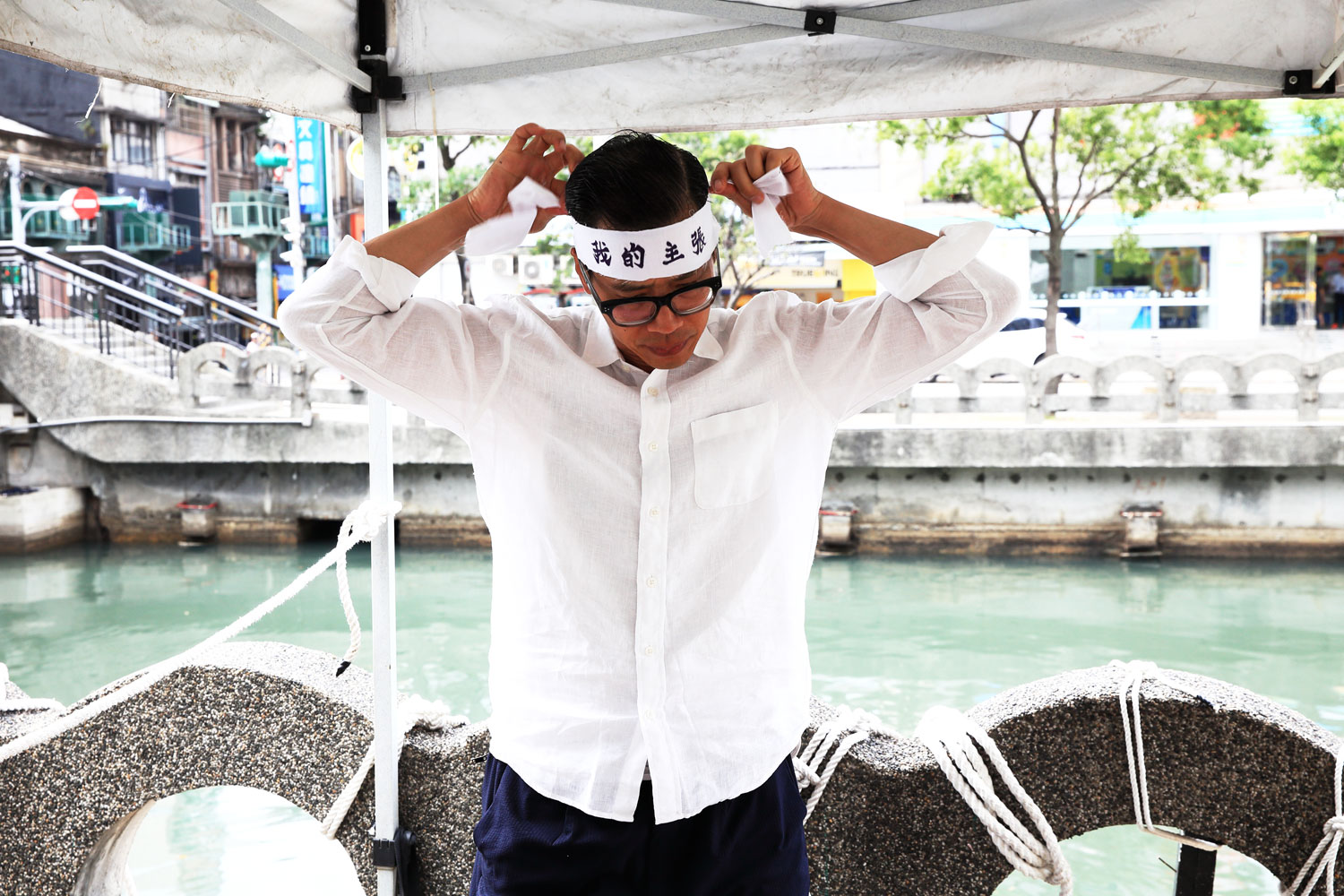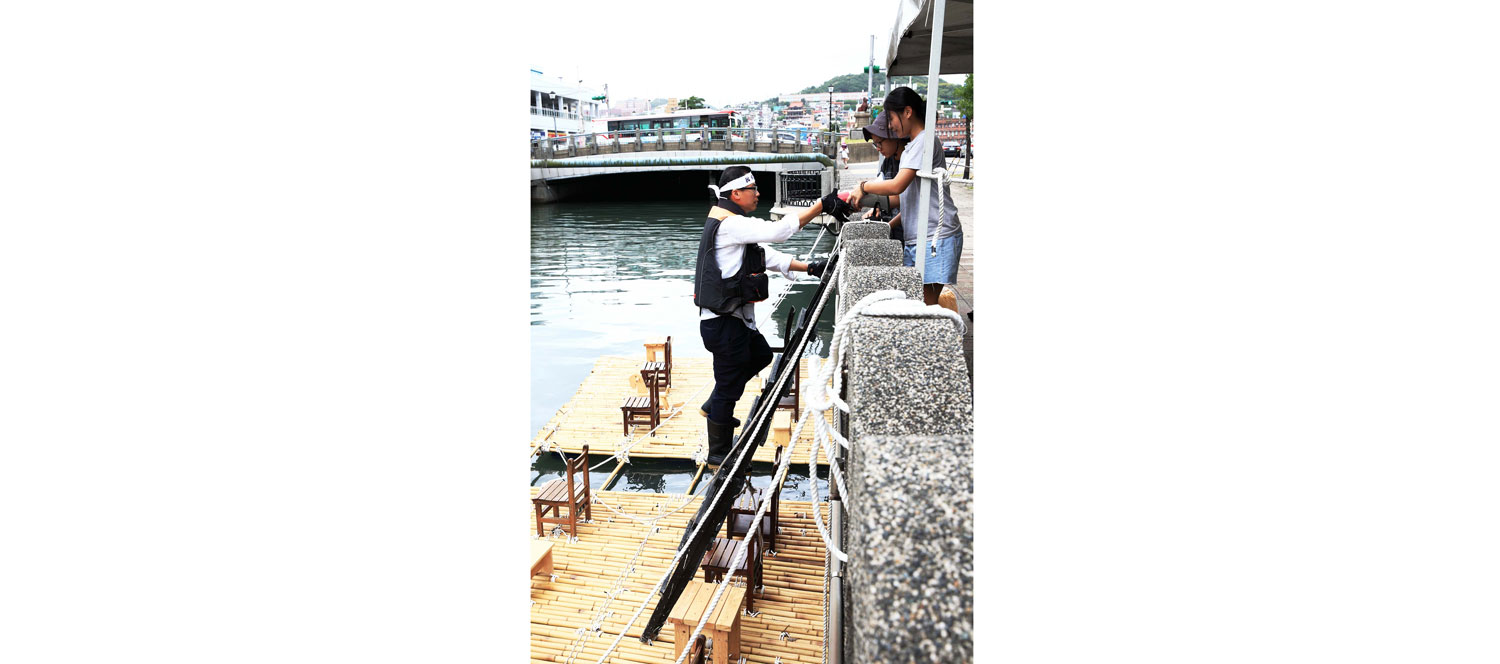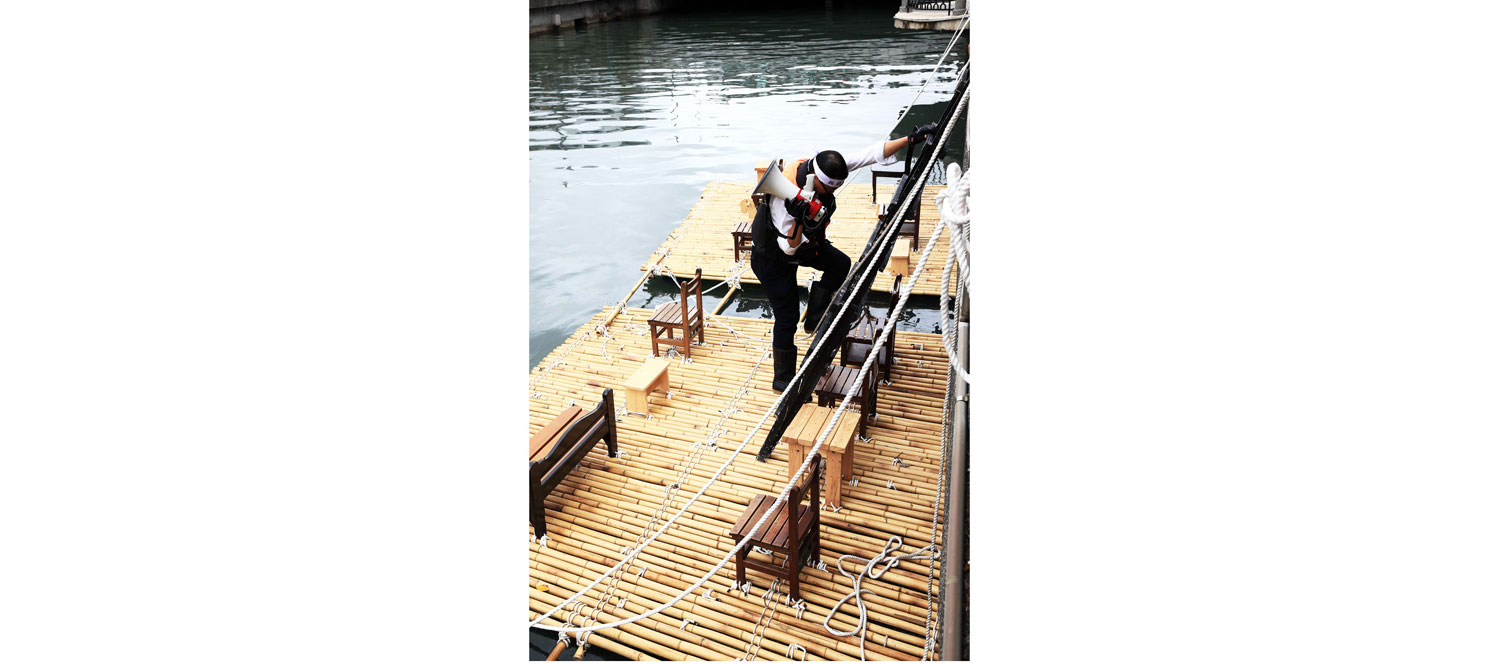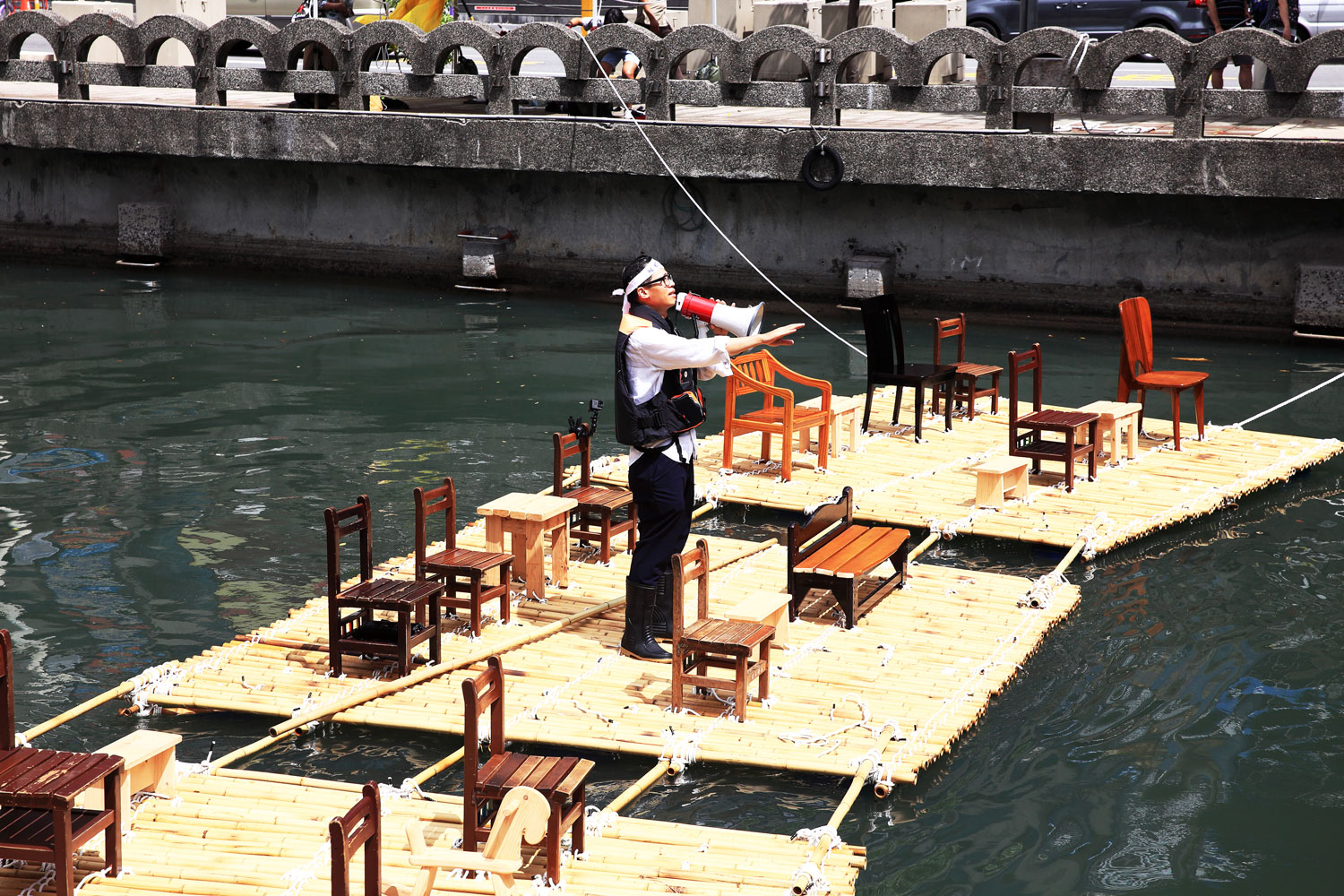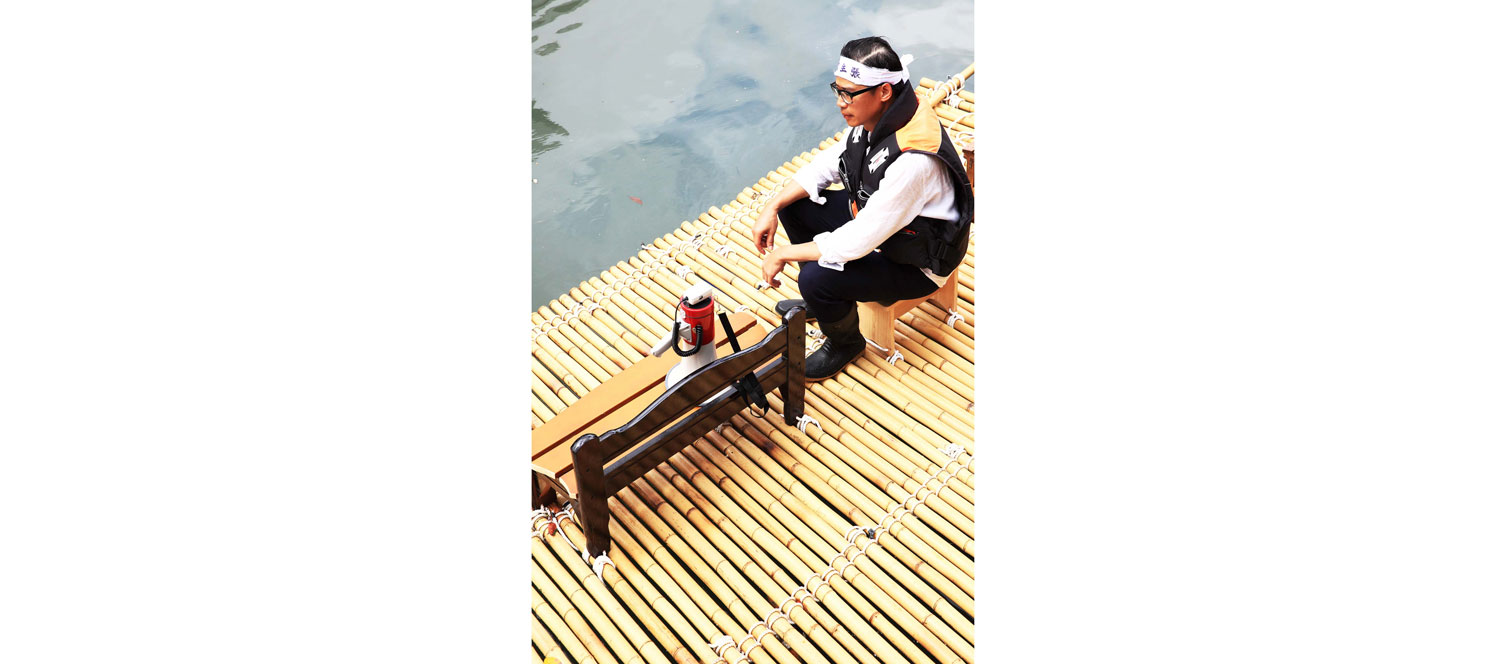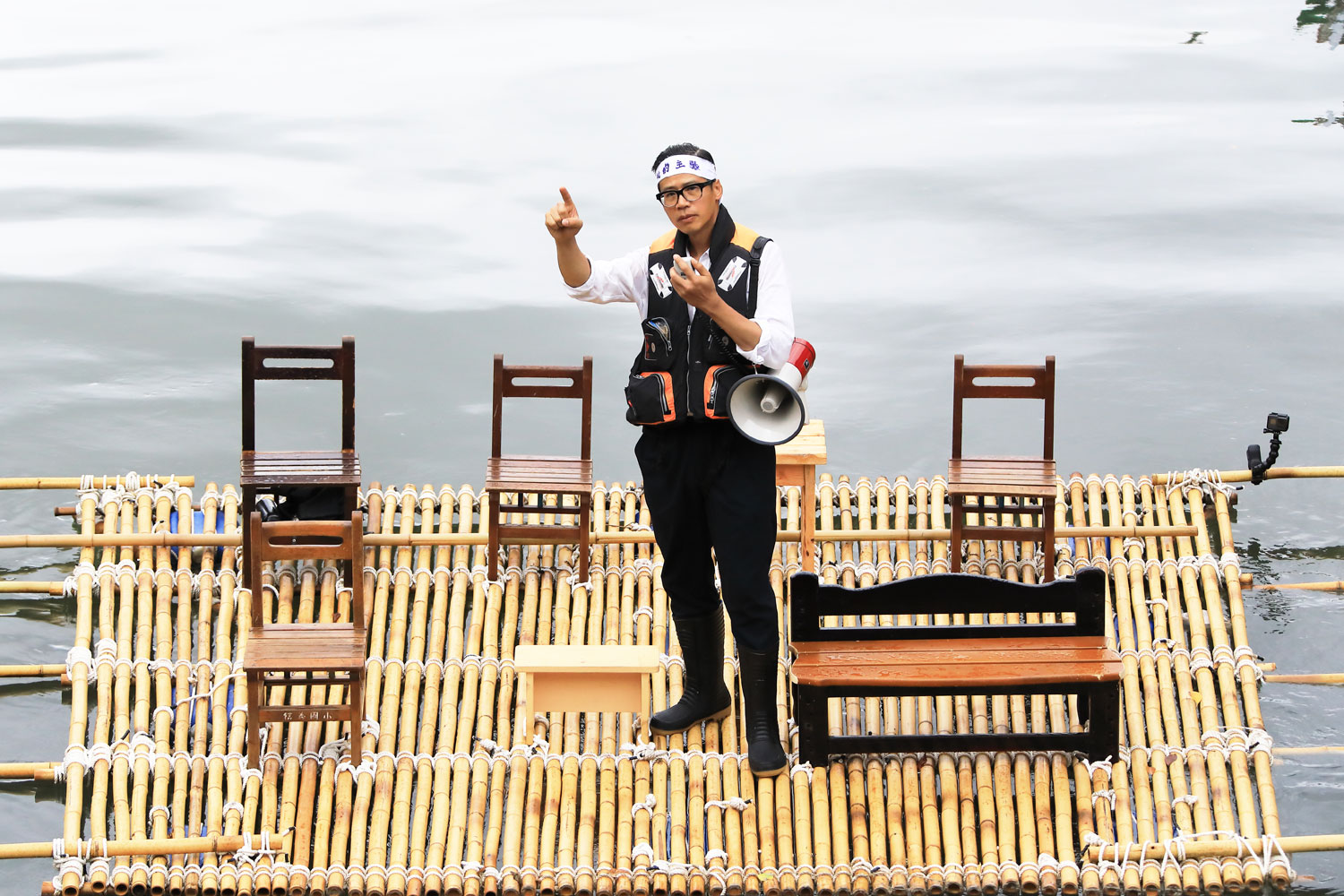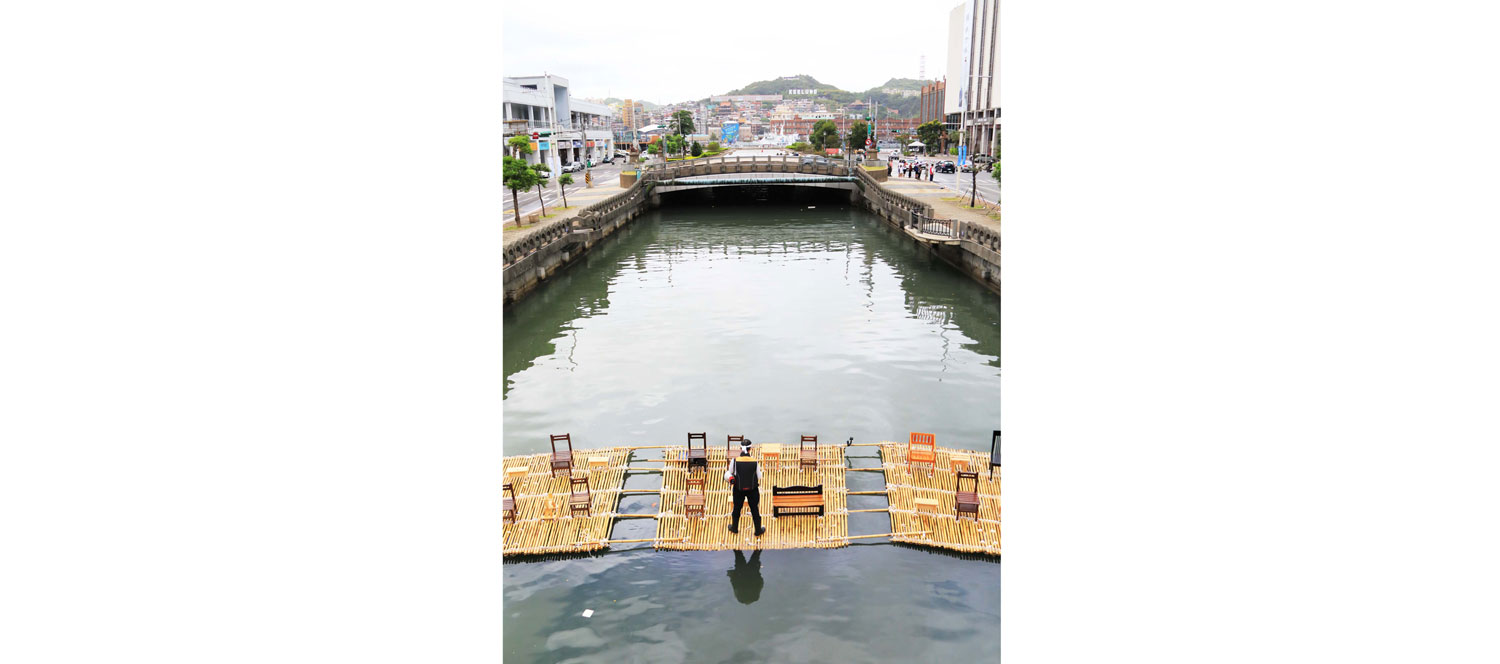 The Patriot 愛國者
The artists play the National Anthem of Communist China inside a red mobile prison with an accordion at the Central Government Complex of Hong Kong, provoking the viewer to think about those people who got sent to prison in the name of patriotism. The Patriot is a protest performance art project protesting against the National Anthem Law that is about to take place in Hong Kong initiated by Communist Chinese Government. This bad legislation not only violated the existing Hong Kong Basic Law. If passed, it will be a criminal offence that deprive artistic freedom and can send the offender to jail up to 3 years in prison.
Metal & paint
88 cm (W) x 228 cm (H) x 80 cm (D)
Photos credit: Derek Yung
July 1st & May 22 2018